Now that the guy in your life is a father, you should get him a nice gift that will help him out! Most importantly, a gift that will help the new dad relax is best. Being a father is stressful, after all, especially the first time around! Dads need some peace and quiet just as much as moms do when they get the chance. You could also get him a gift that will help him out as a dad, or even something for him and the baby! Whether you're searching for a gift for a baby shower, Father's Day, his birthday, Christmas, or even just because gifts for dad, we've got you covered.
The Best New Dad Gift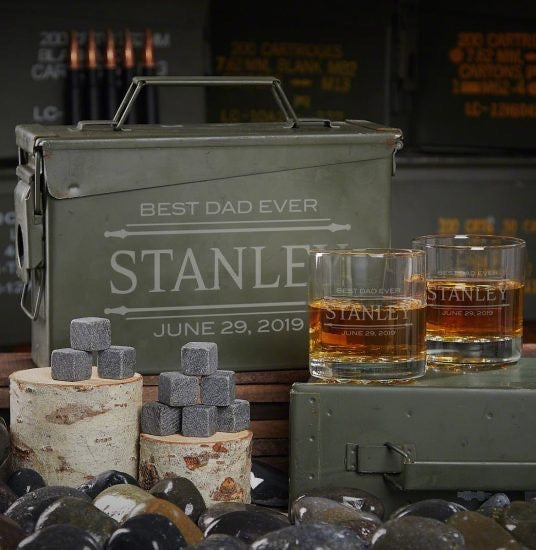 Your husband has been an amazing father to the newest member of your family. He's been there for you every step of the way since the moment you found out you were pregnant whether it was midnight cravings for pickles or creating your dream nursery. Now, he's always the one that gets up in the middle of the night when the baby starts crying and loves going everywhere with him or her. You want to get your husband something nice to show your appreciation for everything he does for you and your new baby, perhaps something to help him relax when it's his turn for a break. This personalized whiskey gift set is a great gift for new dads! He'll love using his own custom rocks glass for a nightcap after putting the baby to bed, especially with the whiskey stones as they allow him to enjoy the flavor to the fullest. He'll love everything about this set!
Multitasking Whiskey Glass
When it's dad's turn to relax after spending hours with his son or daughter, he wants to do so as efficiently as possible. He's become quite adept at multitasking since becoming a father, and has a greater appreciation for anything that will help him be more efficient whether he's taking care of the baby or enjoying some alone time. This whiskey glass will make his breaks 10 times better as it both holds plenty of Jack Daniels and his cigar! He'll love using this glass for a drink and a smoke in one hand while he scrolls through his Facebook feed with the other or escapes in a book.
A New Place to Make Food for the Family
Is the guy in your life the cook of the house? He loves creative new dishes and experimenting with flavors, which means that every meal is interesting and delicious! He's been talking about making his own baby food once his son or daughter is old enough, but he needs the proper tools. First, he needs a dedicated place to prepare it, which means a custom cutting board is the perfect new dad gift! He can use the hardwood cutting board to chop up fruits and veggies to make his very own soft baby food such as applesauce and creamed carrots.
For When He Really Needs a Beer — Or Two
When the baby's asleep, you and your husband can finally relax and enjoy a drink or two together. You can have your favorite red wine, and he can open a cold beer. With this giant beer mug, he'll be able to enjoy plenty of beer before bed! This monster of a mug holds up to one liter, which is about two bottles' worth. He will love using this large mug to gulp down plenty of Corona or Stella Artois while the baby sleeps for a while. He could get you a giant wine glass in return for you to enjoy as well!
A Piece of Decor to Celebrate His Fatherhood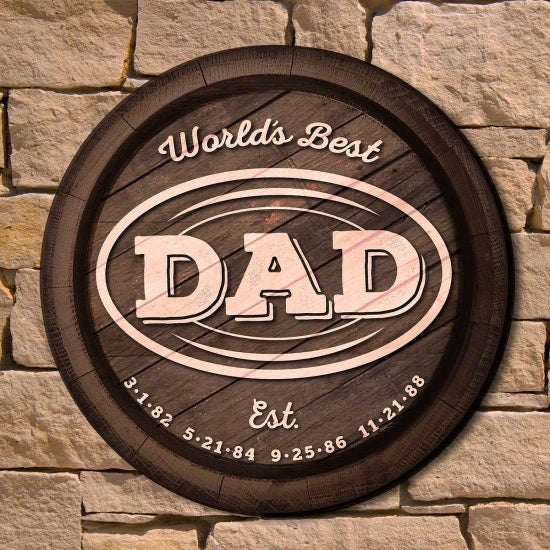 Showing appreciation for dad is just as important as showing appreciation for mom. He does his best to be a fantastic father and do his share of the work, and he should know that his effort has been noticed. This World's Best Dad custom sign is one of the best gifts for new dads! Starting with the day the baby was born, he will be so happy to have an awesome sign for everyone to see how great of a father he is. You could give this to him as a first Father's Day gift, his birthday, or Christmas as a gift from you or his child. Either way, he's going to absolutely love it!
275+ CUSTOM SIGNS DAD WILL LOVE>
The Coolest Baby Carrier
Just because you're a new father doesn't mean you have to give up your manliness. In fact, your baby can make you even manlier! With this awesome tactical baby carrier, you can look like a total badass while taking care of your kid. The military-style carrier is loaded with plenty of features: the baby can sit either facing forward or backward, plenty of places to decorate with your military patches, multiple ways to wear the straps, and ultra comfort for both you and the baby. Can a new dad gift get any cooler?
Unbreakable Drink Tumblers
You know how your baby tends to knock things out of your hand or grab and throw them? You and your partner have had to start using baby-proof glasses and dishes just in case. Your husband has become quite good at avoiding the baby's reach for his cup, but sometimes he or she can be sneaky. These unbreakable tumblers are the perfect addition to your household! Made of extra-durable double walled stainless steel, these tumblers are great for any drink and can certainly withstand being knocked on the floor. Plus, the insulation keeps your drinks cold so that you don't have to worry about it getting warm when distracted by your new baby. These tumblers are one of the best gifts for new dads!
Help Him Stay Energized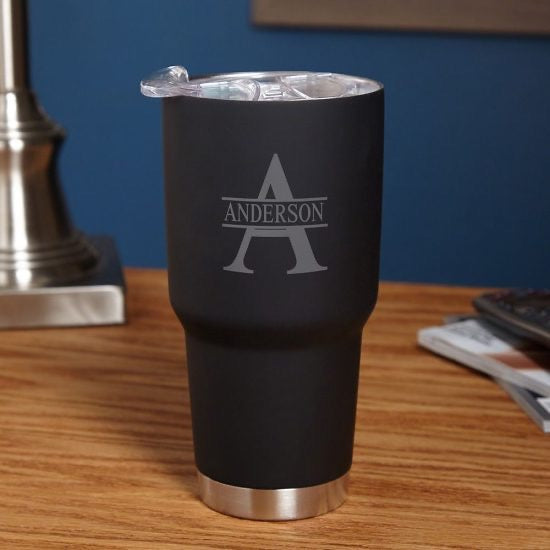 Being a parent is hard work, and tiring! He's had to get up every two hours during the night for weeks so he's absolutely exhausted during the day. One of the best new dad gifts you can give is an insulated tumbler that will hold plenty of coffee to keep him awake and alert! This tumbler is made of double walled stainless steel and will keep his favorite espresso piping hot for up to six hours or his iced macchiato frozen for 24! Thanks to your helpful gift, he'll be ready for anything all day long no matter how little sleep he got.
The Perfect Whiskey Gift Set for Dad
As soon as the baby is put to bed, the tired new father likes to pour himself a scotch on the rocks before hitting the hay himself. Make his evening routine a little more enjoyable with his personalized whiskey glass gift set! A must-have gift for new dads, he will enjoy the unique double old-fashioned glasses and whiskey stones. You can customize the two lines of text on the gift box to be anything from "To My Husband, The Best Father Ever" or "I Love You, Forever and Always." Whatever you choose, he will love the engraving on these awesome gifts for dads!
A New Coffee Maker
The guy in your life has always been a coffee drinker, but now he practically lives on it with a new baby in the house. He and his wife need a constant supply of coffee to stay awake through the day until their child eventually starts sleeping through the night. One of the best gifts for new dads and moms is a coffee maker! The Ninja Specialty Coffee Maker can brew six different sizes and instantly produce iced coffee and specialty drinks such as lattes or cappuccinos. Mom and dad will be energized and never wanting for coffee again thanks to your amazing gift!
Show Your Appreciation for Him
As a new dad, your husband has shown you just how amazing of a man he is. He's willing and ready to do anything for you and the baby as well as learn how to be a good parent with you. His birthday is coming up and you want to get him something special to show your appreciation for having him by your side as you two navigate being parents for the very first time. This complete beer lover gift is one of the best gifts for new dads! It comes with two pint glasses, two bottle-opening coasters, an insulated beer growler, and a large gift box that are all engrave your hubby's name followed by "The Man. The Myth. The Legend." How cool is that? He'll feel like the coolest dad in the world as soon as he unwraps this amazing gift. He'll love using the coasters and pint glasses to enjoy an ice cold beer with you after the baby is fast asleep when you two can relax for a while. He'll definitely enjoy bringing the growler to his favorite local brewery to fill up with the latest concoction to try at home or for traveling! Your man will be reminded of how much you love and appreciate him every time he uses this set.
Create a Custom Whiskey Set for Him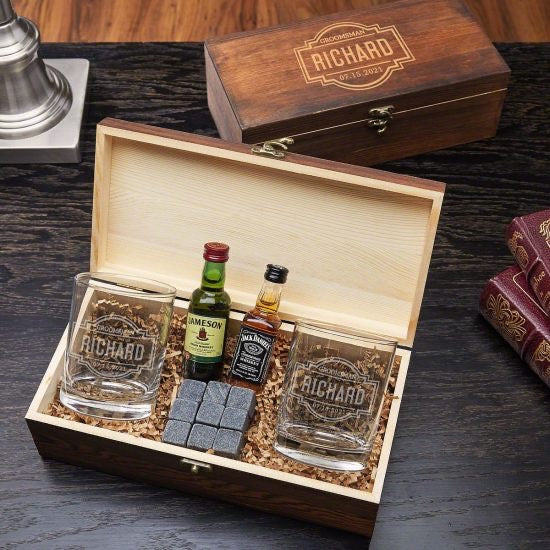 The new dad in your life hasn't been able to enjoy his favorite spirit since the baby was born. He or she is finally starting to sleep more at night, so dad will be able to enjoy a nightcap or two pretty soon. Why not help him relax with his own custom whiskey gift set? Included are two double old-fashioned glasses, a set of whiskey stones, and a wooden gift box. The glasses and gift box are all engraved with three fields of text of your choice to make it specially unique just for him. Plus, there is plenty of room inside to add a liquor bottle or two for him to try. He will be so happy to enjoy his favorite drink again and will be able to relax a little better thanks to your thoughtful gift.
379+ AWESOME GIFT SETS AND GIFT BOXES FOR DAD>
Enjoy His Favorite Craft Brew Anywhere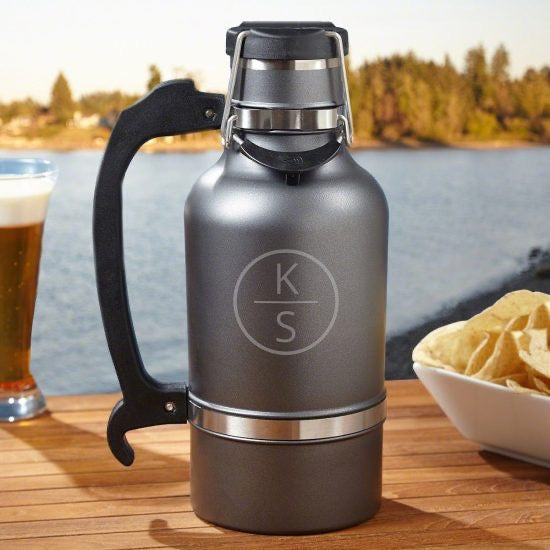 Life as a new father means that he won't be able to go out with the guys for a beer or hang out at his favorite brewery after work as much as he used to. However, that doesn't mean that he has to give up drinking beer entirely! The ideal gift for new dads who love craft beer, this insulated growler can hold up to 64 ounces of beer and will keep it ice cold for 24 hours. He can bring the growler to the local brewery and fill it up with his favorite brew to enjoy on the go with the guys or bring home to relax with. He can use it for other beverages besides beer, too, such as water for a hiking trip or juice for a morning picnic in the park with the family.
Some Peace and Quiet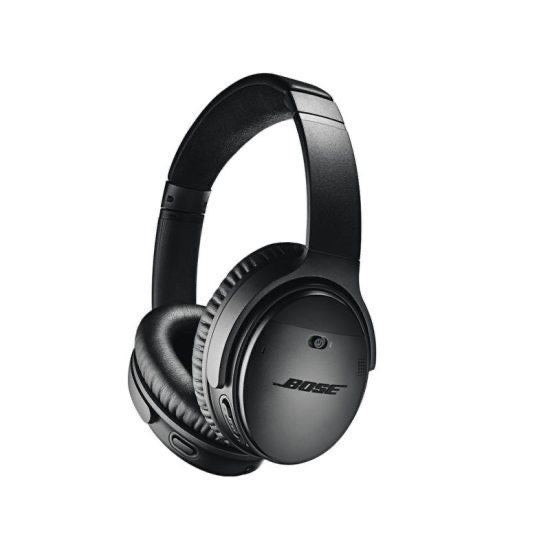 When it's his turn to relax, the new father wants some peace and quiet to himself. Whether it's watching his favorite TV show or listening to an audio book, he'll need some powerful headphones to block out any other sound so that he can truly unwind. The Bose Quiet Comfort headphones are wireless, noise-canceling, and have incredible sound quality. As soon as mom tells him to go take a break, these headphones will be the first thing he'll reach for so that he can sit back, relax, and enjoy his baby-free time.
The Perfect Whiskey Gift for Dads Who Need a Stronger Drink
One of the biggest issues with scotch on the rocks is the fact that ice melts and waters down the whiskey, so you have to drink fast. As a new dad, he doesn't always have the luxury of enjoying his drink to the fullest. Sometimes, the baby will wake up right after he pours his drink and he'll have to go put him or her back to sleep before being able to enjoy his Jack Daniels. By the time he returns, the ice is all melted and his drink is ruined! Thanks to these whiskey spheres, he'll never have that problem again. This whiskey set includes two large chillable whiskey stones and a personalized rocks glass. All he has to do to get a chilled drink is take one of the stones from the freezer and drop it in the glass, it will keep his favorite whiskey ice cold even if he has to take a 15 minute break from it! But best of all, it won't water down his drink. Now he'll be able to enjoy his nightcap to the fullest thanks to your great new dad gift.
Practice His Putts At Home
Since the birth of his son or daughter, the guy in your life hasn't been able to go golfing with his friends. He misses the green like crazy, but his duties as a father are as demanding and time-consuming as his full-time job. By the time he can come back to the course, he'll be a little bit out of practice unless you give him this portable putting set! When he gets some free time, he can set up this miniature golf set and practice a little bit. He can take it to work, too, to practice on his lunch break! Once he gets enough free time to join his friends on the course, it'll be like he hadn't ever left.
For the Best New Dad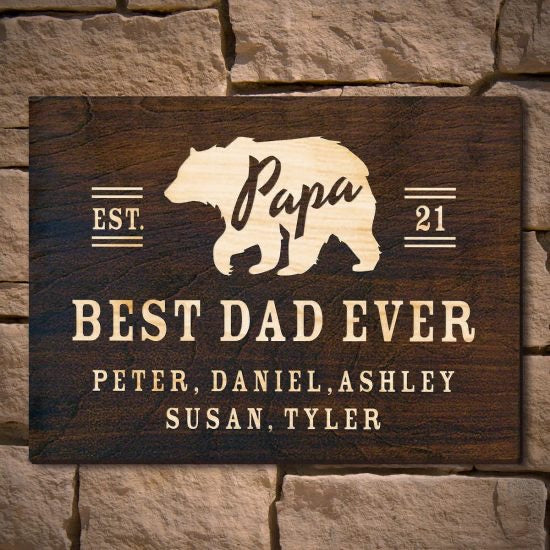 What is a better gift for new dads than one that makes him feel like the best dad ever? Nothing! That is why this personalized wooden sign is the ultimate gift for the best new dad! He'll know he is doing a fantastic job as a father each time he looks up to see his sign hanging up in his office or in the living room. Engrave the sign with the year his child was born and this will be a gift he'll appreciate for years to come!
Help Him Take Great Selfies and Videos with the Baby
As a new parent, the guy in your life doesn't want to miss a single moment of his baby's life. He wants to be there for every first word, laugh, steps, and more. Help him do so with a handy smartphone gimbal! An advanced version of a selfie stick, the gimbal will not just stabilize his phone to take clearer pictures and video, but also helps him control it from a distance to get the perfect shot. He'll love using it to document his baby's firsts as well as take great pictures with him or her!
A Reminder of His Child Wherever He Goes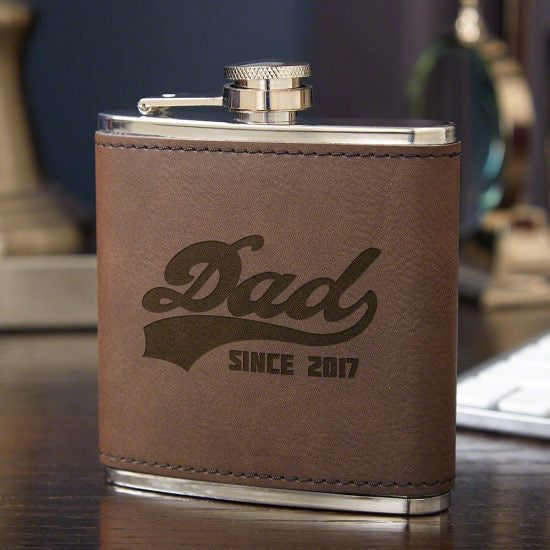 One of the best gifts for new dads is something that will remind him of beloved first-born even when they're apart, like this cool flask! This liquor flask is made of stainless steel and has a faux leather wrap that is engraved with "Dad since" the year his child was born. When he uses it for a pick-me-up while hanging out with his buddies, he'll smile and remember how awesome it is to have a kid and be his or her father. He'll treasure this cool flask forever, and it's the perfect Father's Day gift!
Ultimate Relaxation Gift Box
Being a new dad is hard work, and he deserves to relax once in a while. When he gets the chance, the first things he reaches for are a bottle of Jim Beam and a Baccarat. With this ultimate relaxation gift set, he'll finally be able to unwind. The personalized whiskey glass will actually hold his cigar for him so that he has a free hand to hold his phone or a good book. The cigar accessories and whiskey stones will come in handy to make his alone time a little easier to enjoy as well. Plus, he can store the entire set for safekeeping in the wooden gift box or repurpose it to store his watches, ties, or cigars.
Help Him Keep the House Clean
Taking care of a newborn is a full-time job for mom and dad both, which doesn't leave them much time to take care of the house. The only time they can really clean is when the baby is asleep in their room, but it would just wake them up. Give the new parents a break with a Roomba! This amazing gadget will completely vacuum and dust all of the floors in the house, and even learns the layout so that it knows exactly which rooms need cleaning most often. Thanks to the Roomba, the new father and mother can relax knowing that they have one less thing to worry about! Any new parent would love to get this amazing gift for Christmas.
Give Him a New Hobby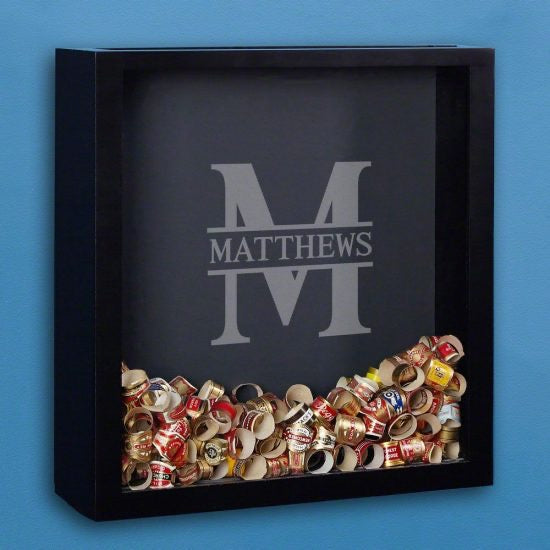 Since the baby was born, all he and his wife do is take care of and talk about the baby. He hasn't been able to enjoy his normal hobbies and free time as often, but he'd like to get back into it. Why not give him a whole new hobby to start that's easy, fun, and barely takes any time at all? Collecting is a fun activity for anyone to enjoy, even a new parent. With this custom shadow box, he can store anything from cigar bands to fortunes from fortune cookies. He'll love watching his collection grow over time as he deposits pieces into the shadow box. Bonus: the shadow box doubles as a unique piece of decor to show off!
A Game Set He Can Take Anywhere
Does your husband enjoy playing games with cards and/or dice? Whether you're hanging out with family or friends, when the conversation starts to lull, your hubby always saves the evening by asking for a deck of cards. He loves teaching people how to play card games such as Blitz, Cheat, and Ranter-Go-Round. Dice games are even easier, such as Bunco, Liar's Dice, and of course, Yahtzee. One of the best gifts for him is a travel set of cards and dice! He'll love being able to play games with anyone, even his brother-in-law while you and your brother's wife are preoccupied with the baby.