Guys are always hard to buy gifts for, especially when they're your guy friends! Finding gifts for guy friends can be tricky because they're a friend who happens to be a man, but not a boyfriend or someone whom you have a romantic interest in. A gift for a guy friend is a birthday gift, appreciation gift, or just something you think he would like. Anything to do with gaming and drinking is always a great idea, but gifts with a cool factor or something practical is also greatly appreciated. You probably have a couple of questions, such as what should you get your best guy friend for Christmas? How much should you spend on a gift for your friend? Don't worry, we've considered all of your questions and found the best of the best gift ideas for guy friends whether he's been your best friend since 2nd grade or your college roommate.
A New Traveling Companion He'll Never Leave Behind
Is your buddy an outdoorsy guy who loves to go camping, hunting, fishing, hiking, and such? Anything that will help him out on his adventures is one of the best gift ideas for guy friends who spend more time outside than inside. Camping equipment can be kind of boring, though, so step it up a notch and get him a personalized tactical survival knife! This gnarly knife has two different serrated edges, a razor-sharp carbon steel blade, and even has a hidden survival kit inside the hilt. How badass is that? The survival kit has the basics for an emergency: a compass. Matches, sewing kit, and fishing set. He'll love using this knife for cutting up firewood, preparing freshly-caught food, and all kinds of things. Once he uses it, he'll never want to go anywhere without it at his side!
The Coolest Gift Set for Your Best Bro
Whether he's in the military or is just a gun guy, ammo cans are one of the best go-to gifts for guy friends. Ammo boxes are versatile, useful storage containers that can be used for other things besides just storing ammunition. For example, your friend could use it to store his gun range gear, fishing lures, camping essentials, his lunch, or tools! The uses are endless for these incredibly sturdy military surplus ammo cans. On top of that, the ammo box comes with matching engraved rocks glasses, whiskey stones, and a hatchet! Now he can enjoy a proper glass of scotch on the rocks with you in style after spending a day at the shooting range. The hatchet will certainly come in handy whether he has a couple of small trees to get rid of in the yard or to bring along hunting or camping. Seriously, you can't go wrong with such an awesome gift no matter the occasion.
The Coolest Bottle Opener Ever
No, you're not looking at an engraved shell. Well, it IS a real bullet, but it's been hollowed out and turned into a bottle opener! Can a gift idea for a guy friend be any cooler? A simple but personal and useful gift, this awesome bullet opener doubles as a unique paper weight that's great for keeping as a decoration on the bar or counter. He'll love showing it off to your other friends when everyone comes over to his place for a couple of drinks. This bottle opener makes a great stocking stuffer or additional birthday gift, just don't forget the beer!
Cool Whiskey Gifts for Guy Friends
Your male friend is a man who enjoys fine whiskey, but also likes to try new kinds. Make sure he has the proper tools for a whiskey tasting with this whiskey stone gift set! The two of you can sample any blend of scotch or bourbon without disturbing the flavor thanks to the chilling stones. Once your buddy tries out this set, he'll never want to have whiskey on the rocks any other way! This must-have whiskey set is one of the most useful gifts for male friends who enjoy whiskey.
A Gift Fore Your Guy Friend
When you're searching for the ultimate gift ideas for guy friends, it doesn't always have to be some deep-rooted search for some obscure item. Instead, why not make it so he can enjoy one of his favorite hobbies even more often with this golf putting set! It doesn't matter if he can't make it to the course because of work or weather, when you give him this set, he'll always be working on his short game and saving strokes the next time he is out on the green!
245+ GIFTS FOR FRIENDS WHO HAVE EVERYTHING>
A Nice Phone Case
In this day and age, most people have expensive smartphones on hand at all times that need a protective case. Wallet cases have risen in popularity as people often always have their phone in hand, so having your most-used cards and some cash with your phone makes sense. One of the best gifts for guy friends is a Nodus leather 2-in-1 phone case and wallet! Slim, sleek, and attractive, the Italian leather case is a must-have for any guy. Your friend will love that his phone is protected from harm and that he doesn't have to carry as much in his normal wallet. The Nodus Access Case III comes in four colors and is compatible with wireless charging, so it's got every feature he could possibly need!
Shots for All of Your Friends
Taking shots with friends on nights out on the town is one of your guy friend's favorite things to do, which makes this flask gift set one of the best possible birthday gifts for him! He will love having his own flask to bring along, but he'll especially enjoy the included four shot glasses he can use to pour you and a couple of your other friends a shot to take together wherever you are.
Make Him Feel Like a Legend
Your best friend is the coolest guy you know. Everyone around him loves his easygoing, charismatic personality and he always tells the funniest jokes. Such a man deserves something special when his birthday, the holidays, or any other special occasion comes around! Make your bro feel like the most awesome guy in the world with this unique whiskey gift set! The gift box and two rocks glasses inside are all engraved with his name followed by "The Man. The Myth. The Legend." Also included is a handsome new pocket knife, which he'll want to use every day just to show it off. Everything about this incredible gift for guy friends will make him feel so cool, even Elon Musk or Bill Gates can't compare to him.
You Can Never Go Wrong With a T-Shirt of His Favorite Sports Team
Guys love sports, and have immense pride for their favorite teams. Anything with their favorite team's name on it is the best possible gift. Besides, you can never have too many T-shirts, right? Your friend will love getting a new piece of merchandise that they can proudly show off. Fanatics.com has hundreds of different teams and plenty of different styles of T-shirts so that you can find at least one shirt your friend doesn't already have to give him for his birthday.
The Best Beer Gifts for Male Friends
There's nothing like kicking back with your friend and enjoying a couple of cold beers. One of the best gifts for your buddy is his own custom beer mug! Inspired by the legendary friendship of Goose and Maverick, this box set is the perfect birthday gift for your guy friend. Now he won't have to share his favorite beer glass with anyone since it really does have his name on it!
The Coolest Whiskey Gift Set
Your best guy friend is a really cool guy who deserves an incredible gift for his birthday or Christmas. You want to get him something nice, but you want to make sure it's something he'll use and enjoy. If he's a whiskey drinker, this essential whiskey gift set is one of the best gifts for guy friends! Included is everything he needs for a quality glass of whiskey besides the liquor itself: a classic double old-fashioned glass and a set of whiskey stones that have a handy travel bag, tongs, and a secure wooden box for safekeeping. The best part about this cool set is that it's engraved with a neat design that declares your buddy as a legendary guy. He'll feel cooler than Elon Musk himself when he enjoys a nice glass of scotch on the rocks from this set. Have you ever seen a better gift for your best friend?
Versatile Wireless Phone Charger
Technology is always improving, and 2019 is all about the newest feature on our smartphones: wireless charging! Your buddy just got a new phone that can charge wirelessly but doesn't have the proper charger just yet. Surprise him with a magnetic wireless charger that he can use in his car, at work, or even at home! The powerful magnet will make sure his phone stays put no matter where he has it, and the charger itself is much faster than any cheap one you can get at Target. Your buddy will never plug in his phone the old-fashioned way ever again after using this amazing wireless charger!
Something to Remind Him of Home
As we grow older, friends often separate and lose touch. You and your best bud live in different states now after growing up together, and you're looking for a nice gift for him. How about something that reminds him of home? Guys don't want something cheesy like a Homesick candle, but a bottle cap collector sign shaped like their home state is perfect! Your friend will love having a unique piece of decor on his wall where he can show off his pride for his home state as well as his taste in beer. Depending on the liquor laws in both yours and his states, you could even send him a couple of local brews to help him get started on the map! This sign makes a fantastic gift for his birthday, Christmas, or even graduation.
His New Favorite Tool Set
Okay, it's not strictly a generic tool set, but this ammo box gift set certainly has some cool items in it! The handy little hatchet is great for outdoor adventures whether you and your buddy are camping, fishing, or even just doing yard work. He'll never go anywhere without his trusty new hunting knife, that's for sure. Make sure you include a couple of stogies in the nifty cigar flask so that he can enjoy one when you give him his amazing gift! This gift set is one of the most unique and coolest gifts for male friends on his birthday or for Christmas.
477+ BOX SETS AND UNIQUE GIFTS FOR MALE FRIENDS>
Only the Best Decanter Set for Your Best Guy Friend
Gifts for male friends don't have to be super expensive to be considered good gifts. In fact, once your best friend unwraps this exquisite decanter set, he'll think you spent a fortune on such an impressive gift! This three piece personalized decanter set isn't just cool, it's practical and won't break the bank even if you're shopping on a budget.
Now He Won't Have to Look for a Bottle Opener Ever Again
You enjoy going over to your friend's house for a couple of beers, but he always has to rummage around the kitchen and bar area for a bottle opener. Why not surprise him with a handy wall-mounted bottle opener that he can't possibly lose? He'll love that you solved his problem for him, and now you both can get up for another beer and return before the next attack comes on your video game!
Tasty Beer Gifts for Guy Friends
Over the years, you've seen him enjoy countless beers. He's had them from bottles, from cans, and even mugs and pint glasses at restaurants. He likes to think of himself as a true aficionado of hops. However, you can take him from the entry-level beer enthusiast he is to a grandmaster when you give him a tasting set. From stouts to pilsners and IPAs alike, this set will help him realize the subtle flavors he's been missing all the years. Plus, the whole set even has his name all over it, how cool is that?
The Classiest Gift Set for Him
Got a special occasion coming up with this friend? Maybe it's the holidays or his birthday? Look no further than this whiskey stone gift set as the ultimate set gifts for guy friends. He'll love getting a unique and personalized gift that he can use to celebrate the occasion with right away! Just make sure to bring a bottle of his favorite whiskey too if this is a truly momentous occasion to celebrate!
His Own Pint Glass
You're probably thinking, "A personalized pint glass? Why is that a good gift for guy friends?" Here's why: pint glasses are incredibly versatile glasses. Guys like things that are practical and useful, and what's more useful than a pint glass? They can be used for beer, cocktails, iced tea, water, juice, iced coffee, and more! The fact that it's personalized with his name and initial is what makes it special. This way, you're giving him a useful gift that is also uniquely personalized just for him, which adds the thoughtful factor. Throw in a six pack of his favorite drink and voila! You've got the best possible gift for a friend on his birthday or Christmas. Yeah, it's that easy. He'll be so impressed and touched by your amazing gift that you'll definitely get an equally great gift in return when your birthday comes around!
The Ultimate Geek Gift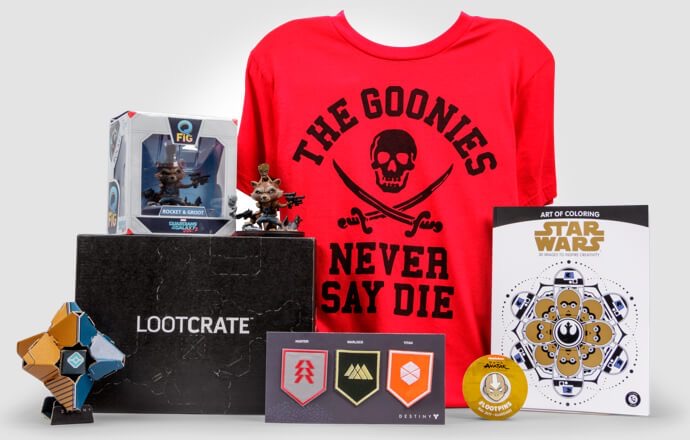 Sometimes it's hard to find a good gift for a guy who is into all kinds of pop culture. You know he's got a collection of POP figures, plenty of geeky T-shirts, and all sorts of keepsakes from all of his favorite shows, games, and movies. One of the best gift ideas for guy friends who are geeky is a LootCrate subscription! You can choose from over a dozen different crates: the basic crate with a variety of things from different pop cultures, a specific crate all about a character such as Deadpool, or a themed crate with unique merchandise from the Wizarding World of Harry Potter or the Adult Swim channel. With all of these options, you can certainly find your friend a unique gift that he's sure to love! As soon as he gets his crate, he'll call you and rave about what he got and how excited he is about each item.
Get Ahead with Awesome Gift Ideas for Guy Friends
Why not get one of the coolest and raddest looking gift ideas for guy friends out there with this skull decanter set? Perfect for guys who love skulls or who want to throw the spookiest Halloween party in town, he'll love seeing how the skull floats inside a river of his best booze. Add in the fact that the glasses are personalized just for him, and this will be the coolest friend gift he's ever gotten!
The Gift Every Guy Wants
There's nothing a guy loves more than getting a gift that he can use for his favorite hobbies. For the man who enjoys grilling, this personalized set of grilling tools is absolutely perfect! This awesome gift for guy friends is great for taking to the park, lake, or campground so that he can use his trusty tools wherever he wants. These handsome grilling tools are sure to be a welcome and attractive upgrade to his old ones!
Help Him Save Money on Liquor
How often have you and your buddy wished you two had brought your own liquor when hanging out at another friend's house who only has Bud Light? Solve your problem with a liquor flask! You can get one for yourself, too, as this handsome leather-wrapped flask is quite handy. Not only is it designed to fit discreetly into any kind of pocket for easy transportation, but it looks classy too! Flasks are always great gift ideas for guy friends, so be prepared to get everyone their own custom flask once they see the one you got for your buddy!
229+ GIFTS FOR GUY FRIENDS WHO HAVE EVERYTHING>