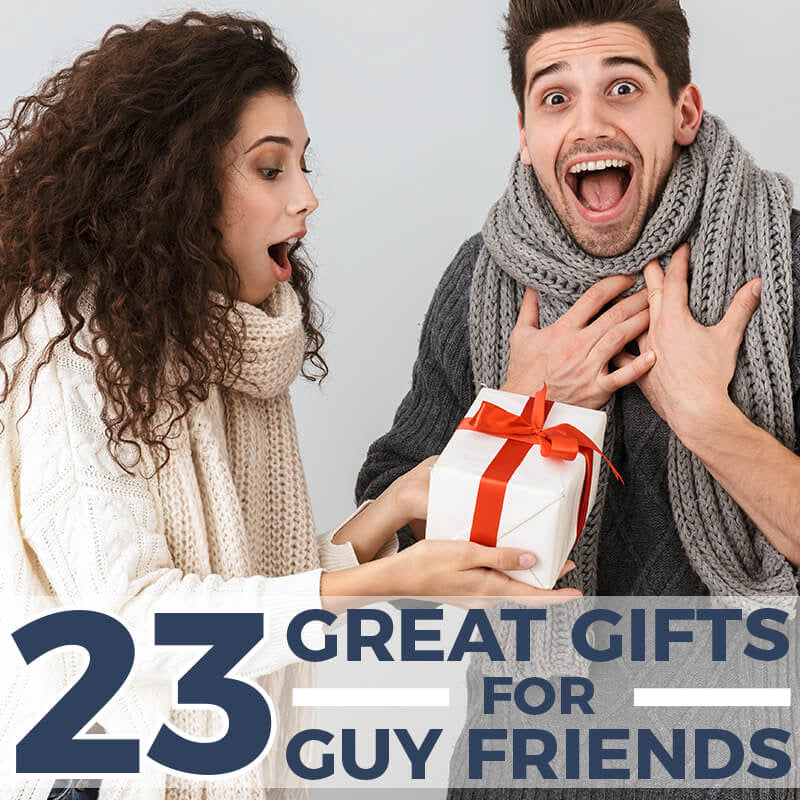 23 Great Gifts for Guy Friends
Use These Great Gifts for Guy Friends to Celebrate Any Occasion:
Guys are always hard to buy gifts for, especially when they're your guy friends! Finding gifts for guy friends can be tricky because they're a friend who happens to be a man, but not a boyfriend or someone whom you have a romantic interest in. A gift for a guy friend is a birthday gift, appreciation gift, or just something you think he would like. Anything to do with gaming and drinking is always a great idea, but gifts with a cool factor or something practical is also greatly appreciated. You probably have a couple of questions, such as what should you get your best guy friend for Christmas? What should I get my male best friend on his birthday? How much should you spend on kickass guy gifts for your friend? Don't worry, we've considered all of your questions and found the best of the best gift ideas for guy friends whether he's been your best friend since 2nd grade or your college roommate.
Sophisticated and Stylish Set of Gifts for Guy Friends
If there is one thing that you can be sure your guy friends will love, it'll be a custom gift box full of awesome cigar and whiskey gifts. Perfect for them to embrace their inner gentleman, this box set will have them feeling as dapper and sophisticated as a man can while he enjoys a whiskey on the rocks paired with the perfect stogie. Great for special occasions or just because, you can truly give your friend this gift idea at any time and he will surely love it!
The Coolest Gift Set for Your Best Bro
Whether he's in the military or is just a gun guy, ammo cans are one of the best go-to gifts for guy friends. Ammo boxes are versatile, useful storage containers that can be used for other things besides just storing ammunition. For example, your friend could use it to store his gun range gear, fishing lures, camping essentials, his lunch, or tools! The uses are endless for these incredibly sturdy military surplus ammo cans. On top of that, the ammo box comes with matching engraved rocks glasses, whiskey stones, and a hatchet! Now he can enjoy a proper glass of scotch on the rocks with you in style after spending a day at the shooting range. The hatchet will certainly come in handy whether he has a couple of small trees to get rid of in the yard or to bring along hunting or camping. Seriously, you can't go wrong with such an awesome gift no matter the occasion.
Fine Time for Him to Have a Stein
Your eyes aren't fooling you, this truly is one of the coolest gifts for guy friends that you could've hoped to find. You've known your best bud for years, and you know a personalized beer stein is going to be one of the best gifts he could hope to ever get. From the beer aficionado to the guy who simply wants to feel like a king of old, this gift is perfect! It's the ideal gift for guys when they're not drinking from it too. Whether he has some sweet home decor or bare-white walls, steins make great pieces of decor that any guest can't help but talk about. You can be sure this will be up on his mantle or shelf for every time it isn't in his hand for a drink!
Cool Whiskey Gifts for Guy Friends
Your male friend is a man who enjoys fine whiskey, but also likes to try new kinds. Make sure he has the proper tools for a whiskey tasting with this whiskey stone gift set! The two of you can sample any blend of scotch or bourbon without disturbing the flavor thanks to the chilling stones. Once your buddy tries out this set, he'll never want to have whiskey on the rocks any other way! This must-have whiskey set is one of the most useful gifts for male friends who enjoy whiskey.
A Personalized Poker Set
If there is one thing that friends do, it is spending time together! However, a lot of guys don't just hang out, they often want to be doing something with their time, so make sure he's always got something to do with his own embossed poker set! These sets are great gift ideas for guy friends because now there is never an excuse for him to never have anything to do! From impromptu games to weekly poker nights, this set is perfect!
Cutting Edge Gift Idea for Guy Friends
A great thing about finding gift ideas for guy friends is that as you search, you find out that they don't all have to be crazy over-the-top gifts, some can be quite simple and practical while still being amazing. This engraved cutting board is one of those gifts. It is an ideal gift for every man because, after all, every man has to eat. So, now he can meal prep in style. In fact, this gift looks so good that it'll be the only time you'll have ever seen him keep his cutting board out and on display. This way, everyone who goes into his kitchen can see just how seriously he takes his epic gift!
245+ GIFTS FOR FRIENDS WHO HAVE EVERYTHING>
A Nice Phone Case
In this day and age, most people have expensive smartphones on hand at all times that need a protective case. Wallet cases have risen in popularity as people often always have their phone in hand, so having your most-used cards and some cash with your phone makes sense. One of the best gifts for guy friends is a leather 2-in-1 phone case and wallet! Slim, sleek, and attractive, the Italian leather case is a must-have for any guy. Your friend will love that his phone is protected from harm and that he doesn't have to carry as much in his normal wallet.
Update His Home
How awesome is this custom bar sign? Whether your friend has a home bar or dreams of having one someday, this unique decor is the ideal way to make it official. He will love how much creativity you put into making this sign entirely unique just for him, and he's sure to treasure it for the rest of his life. Certainly one of the most thoughtful gift ideas for guy friends, such a fantastic sign will be the best birthday or housewarming present he's ever received!
Shots for All of Your Friends
Taking shots with friends on nights out on the town is one of your guy friend's favorite things to do, which makes this flask gift set one of the best possible birthday gifts for him! He will love having his own flask to bring along, but he'll especially enjoy the included four shot glasses he can use to pour you and a couple of your other friends a shot to take together wherever you are.
You Can Never Go Wrong With a T-Shirt of His Favorite Sports Team
Guys love sports, and have immense pride for their favorite teams. Anything with their favorite team's name on it is the best possible gift. Besides, you can never have too many T-shirts, right? Your friend will love getting a new piece of merchandise that they can proudly show off. Fanatics.com has hundreds of different teams and plenty of different styles of T-shirts so that you can find at least one shirt your friend doesn't already have to give him for his birthday.
A Sharp Set of Gifts for Guy Friends
Make sure that the gift ideas for your guy friends are useful. After all, he is still a man. And there is nothing that men like more than getting items as a gift that are practical. However, with this engraved ammo can gift set, you can be sure he is going to put every part of it to use. From cutting through the jungle to bringing his ammo to the range to even enjoying a cigar and sip of whiskey, this gift has him covered! Talk about a cool set of gifts for guys!
Must-Have Gift for Him
One thing every guy needs in his life is a decanter! By giving your guy friend a custom liquor decanter, his home bar or office will instantly be classier. Decanters also keep liquor fresher and help aerate it to enhance the flavors more efficiently than their original containers do, so you're also giving the gift of the perfect drink. Whether he's into whiskey, rum, vodka, gin, or even tequila, his spirit of choice will look and taste amazing thanks to this decanter!
Creative Custom Cocktail Smoker Kit
Have him embrace his creativity, but in a manly way, with a custom cocktail smoker kit. These gifts for guy friends are the easiest way for him to feel like a mad scientist while making tasty adult drinks. Infusing scotch, bourbon, whiskey, or other liquors with smoke will have him feeling like he is relearning everything there is to know about alcohol. Better still, no matter if his experiment is a success or a failure, at the end of the day, he'll still have a tall drink of liquor to enjoy. How cool is that?
Versatile Wireless Phone Charger
Technology is always improving, so check out the newest feature on your smartphones: wireless charging! Your buddy just got a new phone that can charge wirelessly but doesn't have the proper charger just yet. Surprise him with a magnetic wireless charger that he can use in his car, at work, or even at home! The powerful magnet will make sure his phone stays put no matter where he has it, and the charger itself is much faster than any cheap one you can get at Target. Your buddy will never plug in his phone the old-fashioned way ever again after using this amazing wireless charger!
Something to Remind Him of Home
As we grow older, friends often separate and lose touch. You and your best bud live in different states now after growing up together, and you're looking for a nice gift for him. How about something that reminds him of home? Guys don't want something cheesy like a Homesick candle, but a bottle cap collector sign shaped like their home state is perfect! Your friend will love having a unique piece of decor on his wall where he can show off his pride for his home state as well as his taste in beer. Depending on the liquor laws in both yours and his states, you could even send him a couple of local brews to help him get started on the map! This sign makes a fantastic gift for his birthday, Christmas, or even graduation.
Growlers are Great Gift Ideas for Guy Friends
Bring out the big guns in your search for the perfect guy gift with this personalized beer growler box set. This set feels like it has everything that a beer-lover could ever need (save a six-pack or growler full of beer, which you could easily add). Perfect for the guy who is into craft beers more than anything else in life, he'll be thrilled at the fact that he can easily enjoy a couple of brewskis in style from the comfort of his home, or thanks to the growler, nearly anywhere on the planet!
477+ BOX SETS AND UNIQUE GIFTS FOR MALE FRIENDS>
Take a Swing at the Coolest Gifts for Guys
Swing away when trying to get the best gifts for guy friends you can with this baseball decanter set. You know he has a love for sports and nothing will be cooler for him than to have a baseball bat that is full of Jameson or Johnnie Walker. Whether he is watching the game or unwinding with his best friends, he'll love sharing a glass with everyone using your awesome gift!
Now He Won't Have to Look for a Bottle Opener Ever Again
You enjoy going over to your friend's house for a couple of beers, but he always has to rummage around the kitchen and bar area for a bottle opener. Why not surprise him with a handy wall-mounted bottle opener that he can't possibly lose? He'll love that you solved his problem for him, and now you both can get up for another beer and return before the next attack comes on your video game!
Touchdown with a Sweet Gift Idea
Throw the ultimate gift idea for a guy his way with this awesome-looking football decanter! Every football game will feel that much more special now that he gets to pour each drink from a glass football that rests on a golden stand. Perfect for every Monday football night as well as the Super Bowl, you know as soon as you give your guy best friend this gift, the decanter set will never leave his counter or home bar.
His Own Pint Glass
You're probably thinking, "A personalized pint glass? Why is that a good gift for guy friends?" Here's why: pint glasses are incredibly versatile glasses. Guys like things that are practical and useful, and what's more useful than a pint glass? They can be used for beer, cocktails, iced tea, water, juice, iced coffee, and more! The fact that it's personalized with his name and initial is what makes it special. This way, you're giving him a useful gift that is also uniquely personalized just for him, which adds the thoughtful factor. Throw in a six pack of his favorite drink and voila! You've got the best possible gift for a friend on his birthday or Christmas. Yeah, it's that easy. He'll be so impressed and touched by your amazing gift that you'll definitely get an equally great gift in return when your birthday comes around!
The Ultimate Geek Gift
Sometimes it's hard to find a good gift for a guy who is into all kinds of pop culture. You know he's got a collection of POP figures, plenty of geeky T-shirts, and all sorts of keepsakes from all of his favorite shows, games, and movies. One of the best gift ideas for guy friends who are geeky is a LootCrate subscription! You can choose from over a dozen different crates: the basic crate with a variety of things from different pop cultures, a specific crate all about a character such as Deadpool, or a themed crate with unique merchandise from the Wizarding World of Harry Potter or the Adult Swim channel. With all of these options, you can certainly find your friend a unique gift that he's sure to love! As soon as he gets his crate, he'll call you and rave about what he got and how excited he is about each item.
Get Him a Chill Whiskey Gift
Get the coolest gift for your male friends with this custom whiskey glass that comes with cooling spheres. Now, while they chill their drink, they can feel like a fancy aristocrat or a daring Bond villain, the choice is theirs! However, with their name on the glass and the usefulness of their gift, you can be sure they'll remember this gift for years!
Help Him Save Money on Liquor
How often have you and your buddy wished you two had brought your own liquor when hanging out at another friend's house who only has Bud Light? Solve your problem with a liquor flask! You can get one for yourself, too, as this handsome leather-wrapped flask is quite handy. Not only is it designed to fit discreetly into any kind of pocket for easy transportation, but it looks classy too! Flasks are always great gift ideas for guy friends, so be prepared to get everyone their own custom flask once they see the one you got for your buddy!
FAQs
What gift can be given to a male friend?
When you're searching for gifts for guy friends, truly anything can work as a gift. It all boils down to what your guy friend likes. Is he a big outdoorsman? Does he like sports? Is he into video games? Once you figure out what his passions and hobbies are, try to find something that supports those interests. When a gift makes his hobbies better or more enjoyable, he will use and appreciate your gift more than you could ever know.
What do guys like as a gift?
Guys like a whole range of items as gifts. It all comes down to the guy. Each man is unique and has his own interests and your gifts should reflect that. Try to find something practical to his life but make it personal; whether that becomes a super unique gift or something engraved, the unique touch is what will make the gift a stand-out present.
What should I buy for my male friend's birthday?
For his birthday you'll want to go to an extreme when searching for gift ideas for guy friends. You've probably gotten him some smaller gifts before but on his birthday you'll want to take things to an 11/10. Find him that gift set he has been after or get him that gift that he hasn't been able to justify buying for himself. These are the kinds of ideas that work for any man. After all, almost every guy still has at least one item they want but hasn't gotten to yet, and he'll appreciate you forever for knowing both what to get as well as gifting it to him on his birthday.
What should I gift to my guy crush?
Any of the awesome ideas above are perfect for your guy crush! Men love unique and manly gifts and there isn't an item here that doesn't fit that category. Find the one that you believe suits him best and it'll be the best surprise gift he's ever gotten.