33 Incredibly Unique Wedding Gifts of 2021
Wedding season is here again, and you've got to find some really great gifts for all of the couples tying the knot in your life! What are unique wedding gifts? For it to stand out, it has to be something they'd never expect that will make an impression. You want to give the couple a gift that they will love, of course, but it should practical and useful as well. Couples in 2021 are all about quality gifts they will actually use that will also help start their new life together with ease. Want to give them a nice personal gift not on their registry? Worried about budget? Worry not, we've got you covered! Our team of experts scoured the web for the best possible wedding gifts that will be treasured by any couples for years to come.
Best Wedding Gift on Earth
They're each other's most beloved person on the planet, so get them a gorgeous gift that symbolizes this! This globe decanter set is one of the most unique wedding gifts out there. The happy couple will love having this unique decanter filled with spirits sitting on their home bar or dining room table. It'll always remind them of how much they mean to one another, and as they sip spirits using the unique glasses, they'll dream about future travels they experience together.
Bean Bag Toss Set of Unique Wedding Gifts
Surprise the couple at their wedding shower with a gift that they can use at their wedding! This personalized bean bag toss board is not only a wonderful keepsake from the time they got married, but it can be a fun activity for the guests to partake in during cocktail hour! The bride and groom will be huge fans of this personalized present and the fun it'll provide their wedding guests.
Unique Wedding Gifts They'll Treasure Forever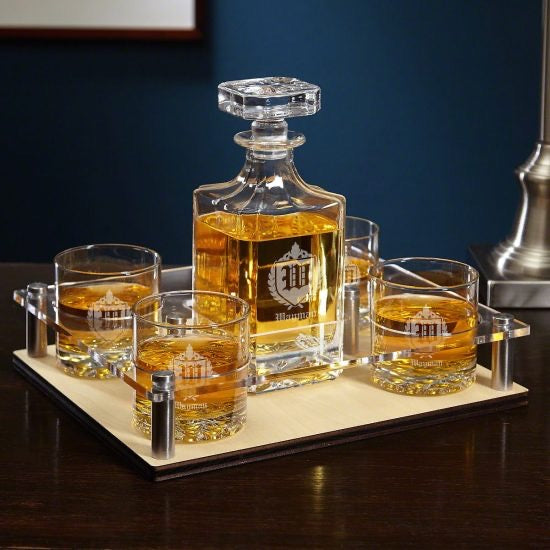 One of the most underrated wedding gifts are coasters because everyone needs them, especially couples who are getting married and moving into a place together. These beautiful coasters are made of gray marble and acacia wood, which is engraved with the bride and groom's names and wedding date. These lovely coasters are thoughtful and unique wedding gift ideas that they are sure to appreciate. Both decorative and practical, these coasters will help keep their new furniture safe from condensation.
Personalized Bamboo Cutting Board
Bamboo cutting boards are super popular again in 2021, and this one is personalized with the bride and groom's names and wedding date! This sweet wedding gift will look lovely on their kitchen counter and works great for everything from seasoning to chopping. This is one of those unique wedding gift ideas that the newlyweds will love to get and will definitely use forever.
Classy and Unique Wedding Gifts
How gorgeous is this unique decanter set? The newlyweds will be in awe of the engraved decanter and the spectacular crystal Glencairn glasses. Perfect for sharing their first drink together as husband and wife, this stunning set is one of the most unique wedding gifts you'll ever see. They'll certainly want to keep this set out on display so that they can be reminded of their wedding day every time they see it, and they'll definitely enjoy using it for drinks on special occasions and date nights.
Cute His and Hers Gifts
For the bride and groom who have different favorite drinks, you won't find more unique wedding gift ideas than this adorable his and hers pair! They will love having their own unique personalized glasses to use for date nights and after-work drinks, especially on their wedding day! This matching set is sure to be used often, but make sure you also get them a six-pack of beer and a bottle of wine so that the happy couple can try out their new glasses as soon as they open their gift.
531+ MORE COUPLE GIFTS THE NEWLYWEDS WILL LOVE >
Canvas Print of their Wedding Song
Do you know what the bride and groom will be walking down the aisle or playing for their first dance? This canvas is printed with the lyrics of that song along with their names to make a thoughtful and one-of-a-kind wedding gift. The bride and groom will love having such an amazing piece of decor to display in their home that is also a wedding keepsake they will treasure forever.
For that Memorable Toast
They'll never forget their first toast as husband and wife. Make it even more memorable with this champagne gift box set! Give it to them at their engagement party or wedding shower so they can use their own personalized glasses for the toasts at the wedding! Every year on their anniversary, they'll use this same set to toast to their beautiful marriage and remember what it was like the first time they did so.
Unique Wedding Gifts for the Couple That Enjoys Wine
A fantastic way for newlyweds to enjoy one of their first date nights as a married couple or to unwind after all the stress of planning their wedding is by enjoying a glass from their own engraved decanter set. These unique wedding gifts will also make a fantastic centerpiece in any home. On days when they aren't sharing a glass together, you can be sure to find this gift on display on their table, home bar, or even up on their mantle!
Make Their Home Official
Now that they're married and starting their own family, you can help make it official with this beautiful personalized sign that displays their new shared last name and the year they became a family. This elegant and modern sign is perfect for displaying in any room of the house and will be a treasured piece of decor that they'll hold onto forever.
A Shadow Box for Their Happiest Memories
Their wedding is one of the times in their lives that every moment is going to be one that seems like they should save it forever. With this engraved shadow box gift set, they can! Perfect for her bouquet, flowers from the reception, or even photos from the wedding, this shadow box will be the most creative set of wedding gifts that allows them to show off their big day! This set even comes with champagne flutes, so if you give it before the wedding they can use their personalized glasses at the reception or if this is a wedding gift. This is the perfect set of glasses for them to take out each time they celebrate an anniversary!
The Most Elegant and Unique Wedding Gift
Get them a gift for their wedding that is just as elegant as her dress was on their big day with an engraved twist decanter set. This classy gift looks like it is always in motion thanks to the gorgeous glasswork. However, the stunning glass is only part of it. They'll love seeing their newly shared last name and initial engraved right into the glass, making this one of the most unique wedding gifts they will get. Now, when they want to unwind with a drink together, end a date night with a bourbon, or celebrate an anniversary, they have the perfect way to do it!
Unique Sign for Their Home
Make their house feel like a home with this adorable custom wood sign! This home sign is the perfect piece of home decor that will bring a subtle smile to each of their faces. Each time they see your gift, they'll be reminded of just how much they love their spouse and how happy they were to take the plunge with them! By far one of the most unique wedding gift ideas, this thoughtful gift is sure to be treasured forever.
Keeping it Cool
Every day is a party when you're married to your best friend! Make sure that party is accompanied by ice cold drinks with this monogrammed, insulated ice bucket! It's one of the most creative, unique wedding gifts that'll make sure that no matter if they're by the pool, watching the big game, or doing anything else while having a drink, they can always refresh their drink with more ice.
Amazon Echo 2nd Generation
2021 is all about smart products like the Amazon Echo. The newlyweds will love having their very own Alexa to play their music, make calls, make to-do lists, ask questions, control certain devices, and so much more. Alexa will help the bride and groom become a more organized and "smart" couple in the digital age. The handy speaker can correspond with any other Amazon Echo or bluetooth devices and help them turn off the lights, control the temperature, or even turn on the coffee maker all without moving an inch.
Fun Custom Sign for the Bride and Groom
Whether the bride and groom enjoy going out drinking together or the occasional wine at dinner, this custom wood sign is sure to be a hit! Personalized with the very true statement of "The Couple that Drinks Together Stays Together" followed by their names and the year they were married, this sign will look great in the home bar or dining room. This romantic sign will remind the newlyweds to enjoy a nice bottle of wine together or a couple of glasses of brandy by the fire.
Unique Wedding Gifts to Bring Wine Anywhere
As newlyweds, the happy couple is bound to be going on a romantic honeymoon and many future trips together, which means they'll probably be bringing a nice bottle of wine along with them. Make sure their wine is always ready to serve with this portable wine chiller! It's double-walled and insulated so that their Moscato is the same perfectly chilled temperature as it was when they took it out of the refrigerator when they arrive at their destination. Thanks to your thoughtful wedding gift, they can enjoy wine on all of their travels with ease and never have to wait for a bottle to chill ever again.
Something to Decorate Their Wedding or Home With
Unique wedding gift ideas should be practical and not just for enjoying at the wedding, like this versatile personalized sign! It's perfect for having at the ceremony or the reception as part of the decor, and after the wedding it becomes a lovely keepsake they'll treasure and display forever! The gorgeous stained wood goes with any theme, which makes it the ultimate piece of decor that they can display in any room in their home.
167+ MORE WINE GLASSES THE NEWLYWEDS WILL LOVE >
Creative Wedding Gifts for Wine Lovers
Check out this set of unique wedding gift ideas! The blackout box with the matching stainless steel wine tumblers is one of the most modern gift ideas for any newlywed couple that loves wine. It is the ideal way to update their wine glass cabinet or at the very least give them a gift set that is perfect for daily use. Why should they use these every day you may wonder? Because, these glasses are nearly indestructible, which is a great quality for their go-to wine glass gift set! They don't have to only use their gift for special occasions; instead, they can use their glasses to their heart's desire without worrying about ever damaging their amazing wedding gift.
Incredible Suitcase with Built-In Charger
The next step after a wedding is the honeymoon, and this incredible suitcase will make their travels from now on so much better! The incredibly durable and theft-proof casing will keep their necessities safe and secure wherever they go while also having an extra battery to keep them charged even during unexpected two-hour layovers! Inside are tons of pockets to keep everything organized and neat. They'll never travel anywhere without this suitcase!
Bar Tool Set of Unique Wedding Gift Ideas
Being married means embarking on different adventures together. Give them an adventure they can experience within the comfort of their home with this golden bar tool set! They'll think it's so fun to create their favorite cocktails, like Daiquiris or Tom Collins, that they would enjoy at the bar when they were first dating. The two of them will definitely become master mixologists and want to invite friends over to share their delicious drinks with!
Agate Serving Tray
Geodes and crystals are on the rise, which means more gorgeous agate decor! This incredible serving tray is one of the most beautiful and unique wedding gifts you can give. Each piece of agate is entirely different, making this tray a truly one-of-a-kind gift. The groom can use it to bring breakfast in bed to his new wife or the bride can use it to serve an array of cheeses to her guests. When not in use, this tray is a work of art that will bring a touch of class to their kitchen or dining room.
A Bar Cart of Unique Wedding Gift Ideas
Whether they've been after a home bar for years but simply don't have the room or you want to make them feel like they've been lucky enough to get one of the most creative wedding gifts ever, you simply must check out this globe bar cart as a gift for newlyweds! It is the coolest way for them to be able to entertain company or even for them to be able to bring a fully-loaded bar with them in every room of the house. The antique styling and usefulness will make this one of the coolest gifts they ever get!
143+ WINE GIFTS FOR THE VINO COUPLE >
Stay Organized
Now that they're getting married, all of their possessions will really merge together. Give them a special place to keep their watches and jewelry with this leather valet box! Not only will they like having their watches neatly displayed in this case, but their wedding rings, tie clips, bracelets, and any other accessories will be safe and sound inside it, which they'll both really appreciate!
Spice Up the Gift with a Box
You know the couple will really appreciate a bottle of whiskey, but giving them a bottle just isn't nearly special enough of a gift. That's where this custom liquor bottle box comes in to save the day! This will make your gift to the couple so classy and personal while also being something you know they'll love with their favorite spirit inside of it! They can even use the box to store mementos from the wedding or save a bottle of liquor for a special occasion.
His and Hers Custom Robes
There's nothing like a cozy robe on a chilly morning or after a hot bath. The bride and groom will love these matching waffle-knit robes! Embroidered with "Mr." and "Mrs." along with their last name, these robes are super cute and unique wedding gifts. They'll never accidentally put each other's robe on and always have something warm to layer up with when the house gets a little chilly.
Unique Monogrammed Set They Can Share
Unique wedding gift ideas that are for the bride and groom's loved ones are just as important as gifts for the newlyweds, and this decanter set is perfect for both! The new husband and wife can enjoy after-dinner drinks using their monogrammed glasses or serve a round of cocktails to their friends when they come over to visit. This beautiful set is sure to come in handy for a variety of occasions from post-honeymoon visits from eager in-laws to double date nights with their friends. Plus, they can use the wooden gift box to store wedding keepsakes!
The Coolest Copper Set of Unique Wedding Gifts
With this set of copper wine glasses, you can be sure their old wine set will never see the light of day ever again. The fantastic design combined with the initial engraved onto the glass is sure to make this their new favorite way to enjoy a good glass of Pinot Noir or Chardonnay. Plus, these glasses even insulate, making them fantastic for cold drinks, how cool is that?
A Gift Set for the Bride and Groom to Enjoy
One of the best wedding gifts you can give is something that makes a special moment even more special. The bride and groom having their first toast as husband and wife is a popular tradition, and with these unique glasses you can make sure that their toast is unforgettable! They will love the beautiful design showing their new shared last name and the date they tied the knot as a touching keepsake they will treasure forever. They'll love using these unique glasses for their wedding toast, for every anniversary in the future, and even for just casual drinks together after a long day.
A Cooking Class
Want to give the couple unique wedding gifts that they'll really appreciate? Give them a cooking class to go to! The newlyweds will love learning how to make a delicious dish together. You could give them just the one class, a week's worth, or a whole course for them to take together. Cooking together is a valuable bonding experience that they will benefit from in the long run, and it's also a lot of fun! Who knows? They might discover a new favorite recipe they both enjoy thanks to you!
Box Set for the Groom
Is the groom a guy of many tastes? He'll love this variety gift set! Included is a rocks glass, bottle opener, lighter, flask, and a gift box. This is the perfect gift set for guys who like all kinds of liquors and cigars. The groom will love having a cool personalized set all for himself.
Wedding Whiskey Gift Set
Want to give the happy couple a really nice gift that's both thoughtful and useful? This gorgeous whiskey stone gift set is fantastic for both of them! Personalize the glass with their last name and initials, and they can have a toast toward each other anytime they want! Plus, they'll have a fantastic set of whiskey stones to ensure their drinks are always perfectly chilled! This is a gift set they may save for special occasions such as anniversaries or celebrations, or they may even make it their nightly cocktail set!