Wedding season is here again, and you've got to find some really great gifts for all of the couples tying the knot in your life! What are unique wedding gifts? For it to stand out, it has to be something they'd never expect that will make an impression. You want to give the couple a gift that they will love, of course, but it should practical and useful as well. Couples in 2020 are all about quality gifts they will actually use that will also help start their new life together with ease. Want to give them a nice personal gift not on their registry? Worried about budget? Worry not, we've got you covered! Our team of experts scoured the web for the best possible wedding gifts that will be treasured by any couples for years to come.
Personalized Sign for the Home
What unique wedding gift can you give that is sure to be loved by both the bride and groom? A custom sign engraved with their names and wedding date! The bride and groom will love having their own official sign to display in their home. This will be a great keepsake for them to remember their wedding day every time they look at it. The couple can display it in their entryway to give their guests a warm, homey welcome whenever someone visits.
Impressively Unique Wedding Gifts
When it comes to unique wedding gifts, the more personalized and practical it is, the better! This stunning personalized decanter set is perfect for the bride and groom to enjoy romantic drinks together on date nights or special occasions, but it's also equally ideal for entertaining guests! When they're not using it to enjoy quality drinks from, this beautiful decanter set looks fantastic on display in their living room or home bar.
Personalized Bamboo Cutting Board
Bamboo cutting boards are super popular again in 2020, and this one is personalized with the bride and groom's names and wedding date! This sweet wedding gift will look lovely on their kitchen counter and works great for everything from seasoning to chopping. This is one of those unique wedding gift ideas that the newlyweds will love to get and will definitely use forever.
Practical and Unique Wedding Gifts Are Always Best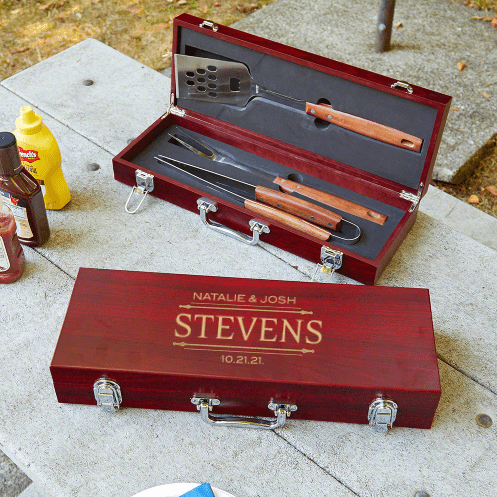 Looking for unique wedding gifts for just the groom? He will be over the moon for this handsome new set of grilling tools! He will love bringing this high-quality set to his friends' houses, the lake, on vacation, the park, and more thanks to the handy personalized carry case. The bride will certainly love watching her new husband at the grill and enjoying the delicious burgers, steaks, and hot dogs he makes for her!
Unique Wedding Gifts for Him and Her
You're in search of wedding gifts for both the bride and groom, but you also want to get them something unique they'll each enjoy. How about this adorable set of his and hers glasses? With a wine glass for her and a whiskey glass for him, the newlyweds can enjoy their favorite drinks together without having to have the same drink. Each glass is uniquely personalized with their names so that they always know which one is theirs. These his and hers glasses are the cutest and most unique wedding gift ideas for any couple you know!
531+ MORE WHISKEY GLASSES THE NEWLYWEDS WILL LOVE >
Canvas Print of their Wedding Song
Do you know what the bride and groom will be walking down the aisle or playing for their first dance? This canvas is printed with the lyrics of that song along with their names to make a thoughtful and one-of-a-kind wedding gift. The bride and groom will love having such an amazing piece of decor to display in their home that is also a wedding keepsake they will treasure forever.
Romantic Wine Gift Set for Date Nights
After getting married, it's important for the happy couple to make time for date nights together! Nothing goes better with a romantic night at home than a bottle of wine, except for this custom wine glass set! These beautiful personalized wine glasses will be a touching reminder of their wedding day and the vows they made to each other every time they use them on their date nights or anniversary. The cute little wine barrel holds all of the necessary tools for enjoying a bottle of wine and is also a fantastic accessory for the kitchen, home bar, or even the dining room! Thanks to you, they'll have everything they need for a proper date night at home.
A Decanter Set Just for Them
This adorable monogrammed decanter set is absolutely perfect for the newlyweds to enjoy together as a married couple! Whether they're having cocktails on date night, enjoying a special spirit to celebrate a special occasion like their anniversary, or they're just relaxing on the couch with a few drinks in hand, this decanter set is sure to come in handy for any occasion. They will love the unique monogram of their initials on the entire set and it makes a unique decoration on their home bar or in their living room when it's not being used!
Custom Acacia Cutting Board
Cutting board are classic, timeless gifts that anyone will appreciate and this gorgeous acacia cutting board is unlike any other! The raw style makes it look rustic, and each board features a singularly unique style of grain so that it is a truly one-of-a-kind gift. The bride and groom will love having a nice cutting board to use when making Sunday breakfasts together or dinner on the weeknights.
Unique Sign for Their Home
Make their house feel like a home with this adorable custom wood sign! This home sign is the perfect piece of home decor that will bring a subtle smile to each of their faces. Each time they see your gift, they'll be reminded of just how much they love their spouse and how happy they were to take the plunge with them! By far one of the most unique wedding gift ideas, this thoughtful gift is sure to be treasured forever.
Marble Wine Chiller
Gone are the days when the bride and groom constantly have to make trips to the fridge for cold wine because this awesome wine chiller will keep their bottle ice cold for hours! Now they can enjoy a full bottle of chilled wine all through their date night. The handsome marble will look classy and is super sturdy, ensuring that the bottle will stay secure. The added engraving is the cherry on top of one of the most incredible unique wedding gift ideas!
Amazon Echo 2nd Generation
2020 is all about smart products like the Amazon Echo. The newlyweds will love having their very own Alexa to play their music, make calls, make to-do lists, ask questions, control certain devices, and so much more. Alexa will help the bride and groom become a more organized and "smart" couple in the digital age. The handy speaker can correspond with any other Amazon Echo or bluetooth devices and help them turn off the lights, control the temperature, or even turn on the coffee maker all without moving an inch.
Unique Wedding Gifts They Will Adore
There's nothing like relaxing on the couch with the love of your life, drinks in hand, and your favorite movie playing on TV. You can ensure that the bride and groom will have the perfect date nights together with this beautiful whiskey glass and stone set! The lovely monogrammed glasses are great for cocktails or straight liquor, and the handy whiskey stones will make sure that their drinks stay perfectly chilled all through the movie without watering them down. Plus, the custom engraved gift box the entire set comes in can be used to store the set in between date nights or be reused to store wedding keepsakes!
Something to Decorate Their Wedding or Home With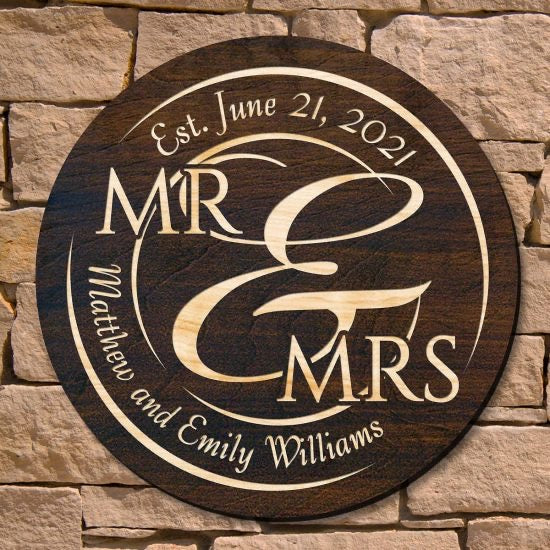 Unique wedding gift ideas should be practical and not just for enjoying at the wedding, like this versatile personalized sign! It's perfect for having at the ceremony or the reception as part of the decor, and after the wedding it becomes a lovely keepsake they'll treasure and display forever! The gorgeous stained wood goes with any theme, which makes it the ultimate piece of decor that they can display in any room in their home.
167+ MORE WINE GLASSES THE NEWLYWEDS WILL LOVE >
An Unforgettable Wedding Gift
How incredible is this customizable whiskey label decanter set? Whether you need a spectacular gift for just the groom, just the bride, or for the couple, this set is ideal! You can fully customize the unique whiskey label design to make it say anything from "Johnson 2020 Wedding, Mary and Jake" to "William's No. 37 Top Shelf Whiskey." No matter how you personalize it, both the bride and groom will be amazed to get such awesome and unique wedding gifts!
Incredible Suitcase with Built-In Charger
The next step after a wedding is the honeymoon, and this incredible suitcase will make their travels from now on so much better! The incredibly durable and theft-proof casing will keep their necessities safe and secure wherever they go while also having an extra battery to keep them charged even during unexpected two-hour layovers! Inside are tons of pockets to keep everything organized and neat. They'll never travel anywhere without this suitcase!
Ammo Can Whiskey Gift Set for the Groom
Want to get a special wedding gift for the groom? He'll be over the moon for this set! Included is a custom engraved ammo can, two whiskey glasses, a cigar cutter, and a lighter. Now he can go shoot some targets at the range with his new father-in-law and then knock back a scotch and a stogie with him afterward!
Start a Collection as a Married Couple
Getting married is a big step for a couple as it means they will start doing even more things together like pay bills, file taxes jointly, and go grocery shopping. With this cute shadow box, the couple can start their marriage with something fun that they can bond over: collecting! Whether it's wine corks, fortunes, ticket stubs, or bottle caps, they will love watching their shadow box fill up with unique memories from their wedding day until their first anniversary (or whenever it's full!). This is one of the most fun and unique wedding gifts that any couple is sure to love!
Simple But Unique Wedding Gifts They'll Use All the Time
Unique wedding gifts should be something out of the ordinary that you wouldn't normally find on a registry, and you certainly won't find a decanter set like this on the bride and groom's list! This simply elegant monogrammed decanter set features the happy couple's initials on every piece, signifying that they really are together forever. The bride and groom can keep the decanter set safely in the gift box if they only want to get it out for special occasions, or it also makes a great place to store mementos from the wedding!
Agate Serving Tray
Geodes and crystals are on the rise, which means more gorgeous agate decor! This incredible serving tray is one of the most beautiful and unique wedding gifts you can give. Each piece of agate is entirely different, making this tray a truly one-of-a-kind gift. The groom can use it to bring breakfast in bed to his new wife or the bride can use it to serve an array of cheeses to her guests. When not in use, this tray is a work of art that will bring a touch of class to their kitchen or dining room.
Unique Wedding Gifts for the Couple That Enjoys Drinking Wine Together
A fantastic way for newlyweds to enjoy one of their first date nights as a married couple or to unwind after all the stress of planning their wedding is by enjoying a glass from their own engraved decanter set. These unique wedding gifts will also make a fantastic centerpiece in any home. On days when they aren't sharing a glass together, you can be sure to find this gift on display on their table, home bar, or even up on their mantle!
Diamonds and Weddings Go Hand in Hand
Diamonds may be a girl's best friend, but they're also a representation of forever which is why most engagement rings use diamonds. Naturally, a wedding gift that represents the bride and groom's eternal future together is an amazing idea, like this stunning diamond decanter set! They'll be using this beautiful decanter set to enjoy drinks together, with family and friends, and to celebrate every anniversary all the way up to their diamond anniversary and beyond. When it's not in use, it is an exceptional centerpiece they can display in their home bar, dining room, or living room.
Wine to Celebrate Their Marriage
One of the most unique wedding gift ideas is to give the couple a bottle of wine meant to be saved for their first anniversary. With this gift box, they'll also have all of the essential tools to enjoy their anniversary wine and every bottle after! The top of the gift box is engraved with two lines of custom text for you to personalize with a sweet message such as "For Your First Anniversary" or "To Be Opened In One Year," it's up to you. This is a really heartfelt, unique gift that they will be excited to open after their first year as a married couple.
143+ WINE GIFTS FOR THE VINO COUPLE >
Amazing Liquor Decanter
Want to give a showstopping wedding gift? You've found it. This gorgeous whiskey decanter set is a beautiful work of art that the bride and groom will love from the intricate glass ship inside to the rustic design of the base. Also included are two shot glasses so that the couple can raise a toast together. The spigot dispenser makes it very easy to serve themselves and their guests a round of drinks. Plus, the decanter itself is sure to be a conversation piece. 
Establish the Newlyweds
The perfect gift that they will always keep in their home is one that shows when they first got married. Combine their anniversary with their love for wine, and you've got a sign that every newlywed couple will be dying to have in their house. Each time they see it on its mount, on the wall, or in the kitchen, they'll not only think of their great day, but they'll feel like a couple of high-class wine aficionados!
His and Hers Custom Robes
There's nothing like a cozy robe on a chilly morning or after a hot bath. The bride and groom will love these matching waffle-knit robes! Embroidered with "Mr." and "Mrs." along with their last name, these robes are super cute and unique wedding gifts. They'll never accidentally put each other's robe on and always have something warm to layer up with when the house gets a little chilly.
Personalized Coasters
One of the most underrated wedding gifts are coasters because everyone needs them, especially couples who are getting married and moving into a place together. These beautiful coasters are made of gray marble and acacia wood, which is engraved with the bride and groom's names and wedding date. These lovely coasters are thoughtful and unique wedding gift ideas that they are sure to appreciate. Both decorative and practical, these coasters will help keep their new furniture safe from condensation.
Unique Wedding Gifts to Toast Their Nuptials With
You just can't have a wedding without champagne, and the bride and groom deserve to have their own special flutes to toast to their wedding! These gorgeous his and her champagne flutes are perfect for using at the rehearsal dinner, wedding reception, and for every anniversary after. As a beautiful and unique way to remember their special day, the happy couple will treasure these personalized flutes for the rest of their lives.
Fun Custom Sign for the Bride and Groom
Whether the bride and groom enjoy going out drinking together or the occasional wine at dinner, this custom wood sign is sure to be a hit! Personalized with the very true statement of "The Couple that Drinks Together Stays Together" followed by their names and the year they were married, this sign will look great in the home bar or dining room. This romantic sign will remind the newlyweds to enjoy a nice bottle of wine together or a couple of glasses of brandy by the fire.
Aerating Wine Glasses
Wine glasses are a pretty typical wedding gift, but these works of art are far from ordinary! Each glass is uniquely designed to aerate the wine, ensuring that each sip is absolutely perfect. Plus, the shape makes them easier to hold. When displayed on a home bar or in the dining room, they are modern pieces of art! The soon-to-be-married couple in your life will love these gorgeous glasses to drink white or red wines from and will want to show them off every time friends and family members visit.
A Cooking Class
Want to give the couple unique wedding gifts that they'll really appreciate? Give them a cooking class to go to! The newlyweds will love learning how to make a delicious dish together. You could give them just the one class, a week's worth, or a whole course for them to take together. Cooking together is a valuable bonding experience that they will benefit from in the long run, and it's also a lot of fun! Who knows? They might discover a new favorite recipe they both enjoy thanks to you!
Box Set for the Groom
Is the groom a guy of many tastes? He'll love this variety gift set! Included is a rocks glass, bottle opener, lighter, flask, and a gift box. This is the perfect gift set for guys who like all kinds of liquors and cigars. The groom will love having a cool personalized set all for himself.
Wedding Whiskey Gift Set
Want to give the happy couple a really nice gift that's both thoughtful and useful? This gorgeous whiskey stone gift set is fantastic for both of them! Personalize the glass with their last name and initials, and they can have a toast toward each other anytime they want! Plus, they'll have a fantastic set of whiskey stones to ensure their drinks are always perfectly chilled! This is a gift set they may save for special occasions such as anniversaries or celebrations, or they may even make it their nightly cocktail set!
153+ MORE UNIQUE WEDDING GIFTS >