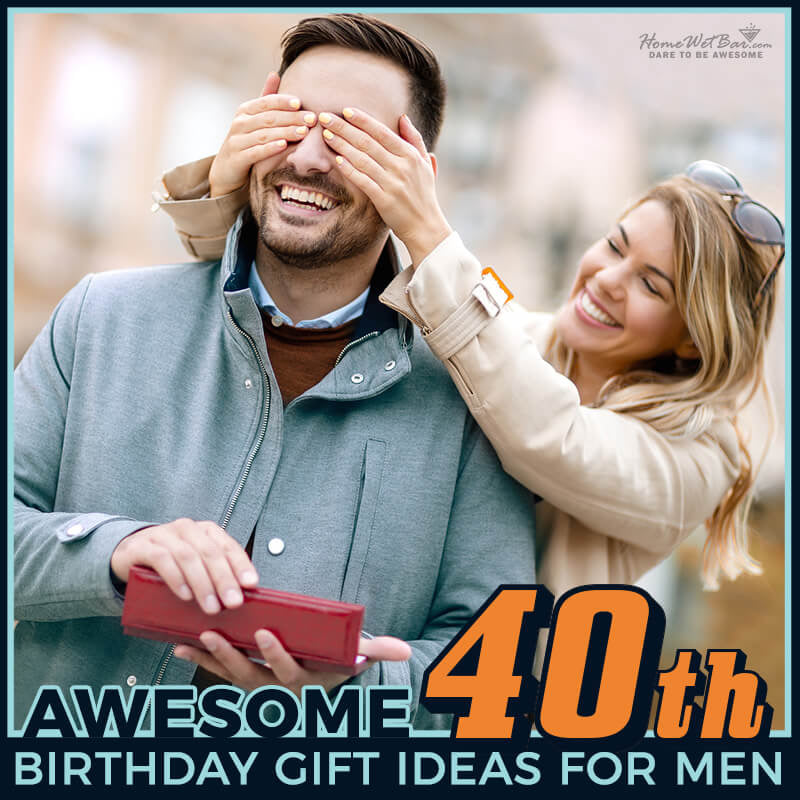 29 Awesome 40th Birthday Gift Ideas for Men
Make His Birthday Unforgettable with Unique 40th Birthday Gift Ideas
When a man reaches his fortieth year, it's a milestone. It's the kind of special occasion that calls for an extra special present to commemorate the day. What are the best 40th birthday gift ideas for men? How much should you spend on his gift? Who can customize it for you? These are all important questions to ask when choosing the best 40th birthday gifts for him. Read on for top birthday gift ideas for him that'll make his fortieth birthday truly spectacular.
He's 40, Ditch the Plastic Cups – He Needs a Whiskey Glass Set Worthy of His Age
He's 40, time to ditch the plastic cups and bargain glassware. For the man who loves to entertain, no 40th birthday gift for him would be better suited than a set that allows him to entertain the neighbors and other guests. This Oakmont wood boxed whiskey set includes four engraved whiskey glasses, a handsome liquor decanter and it all comes in a customized maple gift box. Your father, brother or best friend will be the envy of the neighborhood with this divine whiskey set.
Grilling 40th Birthday Gift Ideas
No 40th birthday gift ideas for men are better than these personalized grilling tools, especially for the man who loves to grill! He will be so excited to use these essential BBQ tools to grill up burgers, steaks, kabobs, and more for all of his friends and family. The fact that he can easily store and bring his trusty tools anywhere from the lake to his friend's house makes this incredible birthday gift even more awesome.
Help Keep Him Organized with a Custom Watch Case
After many Christmases, anniversaries, and of course birthdays, he is sure to have quite the watch collection at this point in his life. While most 40th birthday gift ideas for men are watches, you know he has plenty of them. From his day-to-day Fitbit or his finest timepiece, why not make organizing his watch collection easier than ever with a gorgeous black wood and leather watch case? Engraved with his name, this will be one of the best ways for him to keep all his accessories. Nevermore will he be searching around for the ideal watch or for both cufflinks. Now, getting ready for casual days at the office to classy date nights will be a breeze!
Create His Own Whiskey Label
One of the best 40th birthday gift ideas you can give him is a dream come true: his very own namesake whiskey label! Any man who's had Jack Daniels or Jim Beam has wondered what a whiskey brand named after him would look like, and your birthday gift makes it a reality. By customizing all of the text in the unique design, you can make this decanter set a one-of-a-kind gift that no one else will have so that it's extra special.
Coolest Cutting Board for Men
Keep him happy in the kitchen with one of the coolest and toughest 40th birthday gifts for him, a custom bamboo cutting board! He'll love seeing the engraving with his name on it each time he goes to slice some tomatoes or dice a few onions. Plus, aside from making him happy, now that he has a new cutting board, you can be sure he'll be firing up his grill way more often than he ever has in the past.
A Blackout Set of Luxury 40th Birthday Gifts for Him
Make your guy celebrate like it is his 21st birthday all over again with this gorgeous black box gift set perfect for celebrations like his birthday. He'll have never felt like a classier birthday boy than when he has a cigar in one hand and his custom glass in the other. Better still, he can take the cigar case and acrylic stand with him in case the two of you go out for dinner and he wants to have a cigar as the ideal complement to his meal. With 40th birthday gift ideas this good, you know you'll see him using this set at home all the time from here on out!
For the Stylish Guy, A Wallet That Will Last
So your husband or best friend has reached his fortieth year and he's still using that old wallet from high school. Don't you think it's time to help the guy out? This wallet exudes class and sophistication and is worthy of any 40 year old. Give him this cool minimalist carbon fiber wallet. Bonus: If you're gifting this as a gift for a friend, call his mom and see if you can't track down that senior picture he hated so much and slide that bad boy into the wallet to really give your buddy the business and add a personal touch. He'll enjoy it for years to come.
The Best 40th Birthday Gift Ideas for Beer Lovers
When it comes to finding the best 40th birthday gifts for him, think first about the things he loves. For a beer lover, this custom beer mug box set is ideal! He will love being able to enjoy his favorite beers in a hefty beer mug that's just like the ones at his favorite pub whenever he wants. He can even share a brew with a friend since the set comes with two mugs! These mugs will definitely be used often, just make sure you get a six-pack of his favorite beer so that he can try out his new mugs as soon as he opens his birthday gift. In fact, these are so good, he may want another set when you eventually start searching for 50th birthday gift ideas for him!
Celebrate with Indestructible 40th Birthday Gifts for Him
It's his 40th birthday! You need to celebrate with his favorite wine These engraved wine connoisseur box set will kick his birthday off right and will be great for his 41st, 42nd, 58th, 67th, and every birthday after. The stainless steel wine glasses are a modern take for a modern man just now hitting his prime.
Cigars Never Go Out of Style
As he's gracefully entered his forties, he's gotten a sense of refinement about him. He may not be the flip cup champ he was in college, but he now knows a good cigar when he sees one. It's what makes this whiskey and cigar gift set an amazing 40th birthday gift for him. He'll love taking his cigars with him wherever they're needed and pairing them with a fine bottle of whiskey. Just like him, this gift will only get better with age.
For the 40 Year Old Craft Beer Lover
Here's a gift that will be a sure hit with any guy who likes good beer or craft brew. Now that he's 40, it's time he stops drinking those light beers and learns to drink some real beer, if nothing else than for bragging rights among his friends! This monogrammed beer kit for men comes with everything he needs to enjoy beer to the fullest. The included personalized beer glasses are perfect for all types of beer and the growler will be the perfect container for beers that he tries at the local brewery or his friends house that he wants to bring home to enjoy later. Give him this set and you know you'll be the first lucky person he invites to pop a cold beer with next time you're in town.
Cigar Smoker? How About a One-of-a-Kind Ashtray for his 40th Birthday

Every cigar smoker needs a proper ashtray. And it's difficult to even conceive of a more luxurious ashtray than the Monogram Marble Cigar Ashtray. Made with a naturally shed horn inlay that makes each one unique unto itself, your forty-year-old smoker will know just how special he is. The built-in stainless steel bowl will make sure none of those pesky ashes get away.
Legendary 40th Birthday Gifts for Him
Nothing quite says, "Happy Birthday," like a custom gift box full of the coolest 40th birthday gift ideas he's ever seen! This whiskey stone set is the perfect way for him to celebrate his milestone birthday. However, this is more than just a whiskey gift. This set that shows how legendary he is will surely make him feel like the manliest guy in town on his birthday!
Golf Birthday Gift Set He'll Look Fore-ward to Using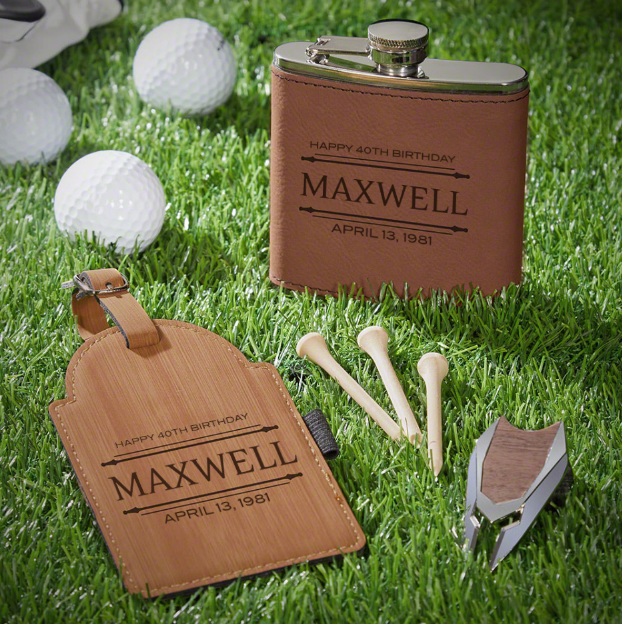 Is he spending his birthday on the golf course? Before he goes, give him these golf gifts! Perfect for any man who loves golf, he'll appreciate having the flask on hand to have a celebratory drink for every hole-in-one he makes. The custom bag tag will look great on his club bag, and the 2-in-1 ball marker and divot tool will certainly come in handy as he plays. Once you give him these 40th birthday gift ideas for men, he'll never want to go golfing without them from now on!
Workout for the Tech Junkie
It's even more important to stay in shape the older you get. If you want a 40th birthday gift for him that appreciates the fact that he takes care of himself then look no further than Virzoom. It combines the workout of a quality exercise back and blends it with a unique VR experience. It's perfect for tech heads and certainly beats watching the local news while burning calories.
A New Twist on Cigars and Whiskey
This set of 40th birthday gifts for him will quite literally smoke out the competition! This is a milestone occasion for any guy, and he deserves to celebrate his 40th in both class and style! Toasting from his new personalized glasses at the start of the celebration, or having a relaxing drink after the festivities will be the best way for him to start or finish his big day. He can even enjoy a stogie as a way to make the smell of cigar smoke a constant reminder of how great his birthday celebration was!
Vintage-Inspired Gift He'll Keep Forever
He may be quickly approaching the age of 40, but that doesn't make him any less awesome! Make sure he knows just how great of a guy he is on his special day with a timeless birthday gift that will make him feel like the coolest man on earth. This custom beer stein shows everyone that he is the kind of man who is an ultra rare edition. Every time he uses his beer stein for a drink or sees it on his mantle, he'll be reminded that as he grows older, he doesn't get any less awesome. In fact, he's like a priceless antique that gets better and more valuable with age!
Cool Twist on Gifting Glassware
Got a cocktail-loving guy you need a gift for? Then how about this, buy him four Benson style cocktail glasses for his favorite cocktail. Give him the glasses with mini bottles of unopened spirits inside. They're versatile whiskey glasses that are great for drinking neat or on the rocks. What a cool 40th birthday gift idea men! Anytime he wants a drink he'll make sure it's gift that keeps on giving!
93+ COOL GIFT BOXED SETS FOR MEN>
New Gadgets Are Great 40th Birthday Gift Ideas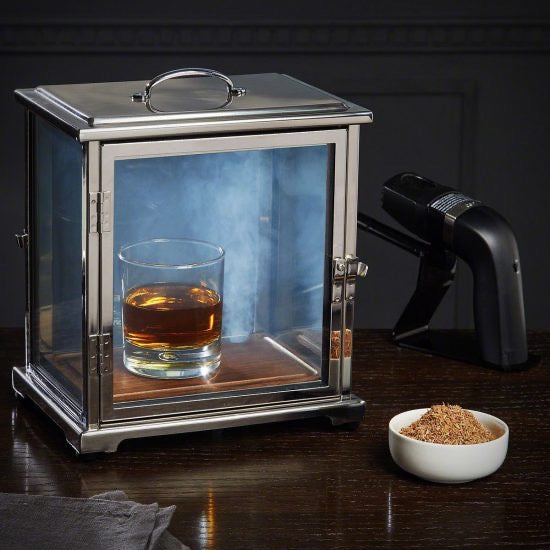 Finding good 40th birthday gifts for him can be as simple as getting him a cool new gadget to enjoy! The smoke box system infuses anything inside with a new smoky flavor whether it's his usual evening bourbon or a Jack and Coke. As far as birthday gifts go, this unique gadget is one of the coolest because it has endless possibilities for creating new drinks. He'll have so much fun experimenting with his birthday gift that he'll forget about all of his other presents!
Decorate His Home Bar
It's about time to give his home bar a fresh look, and his 40th birthday is the perfect time to do so! With this unique personalized sign, he'll feel like he's young again and decorating his home bar for the first time. In fact, he'll be so inspired by your thoughtful birthday gift that he'll want to redo the whole home bar based on this unique sign! By far one of the most creative 40th birthday gift ideas for him, this sign will make him think of his youth and the many English pubs he frequented back then every time he looks at it.
A Whiskey Set Perfect for The Office
Need the perfect gift for your husband? The Stillhouse engraved whiskey gift set will keep your husband happy all day long. It even has your 40th birthday boy's name right on it. Give him a gift to relax with for his fortieth.
Light Up the Night with a High Powered Flashlight
What's a great gift idea for the forty-year-old camper? Of all the great 40th birthday gift ideas out there, we suggest the Klarus XT11GT – 2000 Lumen Flashlight. He'll never want for light again as he makes his way through the dense woods at night. No matter how bad his eyes get in future years, this light will be there to guide his way.
Fill His Cave with Awesome 40th Birthday Gift Ideas
At 40, he is sure to have his own area of the home that you know he simply can't get enough of. This is where he reads, plays games, watches movies, or hangs out with his friends. What could be a better gift than making that spot his official man cave? He'll love having a custom sign to tell the world that he has his own man cave, and that he runs the show there! 40th birthday gifts for him like this personalized sign will have him enjoying his man cave more than ever, and it's all thanks to you!
Practical Gifts for Men Are Always Best
You can't go wrong with a practical gift set like this one as a 40th birthday gift for men! He will love having his very own personalized rocks glass and a couple of whiskey stones to make his nightly Jack on the rocks more enjoyable. The wrench multi-tool will quickly become his new favorite go-to tool because of its many uses at home, work, and on the go! He'll definitely want to fill up the flask with his favorite spirit and carry it with him for when he wants a drink after using it for celebratory birthday drinks.
Get his Favorite Rare Book
Every guy has that one book they've read over and over again. The covers getting worn. A few pages have wrinkles that will never come out. Now you can get him a rare treat for his birthday when you surprise him with a first edition of his favorite book. Abe Books specializes in getting rare and out of print books and making them easy to find. Just make sure he keeps this one in tip-top shape.
Funny 40th Birthday Gifts for Him
He's had a lot of years to look back and remember some incredible birthday gifts, but these fun 40th birthday gift ideas are fantastic presents he'll never forget. Anytime someone asks him his age, he'll immediately hold up his custom glass that insists he's simply 39, not any older. He'll get a kick out of the custom glass and unique whiskey stones for years to come, even when he's reached his next milestone birthday!
Personalized Glencairn Gift for his 40th Birthday
Your man is now in his forties. He no longer has to suffer through well-whiskeys and dollar shots. He can finally save the delicate flavor or scotch in style with this Glencairn gift set. Pair it with a bottle and join in with this awesome 40th birthday gift for him.
AWESOME 40TH BIRTHDAY GIFT IDEAS FOR MEN>
So there you have it, humble suggestions to help that special fellow celebrate his fortieth. Hopefully it helped you out a bit with your decision making process. Because let's face it, a milestone birthday deserves a milestone gift that he'll remember for decades to come.