So the baby is here, or soon will be, and it's time to get a few gifts for the parents. While shopping for the mother may be easy (who doesn't love the ease of picking from a registry?), shopping for new dad gifts can be a bit of a challenge. You may wonder what makes a good gift for new dads? How do you choose a gift for a new father? How much should you spend on his gift? Leave all your worries behind, because we've done some research, and found that the following list of 13 must have gifts are a cut above.
1. Dad's New Favorite Whiskey Set
Help him celebrate the birth of his new child with one of the best possible new dad gifts, a whiskey decanter set! With his child's name engraved onto the entire set, you know this is a whiskey gift he won't soon forget. As a first-time dad, he is going to be super excited and a little nervous, so help him celebrate and take the edge off with an awesome a new dad whiskey set!
2. A Cutting Edge Dad Gift
If there's a new baby in the house, chances are the dad is doing most of the cooking. Help the man out by giving him a personalized cutting board that illustrates his role in the relationship, as the best dad imaginable. We suggest searching for a cutting board that illustrates this fact in permanently engraved form, and go with one that is made out of something other than bamboo. Acacia wood cutting boards make great gift ideas for new dads, and once paired with a bottle of cutting board oil makes for one very handsome present.
3. The Best Dad Beer Sign
If he's an expecting father, chances are the guy already has a man cave staked-out somewhere in the house, where he can have a beer and escape from all the madness. Help give the new dad down the street a fresh piece of wall decor that is unlike anything else around. Carved from some of the best birch wood in America, this bottle cap wooden sign is one of the coolest must have gifts for new dads, and will hold up to 24 bottle caps.
4. The Coolest Whiskey Gift Idea for New Dads
Before his child is born, bring one of the best new dad gifts to him for a celebration! His very own whiskey stone set is a fantastic way to embrace the exciting news of becoming a first-time father. He can share all his nerves and excitement over a perfectly chilled glass of his favorite whiskey! Be there as an awesome friend or family member to share the excitement and help him celebrate over some of his go to liquor!
5. Be A Rockin' Dad
You know the guy you're buying this for is going to be a rockstar of a new dad! He's gotten some cool new dad gifts so far, but nothing quite as awesome or practical as his very own personalized beer mug! This glass is perfect before and after his child is brought into this world. He can celebrate beforehand at becoming a dad, and then afterward he'll always have his very own mug to have a relaxing glass of beer from.
6. The Manliest Dad Plaque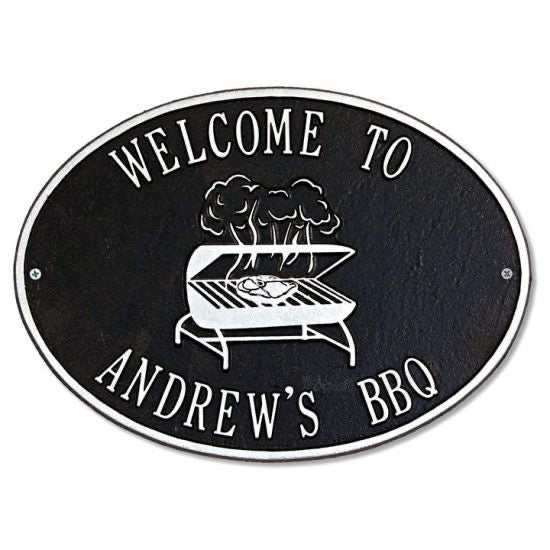 Has he always been the kind of guy who would sooner throw something on the grill than fire-up the oven? Men like this live to barbecue, and deserve gifts that personify this fact. Great gift ideas for new dads like a personal plaque with his name on it and all-weather outdoor resilience beneath are a fitting tribute to the men who love to cook BBQ. We really dig the timeless look of this particular personalized outdoor grill plaque, and that it is made from recycled aluminum for a lightweight, rust-free lifespan.
7. His New Favorite Board Game
Having a newborn in the house means that going out is completely out of the question. Get that him to turn off the TV, and play a round of "Beeropoly" instead! This is one of those exclusive gifts that is designed to offer hilarious fun for anyone who loves drinking games and beer. Cut from real wood and filled with creative party rules, this board game for beer drinkers is one of the best must have gifts we've ever encountered.
8. He's Got A Need, A Need for Speed
Giving new dad gifts that focus on experiences instead of material possessions is a really fun way to help men forget the stress of having a kid and cut loose for a weekend. We strongly suggest looking toward a well-known organization and track like the Skip Barber Racing School, which features 1,2, and 3 day training sessions. Just make sure that you offer to buy the man a beer when he's done because he's going to need one!
9. The Ultimate Cigar Gift Idea for New Dads
Give the new dad you know the greatest celebration kit he has ever laid eyes on. To celebrate the news that he is becoming a father or that his child has just been born, this set will have him ready to go! He's got everything he could ever need to enjoy his whiskey and cigars, who could ask for more? You only become a new dad once, so get him a gift he'll remember!
10. Dad's New Favorite Beer Set
Who doesn't love an all-in-one gift set? Let the beer lover with a penchant for the pub know you care with a monogrammed German beer stein with his initial on it, and a bar sign that has been personalized with all manner of detail. Distinctly European in design, and made sturdy by real birch wood and heavy glass, this duo of pub staples is ideal for dads of all types.
11. A New Twist on Dad Gifts
Is glass not good enough for the man of the house? Does his wet bar feature all manner of exclusive accouterment and rare liquor? Make the man with distinguished taste grin with glee by handing him a decanter that has been crafted out of the world's finest crystal. A few of our favorite accents on this version include its ability to have both the initial and the name of the new dad etched into the front of his crystal spiral decanter, and how it will hold a heft 30.4-ounces of alcohol. Make this new dad gift idea feel complete by adding some genuine crystal Glencairn whiskey glasses to make a full set.
12. A Sign of Fatherhood
Plenty of new dad gifts come and go; instead of something temporary, give him a gift he can appreciate for years with his very own dad sign! This will hang on his wall long before he starts making corny puns, but will surely be there long after he has become a master of the dad joke. This is a fantastic gift idea for new dads because they get to see just how great they are as a dad every day. There "Best Dad Ever: sign will become their new favorite piece of home decor!
13. Italian Globe Old World Bar Tray
Has he always needed a wet bar but never got around to building one? Well now that he's a new dad that definitely won't be happening for a while. Jumpstart that obsession with classic bar love by presenting that freshly minted dad with an Italian globe wet bar. These make for a pretty cool gift idea if the guy in question is into old world looks and has always wanted an integrated design that hides his favorite bottles of liquor. If space is an issue there are smaller sizes for sale as well, so be sure to check those out too.