Retirement is a great time in a man's life. He now has all of this free time to do anything that he wants after working so hard for many years. You want to help him celebrate the fact that he's in his golden years and doesn't have to work anymore, but without making him feel like an old man. Retirement gifts for men are items that he really enjoys, hobbies they already enjoy or want to learn, unique keepsakes, travel gifts, and practical things that he'll use for years to come. You want the retired man in your life to enjoy and relish in his freedom, to be able to do things he never could before. You're probably asking yourself: "What does a retiree need?" "What kind of things do retired men like to do?" "What kind of retirement gifts can I give that will be memorable and useful?" Well, retirees like to do a lot of traveling, grilling, home brewing, golfing, and more. They might take up a new hobby, go on a cruise, or start building a home bar. Retirement gifts don't have to be boring: here are 31 Retirement Gifts for Men That Don't Suck for the retired man in your life to enjoy.
Great Men Smoke Cigars for the Classy Retiree
Fact: Retired men like cigars. The retired man in your life wants to feel like a classy, refined gentleman that is aging like a fine wine. What could make a better gift than a shadow box full a good memories? It has a cool engraved phrase on the box with his name, making it a thoughtful personalized gift for him. Any retiree would love to be reminded of all the events he has celebrated throughout his life and this gives him a reason to make new memories going forward, like sharing a stogie with all of his friends or alone in the comfort of his own slice of heaven. After finishing off a nice Cuban or stogie, he can store the wrapper in the shadow box as a keepsake. Now he can show off his cigar collection and have a unique piece of wall decor all in one. Shadow boxes are really great retirement gifts for men who love to store their memories in a unique way. 
Whiskey Decanter Set for the Refined Gentleman
A decanter set is not only gorgeous, but also very practical. Decanters are an attractive centerpiece for any bar and they keep liquor fresher than a regular corked or capped bottle. The refined retiree can display his best scotch in the personalized decanter and pour his friends a drink with the 4 matching rocks glasses that are all engraved with his initial and name. Personalized decanter sets like this one are handsome retirement gifts for men that are veterans of military or law enforcement, lawyers, doctors, or first responders. Your retired dad will love getting this decanter set as a retirement gift. 
Golf Grilling Tools for the Retiree Who Likes to Golf
It's a known fact that retired men enjoy both golfing and grilling. Give him a gift set with the best of both of his favorite hobbies with this golf-themed grill set! Encased in a miniature golf bag are 5 classic putters: a grill brush and scraper multi tool, tongs, spatula, basting brush, and turning fork. He'll love this unique grill set that showcases his love for golf while also being a great grilling set. After he and his friends get back from playing 18 holes, he can whip out this awesome grill set to cook up ribs, steak, or burgers for everyone.This gift set is a retirement gift he'll never forget! Themed gift sets make the best retirement gifts for men who have everything such as your father, grandfather, or your boss.
Personalized Cutting Board for the Retired Men Who Love Cooking
Now that the retired men in your life has more free time, he can try all the new recipes he's been saving for years. He may have a cutting board, but this personalized wooden cutting board is unlike any other. This gorgeous board is personalized with his name and initial and each board has a unique grain pattern, making this cutting board a truly special gift. Cutting boards are great retirement gift ideas for men who love cooking, especially personalized boards like this one. A personal retirement gift like this custom cutting board are ideal for fathers, grandfathers, brothers, and other relatives in your life that enjoy cooking. And don't forget the board oil to make sure his cutting board stays smooth and beautiful!
Cigar Set for the Retired Tobacco Aficionado
If the retired man in your life enjoys smoking cigars, then this is the perfect gift set for him. This handsome personalized set has a custom monogrammed whiskey glass that holds a cigar, a matching marble ashtray, and a Zippo-style lighter. This awesome set has everything the retired cigar lover needs to enjoy a glass of bourbon and his favorite stogies in the lounge. His friends will be jealous of his multipurpose glass that is not only cool, but also very classy. Gift sets like this one that are centered around a favorite pastime always make great retirement gift ideas for men. 
195+ GIFTS FOR RETIRED MEN WHO HAVE EVERYTHING>
The Hobby Box for Retired Men Who Need a New Hobby
Does the retired man in your life not know what to do with all of his newfound free time? How about a new hobby? Help him out with this unique subscription box that gives him a new hobby to try every month! He can try out lock picking, soap making, survival skills, programming, pretty much anything. Hobby boxes are great retirement gift ideas for men who get bored easily or want to try something new. If your retiree finds a new pastime that he really enjoys, you can cancel the subscription at any time and give him a new gift to encourage his new hobby. This way you can help him find out what he likes. 
Beer Flight Set for the Home Brewing Retiree
Now that he's retired, he can take up a hobby he's always wanted, like brewing his own beer at home! This cool set comes with 4 pint glasses and a personalized paddle to serve them on. Beer making is a popular hobby for retired men, and this handy set is a great way to host beer tasting parties and serve his different brews with ease. Each glass holds 5 oz, which is the perfect tasting amount. This paddle set will look great in his home brewing or bar area until it is ready for use. This set is a great gift for retired men who just started brewing at home or are just starting to get into it. Hobby accessories such as this one are great retirement gift ideas for men. Pair this flight set with a keg tap or a new set of hops as a complete brewer set.
Personalized Wine Glass for the Vintage Retirees
Is the retired man in your life a wine lover? Then he'll really love this extra large personalized wine glass, especially if he has a sense of humor. This wine glass is engraved with the phrase "Vintage Aged to Perfection" engraved along with a name and year of your choosing. After all, your retiree is aged to perfection like a good quality wine! If you choose the year he retired, this wine glass is one of the best retirement gifts for men. This huge wine glass can hold an entire 750 ml bottle of wine, so you might as well pair it with his favorite bottle so that your retiree can enjoy it all right away. 
Flask Set for the Retired Golfers
We all know that golfing is one of the most popular hobbies for retired men, so why not a convenient flask set that will greatly improve his tee time? This flask set comes with a cover that holds the essential golfing tools: 2 golf ball markers, 4 tees, and a divot repair tool. Now he can enjoy his golfing more than ever with his favorite spirit and always be prepared. This set is a great and useful retirement gift for amateur or professional golfers.
Travel Guides for Guys Who Like to Travel
Is the retired man in your life planning a cross country trip or going to the foreign country he's always dreamed of? Then a travel guide book is a great gift for him. Travel books contain everything he needs to know about his destination from history, facts, the top restaurants, landmarks, maps, and more. Your retiree is going to have a better experience during his travels with a handy informative book that he can read on the way there. Travel books are great retirement gifts for men who plan to do a great deal of sightseeing with their newfound free time and pension.
Custom Wall Sign for Whiskey Lovers
Is your retiree a whiskey lover? If so, he'll really love this custom bar sign. Inspired by the Jack Daniels' logo, this gorgeous wooden sign is personalized just for him. You can customize this unique sign with a first name, date, location, and a full name. This handsome sign will look perfect in his bar area or lounge. This sign will make the retired man in your life feel like his preferred place to drink his whiskey is world famous and special. He will love showing this cool decor off to his friends when they come over for a drink and a cigar. They will all want one of their own once they see it.
A Legendary Glass for the Legendary Man
Fact: retired men are legendary. They've worked their butts off for decades, climbing ladders in their profession to succeed. Show your retired man how awesome he is for all the incredible work he has done with this legendary whiskey glass. With the phrases "The Man. The Myth. The Legend." engraved on it along with his name, every retired man needs one of these glasses. Simple but powerful, this glass boasts how incredibly legendary its drinker is. Pair this glass with a bottle of good whiskey and you've got a great gift to give the retired man in your life! Retired doctors, lawyers, and teachers would love this legendary whiskey glass to celebrate their incredible professions. This would be a really awesome retirement gift for your dad or grandfather. 
Beer Set for the Local Beer Lover
If the retired man in your life loves beer, especially local brews, then this gift set is the perfect retirement gift. Containing a large beer cap map of America, 2 personalized pint glasses, and a matching personalized growler, this beer gift set has everything a beer lover needs. The glasses and growler are personalized with a name and initial of your choosing. Gift sets that have multiple uses such as this one make great retirement gifts for men so that it is sure to be enjoyed. He can take the growler to a brewery to fill up or pop open a couple of bottles of local brews for himself and a buddy with the pint glasses. Then he can put the bottle caps of his favorite local brews that he likes to remember them for the future. He could go on a tour of his favorite bars and collect the bottle caps to display his longtime favorite beers. Your retiree can keep the bottle caps of his favorite brews as he travels across the country and display them on the map for both an interesting keepsake and cool wall decor.
A New Camera
A lot of retired men want to travel or simply start saving more memories now that they have more time to enjoy them. Cameras make great retirement gift ideas for men! And not just any camera, but a good quality digital camera like this Nikon CoolPix A100 that he can use to take plenty of great photos of his travels, family, friends, and good times. This digital camera has 20.1 megapixels, 5x zoom, and HD video. This camera is one of the easiest digital cameras to use out there for men who want to start taking great photos and videos. You could pair a camera with photography lessons, a photo album, or a guide book on how to become a photographer to make this a really nice gift for the retired man in your life.
Ammo Can Gift Set for Veterans
What other kinds of gifts are good for retired men? Gift sets! Especially if they contain his favorite things. Take this set for example: A personalized ammo can that he can use for his bait, ammo, cigars, etc. Two matching personalized whiskey glasses that are beautiful additions to his home bar or glassware. Finally, you have a cigar cutter and lighter to use for all of his favorite stogies. This gift set really does have it all for the classy retired man who enjoys his cigars. You can personalize the ammo can and glasses with his name, initials, and a year of your choosing for optimal personalization to make this a really great gift for all kinds of retired men. Veterans of military, law enforcement, and first responders will also enjoy this cool gift set.
Gold Rimmed Beer Mug for the Sophisticated Beer Loving Retiree
This isn't just any old beer mug for the average man. This personalized beer mug is for the sophisticated retired man in your life who appreciates the finer things and prefers quality beer rather than off the tap. This beautiful mug has a genuine 22k gold plating around the rim along with 2 lines of personalization of your choosing in 4 different fonts. The classy retired man in your life will love this handsome beer mug and it will quickly become his favorite not just because of the personalization or the gold rim, but because it is truly beautiful glassware that will make him feel sophisticated. Whether he has a home bar or not, this mug will make a fine addition to any retired man's home. You could choose to personalize the mug with his name and a phrase such as "Beer Aficionado," "Best Dad," or something witty, the options are endless!
Fishing Rod for Guys Who Like to Fish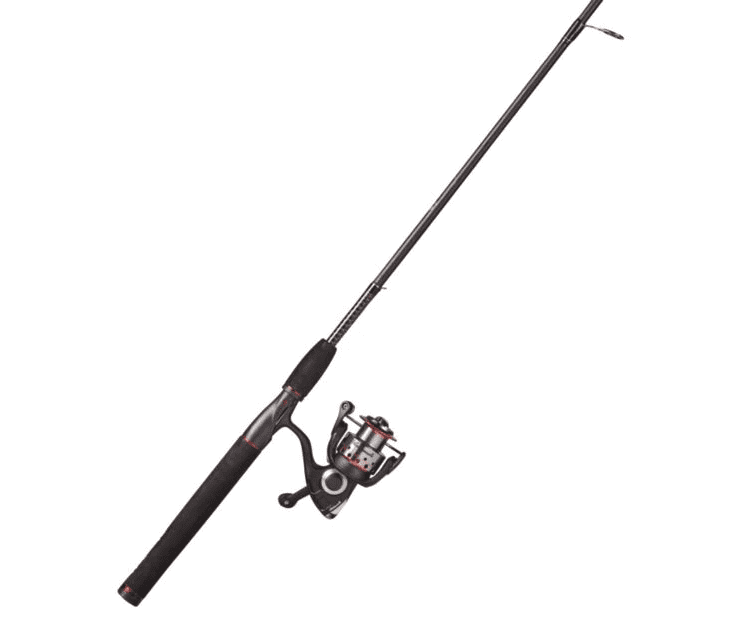 Fishing is another popular pastime for retired men, so a really nice quality fishing rod is a great gift idea. This fishing rod is a Shakespeare® Ugly Stik® GX2™ Casting Combo that has the combination of a newly designed Ugly Stik and the low profile Shakespeare reel while maintaining incredible sensitivity and reel power. The retired man in your life will love showing off his fancy new rod to all of his fishing buddies. You can pair this rod with a box of new hooks or a tackle set to make it a great gift for him. Your retiree will want to go fishing all the time with this great new rod and bring home a lot of prize catches. 
Smoke Box System
Want to give the retired man in your life something truly unique? This smoke box system is a special set that adds a smoky flavor of your choosing to any liquor. With this cool gift, your retiree can experiment with his liquor and figure out what smoke enhances or changes the flavor. How does it work? Simply place a glass of any kind of liquor or cocktail inside the smoke box, select which wood chips you want to try, place them in the smoking gun, and presto! You have a whole new drink. Your retired man will love this sophisticated gadget to invent new drinks for himself and his friends. This set will be a great retirement gift that will look great in any cigar lounge or home bar.
Growler Set for Guys Who Like to Travel
You know how beer tastes better after you get done mowing the lawn? With the gift of a beer growler, the retired man in your life can take a beer with him wherever he goes. Whether he's going on a hike or visiting the park, now he can enjoy a cold one anytime that feels right. Whether he's fishing, hiking, or golfing, this growler set is ideal for any traveling. He can also bring it to cookouts and parties for "bring your own beer" occasions. This growler looks like an oversized beer bottle with the travel cup on top and has a durable wrist strap for easy transport. You can also personalize the stainless steel growler with two initials. High quality growlers and tumblers make great retirement gift ideas for men who are always on the go.
Personalized Wine Decanter Gift for Wine Drinkers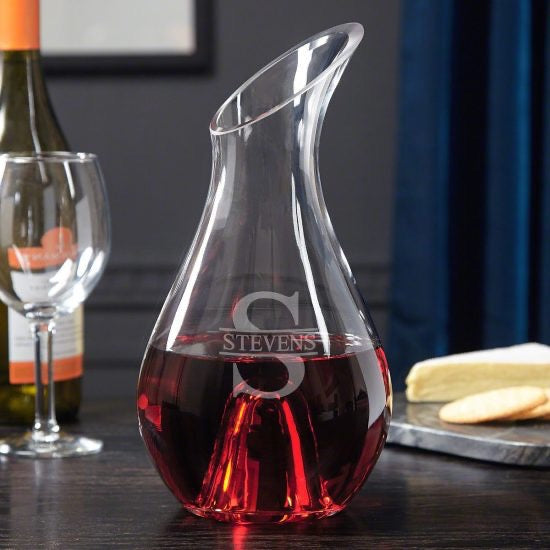 Now that he's retired, he can begin to enjoy the finer things in life such as wine. With this personalized wine decanter, the retired man in your life can discover entirely new flavors and aromas of his favorite reds. Each glass he pours from the decanter will be an entirely new experience, even from the cheapest of his preferred red wines! Doubling as a beautiful personalized piece of glassware, this decanter is a must-have tool in every wine lover's arsenal. You can have your retiree's name and initial engraved on the decanter for a unique personal touch. This is a nice gift that subtly lets the retired man in your life know that he is aging like a fine merlot, something to be celebrated and enjoyed. Decanters for wine or whiskey make great retirement gifts as beautiful and functional glassware that he can enjoy for years to come.
Relaxing Gift for Him
Now that he's retired, he can finally relax after years of working hard. With this deep kneading back massager, he can truly unwind and relieve his aching back. Relaxation aids are perfect retirement gifts for men whether they are known to be hard workers or just like to stay at home to relax. This back massager is the Thera-P™ Deep Kneading Back Massager With Heat featuring 3 massage zones: upper, full, or lower back. It kneads up, down, and side to side for a full shiatsu massage. The included heat makes the massage even more relaxing and comfortable so that your retiree will feel better than ever. There are many different kinds of massagers out there, so make sure to find out what kind would help him out best. Some retired men have work-related areas that are overworked and sore, such as their neck, back, shoulders, knees, and feet. Men who spent many years as doctors, teachers, massage therapists, construction workers, and retail associates will especially appreciate a quality massager as a retirement gift to relieve their sore spots. Pair a home massager with a gift certificate for a professional massage at a spa to make a really special relaxation gift for the retired man in your life.
Globe Glasses – A Unique Travel Gift for Retired Men
Whether he is a well-traveled man or enjoys unique gifts, these globe glasses are a special gift that the retired man in your life that he will never forget. Engraved with a map of the world, these round glasses actually roll around like a globe! Don't worry, they don't topple easily. These glasses are perfect for any beverage from merlot to scotch as the rolling design enhances the flavors of your liquor. The globe glasses are also incredibly beautiful and unique glassware that will look great in any home bar, lounge, or kitchen! The retired man in your life will love spinning these gorgeous glasses and enjoying a drink with a friend or his spouse with this set of two. Unique glassware such as these are always great retirement gift ideas, as they are decorative, useful, and great conversation pieces.
295+ WHISKEY GIFTS FOR RETIRED MEN>
Unique Cigar Gift
A cigar box is a necessity for every cigar lover, and the retired man in your life will love this handsome storage case to display and keep his stogie collection. The cigar box seals tightly, ensuring a long life and fresh taste for his cigars. The wooden box is also personalized with your retiree's name and the phrase "Great Men like [Name] Smoke Cigars," making this a great personalized gift. This cigar box will look great in his cigar lounge, man cave, bar, or home office.
Whiskey Box Set
Does the retired man in your life enjoy whiskey on the rocks but can't stand it when the ice waters down the flavor? Then he'll love this whiskey stone set. Encased in a handsome personalized box are two monogrammed glasses, a 9 piece set of whiskey stones, and a pair of tongs. The whiskey stones are made of rock that you simply place in the freezer and use the tongs to place as many as you like in the glasses. The natural stones don't alter the flavor, but still keep his whiskey at the perfect, chilled temperature. Your retiree will love this handsome box set to store his whiskey glasses and brag to all of his friends about how he never has to deal with watered down whiskey again. You can personalize the box with your retiree's name and the glasses with his initial, making this set a lovely gift. Boxed sets are great retirement gifts for men!
Revolving Liquor Dispenser
If the retired man in your life appreciates his liquor, loves entertaining, is creating a home bar, or just likes cool bar accessories, then he'll love this awesome revolving liquor dispenser! This cool gadget can hold three bottles of liquor at once and spins for easy use. Your retiree can now make cocktails with ease for all of his friends and impress them with his new bar-grade accessory. This dispenser is perfect for entertaining at parties or looks great as a decorative and functional accessory. He will love this unique retirement gift and will use it for years to come.
Globe Bar for the Sophisticated Retiree
If the retired man in your life is a classy gentleman who enjoys the finer things in life, then he will absolutely love this incredible Italian replica globe bar. Gorgeously designed with replicated Italian frescoes on the interior and holds 3 wine bottles and 6 glasses, this amazing bar is the picture of sophistication. The retired man in your life will feel like James Bond with this secret globe bar and all of his friends will be envious of such a luxurious item. This will look great in his cigar lounge, bar area, or a handsome addition to the dining room. When the top is down, this bar looks like a fancy, detailed globe. When you open it up, you have a whole stocked bar of wine and glasses ready to go! The sophisticated retired man will enjoy this gorgeous bar both for its beautiful decorative aspect and its hidden secret that will make his gatherings a huge hit.
Journal Gift for the Aspiring Writer
Is the retired man in your life an aspiring writer? Or does he enjoy jotting down his every day thoughts? Then the perfect retirement gift for him is a journal. There are many different kinds of journals, of course, like this one: a 5 year memory book that you only have to write a few lines a day. This journal is more like a personal diary where he can jot down his daily activities and thoughts. For the aspiring writer, you could get him a blank notebook or journal with plenty of space to start that novel he's been meaning to write for years. Writing can be a new hobby that he can spend hours or a few minutes on each day. Retired men have so many lessons and memories to share with his loved ones or the world, and a journal is a great way to help them do so. You could encourage him to share his life story, or write a biography to document the incredible life he had when he was growing up. What starts out as a gift for him becomes a unique, personal memoir for his family to read for generations. Journals and notebooks are great retirement gifts for men that enjoy writing in their free time.
Patriotic Beer Stein for the Retiring Police Officer
Retirement is an important part of a police officer's life. He's served his community for years and risked his life countless times. Now, it's time for him to relax. Show your appreciation for the retired police officer in your life with a personalized patriotic beer stein. With a handsome pewter crest bearing the American eagle atop a shield that is personalized with his initials, he will love this incredible German-style beer stein. When not in use, this cool stein will be a unique decoration for his home.
Custom Beer Tap Handle for Home Brewers and Beer Lovers
Whether the retired man in your life has taken up brewing beer, has a kegerator, or just prefers to have beer on tap on home, he'll love this custom tap handle. This walnut handle comes with a chalkboard face that your retiree can write what kind of beer he has on that tap. Beer tap handles are great retirement gifts for homebrewers who like to host beer tasting parties or enjoy entertaining with his own beer or just prefers to have his favorite brew on hand at home. This tap handle is a great bar accessory for any beer-loving retired man!
Boxed Grilling Tool Set for the Grill Master
Is the retired man in your life the best griller you know? If he famous for his incredible barbeque and cookouts? Then he needs this personalized grilling tool set. He might have standard grilling tools already, but none like these. Professional and handsome, this 3 piece grill set comes in a gorgeous red box that is personalized with a name, date, and title of your choosing. The retired man in your life will truly be a grill master with this handsome set that comes with a spatula, tongs, and meat fork all made of stainless steel with rustic wooden handles. Your retiree can take this set anywhere, anytime he is needed whether it's the neighborhood cookout, family barbeque, or reunion.
Copper Mug
You can't go wrong with an engraved copper mug as a retirement gift. If he enjoys moscow mules or quality drinkware, then this mug belongs with him. Engraved with a single initial, this genuine copper mug is lined with nickel to ensure the best experience for drinking moscow mules, beer, liquor, or other beverages. The natural coolness of the metals keep his drink chilly and tasty. Your retiree can use the copper mug as a go-to for any beverage like coffee in the morning and have a moscow mule in the evening. This mug is ideal for cold drinks, but you can pour a hot beverage in it as well to use as a regular mug. Copper mugs are great retirement gift ideas for men who appreciate professional drinkware and vintage gifts.
Insulated Tumbler for the Retired Man on the Go
Now that he has plenty of time to do whatever he pleases, the retired man in your life always has somewhere to go. He can go hiking, fishing, golfing, driving, or even sailing! The traveling man needs a reliable tumbler to house his water, coffee, or liquor while he's out and about. This stainless steel insulated tumbler will do just the trick. Double walled and heavily insulated, this tumbler will keep his cool drinks chilled for 24 hours or his hot drinks piping for 6. You can personalize this tumbler with two lines of personalization under the "Big Catch" design. Travel items such as tumblers that make it easier to bring his favorite things along are the best retirement gifts for men. Your retired dad will always stay hydrated with this custom tumbler. 
183+ MORE RETIREMENT GIFTS FOR MEN>