UPDATED 10/8/2019
Your husband or father is turning the big 5-0 and you want to get him something really nice. In his lifetime he's accomplished a great many things such as becoming a dad, moved up in his job, and has been a valued mentor to everyone with his words of wisdom. He's been on the Earth for half a century now, after all! But what are good 50th birthday gift ideas for men? At his age, he'd prefer something practical and useful that is related to things you know he already likes. Before you start shopping, you need to ask yourself some questions: Does my dad need anything? What is something that my husband has always wanted? Is there anything he has that could use an upgrade? Relax, we've considered all of the above and put together the best 50th birthday gift ideas for him!
Antique Bar Cart
Your husband has always wanted a really cool home bar just like his friends do, but he's never had the time or the space to build one. He doesn't want anything super fancy, just a classy place to store his liquor bottles and a couple of glasses. Why not give him his own home bar for his birthday? This gorgeous antique bar cart is the perfect solution. When the top of the globe is closed, it just looks like another piece of decor! Inside, it can hold all of your husband's wine and whiskey glasses along with a few bottles. Below is even more storage space. Best of all, the bar cart can be moved around the house wherever the party is! He'll love how classy this bar cart makes his home, and his friends will certainly be jealous. This awesome bar cart is certainly one of the coolest 50th birthday gift ideas for men who have always wanted their own home bar!
The Coolest 50th Birthday Gift Ideas
Your dad is a simple guy. He has a routine every day when he gets home from work that you've known him to follow for your entire life. He walks in the door, takes off his shoes, and makes his way to his recliner. There, he pours a glass of Knob Creek and lights up a cigar. He stays there until mom says dinner is ready and you know not to disturb him until then. You've been wracking your brain trying to think of the best 50th birthday gift idea for him, but you're stumped. Worry not, this cigar gift set is here to save the day! The perfect companion to his routine, it'll make it even better. The awesome cigar glass will replace his old rocks glass and make it easier for him to enjoy his stogie and bourbon. The cigar case will ensure that his cigars are fresh and secure, and it even comes with a cigar cutter! Once you give this gift set to him on his birthday, he'll be reaching for these two items as soon as he gets home.
A Custom Piece of Decor
The guy turning 50 in your life is always hard to buy gifts for because he says he never wants or needs anything. Every year, you try your best to figure out something nice to get him but usually just end up with a gift card to his favorite restaurant or a case of cigars. This year he's turning 50 and he's getting a nice party, so you want to make sure that you get him a really great gift. How about a custom piece of decor for his home or office? He'll be so surprised! This handsome wooden sign is eye-catching, classy, and will look great anywhere he chooses to display it. Is this a cool 50th birthday gift idea for men or what?
A Nice Decanter Set for His Office
Being your husband is no easy feat. He's the breadwinner of the house and has to manage dozens of employees, make business deals, and be a father to young adults to boot. At 50 years old, he's become a wise and experienced man who is all about practicality and usefulness. You want to give him something really nice for his birthday that shows how much you appreciate all of his hard work and for being an incredible husband. With this handsome presentation set, he'll know just how amazing he is. This gorgeous set is perfect for having in his office at work and using to serve his partners and fellow managers a drink. Each piece is even engraved with his initials as an extra cool touch. He'll love showing this off to anyone who comes in his office!
The Best Way to Drink Beer
Even at 50 years old, the guy in your life still enjoys drinking beer over any other liquor or wine. He's come to know the differences between stouts and lagers, what the best glasses to enjoy certain types of beers in, and perhaps how to make it! He's even visited Germany, the motherland of beer, to try their local brews. What is the best 50th birthday gift idea for men like him? A case of his favorite beer, of course, and a custom beer stein to drink it from! This lidded stein is inspired by 14th century German steins, which are designed to both keep bugs away and will make the head last longer. Your dad or husband will enjoy using this cool stein all the time!
171+ MORE BEER STEINS FOR HIS BIRTHDAY>
Unique 50th Birthday Gift Idea for Men: The Birthday Book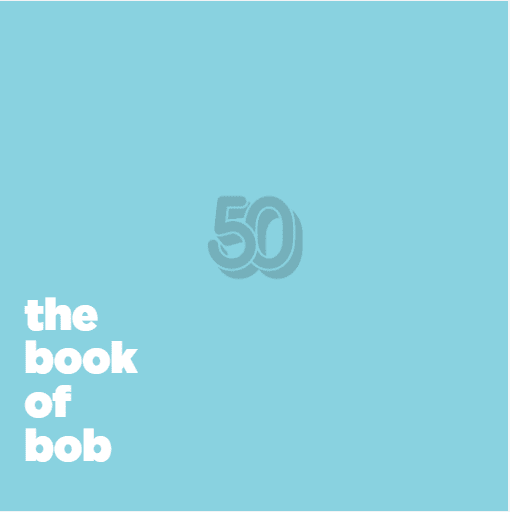 1969 was a long time ago, and the world was completely different. Your dad grew up without smartphones, he was a baby when the United States landed two astronauts on the moon, and robots were a thing of science fiction. He says he doesn't want anything for his 50th birthday, but you want to get him something really cool. The Book of Everyone makes really unique books that you can customize! The milestone book (pictured) has highlights of the year he was born, fun facts, and all kinds of fun pages that you get to personalize. He'll love reading through the book and will surely get a kick out of it. You can make it as funny or as heartwarming as you want! He'll certainly treasure this awesome 50th birthday gift idea forever.
A Decanter Set for the Well-Traveled Man
Your husband has lived on the Earth for half a century and has explored as much of it as he could. He went backpacking through Europe after graduating college, traveled all over the place for his job, and always wanted to go somewhere new and exotic each summer with the family. Now that he's older and well-traveled, he wants to revisit his favorite places. One of the best 50th birthday gift ideas for men who have been all over the world is this awesome decanter set! Expertly etched with the map of the world on the decanter and glasses, this set is an incredible reminder of his travels. The glass-blown ship sailing through his rum inside the decanter is just the cherry on top of this handsome decanter set. He'll want to have the set displayed prominently in his home office or on the home bar for everyone to admire.
A Place to Show Off His Watches
Over the years, your husband has amassed a variety of watches. He's gotten one almost every year as a gift from you or your kids, and he treasures them all whether they still work or not. You're probably even getting him a new one for his upcoming birthday or your anniversary. He's got a luxury high-dollar watch that he only wears to formal work events and special occasions and a couple of everyday ones. The problem is, they're all sitting on top of his dresser or counter and constantly get knocked off or buried under things. For his 50th birthday, you should get him this watch case! It can hold up to 10 watches and even has a drawer for his spare links, tools, and batteries. He'll love that they're organized and all in one place rather than scattered all over the house. No more frantic searching for that one blue one he likes to wear with his navy suit!
Show Off His Collection with This Shadow Box
Does your dad have any collections? All of the state quarters, cigar wrappers, or perhaps even golf balls from his best shots? He's probably got them stored in a shoe box under the bed, where he often forgets about it. One of the most thoughtful 50th birthday gift ideas is a shadow box to show off his collection! He'll love that the shadow box can hold his entire collection of items plus plenty of room to keep adding to it. It's even personalized with his name, initial, and a year! He'll want to have this displayed in the living room for everyone to admire and talk about.
Unique 50th Birthday Gift Set
Your husband is a successful man who has accomplished a great many things in his 50 years. He's moved up in his career, has a wonderful family, and is known among his friends as an expert on several subjects. He's become a wise, distinguished gentleman that your sons look up to. What kind of 50th birthday gift idea is as cool as he is? This cigar gift set! He will love showing off his cool new cigar-holding glass at the next poker game he hosts. Thanks to you, he'll have the perfect glass of whiskey every time and everything he needs to enjoy his cigars. Plus, you can customize the engraving on both the glass and the gift box to be anything from "Donald Grant, Best Husband" or "Jonathan's Cigars."
Give Him a Glimpse Into His Past
Want to give the birthday boy a blast from the past? This awesome time capsule has all kinds of mementos and unique items from the year he was born. There's even a trivia game he can play, a puzzle to do, and a variety of candy to enjoy. He'll love opening up the time capsule at his birthday party and sharing a little bit of nostalgia with his friends and family.
Infuse His Drinks with a New Smoky Flavor
The guy in your life enjoys whiskey as much as the next guy. He likes to have a glass every evening after dinner while he watches the news. He doesn't have a particular favorite whiskey and likes to try different kinds now and then. For his birthday this year, you should surprise him with an upgrade do his evening routine: a smoke box system and engraved Glencairn glasses! With the smoke box, he can infuse his drink with a whole new smoky flavor! He can choose the kind of wood chips he wants to use, too. The Glencairn glasses are specially crafted to enhance the flavor of the whiskey through its unique design. By far, this set is one of the most unique 50th birthday gift ideas for men.
The Perfect 50th Birthday Gift Idea for Men
Golfing and grilling isn't just retirees, your husband has been enjoying those since his thirties! Now that he's reached 50, he's well on his way to becoming a pro at both before he retires in a couple of years. For his birthday this year, you can give him a gift with the best of both of his favorite hobbies: grilling tools that look like golf clubs! He'll get a kick out of these fun grilling tools when he unwraps them on his birthday. They even come with a carrying case that looks like a golf bag! Can a 50th birthday gift idea get any better than this?
A Fun Game for His Whole Family
Does your dad love hosting the family reunions and holiday gatherings? He and mom go all out with the food and decorations every time. They love visiting with you kids, the new grandbabies, and their cousins. Dad's 50th birthday party is going to be a huge affair, naturally, and you want to get him something nice that everyone can enjoy too. This custom bean bag toss game is the perfect 50th birthday gift idea for him! He can teach the grandkids and your little cousins how to play, and he'll love competing with his brothers. Everyone will enjoy this game for years to come, it's sure to become a tradition!
Personalized Cutting Board
Does the guy in your life have a love for cooking? He's always coming up with something new in the kitchen whether it's an exotic dish he read about in a recipe book or an intricately baked pastry with unusual ingredients. He's even making his own birthday cake because no one else in the family is as talented at baking as him and he refuses to eat any store-bought cakes! You've noticed that his cutting board is a little beat up from years of chopping veggies, so why not get him a new one for his birthday? This handsome Sheesham hardwood cutting board can withstand his chopping and meal prepping without so much as a scratch, and it's even engraved with his initials!
A Relaxing 50th Birthday Gift Idea for Men
Your dad has been working for over half of his life now and he's starting to feel the effects of hard labor. He's got aches and pains, a bad back, and can't do all of the things he used to do at work. All of these things and turning 50 isn't making him feel any better or younger, but you can give a birthday gift that can do both! This shiatsu massage cushion will help him relax and soothe his aching back with its heat and multiple modes of massage. He can treat himself to a full back massage or focus on his lower, upper, or middle back with the zoning mode. Thanks to your awesome 50th birthday gift idea, he'll feel more relaxed and young again.
Insulated Beer Growler for His Travels
Does the man in your life enjoy traveling? He's approaching 50 years old and he already enjoys the typical hobbies of a retiree: golfing, fishing, grilling, and even boating. He and his buddies try to at least one trip every month, and there's always plenty of beer to go around. To make his adventures even better, you should get him this awesome insulated beer growler! With a carrying capacity of 64 ounces, he'll have plenty of beer to last him through the first couple of hours of their adventure. The double walled, vacuum-insulated stainless steel will keep it ice cold for hours on end so that he doesn't have to mess with a bulky cooler for his beer. This growler is the perfect 50th birthday gift idea for men who love to travel with their beer!
He Will Always Have Warm Brandy
Your husband is a classy gentleman who appreciates a glass of aged whiskey or a warm brandy after dinner. He knows that he's supposed to hold the glass of brandy for a few minutes before drinking it so that the glass can absorb the warmth of his hand and reveal the hidden flavors, but he doesn't have an actual brandy warmer to get the best taste. His 50th birthday is the best time to surprise him with this awesome brandy warmer set! The brass warmer holds a tea light and the engraved snifter, gently heating it to the perfect temperature and unlocking all of the exotic notes and hints of flavor. He'll be so excited to properly enjoy his brandy, especially on cold winter nights!
Personalized Poker Set
Poker is a favorite among your dad's friends, and they often have poker nights at each other's houses. They usually use his best friend's set because it has the most pieces and is in the best condition. Your dad has always wanted his own poker set so that he can host, but just hasn't gotten around to getting one. This handsome poker set is the perfect 50th birthday gift idea for men who love playing poker! He can play other games with the set, too, such as Wichita with the cards and dice. Thanks to your great gift, dad can finally host poker night and impress his friends!
Unique Whiskey Gift Set
Your husband is a man of extensive knowledge and wisdom, especially as he is approaching the age of 50. He has become a whiskey connoisseur and the person to go to for advice in the community. His employees and neighbors are always seeking him out for advice or help with their problems and for liquor recommendations. He's even the Chair of the local whiskey club! Simply put, he drinks and he knows things. The best way to celebrate his 50th birthday is with this awesome gift set! The bullet whiskey stones are unlike any other whiskey stones he might have but are just as efficient at chilling his drink.
Wine and Chocolate Crate for the Man Who Wants Nothing for His 50th Birthday
Some men don't like getting material gifts. They're practical men who don't have any use for more decor or tools. Your husband insists that he never wants anything for his birthdays or Christmas, but his 50th birthday is coming up and you want to get him something nice. What do you get a practical man who wants nothing? An edible gift, of course! Even he can't turn down the gift of food. This birthday gift set from Harry and David comes with chocolate truffles, chocolate covered cherries, and a bottle of wine. The two of you can share in his birthday gift set after his celebratory dinner at his favorite restaurant as a romantic evening together.
New Set of Wine Glasses Guaranteed to Make Him Laugh
Want to give your husband something nice but also a bit humorous? These custom wine glasses are the best of both! These stemmed wine glasses are engraved with your husband's name and the year he was born along with "Vintage" and "Aged to Perfection." It might make him feel old, but he'll get a kick out of it every time he pours a glass of cabernet. These glasses are just classy enough to use for family dinners and when friends visit, and are certainly a conversation piece, making them a great 50th birthday gift idea for men!
Manly Birthday Gift Set
The man in your life is a rugged, masculine guy, even in his late forties! He enjoys camping, hiking, and hunting with his sons and his friends every summer. He's also the kind of man who has everything and wants nothing for his birthday, even his upcoming 50th. He would never turn down this awesome gift set though! It comes with all of his favorite things: an ammo can to bring his ammunition to and from his hunting trips and the range, a flask to keep him hydrated while he's on an adventure, a handy hatchet for camping, and a custom whiskey glass for his routine drink after coming home from a trip. Plus, almost everything in this incredible 50th birthday gift idea is personalized with two custom lines of text of your choosing. You could have it say anything from "World's Best Husband, Since 1995" or "Michael Anderson: Legendary Hunter."
A Fun Way to Show Off His Favorite Beers
Now that he's turning 50, he's probably developed a taste for certain beers and doesn't like to drink any other kind than his chosen favorites. He always has to have some in the house, and he raves about them to all of his friends and family. For his 50th birthday, get him this cool sign so that he can show off the bottle caps of his favorite beer! He will love having this unique sign to proudly display his collection in his home bar.
The Classiest Decanter Set He's Ever Seen
Give his home a classy upgrade with this absolutely stunning decanter set for his 50th birthday! By far one of the fanciest, most luxurious pieces he owns, everyone who visits will be in awe when they see it. The elegant twisted design shows off the various hues of the liquor inside the glasses and the decanter whether it's whiskey or gin. He will enjoy using the set for his evening drink every night because it makes him feel like a classy gentleman. He'll love it so much that he'll treasure it for another 50 years!
The Ultimate Birthday Gift for the Guy Who's Always Wanted to Be a Pilot: Learning to Fly a Cessna
For the guy who's always dreamed of being a pilot someday but life took him in another direction, giving him a flying lesson is the best birthday gift in the world. Your father or husband will love that you granted his wish and helped him achieve his dream of flying a plane, like this classic Cessna. If he really loves it, you could help him get his pilot's license so that he can get his own plane when he retires!
Flask Gift Set with a Surprise
Your dad or husband is an incredible man who is known in the community for his awesomeness. He has tons of stories about his legendary near-death experiences, hunting trips, and amazing finds in the woods. He could spend hours telling his tales at the bar, and someone usually has to stop him before he does. However, he can't tell a story without a drink and a cigar in hand. For his 50th birthday, you need to get him something that's just as awesome as he is, like this flask gift set! The flask and gift box are both engraved with his name followed by "The Man. The Myth. The Legend." It also comes with a handsome new pocket knife, which will surely come in handy on his adventures. But the best part about this set is that the gift box is actually a cigar box! Now he'll have a dedicated place to store and organize his favorite stogies, which means he can have more than a pack on hand and be able to choose between different brands! This awesome set is one of the coolest 50th birthday gift ideas for men!
Make His Home Bar Official
Golfing has become one of your dad's favorite hobbies, especially as he's gotten older. He and his friends have made it a weekly ritual to spend a few hours on the course. They just play for fun, though, they don't want to officially compete. After they've finished 18 holes, dad and his friends typically end up at his house for drinks before calling it a day. Dad's birthday is coming up, and he's turning the big 5-0! One of the best 50th birthday gift ideas for men who love golf is this fun canvas print. Your father can't help but laugh when he unwraps it on his birthday, and he'll love hanging it up in his home bar. Now his place is officially the 19th hole for him and his friends' weekly ritual!
Funny Birthday Gift Set 

For the soon-to-be 50 year old with a sense of humor and a penchant for cigars, look no further than this unique gift set. He will love having a whiskey glass and a flask that allow him to give the middle finger to his milestone birthday. Anytime someone asks him his age from now on, he'll just hold up his flask and grin. He can use the wooden cigar box to keep all of his stogies nicely organized and fresh. The marble ashtray is as useful as it is attractive, and belongs right next to his new cigar box. Whether he's your husband, father, boss, or friend, this awesome whiskey set is one of the coolest 50th birthday gift ideas for men.
The Perfect Gift to Celebrate His Age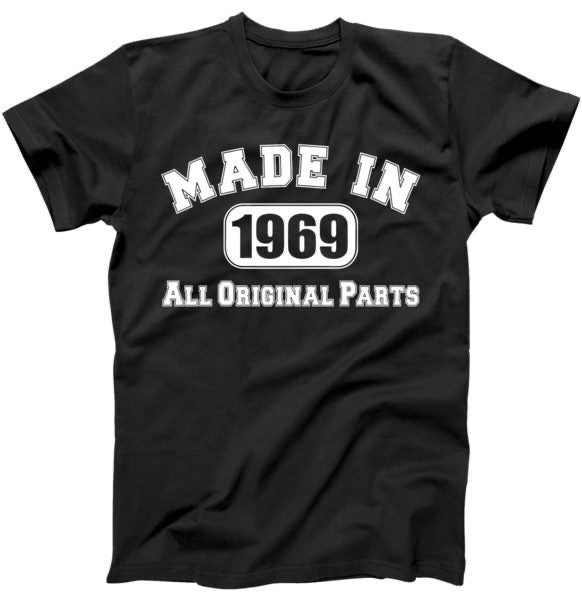 Your husband is a practical guy who says he doesn't want anything for his birthday. He's a typical dad who makes dad jokes and puns that no one else thinks is funny. This funny T-shirt is the perfect 50th birthday gift idea for him! It says "Made in 1969, All Original Parts." He'll want to wear this shirt all the time! At least, until he gets older and has to get a hip replaced and the shirt will no longer be true. Then, he'll need a shirt that says "Almost All Original Parts."
Make Him Feel Like a Legend on His Birthday
For a man, turning 50 is just as big of a deal as turning 30. He's not exactly excited about his gray hair and being almost a senior. You want to get him a really awesome birthday present that will cheer him up and make him feel like he's extra cool for his age. This whiskey gift set is the perfect way to do that! Each piece in this set is engraved with his name followed by "The Man. The Myth. The Legend." Whenever he's enjoying a glass of scotch on the rocks or getting a stogie from his flask, he'll feel like a total badass. He is a classy gentleman, after all, and the engraving just reaffirms it. Thanks to this amazing 50th birthday gift idea, the next couple of years will be a lot more fun.
191+ MORE 50TH BIRTHDAY GIFT IDEAS FOR MEN>