When a couple is about to become parents, most of the focus is on the baby and the mother, with the father often being left out of the mix. Don't let that happen! Dads are so important and need to be included too, so help them feel involved with some new fathers gifts. The absolute greatest dad to be gifts make it easier for him to relax and de-stress from the craziness of becoming a father. They'll also make him feel so proud to be a dad! It can be difficult to know what the perfect gift for a new dad is, which is why we've got you covered. These gifts for dads to be will make his introduction to fatherhood amazing while filling him with pride!
Unwind Via a Whiskey Dad to Be Gift
New dads are absolute rockstars, working so hard to care for not only the infant but for the recovering mother. All this work can drain them of all energy, so they definitely deserve this whiskey gift set for their relaxation time. Drinking chilled whiskey using this awesome gift will help him unwind after the stresses of being a new father.
Dad to Be Gift for Saving Memories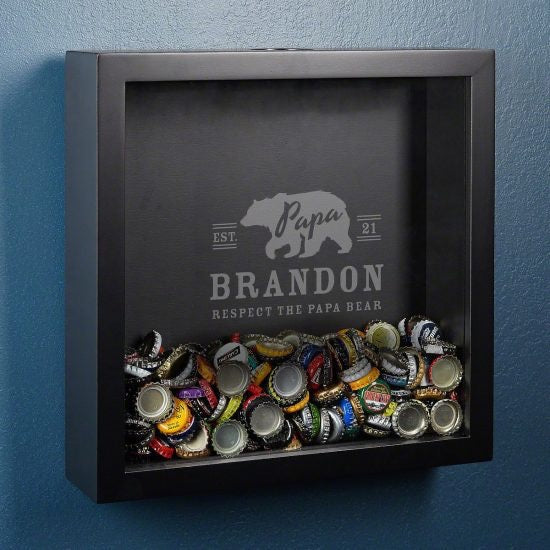 Once parenthood begins, it feels like a whole new era of life. Help him start collecting mementos from the beginnings of fatherhood all the way to when he becomes a certified dad with this engraved shadow box. Whether it be beer caps, baby binkies, photographs, or anything else, this creative gift will help him collect some of the best memories from his life.
Messiness Averted
Small children have a tendency to put everything in their mouths and make big mess after big mess. Help him stay organized—and keep his expensive watches drool-free—with this leather valet box. He'll be able to neatly display his watches and other small accessories inside this box, and he'll love the way it looks displayed in his bedroom.
Decorate His Space
New dads deserve a quiet space to de-stress and relax. The best place for him to do that is in his bedroom or man cave, so a fantastic gift for a dad to be is this man cave sign! This is a great gift for him to put on display before the baby, and for him to enjoy when he gets a break from being dad, even if it is just for a little bit. He'll be extremely grateful to receive this dad to be gift that will ensure his space in the house.
Bet on Your Baby With this New Fathers Gift
New dads deserve to have a guys night every once in a while, and a phenomenal way to spend that time with buddies is playing poker. This amazing poker set is a great dad to be gift that will provide him hours of fun while bluffing and betting with the boys, and will help relieve him of the stresses of being a father.
643+ AMAZING WHISKEY GIFTS FOR MEN>
Most Stylish Dad to Be Gift
Dads often have to carry diaper bags for their babies, and you want the future father in your life to be well-prepared with all his baby's potential needs while also looking stylish. He'll look totally awesome sporting this attractive diaper bag that is equipped with more baby necessities than he can think of. He'll love how cool he looks with this stylish bag on his back!
His Favorite Container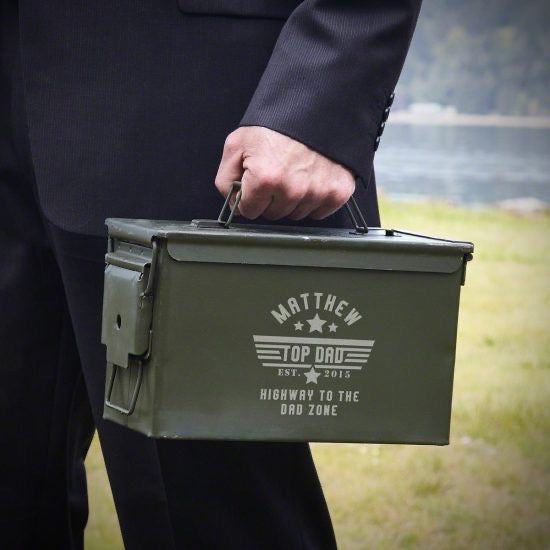 There's nothing men are more proud of than being a father, and they want the world to know that they're the best one out there. This customized ammo can is the perfect gift for him to be able to proclaim his fatherhood to all while also looking totally awesome. Whether he uses it to carry fishing or hunting equipment or anything else, his favorite part about it will be the personalization that reminds him he's a terrific father.
Chill Out With Whiskey
This whiskey decanter set is a fantastic dad to be gift! A hefty glass of whiskey from his new gift set is the perfect way for him to celebrate becoming a father. It's also a great way to take a break from the stresses of fatherhood. He'll love heading into his home bar or study and pouring himself a generous glass of his favorite whiskey to help him relax.
Baby Gets a Bottle, Dad Gets a Flask
As an almost-dad, it's likely that the time he has to enjoy his favorite liquor is about to shrink considerably. Make sure he always has a way to take a sip or two of his gin or whiskey with this flask set. He can take this new fathers gift wherever he goes so that he can enjoy his favorite liquor with ease.
True Dad's Tools
Dads are stereotypically all about their tools, so it's time for the new dad to get some tools of his own. This gift set has a knife, a typical dad-tool, as well as tools needed to transport beverages from place to place. He'll feel like an awesome dad with his own special set of tools!
Snacks Make the Perfect Dad to Be Gifts

New parents are often so busy caring for their baby that they don't have time to cook food or even go pick some up to eat. That's why a snack gift basket is a fantastic gift for a new dad. He will love snacking on the scrumptious sweet and savory items in this set whenever he has a moment to himself. No one wants to parent on an empty stomach, let alone a first time dad!
Embrace the Protector Role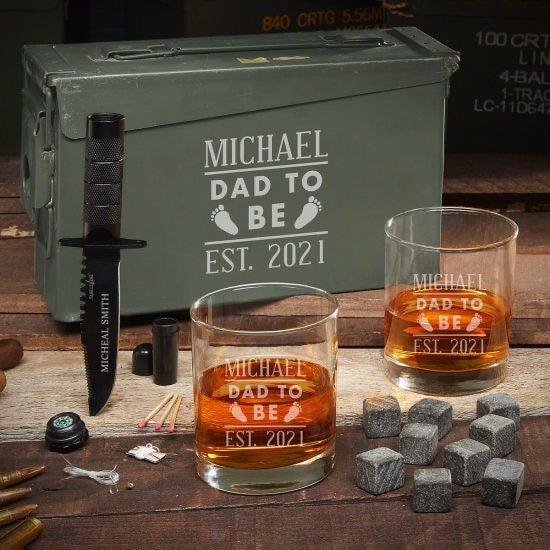 When a man becomes a father, he develops a feeling of protectiveness he's never felt before, making him feel like the super strong dad he is. This ammo can gift set is masculine and awesome, and it will make him fully embrace his new role as protector of his baby. The personalization on the unique ammo can and glasses will push it over the top into "most amazing dad gift ever" category.
93+ SUPER RAD CUSTOMIZED AMMO BOXES>
Claim His Space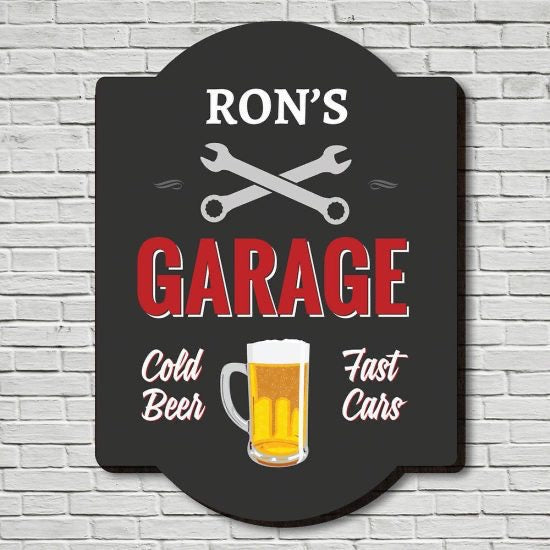 Even with the baby, his sacred space to fix things is the garage. This garage wall sign is the perfect dad to be gift, adding a personalized touch to his garage that will make it feel like his own private space to fix anything that needs fixing. He'll feel like a true dad fixing things for his baby, and he'll love having his space marked with this sign.
Boost His Confidence with This Mug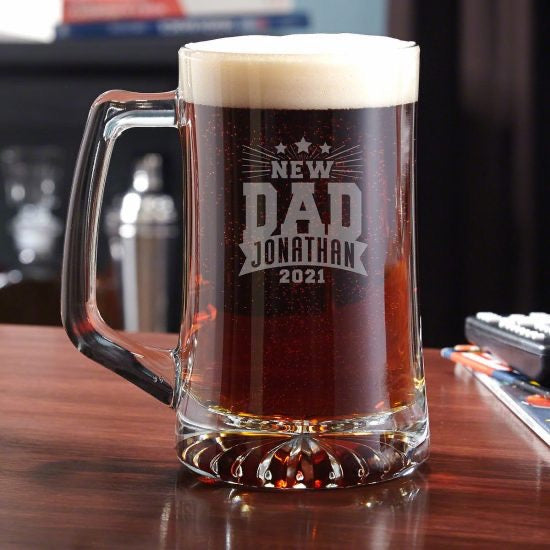 An all time favorite gift for a new dad is a big, hefty beer mug, after all, every guy (including dads) love mugs! His favorite thing to do as he enjoys a drink will be to check out the customization, which will make him feel super confident as a new dad or dad to be! This dad-specific beer mug will inspire him to be the awesome dad he has always wanted to be, while also supplying him with a healthy amount of beer.
Favorite Hobby Indulgence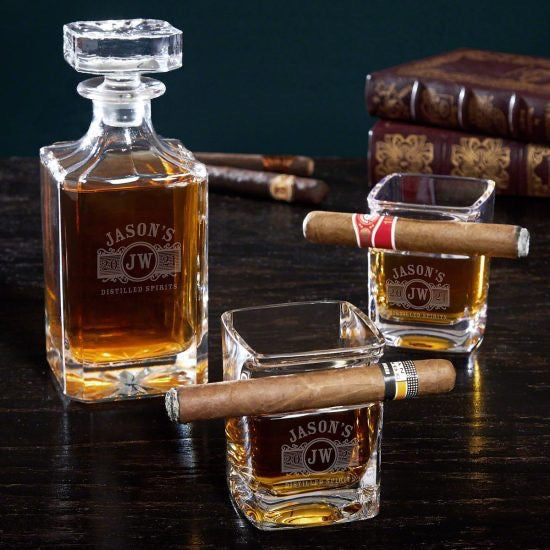 A phenomenal dad to be gift is this whiskey and cigar gift set because it's the perfect way to celebrate becoming a father! He'll really enjoy drinking and smoking with a buddy or two while bragging about his brand new kid who he loves so much already, and he can use this gift to celebrate many other of life's milestones for years to come.
Dad's Got the Time
Having a new baby can be hectic and overwhelming, so it can be tough to keep a schedule. Make sure the new dad is always right on time with this handsome military watch. He'll love the way this watch looks and feels on his wrist, and he'll feel totally on top of things when he's wearing it.
Perfect Dad to Be Gift Box
You want to buy the dad to be a bottle of his favorite liquor, but you want to present it in a classy manner (this is the birth of his first kid after all). This customized gift box is perfect because not only is it the ideal size for the liquor bottle, but he can use the box to keep mementos from this exciting time in his life, such as photographs of his new baby!