Hunting is a classic dad hobby, and there are tons of fathers out there who love getting out into the wilderness and hunting various animals. Your pop is a big hunting fan, so you know he'd love a gift that's related to his favorite hobby for his birthday, Christmas, or Father's Day. You might not know what makes a great hunting present, but don't worry—we do! Hunting gifts for dads should be super useful, unique gifts that'll make hunting easier or his time out in the wilderness more enjoyable.  However, you still may be asking yourself: "What are the best gifts for dad who loves to hunt? What would be a unique gift? Where do I start? Well, we have you covered. We found some amazing hunting gift for dad ideas that will make one of his favorite hobbies better than ever before!
Ammo Can Set of Legendary Hunting Gifts for Dads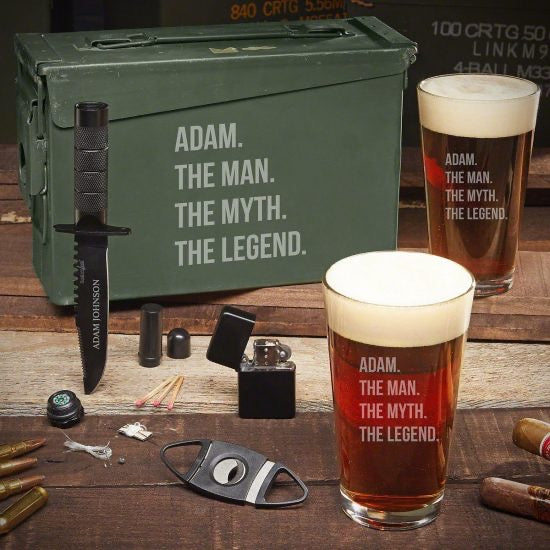 There's no way your dad won't feel like the most legendary hunter and father of all time after you give him this custom ammo can gift set! Having such a rugged, manly ammo can to use to transport some items to the hunting site such as ammo or snacks. Something he'll also want to bring along to the cabin are the pint glasses, because when he's celebrating bagging a buck or simply wants to relax after a busy day of hunting, they'll be just what he needs to have a nice cold beer and relax.
The Manliest Whiskey Gift Set Ever
Men who hunt are often some of the manliest men out there. Your dad will definitely feel like the manliest man ever with this whiskey and hatchet set! It's a great hunting gift for dad because when he returns home from the outdoors and the hunt, he'll love nothing more than celebrating his victories while hunting with a nice, chilled glass of whiskey from his personalized glasses. With this hatchet displayed in his man cave or living room as he sips on his whiskey, he'll feel more masculine than he ever has in his life!
Personalized Butcher Block for Meat
Few things are more satisfying than cooking up and eating fresh meat that you've hunted. That's why this personalized butcher block is one of the most useful hunting gifts for dads! After he's washed the duck, deer, or turkey meat, he'll be very appreciative of this awesome board that he can use to chop up the meats before throwing them on the grill or in a pan. When he wants to serve his freshly hunted and cooked meats with friends and family, this board is the perfect surface on which to do so.
Must-Haves for Duck Hunting
Maybe he's just getting into duck hunting or you just know he could use some more duck calls. Either way, this set of three single reed duck calls is an excellent hunting gift that your dad will very much appreciate. Your father will greatly appreciate these duck calls that'll assist him when he's hunting duck, and he'll definitely appreciate having such high-quality tools to use when he's hunting.
A Growler Full of His Favorite Beverage
Hunting can be tedious and tiring, spending hours upon hours on your feet or inside a blind while waiting for the perfect opportunity to strike your prey. That's why, that even on successful hunts, he simply can't wait to unwind and celebrate bagging that deer with his go-to whiskey! A custom presentation set with his name on each piece is one of the coolest gifts for dad you can gift a hunter, especially one that is your dad! When he is sharing his story of finding that deer or hearing that turkey, all of you can be gathered round with drinks in hand to relive the epic tale with him!
Hunting Gift for Dad that Holds a Cigar and Liquor
When he's out in the wilderness, far away from his man cave or home bar, this embossed leather cigar flask will be a new piece of equipment that he'll be so glad to have. Now, when he wants to relax or celebrate the end of a good hunting day he will have the proper tools to do so! A fresh stogie and his go-to scotch are the perfect pairing to use after bagging a buck.
157+ SUPER COOL CUSTOM FLASKS>
Ultimate Sign for a Hunting Dad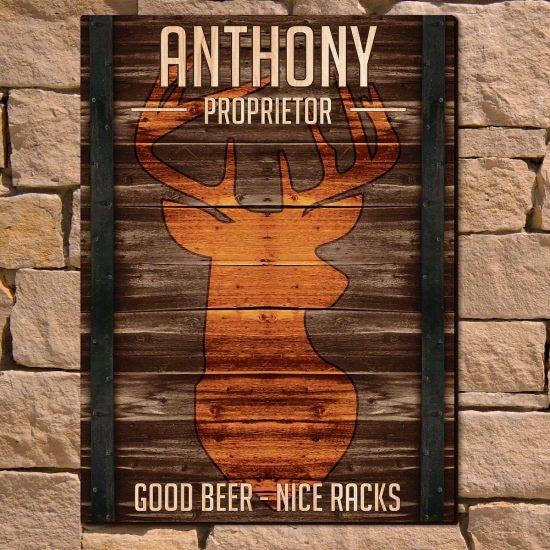 He's so passionate about hunting that you know a decor piece that's hunting related would really make his day. This personalized wooden huntsman sign is absolutely perfect for him! It'll look so awesome up on the wall in his man cave, home bar, living room, or cabin. He'll feel incredible with a sign that's not only customized just for him but reflects one of his very favorite hobbies!
High-Tech Hunting Necessity
This gift will have your father feeling like the most high-tech hunter out there! This Bushnell Prime 1300 Rangefinder is one of the most useful hunting gifts for dads that will greatly improve his hunting game! He'll think that all of the features of his device, like the multi-coated lenses, are awesome, and he'll be truly impressed with how much it improves his ability to see prey by ignoring foreground objects when he's hunting. He'll definitely never want to go hunting without it!
Impressive Globe Decanter Set Dad Will Love
It would be your dad's dream to hunt in different places all over the world. Help him visualize that dream with this globe glassware set! Not only will this set help him do that, but it'll also serve as the perfect set to use when he's returned from hunting and wants to celebrate a successful outing or fully relax on the couch. Your dad will definitely be obsessed with this unique glassware set!
A Must-Have Knife Set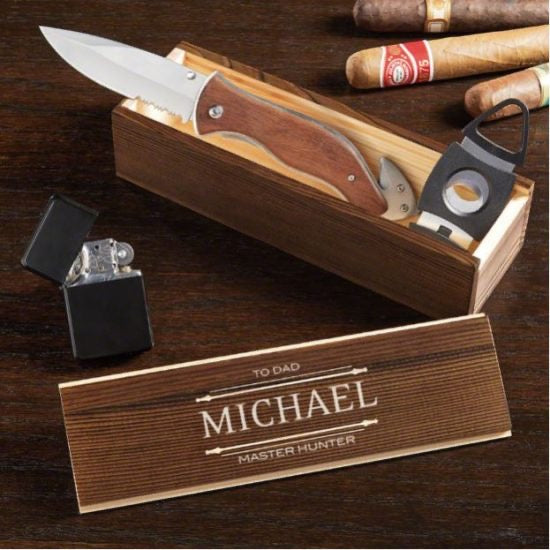 A good old hunting knife is a must-have for any hunter, so get your dad a knife that'll be his absolute favorite! This personalized serrated hunting knife and cigar box set is an awesome hunting gift for dad that will definitely come in handy when he's hunting, whether that's for cutting through brush, opening something up, or using it on an animal. He'll feel so special seeing his name engraved into the wooden handle as he uses this cool knife, and when he's celebrating a successful hunt, the cigar accessories will make smoking a celebratory stogie easy!
Perfect Personalized Decanter for a Hunter
This engraved whiskey decanter is absolutely perfect for a hunting-loving dad. Whenever he returns from hunting, his favorite thing to do will be to pour himself a glass of whiskey from this decanter to relax and celebrate a successful hunt! He'll think the engraving on it is so special that he'll want it displayed in his man cave or home bar as his favorite whiskey sits inside it. It'll definitely be the most useful gift he's ever gotten!
Gift for Keeping His Drinks Cold
A good cooler is a necessity for any hunter. This portable, soft-pack cooler is one of the best hunting gifts for dads that yours will definitely use every time he hunts! Any drink or food item will stay frosty cold surrounded by ice for days inside this cooler. Your dad will be so thankful for the perfect cooler when he is out hunting for a buck!
Useful Set of Hunting Gifts for Dads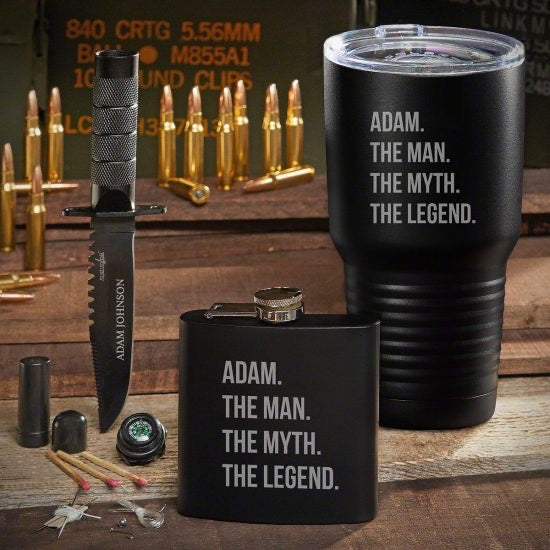 Your dad is the best dad ever, so he deserves the best hunting gift ever! This personalized gift set for men has some essentials for any serious hunter. The tumbler and flask will come in very handy when your father needs a nice, refreshing sip of a cold drink or wants a celebratory sip of his favorite liquor. Also very handy is the knife, which is a must-have that could save his life some day, which he'll appreciate.