Whether he just recently became a father or he's still a dad-to-be, you want to get him a present to congratulate him on fatherhood as well as making the early days of his dad-journey the best they can be. The best gifts for new dads are those that will help him to relax and recharge when he's taking a break from caring for the new baby as well as those that remind him of his amazing new child! You might not know what kind of present will help a new dad relax or what kind of great gifts for dad would make them think of their baby. That's why we've tracked down all the most amazing gifts for a new dad so you can surprise him with a phenomenal present.
The Best Gifts for New Dads that are Etched to Perfection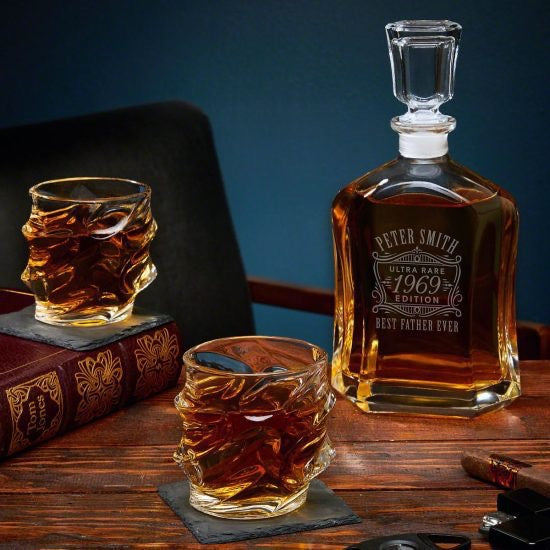 Let him know right off the bat that he's an awesome father with this sculpted glasses and decanter set! Etched with customization that reminds him he's already killing it at the whole fatherhood thing, the decanter will look great filled with his favorite spirit and give him a confidence boost every time he sees it. When he has some time to himself, having a drink using this glassware set will be the perfect way for him to relax!
A Shadow Box for His Memories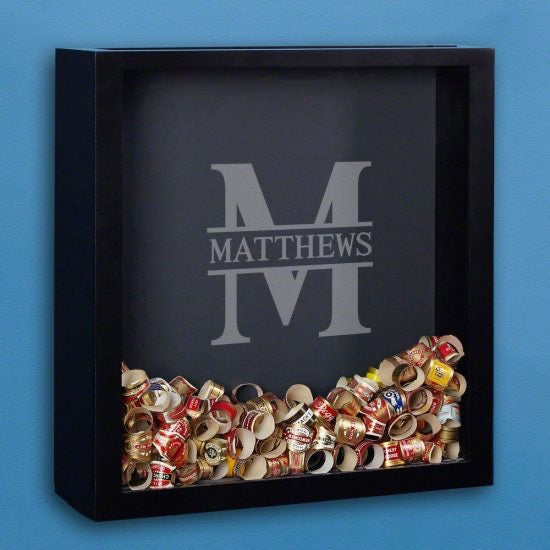 You're only a new dad once, and he wants to savor every moment of that time. This personalized shadow box is one of the best gifts for new dads because it's the perfect way for them to keep and display mementos from their early fatherhood days. Maybe it's the beanie his child wore home from the hospital, an image of the ultrasound, or any other small items, he'll really like keeping them safe inside this handsome shadow box.
The Cigar Gift Set He Needs to Relax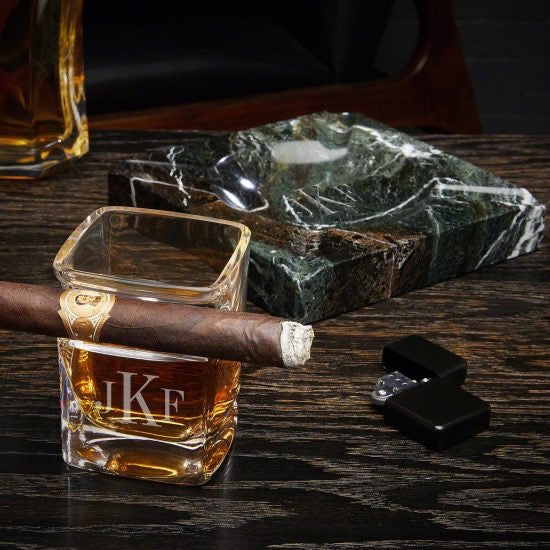 Give him the ultimate celebration and relaxation gift! This monogrammed cigar gift set is one of the most amazing gifts for a new dad because it's absolutely perfect for celebrating the birth of his newborn! It also comes in handy when he needs to unwind after being so busy with the baby. He'll love heading into his man cave or another quiet place and enjoying whiskey and cigars together using this handsomely monogrammed set.
Put Your Money on this New Dad Gift
What better way to take a much-needed break from the hard work of having an infant than a game night with his buddies? With this personalized poker gift set, he'll have everything he needs to host the best game night ever. Whether the group wants to play poker, Blackjack, Hearts, Patience, or all of the above, he and his buddies will have a blast. He'll be happy to enjoy some much-needed time with friends thanks to this unique set of wonderful gifts for dad!
Care Package Full of Edible Gifts for a New Dad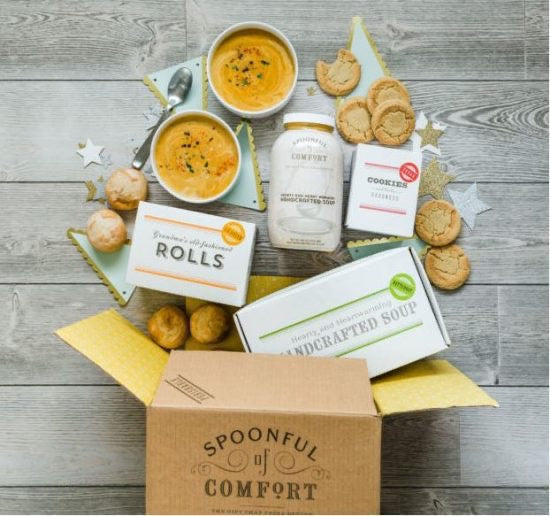 It's tough to prepare for how busy you'll be when a baby comes. Help the new dad out with his food situation with this new parent gift package! He'll be so thankful for the delicious soup, rolls, and cookies in this set that gives him something he can very easily prepare to have a meal in between caring for his baby. Talk about a time-saving gift!
The Ultimate Dad Container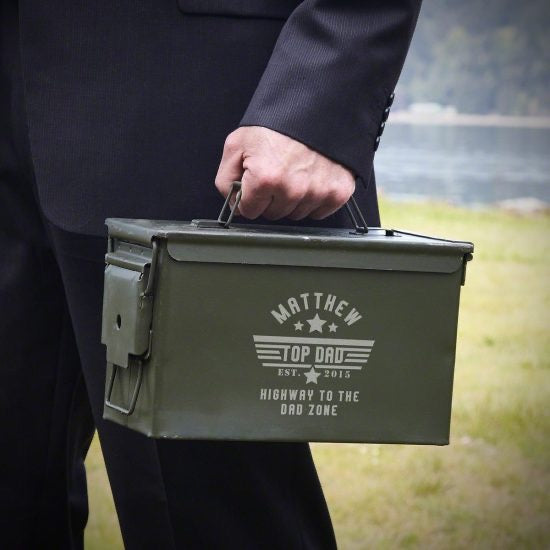 It's early on in his dad-life, but you already know he's a top dad. Let him know that with this customized ammo can! He will look and feel like the coolest and best dad ever with the personalization on this unique ammo can. He'll also definitely put it to good use, perhaps to store mementos from early fatherhood or to keep his favorite dad-products, like emergency snacks or beverages, inside. You could even include some snacks and a six-pack inside when you give it to him!
Classy Bamboo Cutting Board for Grilling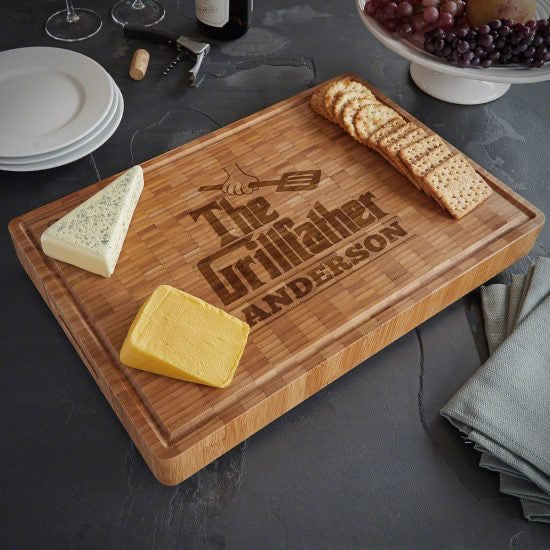 Now that he's a dad, it's time for him to start doing dad things like grilling up some delicious food for the whole fam! This engraved bamboo cutting board is one of the best gifts for new dads because it'll help him go from father to "The Grillfather " in no time! He'll really like using this handsome board to cut up the pork chops and steaks he wants to throw on the grill. Plus, once his food is done, what better way to serve up some deliciously grilled food than on his custom bamboo cutting board!
Glassware Box Set for the New Papa Bear
He's a papa bear now, so get him a present that will make him really feel like the strong, capable dad he is. This bourbon decanter set is a really awesome gift for new papa bears because he'll think the personalization is really special. He will feel a sense of fatherly pride every time he looks at it! When he wants to relax with a friend or his partner when his baby is finally asleep, this set is the perfect way to do so while also thinking about how awesome of a dad he is already.
491+ COOL GIFT BOX SETS HE WILL LOVE>
He Deserves a Massage or Two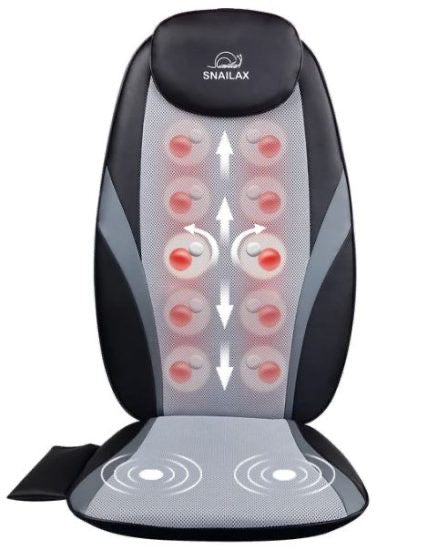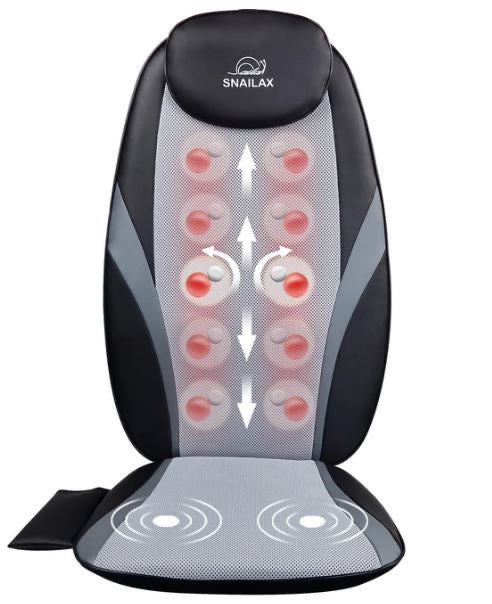 Everyone who has ever had a newborn knows they could definitely use a good massage to really alleviate all of their stress. This heated massage cushion is one of the best gifts for new dads because it eliminates the need for him to go to a massage parlor and pay for a pricey massage! He can simply place this gift on his favorite chair in his house and be instantly super relaxed and at ease.
The Best Gifts for New Dads to Survive Parenthood
Having a kid has solidified his stance as a legendary man. Let him know just how mythical he truly is with this personalized men's gift set! He'll feel awesome seeing the customization on this tumbler and flask that give him the perfect vessels from which to enjoy a drink when he needs one. He'll love feeling like such an awesome, legendary dad already!
Toast to the New Tot
There comes a time in every dad's life when he simply has to raise a glass to his newborn child. His new kid may be a lot of work, but he loves his child more than he ever thought was possible. Get him this custom whiskey stone gift set to help make celebrating his newborn one of the easiest things about being a father! He'll appreciate a gift that lets him celebrate this new chapter in life as well as being one of the most memorable gifts he is sure to keep with him for the rest of his life.
Most Meaningful Beer Mug Ever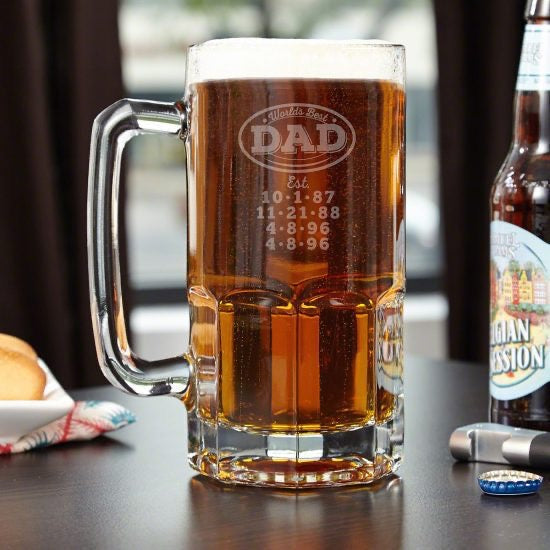 This colossal beer mug will become the most important glass he's ever owned because it's his special dad mug! It's one of the simplest yet greatest gifts for a new dad that he'll really appreciate, especially with his new baby's birth date engraved onto it. He'll feel like the strongest dad ever drinking his favorite beer from this huge mug, and at the end of a long day, he'll be grateful he doesn't have to keep getting up for refills!
Fatherly Bracelet
His new baby is so near and dear to his heart, he always wants something that reminds him of his child no matter where he is or what he's doing! This personalized leather custom cuff bracelet is an awesome new dad gift because he'll really like having his son's or daughter's name close to him always, like when he's at the office or on a work trip. He'll love the way it looks on him and how sentimental it is for him.
Glassware Gifts for a New Dad that are Sophisticated and Classy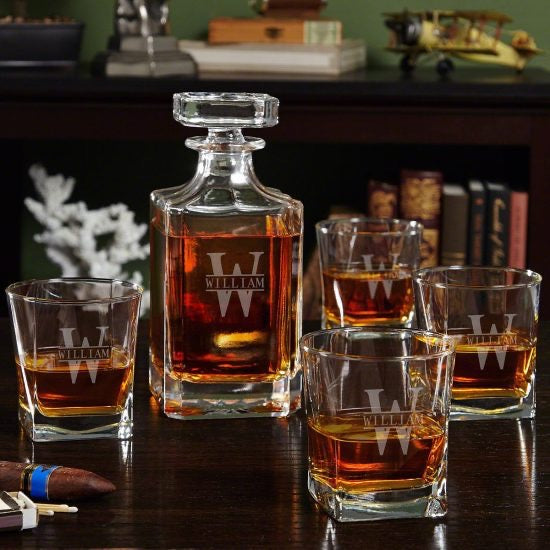 Becoming a father is an amazing accomplishment, and new dads deserve to be congratulated with an amazing gift. This whiskey decanter set is just the gift you've been looking for because it's incredibly sophisticated and personalized just for him! He'll feel like a classy father as he sips from these glasses with a few buddies. This is the perfect gift that he can enjoy while he celebrates being one of the coolest dads of all time. Better yet, he can enjoy this dad gift whenever he wants to pat himself on the back for being an awesome dad as his child grows up.
For the Celebratory BBQ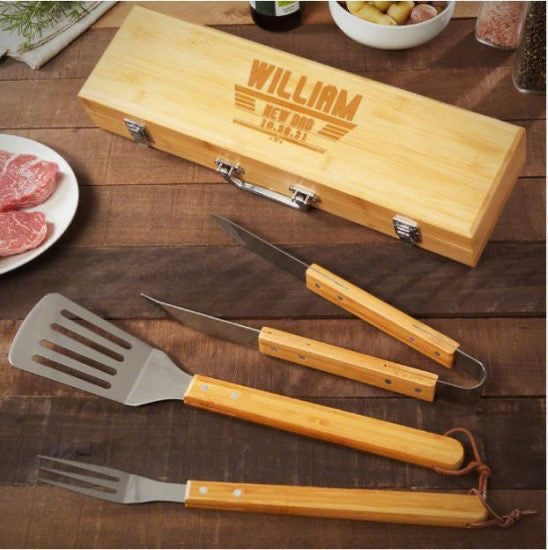 That backyard barbecue he throws to introduce those closest to him to his new baby is fast approaching! Get him one of the best gifts for new dads that will also make this get-together even more awesome—this engraved BBQ grill tool set! He'll feel overjoyed grilling up tons of burgers, hot dogs, and other foods with these bamboo grill tools for those closest to him. He'll already be in dad mode!
Definitely the Most Useful New Dad Present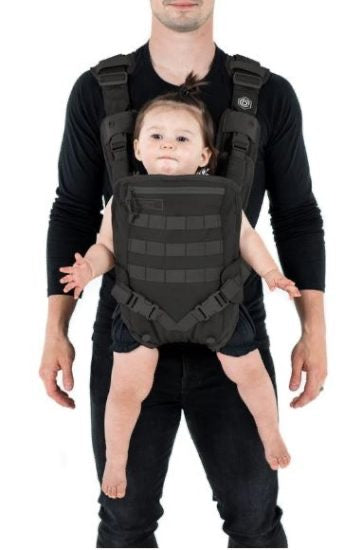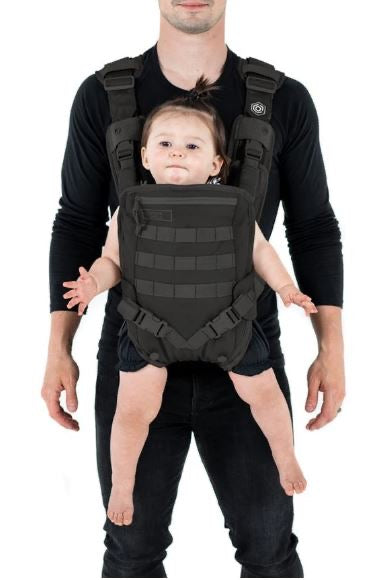 You should be looking for gifts for a new dad that will really help him out when he has a new baby, which is exactly why this tactical baby carrier is perfect! He'll thank you over and over again for this gift that lets him multitask! With this baby close to him, they'll be comforted and comfortable while also allowing dad to do other things with his hands.
Engraved Gift Box for His Favorite Spirit
Sometimes, after getting such little sleep and having no time for himself, all he wants is a glass of his favorite spirit when he has a moment to himself. Make that wish come true by getting him his favorite bottle and gifting it in this handsome, customized wooden liquor gift box! He'll really appreciate this box that serves as a constant reminder of the best day of his life every time he puts a liquor bottle in it for safekeeping.