Becoming a father is a life-changing experience that is worthy of recognition. Most of the focus is on the mother when a couple has a baby, but you want to congratulate the father with the perfect gift. The best gifts for new dads are gifts that show him he's already an amazing father, giving him confidence for the future of raising his new child. These gifts for dad also help him relax and let loose with friends when he's taking a break from caring for his baby. No matter if you are buying for your own baby's dad or another family member or friend, these first time dad gifts are the perfect presents for the new father.
Coolest Whiskey Gift for New Dads
He is so close to being a dad, so for now, he needs to maximize his relaxation time. There is no better way for him to do that than to enjoy a nice glass of whiskey in a brand new glass. This whiskey stone gift set is perfect for a dad to be because the whiskey stones will ensure that his whiskey stays chilled without him having to worry about it becoming diluted. After all, he's got a lot on his mind right now, and deserves to calm his nerves with a delicious glass of whiskey.
My Cave, My Rules
Now that there are kids in the house, a man's man cave is more important than ever before. This custom wooden sign is perfect for placing on the wall right outside a new dad's man cave. Taking care of a baby includes many sleep-deprived nights, so peace and quiet are essentials for the man cave. Any new father would love this handsome sign that lets everyone who enters know that it is his room for resting after looking after his new baby.
Survive
Being a new dad is an amazing time in a man's life, but it is a time of uncharted waters. The new father needs a survival kit to navigate this time in his life. Coming in a metal tin, this kit comes with many items, both serious and humorous, including bath oil, a sleep mask, air plugs, and biohazard diaper bags. The tin can be personalized with the name of the new father, so the tin can be saved as a memory box for the rest of his life to remember the time that he became a dad. Any new dad would want this amazing survival kit that will make fatherhood easier.
Whiskey Set New Dad Gift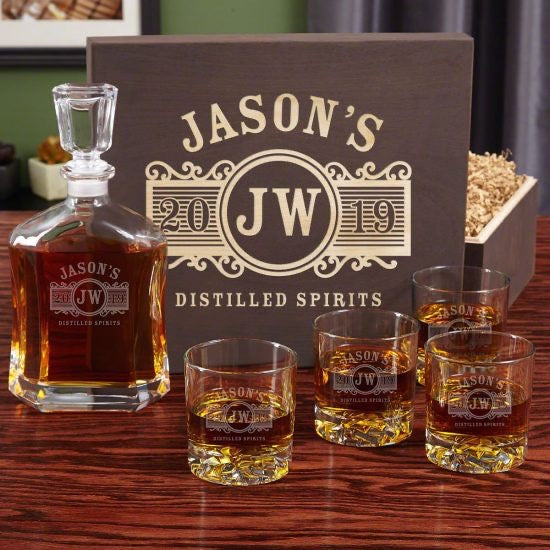 The most amazing first time dad gifts are sets that he can use to relax in his down time between caring for his baby. This personalized decanter set will make all his friends extremely envious because of how awesome it is. This set comes in a handsome brown box that is stained a dark brown, which can be used for decoration and to store items inside. The beautiful crystal decanter will help his whiskey taste extra delicious when poured in to his new rocks glasses. This is a special gift for the new father that he will love enjoying with his friends while talking about this precious new baby.
509+ MUST-HAVE WHISKEY GIFTS FOR MEN>
Ammo Can Set for a First Time Dad Gift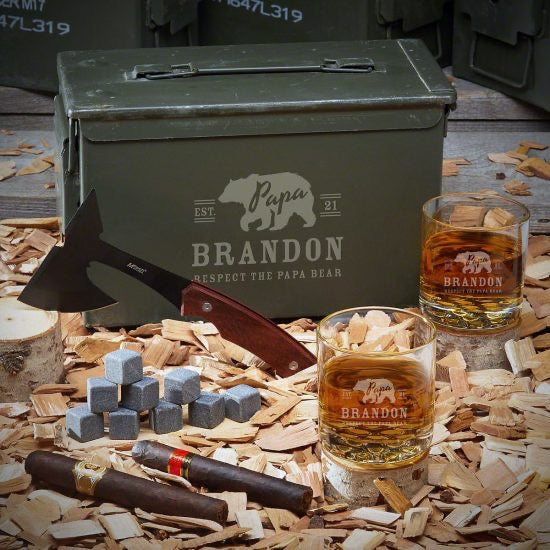 There's a new papa bear in town, and he deserves an awesome gift set made specifically for fathers. This ammo can gift is beyond awesome. These cans are repurposed from the United States military sent right to the new dad—from one hero to another. He'll love relaxing with a buddy, sipping from these whiskey glasses when taking a break from taking care of his baby. And, now that he's a dad, he has another family member to protect, which is where this axe comes in. With it, he'll be able to cut through thick shrubbery when his family is on an adventure in the great outdoors.
Already the World's Best Dad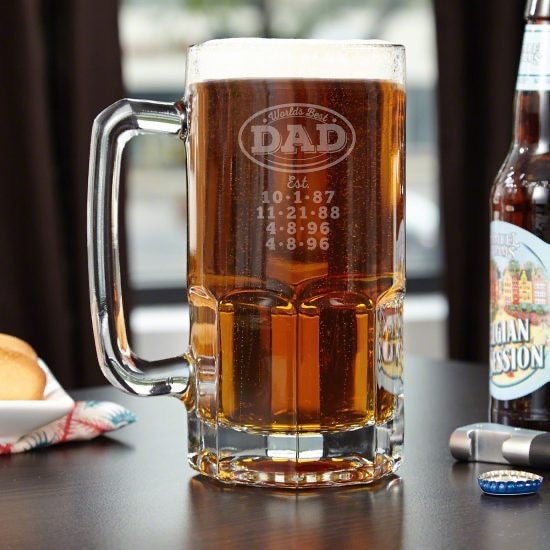 The best new father gifts are ones that will remind them of their fatherhood while helping them enjoy some relaxation time. This custom beer mug is a great gift for new fathers that enjoy sturdy, large mugs and delicious beer. This crystal mug can hold an entire liter of his favorite beer, so he doesn't have to get out of his favorite chair for refills. It is engraved with the phrase "World's Best Dad" with the date of his new baby's birth date on it, making it a super personal gift to the new dad. This gift is perfect for the new father that loves beer and his new baby so that he'll always have a reminder of when he first became a dad.
Diaper Duty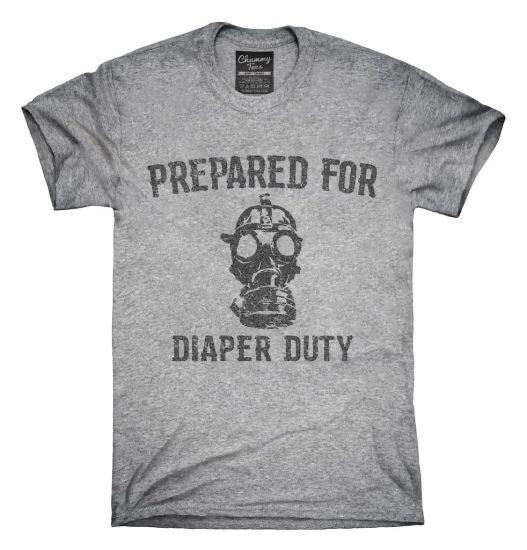 Men love funny t-shirts, and why wouldn't they? Buy this hilariously amazing t-shirt as a gift for the new dad in your life. Everyone who sees this shirt will laugh as well as recognize how hard the new father works to change diapers and do so much more for the newborn. Also available in tank top and hoodie form, this shirt is a great gift for new fathers, especially if they need a good laugh.
Yes to Cognac
After so many long days and nights working hard taking care of his new child, the new father that you know needs a break. The best way to relax is with a nice glass of warm cognac and a freshly cut cigar. With this cognac gift set, he'll be able to enjoy this experience fully. This set includes a beautiful wooden cigar box that the new dad can use to store cigars or anything he may choose. He can enjoy a glass of cognac with you or a buddy and light up his favorite cigar with this new black lighter. This set is so high-class that the new dad will feel like royalty when he uses it.
Extra Large Wine Time
A perfect new dad gift is a wine glass that can hold a lot of wine, so refills aren't necessary. For that wine-loving, deserving dad, look no further than this extra large personalized wine glass. This huge glass holds an entire standard 750 milliliter bottle of the new father's favorite white wine, red wine, or rosé, so he can stay on the couch for a long time. This is a phenomenal first time dad gift for the new father who deserves it.
Super Delicious Dad Gift
Taking care of a newborn baby is extremely time consuming, and sometimes, new parents forget to take care of themselves. For the new dad who sometimes forgets to eat, get him this jerky gift box, so he'll have snacks to eat for a while. This gift box includes sausage smoked beef strips, pepperoni snack sticks, beef sausage sticks, and many more delicious items. Any new father's mouth will water immediately upon seeing what's inside this magnificent gift box. Make sure the new father in your life doesn't go hungry with this delicious gift for new dads. 
Cigar and Whiskey Set First Time Dad Gift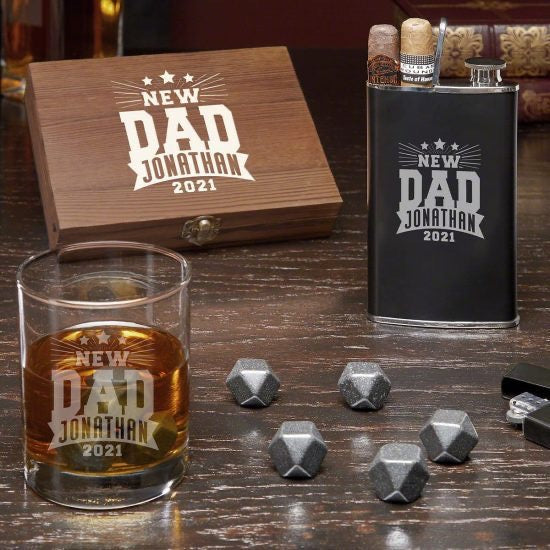 When he takes a break from diligently caring for his child, what's the first thing that the new dad will want to do? Drink some whiskey or smoke a cigar. With this 2-in-1 cigar carrier and flask, he'll be able to partake in both no matter where he is. When he's at home, he'll love taking his whiskey stones out of the freezer and plopping them into his whiskey in his classy whiskey glass.
177+ STUNNING ENGRAVED FLASKS>
Dad and Baby Matching Set
Baby clothes are both cute and can be very creative, and new parents enjoy dressing their new babies up in funny outfits. This onesie is the perfect gift to get new fathers for their babies because it comes with a complementary t-shirt for the father. This clothing set is a tribute to the popular television show "The Office" and is sure to make anyone who sees this shirt and onesie giggle.
Have a Drink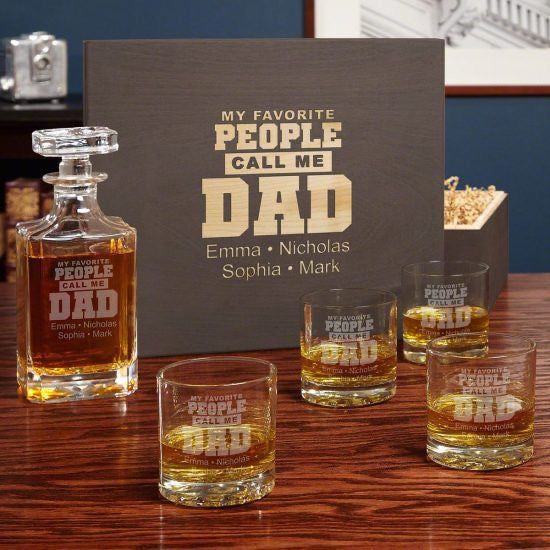 Go all out with your new dad gift with a gift set that he'll treasure for life. This personalized decanter set is a stunning set, coming in an attractive Maple gift box that he can use to store photographs of his new baby or anything he wants. The name of his new baby can be engraved onto all glassware and the box, making this gift a great one for him. He'll love this super fancy, personal gift.
Open Bottles with Ease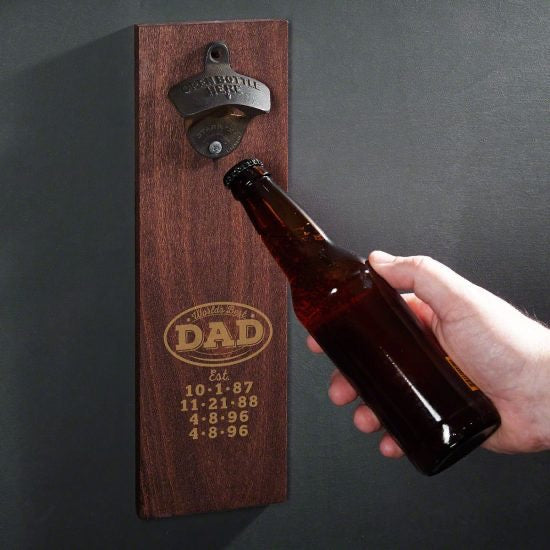 When you're taking care of a baby, you often only have one free hand to use. For the amazing new father who often deals with this, get him a bottle opener than he can easily use with one hand. This custom wall bottle opener makes opening bottles so much simpler. This beautiful brown natural wood wall opener is perfect for when the new father has his hands full and needs to open a bottle with ease. The new dad in your life will greatly appreciate you making his life more uncomplicated.
Store His Stuff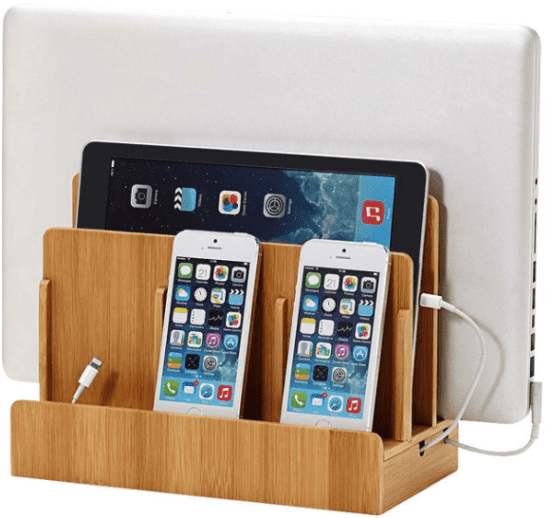 Having a baby turns your life upside down and makes every day feel hectic. There is no surprise that for new dads, it's hard to keep track of all your possessions. This desktop charging station is a great gift for the new dad in your life to make sure he has all his essentials all the time. This beautiful wooden charging station has several slots for different chargers, so he can charge his cell phone, tablet, laptop, and a smart watch, all at the same time. There is even more room on the station for his keys or other important items. This charging station is small enough to fit on a desk or even bedside table, but large enough to store several important things on it.
Caffeine is a Must-Give First Time Dad Gift
First time parents are very sleepy with the baby keeping them up at night. When you're running on a few precious hours of sleep, coffee is essential. Buy the first time dad in your life this coffee carafe and mugs set. Crafted from stainless steel, this carafe can hold a whopping 64 ounces of coffee, keeping it hot for hours on-the-go while the new dad works and runs errands for his family. The two black mugs that come with this sleek carafe are high-quality and would look great in the new dad's hands. Get the mugs and carafe engraved so this gift can be an even more personal gift.
First Time Dad Whiskey Gifts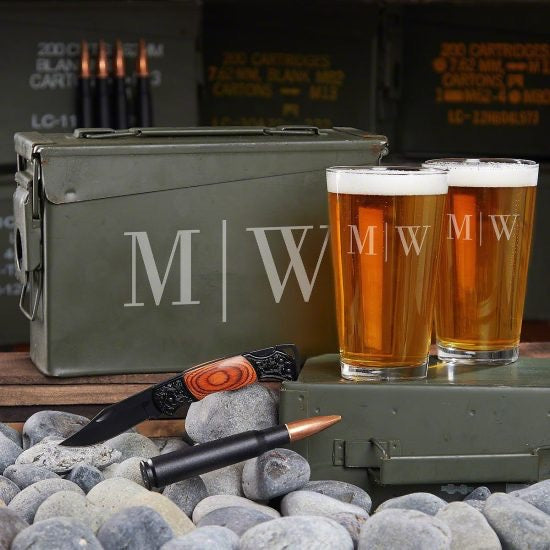 New dads deserve the coolest gift that you can find to give them for already being the best dad. This customized ammo can set is an extremely creative gift – in fact, the ammo can was used by the United States military before being repurposed for the new father's gift. Also included in the set are two custom pint glasses so the father can enjoy his favorite brew with a friend after opening the bottle with this super cool bullet bottle opener.
505+ STELLAR GIFTS FOR NEW DADS>