It doesn't matter if you're searching for a fantastic gift for your husband, dad, brother, or another man in your life. You don't want to settle for a gift card or something lame. You want to buy a really rare, unique, manly gift that will make his day! Great gift ideas for men are gifts that you know will complement their hobbies and are of the highest quality, so you know they don't already have anything that awesome. These unique gift ideas for men will provide you with ample awesome ideas that the men in your life will love—and appreciate way more than a gift card.
Cigar and Whiskey Unique Gift Idea for Men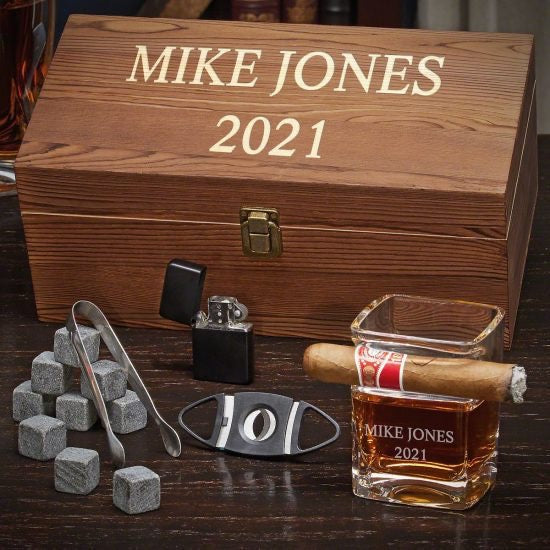 Few things are cooler than enjoying cigars and whiskey at the same time . . . except a cigar glass specifically designed for that purpose! This handsome glass was crafted so that a standard-sized cigar fits snugly. Now the high-class man you know can enjoy both delicacies simultaneously using just one hand. All his friends, with their normal whiskey glasses, will be so jealous of his special cigar glass. With other cigar and whiskey tools included in this awesome gift basket for men, he will absolutely adore this unique gift.
Great Gift Idea for Men Who Love Golf
He wishes he could go golfing every day, but unfortunately, that's not realistic. However, part of his dream can come true with this awesome golf putting set! With this gift, he can practice his short game anytime, anywhere. The travel putter easily breaks down to fit inside this handsome red wooden box, and the practice hole and golf balls fit snugly as well in their molded spots. The recipient of this one-of-a-kind gift will be in awe of how different and fantastic it is.
Whiskey Set in an Ammo Can
There are few things more rare than gifts that once served a greater purpose like this ammo can. It is repurposed from the United States military, so the man you're buying for will feel so cool carrying his fishing equipment or anything else inside it. The accessories in this whiskey gift set are unique as well because they are all he needs to enjoy whiskey and cigars, all combined into one amazing gift.
Coolest Decanter Ever
Some of the best unique gift ideas for men are those that no one else has ever seen before. This astounding spigot decanter makes an amazing gift because of its novelty. The striking crystal model of the USS Constellation will look amazing surrounded by his favorite whiskey as it rests inside. He will love showing this awesome gift off to his guests and pouring them a glass or two of whiskey from it.
Great Gift Ideas for Men's Home Bars
A man you know is very proud of his home bar because he's put a lot of work into making it amazing. Make it even more of a snazzy home bar with this handsome bar sign. This wooden sign is customized, so you can put his name or whatever else he would like onto it to make is so special and personal for him. He will feel great about his bar every time he sees this sign, and his guests will feel like they're in a real, cool bar.
307+ TOTALLY AWESOME PERSONAL SIGNS>
This Year's Hottest Gift
He works so hard all day, and all he wants to do when he comes home is relax in a hot tub with a glass of whiskey. The only problem is that he doesn't have a hot tub, and he doesn't want to spend thousands on buying one and on the upkeep for it. Help him out with the next best thing: an inflatable hot tub! This ingenious contraption inflates quickly as well as rapidly heats the water for an amazing hot tubbing experience. He'll love kicking back and relaxing in this awesome hot tub!
The Most Legendary Man Gift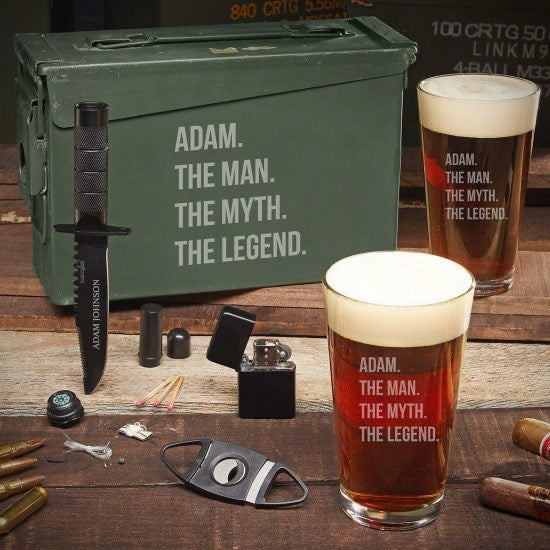 Legendary men deserve unique, legendary gifts. This ultra-awesome ammo can gift set will make the legendary man in your life feel like the coolest person on the planet. He'll love using all the amazing accessories this gift contains! This gift is the most legendary ever.
Awesome Vintage Bar Cart
He is a huge admirer of adding uncommon touches to his home decor, and especially his bar accessories. This Italian replica globe bar is the best unique gift idea for men who crave this kind of vintage bar accessory. This attractive item is fully crafted from wood, adding to its vintage feel. The hinged lid is decorated with an old-fashioned globe pattern, with a hidden liquor cabinet inside. Any man will love wheeling this stunning accessory around to their guests, proudly serving them from his favorite gift ever.
Keep Your Beer Chilled
How novel! The growler in this beer growler set will make all your man's friends jealous when they see how cool it is. It's crafted from stainless steel copper, with that classic shiny copper appearance that stands out from across a room every single time. This growler will keep beer ice cold for up to a whole 24 hours, so he won't have to worry about his beer getting warm when it's inside this magnificent growler. The pint glasses that come with it are classic, and he'll feel like he's at the pub as he enjoys his favorite beer from them. He'll be extremely happy to receive this fantastic beer gift.
His New Superb Sandwich Station
Men tend to love sandwiches of all kinds, so what better gift than one that will let them eat more than ever before? This unique 2-in-1 panini maker and grill is fantastic for sandwiches, meat, quesadillas, or anything else that needs to be pressed or grilled with heat. It's super easy to use, so even men who aren't great in the kitchen will be able to use it with ease. The man you're buying this gift for will love how he can make two delicious sandwiches at once in this awesome contraption.
Great Gift Idea for Men With Class
Classy men typically have several nice watches. But only the classiest men have a top-notch display case in which to store their precious watches. This leather valet box is a sophisticated, unique gift idea for men who reach this level of class. This display case can display 10 watches, showing them off behind the glass while also keeping them safe and intact. The bottom drawer is a cuff link box that he can store any other accessories that he wants to keep safe and sound. There couldn't be a better, or more unique, gift out there for men.
Taste the Whiskey
Whiskey tasting is an art form that the man you're buying for is really good at. This gorgeous Glencairn glasses set is what he needs to do whiskey tasting the correct way. The beautiful crystal decanter is the ideal place to store his whiskey where it will not only stay fresh and clean inside, but it will look gorgeous on his home bar. He's definitely never seen a more stunning decanter. The Glencairn glasses are perfect for tasting different whiskeys out of, and they'll help him advance to the title of whiskey aficionado.
Super Cool Beer and Cigar Gift Set
What's better than beer? Beer and cigars, of course! This pint glass and cigar box set is a fantastic, unique gift idea for men who appreciate enjoying both beer and cigars with only the highest quality tools. The novelty of this set is that he will need nothing else to enjoy his favorite stogies and brews. He'll feel totally awesome drinking beer from these classic pint glasses and smoking cigars along with it.
379+ STUNNING PERSONALIZED BEER GLASSES GIFTS >
Worth a Thousand Words
The best way to remember life's most amazing experiences is with photos and videos. This awesome, high-tech drone is a fantastic way for the tech-loving man you know to capture those memories in a unique way. He'll be so surprised when he opens up this gift—none of his friends have ever received anything as fantastic as this! The drone has a built-in HD camera with a wide angle lens that streams photos and videos right to a memory card or his smartphone. It's easily controlled with a remote control, so he can capture anything he wants effortlessly.
Spruce Up His Man Cave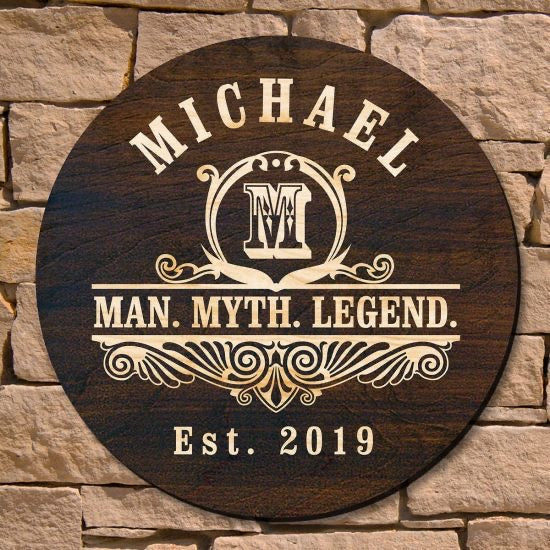 Men need their own space—it's just a fact. Make his personal space even more special and personal with this awesome sign for their man cave or office! The unique personalization makes this handsome sign such a cool, unique gift, and he'll be so impressed that you got him such a phenomenal gift.
Manly Stainless Steel Wine Glasses
Wine is a classic, delicious, beverage that men all around the world enjoy, including your man. He's wanted a manly set of wine glasses but hasn't found any, so he'll be thrilled when he sees this amazingly unique set! These stainless steel wine glasses will maintain his favorite wines' temperatures for hours, whether he wants his Pinot Grigio to stay cold or his Cabernet at room temperature. This set also includes a corkscrew, so he'll be able to pop open his favorite bottles with ease.
Attractive and Functional Unique Gift Ideas for Men
Transportation for cigars is immensely important to many men, because they never know when a friend will call them to come to their place and enjoy stogies together. That's why the best, most unique gift ideas for men include awesome cigar holders. This cigar holder set is extremely attractive, with the stainless steel holder wrapped in black leatherette and sporting a pocket for an included cigar cutter. His friends will desperately want a cool cigar case like this one. The twist glass will invoke envy as well because it's incredibly beautiful, the perfect glass for enjoying whiskey.
More Than the Time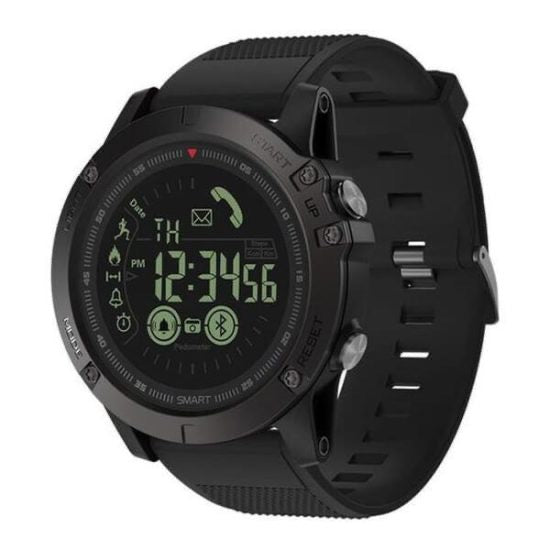 The man you are buying for is always thinking ahead, wanting to be prepared for each and every scenario that could happen in a given situation. There's a million different kinds of watches out there, but a tactical military watch is a unique kind of watch that has tons of helpful features. It knows the amount of steps and distance you walk as well as notifies you of any calls. It also can control the camera in his smart phone so he can easily capture photos. It's even waterproof, so he won't have to worry about getting it wet. With this watch, he'll be prepared for anything that comes his way.
All the Essentials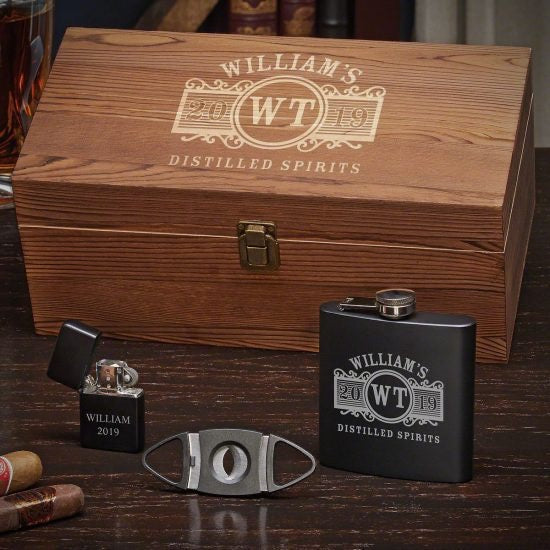 Ah, liquor and cigars, the classic combo. The man you're buying for is known for his love of this lovable combination, and you want to buy him a gift that covers the essentials of enjoying these two awesome things. This novel gift set has the top accessories for proper whiskey and cigar consumption. This matte black flask will fit discreetly in this pocket or briefcase, so he can sneak a drink whenever he chooses, and the cigar accessories are so necessary for cigar fans.