Your husband is number one in your life, so you know you are not going to settle for any gifts that are second best. However, although you love him, sometimes coming up with husband gift ideas can feel like a total nightmare. Don't sweat it, that is why we are here! We've got the best gifts for husbands! He will love getting a gift that shows how much you care about him, that you're proud of him, and that you appreciate everything he does for you. Show him exactly how you feel by getting him the best gifts for husband that are super unique or even custom-made just for him!
Ammo Cans Make the Best Gift for Husbands
When you're searching for perfect incredible husband gift ideas, that is when you'll find gifts for the special guy that are a collection of everything he could ever want! A personalized ammo can gift set is the present he's been dreaming of. It not only looks awesome, but it comes with everything that your husband could ever need to throw his feet up and relax with a rewarding cigar or his favorite pint. Once he's got all his new accessories out, he can even use his custom ammo can to bring ammo to the range or possibly fill it with his awesome collection. Arm your husband with one of the coolest gift sets out there using this sweet gift!
Husband Home Bar Decor
Celebrate his love for a good drink with a piece of home decor he'll enjoy seeing on display for years to come. This eclectic sign covers all the possible drinks he may love from cocktails, to beer, to wine; no matter his taste, he'll always feel like his home is his own personal bar thanks to this fantastic gift!
All-in-One Gift Box
Surprise your partner with the best gift for husbands, his own celebration box! This all-inclusive kit is the perfect way for him to enjoy an evening of celebration or even to use on nights when he just wants to kick back and relax. Add in a few of his favorite stogies and a bottle of his favorite booze and he's sure to give you a hug with his arm that isn't holding his cigar and whiskey. Talk about awesome and unique gifts for husband!
For the Perfectly Aged Husband
It doesn't matter how old or young he is, at this point in your relationship, he is aged perfectly for you. That is why you know he'll really appreciate getting this fantastically engraved gift set. These tumblers are fantastic husband gift ideas because he will have endless uses for them, what husband wouldn't like that? The tumblers are perfect for wine but if he is more of a cocktail guy, he can surely top off his fantastic matte black cups with that too. Can he even ask for a better anniversary gift or birthday gift that this?
A Classy Set of Husband Gift Ideas
One of the best things you can do for your husband is to give him a gift that makes him feel like a true gentleman. An elegant twist in the glass of this matching decanter set will make him feel just as classy as you're hoping it would. This will be the perfect gift that he can enjoy a few drinks out of but will also be one he'll always want to have out on display. You know this gift will never leave his end table or home bar, simply because he loves showing off this fantastic present!
645+ WHISKEY GIFTS FOR HUSBANDS>
Sounds Like a Good Gift
Give him a throwback gift as a unique husband gift idea. A modern turntable and set of speakers are the ultimate way to get him into the revitalization of vintage sound. Vinyl sales are better than ever and aside from feeling a little retro, vinyl even sounds better than streamed music. Don't let your husband miss out on ultimate sound. Using this set he can jam to all his modern tunes while checking out the gorgeous album art, just like the old days!
Present Him an Impressive Gift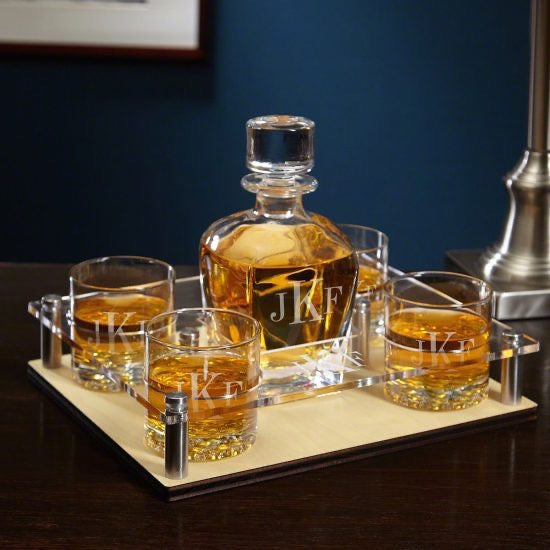 What could possibly make your husband feel even classier than seeing his initials monogrammed on a gift? Oh, maybe an awesome presentation set that has his monogram on all of it! Adding an awesome engraving to a gift set like this will take it from one of the coolest gifts he's ever received, to a gift he won't think anyone will ever be able to top. This will be the perfect way for him to enjoy a glass of his favorite spirit, and he can even share a glass (or three) if he wants too!
A Hoppy Hobby
A beer cap map is a piece of home decor that husbands can truly be proud of. This gift lets him be interactive with his present. He gets to do more than simply hang his map and look at it in amazement (which he will still do), he gets to fill it in with all the beer he drinks! He'll have a blast filling, and refilling, this beer cap map.
A Royal Mug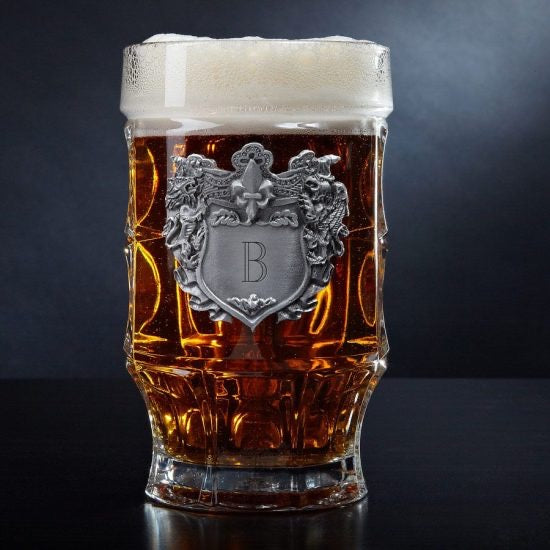 Speaking of beer, what incredible guy wouldn't love this husband gift idea? Some mugs claim they make people feel like royalty, but your husband will undoubtedly feel kingly when he sees this gorgeous mug crested with his initial. When he has a drink from this mug, it will always be an occasion he will remember.
An Exotic Gift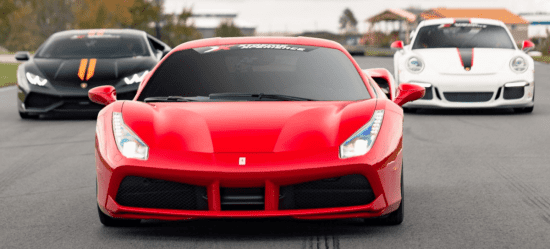 There is something about fast and fancy cars that always catch a guy's attention. Give him something he never thought possible, a day pass to drive any exotic, insanely fast car he wants! He can take his childhood dream car to the racetrack and put the pedal to the metal with this track experience!
Engraved Ammo Cans are the Best Gift for Husbands
If there is one thing all men, especially husbands enjoy, is having the right tool for the job. These personalized tools ensure that your incredible husband will always be prepared, no matter the situation. Why try to find the best gift for your husband, when this ammo can come with everything he could ever need? What can't he get done with a knife or hatchet? However, all work and no play isn't the point of a great gift, so ensure he can enjoy a bit of his favorite things with his cigar flask too!
For a Man of Many Tastes
Turn your husband from an avid fan of beer into an aficionado with a set of beer glasses personalized just for him. This gift set allows him to perfectly get all the right tastes, aromas, and even all the snacks he could ever need to munch on while enjoying a brewski. Once you saw this, you definitely knew this was one of the best husband gift ideas you've ever seen, right?
Decanters Make the Best Husband Gift Ideas
When searching for the best gift for a husband, part of what you're doing is trying to figure out how the gift will make him feel. There isn't a gift out there that'll make him feel more badass and awesome than this decanter set engraved with his name and initial. The sizable glasses will instantly give him a feeling of being the coolest and manliest guy around. Thanks to your gift, he'll get that feeling each time he wants a glass of neat whiskey or even his favorite cocktail.
An Incredible Grill Set
Make your husband the ultimate grill master with his very own smoker, grill, and pizza oven combo! Not only does this piece of cookware look amazing, you and he are going to love the smells coming from it every time he fires it up to make some more delicious food.
Cinema of Attraction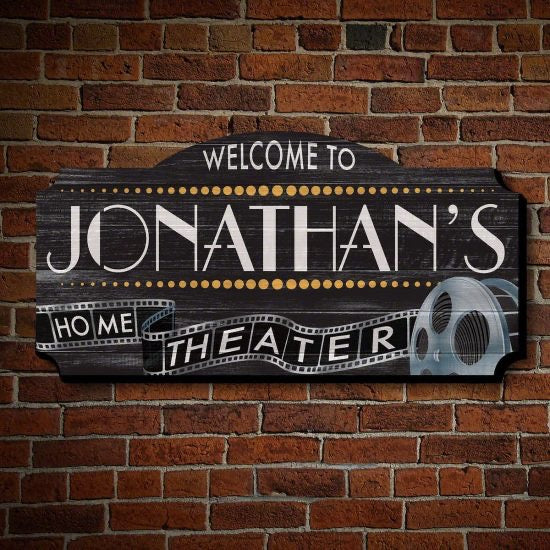 Perfect for a guy who enjoys a good movie, this husband gift idea will make him feel like you're turning his home into a night at the movies every time he sees his personalized sign. Pop some corn as he puts this sign up on display, load up his favorite movie, and he'll never have gotten such an incredible gift!
645+ WHISKEY GIFTS FOR HUSBANDS>
Small Gift with Big Flavors
The best gift for husbands does not always have to be a giant set. Sometimes, the best gift for your hubby is one that he can enjoy while he is on the go or at home. His very own cigar and whiskey set is the perfect gift to make him feel like a classy gentleman at home, but that also lets him enjoy a stogie if he is out and about.
Personalized Modern Wine Set
Make each glass of wine he has from here on out feel like a special occasion. Having his name engraved on a full wine set will make something about each sip feel like there is a monumental reason behind him having it whether it is in celebration of getting a full wine box set, for a large occasion, or even simply because he wants a drink. This will be a fantastic way for him to enjoy wine with you, his friends, and his family!
A Box for All His Vices
Still struggling to find the single gift that nails exactly what you think he'll love? Look no further! This box set quite literally has everything he could ever want. He'll be able to enjoy any vice he likes, but more importantly, he'll have an awesome gift set with your custom engraving, how cool is that? Top the box off with a few of his favorite vices and this will be a gift he talks about for years!
Weighted Blankets are the Best Gift for Husbands
Sometimes when you find the perfect husband gift idea it feels like a weight has been lifted, well that won't quite be the case here. Weighted blankets make a fantastic gift because for many, it makes a good night's sleep even easier to come across. So, this won't just be a sweet blanket as a gift, but you'll be giving him countless extra hours of sleep too!
For a Manly Mug Experience
Make your husband feel like a mighty man when he sees that his new beer mug and box set have been engraved with his name! He'll feel like a man of fine quality each time he snaps a cap off and hears the "Psst" of a beer opening. Plus, if he likes to collect things, such as his beer caps, he'll have the perfect matching wooden keepsake!
The Coolest Decanter Gift Set
Never have him be forced to have a warm drink again thanks to your fantastic husband gift idea of this decanter set! These incredible wedge glasses are a fantastic way for him to stylishly cool his favorite drink. Now, he can always leave his phenomenal looking decanter on display, and still be able to enjoy a chilly glass of whiskey. This matching set makes a great gift for any husband!