Men love getting gifts but sometimes it is a matter of getting just the right thing. Figuring out exactly what they want can be a little difficult thought. You want to get them a gift where they don't need anything else, a gift that is all inclusive; what you need to check out are gift boxes for men! These are gift boxes that come with everything he could ever need to enjoy one of his favorite hobbies, drinks, or vices! However, when buying one of these gift baskets for men, you need to ask yourself some questions. What does he love and could I find a set that makes that even better? Once you know that, you're ready! These diverse gift boxes for men are chock-full of everything he could ever need to enjoy his favorite things in life!
A Gift Box for His Vices
When getting a gift box for a guy, you want to make sure it is in-fact as manly as possible. Get him the most badass box he'll ever own with an engraved ammo can set. He is sure to feel like the manliest guy alive when he lights his cigar and pours his go to whiskey into his new set of whiskey glasses. This ammo can set is sure to enhance his both of favorite vices: whiskey and cigars! You know he already he'll want to pour a drink of his favorite booze into his new glasses, while simultaneously breaking out a stogie to fully enjoy his new gift!
The Box Set for Every Beer
Tall, skinny, fat, he likes them all; he enjoys drinking his beer from every style of glass available because he knows each one enhances that bitter-sweet hoppy flavor. Get him one of the ultimate gift boxes for men with his very own beer box! This set guarantees that he will always have the proper glass on hand when whether he has a pilsner, IPA, stout, lager, or any other beer he'll possibly want to enjoy!
The Ultimate Wine Tool Set
Not all men are into beer or whiskey, some guys have a palate for wine. However, they still have plenty of great options to get a fantastic gift box. Using this wine gift and tool box, they'll have everything they'll ever need to enjoy their fermented grape beverage to the fullest! With this set, he can have a beautiful display box for his wine that also comes equipped with every tool he'll ever need to open, aerate, and store his wine! Complete this gift for him by adding a bottle of his favorite wine, this way he'll be able to put their new tools to use right away!
Brewery Box Set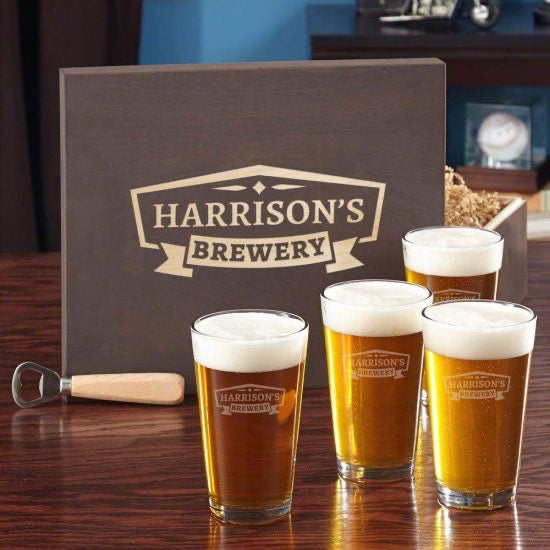 Check out this awesome set of gifts for men! Bring the brewery right to him with this fantastic beer box! With this gift set, he'll be popping the tops off his favorite pilsners to show everyone his brand-new pint glass set. Since he can only drink one beer at a time, and at best hold two, you know for sure that he will be sharing a drink or two of that brown nectar with his friends or family. The engraved box that everything comes in will be a fantastic place for him to store his bottle caps or to keep out as a display piece from this awesome box set!
The Sleekest Flask Set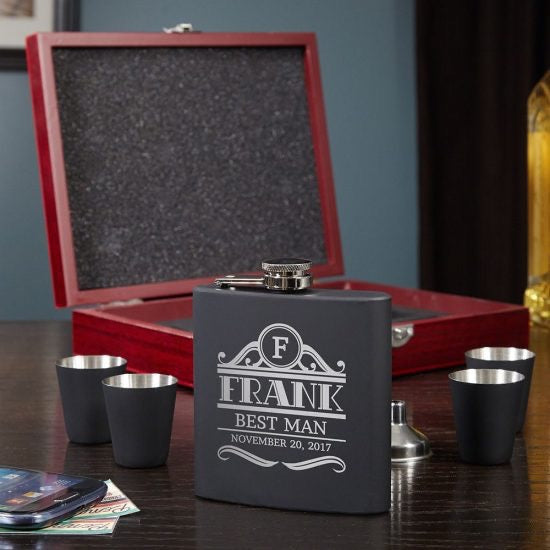 Gift boxes for men tend to come with the connotation of being a large grandioso gift. Well, only half of that is true here. This flask set may not be the largest gift box, but it is definitely grand. Everything about the set screams sleekness; from the matte finish on the flask and shot glasses, all the way to the gorgeous faux cherry wood case. Make him happier than he has ever been with a gift that not only lets him enjoy his favorite liquor anywhere but is also extraordinarily classy!
167+ FANTASTIC FLASKS FOR HIM>
Food Gifts Are The Best Gift Boxes for Men
A long held belief has been that the best way to get to a man's heart is through his stomach. And it appears the people over at Mantry believe that too when you see what they have in store for him with this delicious gift box for men. Show him how much you care for him by filling his stomach with all sorts of differently manly flavors that comes delivered in a wooden crate. You know that he loves food and that the manliest box of food you can get will be a present he won't ever forget!
The Perfect Whiskey Box
Gift boxes don't need to be full of a ton of different gifts or multiple moving parts. The most important thing to him will be that it all works together. Use this simple, but elegant whiskey stone box set to ensure he gets a gift you know he can't live without. Each piece works perfectly with each other, he's got his own set of whiskey specific glasses and stones, guaranteed to get his drink to the best chilled drinking temperature without spoiling the flavors with any melted ice.
Not Your Average Box Wine
Whether he is a novice to wine of a connoisseur to all things squashed-grape related, this gift box is sure to peak his interest. Rather than the classic set of wine glasses which he may have found slightly feminine, you've given him a sleek and manly set of stainless steel wine tumblers. This set makes him feel like king of old, drinking only the highest quality wine while still enjoying the comforts of modern glassware. Have your guy enjoy his wine to the fullest with a manly wine box set!
Shoot for The Best Gift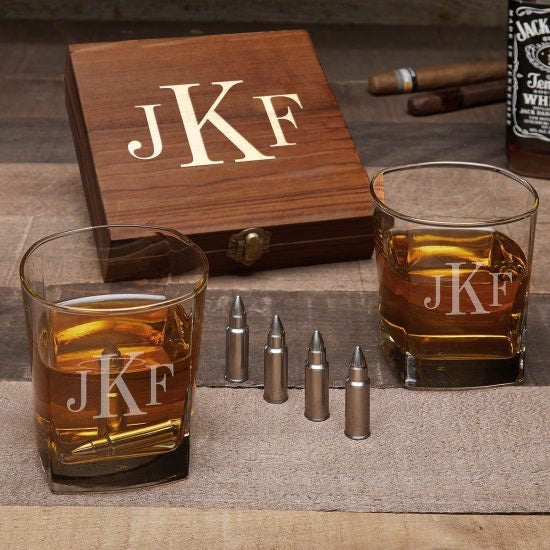 From gun nuts to guys who enjoy anything that looks badass, this whiskey stone set will be a perfect gift box set. Few things are more manly in this world than a glass of whiskey, in-fact, it's an iconically manly drink. So how would you make it even more masculine? Simple, add a few bullet shaped whiskey stones to his custom glasses. With this set up he can chill his whiskey the perfect temperature without having to add any ice!
Mugs for Manly Men
Bring him a mighty mug set when giving him one of the greatest gift boxes for men of all time. Beer is a drink guys love. If they could, many of them would drink it instead of water. Make sure his beer drinking is never spoiled with an inadequate glass. This set comes in an awesome wooden box perfect for storing any beer accessories while he'll get to drink from his very own set of beer mugs. Depending on the guy, he may share one mug with you; or if he is really thirsty, he may need both mugs for himself!
A Gift Upon The Razor's Edge
You came to this blog to be on the razor's edge of gift giving, well here is your chance. Get him a grooming kit that even his grandfather would be proud of. He doesn't need fancy trimmers or razors with 12 blades, nah, he knows how to get the closest, cleanest shave with the original barber tools. Make his face as smooth as your gift with the best shaving kit he could ever ask for!
Bring The Brewery Home Beer Set
One of the biggest problems in your guy's life is that he loves very specific beer from breweries, and he can't always get a bottle to bring some home with him. This love affair has been causing chaos because store bought beers just aren't doing it for him. Help a guy out with a gift box that lets him enjoy a beer from any place at any time. This growler will keep his beer cold for up to 24 hours, even if he doesn't refrigerate it. When he gets home, he can use his custom set to enjoy up to 64 ounces of that sweet golden nectar from his favorite brewery!
The Survivalist Drinking Box Set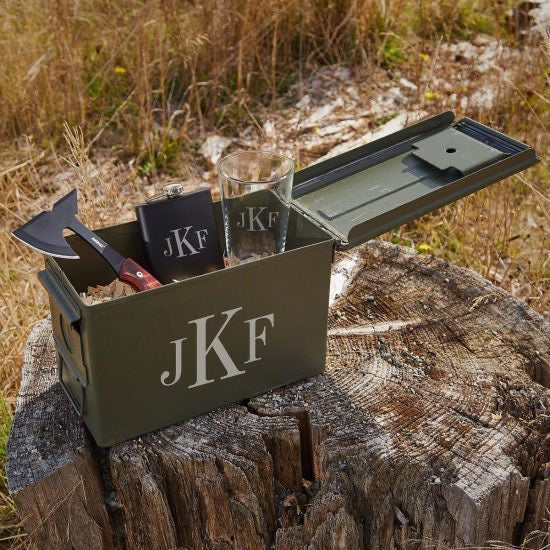 Present him a gift that upon unwrapping will immediately make him grow a beard, that is if he doesn't already have one. This manly ammo can gift will have him feeling so tough, he'll believe he could beat Chuck Norris in a Karate fight. Instead, have him focus on the possibilities of taking this set on one of his adventures. With his hatch and drink in hand, and his new ammo can tucked under his arm, he'll already be gazing deep into the horizon planning a trip worthy of using this new gift set to celebrate his successful adventure. Ensure you get him the manly gift you know he needs!
The Best
Whiskey

 Gift Box for Men
This whiskey decanter set is great for the guy who is an absolute diehard fan of his favorite whiskey brand. So why not get him an entire gift box inspired by their classic design? What gift could be better for a fan of Tennessee whiskey that an entire gift set that has his own name engraved alongside his favorite logo? He may never get his own brand of whiskey, but this will be the next best thing! Make every guy's dream of having a whiskey named after him come true with this awesome whiskey box set!
The Classiest Gift
There have been a lot of hyper-masculine and rustic focused gifts so far, but you know the guy your shopping for enjoys a bit of refinement. Give him a gift box that makes him look classy and refined with an elegant wine set. These stemless glasses allow him to share his best aged wines with at least 3 of his favorite people, while using the display box as a gorgeous talking piece, or even use it as a spot to store the corks of all the great bottles he and all his friends have gone through.
Surprise Him with Sports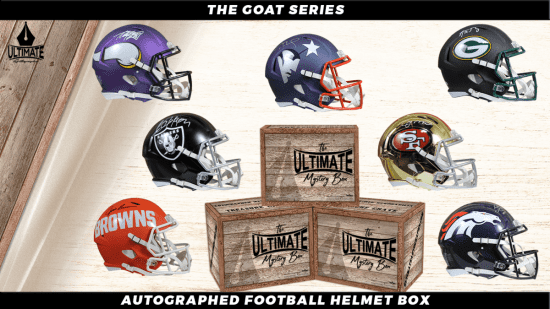 Most guys absolutely love sports. They talk about it at least once a day and they watch every one of their team's games. In fact, your guy has multiple screens going at once just so he doesn't miss any of the action. For a guy like this, you need to outfit him as the mega fan he is! These autographed helmets are the perfect gift for him! You can get a mystery box or even order one from his favorite team!
Big Gifts Can Come in Small Packages
Not all of the best gifts come in large packages, some of the best gift boxes for men come in neat, compact sets that don't leave any room for waste. This whiskey box is sure to catch his attention because you know he'll use every bit of it. His new engraved box set will have him ready to take his glasses out and pour himself a celebratory drink as soon as he opens it! That's not even to mention the knife that you know, as a man, he'll always have a use for. The entire set comes in an engraved box, perfect for storing his glasses or leaving on display in his living room!
A Gift for the Rugged Man
Arm your guy with one of the best gift boxes for men that he will never see coming! This whole set comes inside a repurposed United States military ammo can. The tools inside plus the cigar flask will have him feeling like a rugged outdoorsman who can take on mother nature herself! Once he does conquer nature, or do whatever he likes with his tools, he can celebrate in style with his cigar holder that also stores his favorite liquor. Make sure you make your guy feel as awesome as you can with the manliest gift set!
A Taste of The Ultimate Whiskey Glass Set
He loves his whiskey glasses in all shapes and sizes because different styles of glass actually create different flavor profiles on his palate. This multi-glass set is great for all stages of whiskey enthusiast. The beginner will be able to sample every style and find his favorite way to drink his go to liquor, while the long time enthusiast will have a matching set of premium tasting glasses. For the whiskey aficionado, you cannot go wrong buying him this whiskey set!
A Stroke Above Other Gifts
For the golf enthusiasts, you are sure to have a gift he won't find sub-par. Whether the office keeps him from the greens or he simply likes to practice put whenever he can, this golf gift box will have him shaving strokes off his game in no time! The whole set packs neatly into the gorgeous case, meaning he can easily bring it with him everywhere, soon he'll have the best short game in town!
His Most Dressed Up Gift
Use this gift box opportunity to make your guy look as good as humanly possible! With the help of a quiz and your own set price range, he will have a wardrobe of clothes sent to him that he can try out! And the best part is, you only pay for what he keeps, send the rest back and keep him looking fly with all of his new outfits. This hassle-free way is the best method to get him fresh threads without the headache of actually going out to shop at stores.
The Complete Wino Box
Gift boxes for men should provide a complete experience for them. They don't want to have to go out and get more stuff just to be able to enjoy their new gift. This wine set is a perfect example of a complete gift set for him. He can open his personalized wine set and immediately dig into a bottle of wine and enjoy a glass from his new wine gift! Pair this wine box set with a bottle of his favorite wine, and you'll have given the wino you know the ultimate gift!
The Elegant Whiskey Gift Box for Men
Whiskey drinking and whiskey glasses don't need to be all about the rugged nature of manhood. Sometimes, an elegant set of glasses will make the drinking experience all the better. There is little chance you'll find a nicer whiskey set for him that this one. He'll love looking at the twist in his glasses as he drinks whiskey that has been chilled to perfection! He will even love having the box out on display as a constant reminder when he isn't having a drink of the awesome gift he got!
An Awesome Beer Box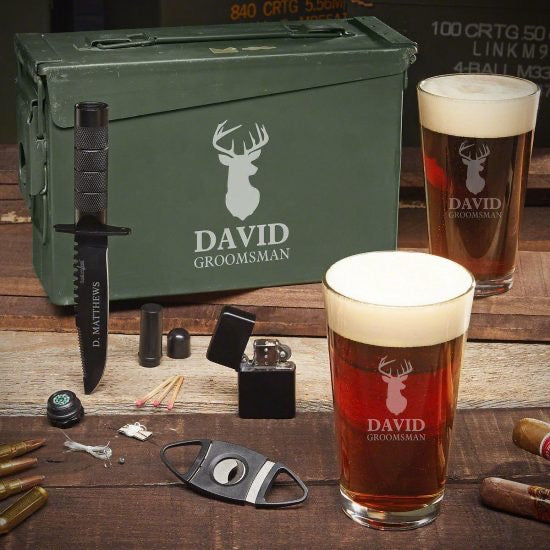 Give your man the ultimate gift box for men with one that comes in a .50 caliber ammo can! This gift set is equipped with all the tools necessary for him to have a great celebration, plus he'll have a kickass survival knife too! Because of you, he can pair his favorite stout with the sweet smoke of his favorite stogie any time he wants! Hell, he can even use the ammo can to carry things around in or store his celebration kit all in one spot!
A Stone-Cold Gift
He loves to have an ice-cold drink of whiskey at night, but he never wants to use ice-cubes. He knows a little water will cut the harshness, but he hates it when all the ice melts and waters down his whiskey. Well, nevermore! Make his whiskey as cold as he can take it without ever having to worry about watering it down with this whiskey stone box set! He'll finally have his own engraved whiskey set that you can be sure he'll be drinking out of for years. Make his favorite drink that much better with this awesome set.
A Meaty Gift
Fill his belly with meat with this awesome box full of beef jerky. The 8 different flavors that all come in this one set will have his carnivore cravings curbed for at least a few days. Well, that is at least until he is able to devour all jerky! However, with how much he likes his beef, don't count on him sharing, at best you'll only hear how good this meat is between bites of different flavors of gourmet meat!
Fill Your Own Gift Box
You've often thought that a bottle of his favorite booze would make a great gift. You see him drinking it all the time, and he loves to get a nice quality scotch, whiskey, or bourbon; so it would probably make a great gift. However, you really want to spice your gift up this year. Take this whiskey presentation box and make that bottle a great gift box! It will be like the manliest Happy Meal he's ever gotten in his life, you just know he'll love both the box and what is in side of this great gift! 
A Mythical Man Gift
You see him as your knight in shining armor, so treat him like one with this mythic gift! If he can pull these mugs from the display box that holds them, he'll be worthy of having the best beer drinking experience of his life! Beer gift boxes for men are always a win, and with his name engraved on the entire set, you know he'll have a hard time ever putting these mugs away.
The Most Unique Whiskey Gift
He has always had a taste for things that aren't quite the norm. Standard looks of items have never appealed to him, he wants to stand out. These whiskey glasses are a chance to do that with his drinking experience. The uniquely shaped-glasses are sure to stir up conversation about where he got such an awesome whiskey gift. Not only do these glasses look great, but he'll love how great they feel in the hand. Put a twist in his next gift with this whiskey set!