Your husband simply seems to have it all. Over the years you've gotten him awesome presents and he has gotten himself everything in between that he could ever want, but once again, an occasion has come up where you need to get him an awesome gift, so what are you to do? Well, you come find us! We've put together the most awesome collections of gifts for husband who has everything, or so he thought! These unique husband gifts are stand out items few guys have but every man wants! Some are custom, some are unique, some are practical, but they are all awesome! So, make his year with these unique gift ideas for husband!
The Classiest Set of Gifts for Husband Who Has Everything
Surely a husband who has everything has what he needs to enjoy a good stogie as well as a glass of whiskey; however, that doesn't mean you can't elevate his experience even more with a gift such as this personalized cigar whiskey glass box set. This not only stands out because it has been engraved but it also makes his life so much easier since he can now fist bump his buddies or check his Instagram with his free hand while his other one holds both his drink and cigar! This gift is quite literally life-changing, and he never knew he needed it!
A Classy Decanter Gift Set for Him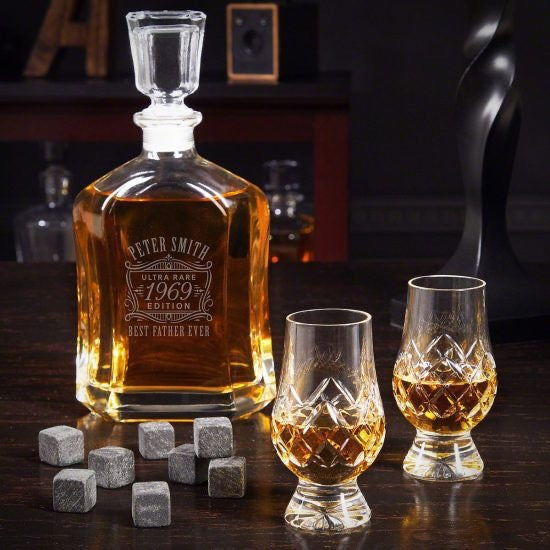 If he truly is a man who seems to have it all, one of the best things you can do is to give him a gift that elevates his experiences. This engraved whiskey decanter set is one of the most perfect gifts for husband who has everything. After all, there is no better way to enjoy a drink of whiskey, scotch, or bourbon than from a set of crystal Glencairn glasses. Whether it is for his birthday, anniversary, or Father's Day, this gift set will have him feeling like the classiest man in the world each time he goes to take a sip of his go-to liquor!
A Great Gift for His Garage
The man you are buying for seems to have everything because anything he has ever needed has been built by his bare hands. Well, since you know he is going to continue creating everything he needs in the space he is in the most, few things could top this list like this custom garage plaque. The metal plaque is a fantastic gift he can display anywhere in his shop and admire while he is sanding down his latest table, changing his oil, or building his newest creation!
The Toughest & Most Unique Humidor
A great gift for the husband who has everything will be one that will enhance one of his favorite hobbies. Not only will this engraved ammo can humidor make smoking stogies a more pleasurable experience, but it'll also ensure his favorite cigars are always in perfect condition whenever he wants them. Plus, this awesome gift is even portable! Now, he doesn't have to rely on his cigar lounge as the only way to enjoy a good smoke with his friends, he can easily bring this humidor anywhere he goes and he will know for a fact his cigars will get there intact!
Only the Clearest Sound for Your Husband
Unique gift ideas for husband should be crystal clear! A gift like this transparent speaker won't have you searching for anything else if you know he needs the latest and greatest tech gift. The transparent setup not only delivers clear and crisp sound but it will also be one of the coolest looking pieces he has in his man cave or office!
For the Beer Loving Husband
Sure, he has a handful of pint glasses that he is able to enjoy his craft beers out of but you know something he doesn't have? This personalized shadow box set! It is the perfect present for the beer-loving husband! If he is going to be the beer aficionado he has always dreamed of becoming, he simply can't not have these personalized beer glasses. They're the perfect way to enjoy a cold brew while also being able to hold onto every sentimental memory. Whether he saves the beer caps from particularly good brews, memorable nights, or he chooses to keep something else inside the keepsake, you know this one of the best gifts for your husband possible!
Engraved Cutting Board for the Grill Master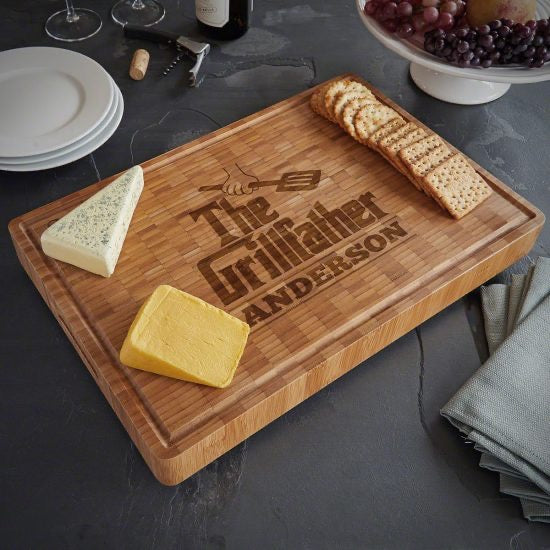 Even though he seems to have everything, there is only one hobby he is always expanding on, grilling! There is something so simple yet classic about going out to the grill and searing up steaks that always has him coming back for more. In fact, if he could, he'd make grilling his full-time job! So, for the man who spends more time behind the grill than even some professional BBQ chefs, make sure he has a place to do his prep and serving work with his own custom bamboo cutting board! This gorgeous gift will have him excited to get out to the fresh smell of charcoal and cooking meat as soon as he opens it.
For the Toughest of Husbands
Gifts for husband who has everything can't always be something extremely delicate, after all, he has probably gotten those things! Let him know you think he is an indestructible badass with a set of engraved wine tumblers that practically say so! He can use these glasses anywhere. It doesn't matter if he is unwinding from the workweek, working in the backyard, or even camping, these glasses are the ideal way for him to enjoy a chilled glass of wine or cold mixed cocktail!
Poker Gifts for Husband Who Has Everything
Upgrade his poker night with a monogrammed card and cigar glass gift set to make him feel like the ultimate card shark out of all of his friends! The first time he sits at the table and breaks out his new glass, they will be in so much awe, they may even drop their hands, giving your husband an easy win thanks to these unique gift ideas for husband!
Shades and Sound
Sure, he has a pair of sunglasses, but these aren't just any regular pair of shades. These stunning Bose sunglasses have built-in speakers! They rest on the bones above the ear, giving him crystal clear sound while also keeping him alert to any outside noises. These are great gifts for the active husband who wants to listen to his tunes or favorite podcast on the go but still wants to hear what is going on around him.
A Twist on the Unique Gift Ideas for Husband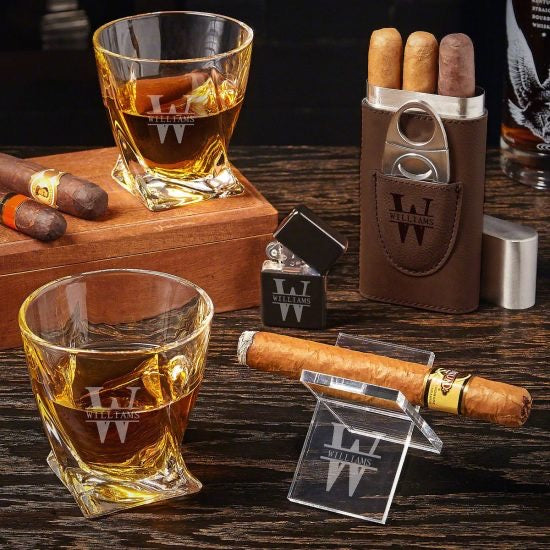 This set of gifts for husband who has everything is sure to make him feel like the classiest guy in the room, even if that room is filled with his boss, the top executives, or even the president! This engraved twist glass and cigar gift set makes every drink and puff of smoke feel as elegant as that last, and that feeling will last for years! This set is a great gift to give for his anniversary, birthday, or even for a promotion! Make his year by getting him the classiest gift he's ever received!
Putt'er There
To have it all, your husband has kept himself busy over the years. The upside of being busy is that he has everything he wants, but the downside? He can never make it to the green as much as he wants to! Keep his putting game solid with a travel golf putting set he can take anywhere with him. Now, if he has time between meetings or if his tee time is rained out, he can stay sharp for the next time he gets to unwind on the course.
Unique Gift Ideas for Husband Who Loves Beer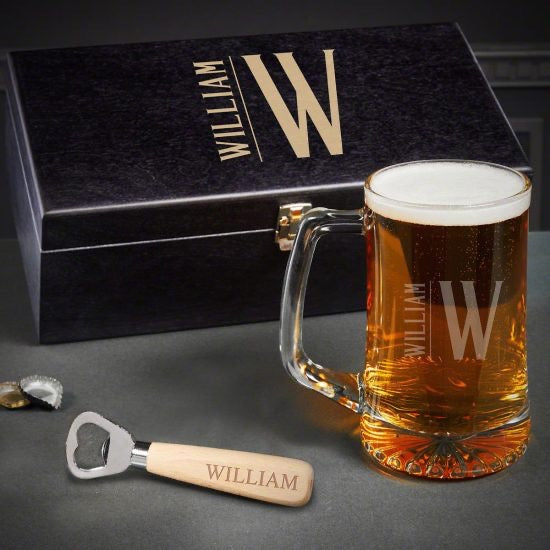 No matter how classy a man is, he will always reach for a mug over any other glass when he wants a beer. So keep him feeling like the manliest man who ever was a man on earth with this manly custom beer mug box set! He'll love the luxury look and feel right away thanks to the customized black gift box, but once he gets inside, nothing but a cold beer will satisfy him from his new gift set!
Above Par Golf Gifts for Your Husband
Get your husband a gift that will have him just as excited to go to the green as he will be to return from it with this custom golf sign gift set! He'll love being the most professional looking golfer on his card with the custom and matching golf tag and divot tool, making him look like he could easily be one or two strokes shy of playing with the pros while the custom sign will make his house the perfect place for him and his buddies to indulge in a brew once their round is over. This is a gift set he'll surely never forget!
331+ CUSTOM SIGNS FOR HUSBANDS>
What Husband Won't Love a Grilling Pack?
Some of the best gifts for husband who has everything will always be meat. However, you don't want to give him just any meat, no! Get him top quality Wagyu grilling meat! This premium quality beef is high in fat and taste, allowing anything he cooks to practically melt in his mouth. He'll love nothing more than tearing into each part of this gift set and firing up the grill to make the most delicious grilled foods you've ever seen from him.
For the Strongest Husband
Your man is strong like a bull, after all, how else did he become so successful to get everything? Well, make sure he knows just how you see him with this bull decanter whiskey gift set! This gorgeous piece of glassware will definitely become the centerpiece and staple to his home bar or liquor corner. It is so good looking, he'll likely want to show anyone who enters the house this awesome gift before he gets around to showing them the rest of the home, how neat is that?
Fun and Game Gifts for Husband Who Has Everything
Get him outside and moving with a custom bean bag toss gift set! Every guy loves to add a little bit of competition to when they're hanging out with friends and family, and this classic outdoor game is the perfect gift! Whether he is a BBQ fanatic or loves to have tailgating parties, you will see him setting up this set for every occasion! Better still, he'll love how it looks like he has finally made it and has his own whiskey label!
The Perfect Gift Box for Him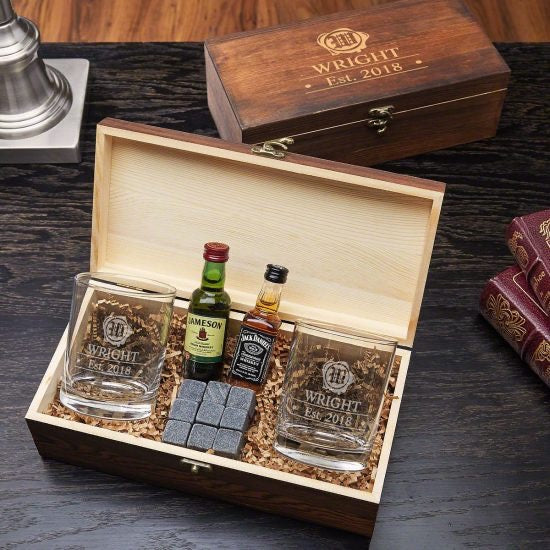 Whether you are celebrating his anniversary or his birthday, this personalized gift box with matching rocks glasses is a great gift for your husband. These will always be the perfect way for him to enjoy a drink with the person he loves most, you! Or, they can even be a great set for him to break out when he is catching up with an old friend or family member he hasn't seen in a long time.
An Engraved Beer Stein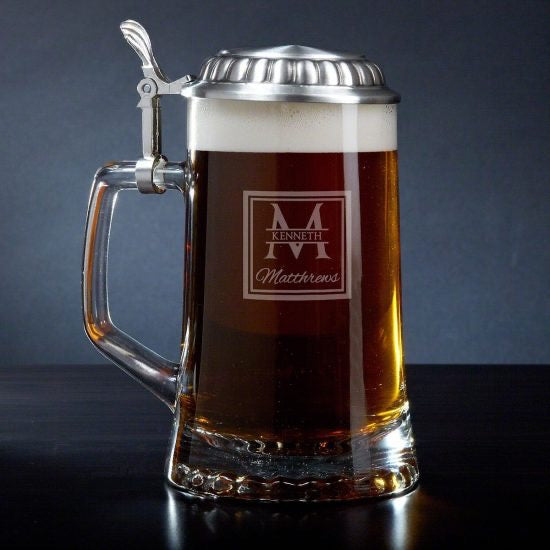 Have him feel like a gift when you get him an engraved stein as this year's gift! Steins are fantastic unique gift ideas for husband since they make him feel like the king of his own castle or a Viking after coming home from a day's battle. Not only is this gorgeous gift great for his favorite brew, but it will also look amazing in his home too! It is the perfect piece to really put together his mantle or decor in his office.
When Unique Gift Ideas for Husband Are a Close Shave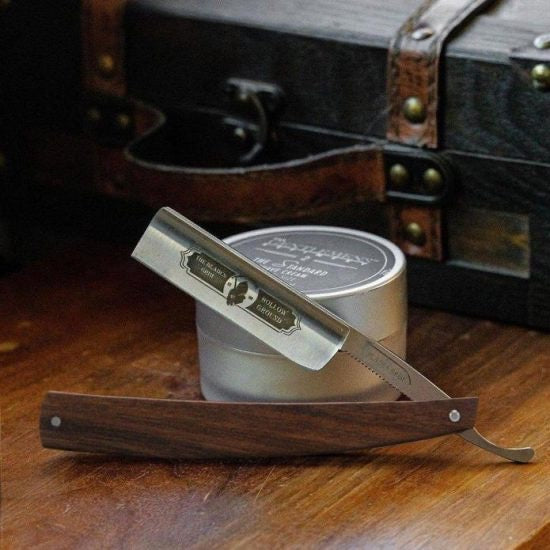 Make an activity your husband takes for granted go from something he has to do, to something he wants to do. This old school straight blade kit is the perfect way for him to get a close shave and will become something he is obsessed with. While shaving with a five-blade razor is simply a way to get things done, going old school is an art form of doing things right. Plus, it will have him looking the most clean-cut he's ever been, this is a winning gift for everyone!
The Ultimate Gift Box for Him
Is there any gift better than this personalized decanter box set that can make your husband feel like he finally has everything he could ever want? The matching gift set comes with the most unique glasses that make it as easy as lighting a cigar to be able to enjoy both his cigars and whiskey at one time. This luxurious gift is perfect to enjoy in his office with clients or at home with friends!