Sick of all the standard guy gifts that just seem to blend together? Tired of seeing the same old same old presents for the guy you want to get something special for? We hear you, we are too! That is why we've found cool guy gifts that stand out from anything else you've seen while still being awesome personalized and functional gifts for him. Just because a gift is cool doesn't mean it can't be functional, sentimental, or something that helps him decompress after a stressful week. The best gifts for guys often need to be something incredibly useful for him, because when they are, you it'll be one of the ultimate gifts for men that he'll always want to be using!
His Own Custom Whiskey Brand
He may have seen decanters before, who knows, he may even have one. However, you know what he doesn't have that is incredibly cool and unique? His own whiskey brand! This epic engraved whiskey decanter box set isn't your run of the mill gift. This one comes with his name and what will look like his own whiskey brand personalized on each and every piece. How cool will it be for him to share a drink or two with his friends from a decanter that has him feeling like he is truly the master distiller he has always wanted to be? He'll like this set of engraved gifts for men so much, there is little doubt that the glassware and even the box will ever leave his bar top or end-table. This way, he is always ready to talk about his whiskey brand!
Cool Guy Gifts for Beer Lovers
A six-pack of his favorite beer may have been cool when he was first getting into beer but now you need to ensure you're getting the best guy gifts when you're shopping for this man. After all, you don't want cool, you want insanely cool! So ditch the cardboard six-pack and arm him with this incredibly manly personalized ammo can beer gift set! It is the perfect way for any man and any kind of beer lover to enjoy their favorite golden-liquid. Whether he is a name brand or craft beer guy, he is sure to get more enjoyment than ever when he's cracking the top off the bottle and drinking from his new personalized pint glasses!
A Gift Set for the Everything Man
A lot of people assume insanely cool gifts for guys have to be things that are large or bulky items to keep in their house. That has never been more wrong! Some of the best gifts for guys are ones they can keep on them all the time! This personalized watch, knife, and flask set will never be off his person once you give them to him for his birthday, anniversary, or Christmas. Aside from the celebratory sip, he'll want to take from the flask right away, the watch is great since it is classy and simple enough to go well with both his dressed-up clothes as well as his casual clothes on Friday in the office.
One of the Best Guy Gifts for Relaxing
So, everyone has a chair in their house. Some even have a few sitting outside so they can hang out under the stars, by the bonfire, or even just to enjoy the nice weather. Make sure when he wants to head outside he's got a throne of a chair with this relaxing one made from reclaimed bourbon barrel wood! How cool will it be for him to have a glass of bourbon in hand, on a bourbon chair while enjoying the night as well as the heat of a fire pit? Sound relaxing to you? Then he is sure to find it incredibly enjoyable too!
A Set of Smokin' Hot Cool Guy Gifts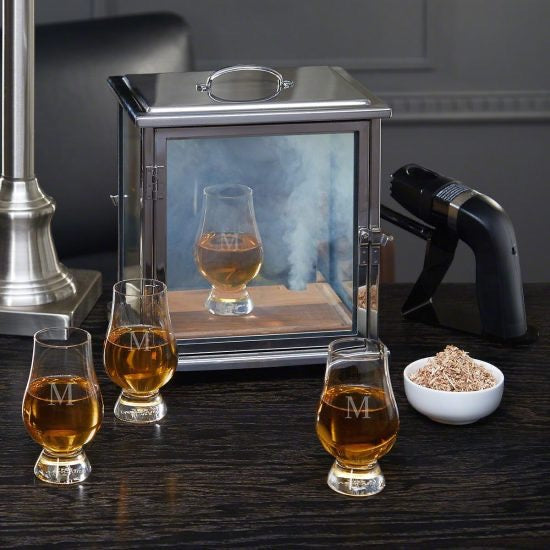 Speaking of smoke from a small bonfire, this smoker box system is so insanely cool he likely never knew it existed, let alone that it is a must-have for his house! The set includes personalized Glencairn glasses which are the ideal way to fully enjoy the full flavor profile of whiskey which is incredibly important when his gift actually changes the taste of his favorite liquors! All he has to do is set a glass inside the box, choose something like cedar or thyme to smoke his whiskey, and he's started to create his own blends!
617+ SMOKING HOT WHISKEY GIFTS FOR MEN>
The Perfect Gift for His Space
No home for an awesome guy is complete without his own personalized man cave sign. These are the ideal way for him to finally get a start on creating a space for himself that he has been after for years or to even put the finishing touch on the one he has spent so much time putting together. Man can signs are always great cool guy gifts since it isn't just a gift he'll enjoy once. Now, every time he wants to get away into his space, he gets to see the gorgeously engrained wood and know that this spot in the house is his, it is the area he can watch sports, play games, and enjoy his favorite hobby.
A Legendary Beer Gift for Men
What about the guy who you know needs more than one gift to be blown away? It always seems so hard to piece together a gift set yourself, but with this set of some of the best gifts for guys, you don't have to! This set has a little bit of everything, making it a great gift for special occasions while still being something he can enjoy years down the road. From looking dapper with the bamboo sunglasses and watch case to enjoying his favorite brew out of an awesomely customized beer mug, this set leaves absolutely nothing to be desired when shopping for a cool guy!
Table the Argument on What Makes the Best Guy Gifts
So, you may be looking at this and wondering what makes a table such an insanely cool gift for your guy friend, but read on and you'll be blown away! This isn't your regular run-of-the-mill table, it is actually electronic as well! The whole table is a wireless charging surface, has built-in Bluetooth speakers, and touch controls. Bet you've never seen a table as cool as this before. This is the perfect gift to blend in with any guys home set up. Whether this goes by the couch, his favorite chair, or even by his bed, you can be sure he'll use this gift daily!
The Coolest Cigar and Whiskey Set for Him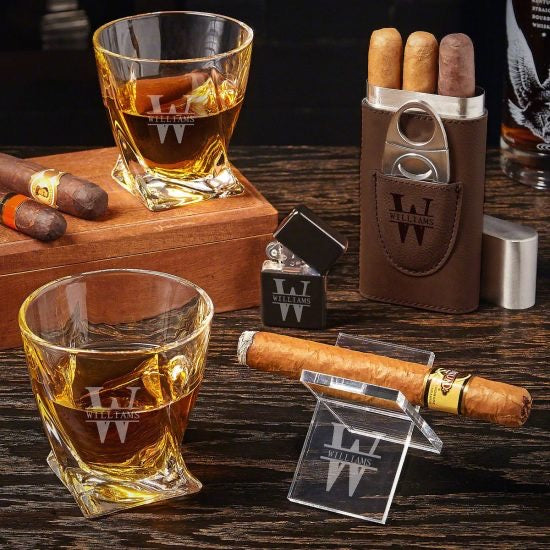 Cigars and whiskey are some of the most classy things an adult guy can enjoy. There is something sophisticated and refined about the man who knows how to pair the two together, or even simply the guy who knows how to cut a cigar correctly. For the man who simply can't get enough of these two vices, look no further than a custom cigar and whiskey gift set! Sure, he may have pieced together a cigar holder and whiskey glass that have been his go-to's, but with this matching elegant gift set, you can be sure when he's got some stogies and a bottle of bourbon, he'll be reaching for your phenomenal gift!
Badass Personalized Cigar Humidor
Oh, you thought the cigar gift set was done? Nope! This cigar humidor can pair perfectly with the glassware above as well as being a perfect stand-alone gift. This unique humidor is actually made from a refurbished United States military ammo can. So, this isn't just any humidor, it is truly unique! Now, when he goes to grab his whiskey and cigar gift set, he won't have to think about if his cigars will be fresh or not because when they're stored in here they will always be fresh and ready to be deployed!
The Toughest Cool Guy Gifts
Men like Johnny Cash made it cool to want to be the man in black. He gave off the image and persona of a cool, rough and tough kind of guy. So, when you're searching for the best guy gifts, you can never go wrong with something that is both awesome and comes in black, like these stainless steel wine tumblers! He won't have to grow up as a boy named Sue or be as lonesome as the man in black, but when he is drinking his favorite chilled drinks from this gift set, he is sure to feel just as badass!
Suit Up
Keep him classy with an always useful but almost always overlooked gift, a classy sport coat! This is a gift that any guy can use in any profession! These are easy to match with almost any outfit and are great for fancy dinners, work meetings, even weddings. If there is an article of clothing any man can use and would be an insanely cool gift, it would be a sport coat! So keep him looking sharp for that even if he forgot he needed a coat for or go to dinner at a fancier place than usual, this way he can be dressed to the nines with the simple addition of a form-fitting coat!
Take a Shot at the Best Guy Gifts
When you're taking a shot at getting insanely cool gifts for guys, sometimes you need to throw a whole lot of bullets at it, which is exactly why this engraved whiskey stone and beer bottle opener gift set is perfect! Whiskey and beer are already manly, but when you throw bullet-shaped stones and an actual .50 caliber bullet that has been turned into a bottle opener into the mix, you truly can't go wrong!