We all have that guy in our life that says "I don't want anything" or "I don't need anything" when his birthday or Christmas comes around. You still have to get him a gift, but what is a good gift for the man who has everything and wants nothing? These kinds of guys like practical, useful items but anything with a cool or unique factor is always a great idea. For example, a whiskey glass that holds his cigar or a side table that both wirelessly charges his phone and plays his music are both unique and useful gifts he's sure to love. Whether it's your dad, husband, or your boss you're shopping for, we've got you covered with the best gifts for men who have everything.
Now He Can Drink and Smoke At the Same Time
Your dad or husband is the kind of guy who likes to relax with a cigar and a glass of Crown Royal after work every evening. He's a classy guy who is renown for his poker face and impeccable sense of style. What is the best kind of gift for a guy as suave as him? Something unique but practical, like this cigar-holding whiskey glass! This awesome glass will hold his cigar for him in between page turns of his Esquire as he reclines in his armchair after a long day at his corporate job. The cigar glass is without a doubt one of the best gifts for the man who has everything in your life!
The Coolest Axe in His Toolshed
Your dad is the kind of guy who prefers to fix up things around the house rather than call a professional. He's got more than one toolbox in the garage and all kinds of tools in the shed outside and says he doesn't need any more. If he doesn't already have a hatchet, you can surprise him with this cool engraved 9" hatchet! He'll be so surprised to get such a cool gift for Father's Day or Christmas. You get to customize the three lines of text on it to make it truly unique, like "World's Best Dad, Joshua Walker, Since 1995." He'll love using it for camping, fishing, and hunting. This cool hatchet is a great gift for the man who has everything, such as your brother, stepdad, boyfriend, or husband.
Give His Drinks a Whole New Flavor
Does your husband dream of becoming a whiskey aficionado? He brings home a different bottle of whiskey every time he goes to the liquor store to sample with his friends and they discuss the flavors, comparing it to others they've tried. Yet, he doesn't ever want anything for Christmas or his birthday. One of the coolest gifts for the man who has everything is a smoke box system! With this kit, your husband can infuse a smoky flavor to his whiskey or other liquors and give it a whole new taste. He and his friends will love trying the different combinations of wood chips and types of liquor to see what goes together best.
A Unique Game for Him and His Family
This fun game isn't just for him, it's great for everyone in his family and his friends too! Cornhole or bean bag toss is an easy game that's perfect for all ages. Whether he's tailgating with his buddies or at a family reunion, he'll want to bring this along to play with everyone. It's even designed to look like his very own custom whiskey label! How cool is that? This game is the perfect gift for dads and husbands for Christmas!
Personalized Whiskey Decanter Set
Your husband just got a promotion at his corporate job to be vice president of the company. He's all for celebrating his awesome achievement with a nice dinner, but he says he doesn't want any gifts because he doesn't need anything. As his wife, you should try to get him a nice promotion gift, like something for his new office! This handsome personalized decanter set is the perfect gift for the man who has everything and wants nothing. He'll be so surprised that you got him such a nice set for him to have in his office. Now he can impress the CEO and potential business partners with a classy drink when they come to his office.
301+ MORE CUSTOM WHISKEY DECANTERS>
All-in-One Speaker and Charging Table
You read that right, this high-tech side table is a speaker and can charge his phone! Talk about an unbeatable gift. This incredible table can connect to any device via Bluetooth and play his music with 360 degree sound while wirelessly charging his phone. The expandable top and tempered glass surface ensures plenty of space for his snacks, remotes, books, or anything else he wants it to display. After using this just once, this futuristic table will become his favorite piece of furniture!
Italian Globe Bar
Your boyfriend or husband has always wanted his own home bar, but has no space for one. He wants to be able to entertain his friends and family members with style when they come over for game night and the holidays. How can you give him a home bar without having to move houses? With a bar cart! This gorgeous Italian globe bar cart is both a classy piece of decor and has plenty of room for wine bottles, liquor decanters, and glasses. He'll love walking a friend over to the bar cart and opening up what looks to be an ornate globe to reveal a full-stocked bar! This fun bar cart is a fantastic holiday or anniversary gift for the man who has everything but a home bar.
His Own Cigar Lounge Sign
It goes without saying that any guy who enjoys smoking cigars has wanted his own cigar lounge or humidor room. Help your man get a step closer to that dream with this custom cigar lounge sign! Elegant, suave, and classy, this attractive wooden sign is a great piece of decor for any room. He'll love that it's printed with his name and a year, and will proudly display it for all to see. Even your grandfather who says he wants nothing for Christmas would appreciate this personalized gift!
Even the Guy Who Has Everything Doesn't Have a Giant Cocktail Shaker
Yes, the cocktail shaker is actually that big. With a 110 ounce capacity, this monstrous shaker can make up to 10 martinis or margaritas at once! If he frequently entertains large groups, this giant shaker is a must-have. Thanks to your awesome and practical gift, he can make a big batch of the same drink to serve everyone. This both saves time and effort since he won't have to rinse and refill his standard cocktail shaker over and over. This fun gift for the man who has everything is ideal for your boyfriend or husband. If he doesn't have frequent parties, he'll love breaking out this shaker when the whole family comes over for Thanksgiving or Christmas!
The Coolest Whiskey Set
Your boyfriend or husband is a classy guy who drinks top-shelf whiskey and smokes only the finest cigars. He's known among his friends as the coolest guy ever and is renowned for his extensive knowledge on liquor, how to succeed in business, and how to get a girl as amazing as you. Simply put, he drinks and he knows things, just like Tyrion Lannister. Even if he isn't a fan of Game of Thrones, he'll love the fun engraving on this incredible gift set that celebrates his coolness. This awesome whiskey and cigar gift set is a fantastic gift for the man who has everything on his birthday, Valentine's Day, your anniversary, or Christmas.
You Can Never Go Wrong with Exotic Foods
Even guys who have it all won't turn down food! For meat lovers, this set of exotic sausages is a lovely holiday gift. This set contains bison, elk, venison, wild boar, and classic sausage for him to try the wilder meats. He'll enjoy sampling the different sausages with you or a loved one and comparing the flavors to typical pork or beef. Give him a pack of crackers and some gourmet cheeses and you've got the perfect food-themed gift for the man who has everything and wants nothing.
A Place to Store His Cigars
The perfect gift for the stogie lover: a custom engraved cigar storage box! This simple but elegant wooden box is engraved with "Great Men Like [Name] Smoke Cigars." The perfect gift for your father, grandfather, or boss, this handsome box will be a great addition to his office or lounge area at home. He'll love showing it off to his friends and family when they visit. Thanks to your handy gift, he'll have a proper place to store and organize plenty of his favorite brands of cigars.
Noble Beer Steins
Regal enough to be fit for a king, the man in your life can't help but love these medieval beer steins. Inspired by traditional steins in Germany, he'll love the unique design and handsome pewter crest that is engraved with his initial. He'll enjoy raising a glass together with you or a friend as you watch Monty Python and the Holy Grail or your favorite sport. A great birthday or holiday gift for the man who has everything such as your dad, brother, boyfriend, or husband.
169+ MORE BEER STEINS HE WILL LOVE>
Brandy Warmer Set
Your dad is a refined gentleman who enjoys a good cigar and a nice warm brandy by the fire to relax with. He's become a connoisseur of liquors and has all the proper glassware: snifters, decanters, double old fashioned glasses, the works. However, he doesn't have a proper warmer for his brandy. Why not surprise him with a proper brandy warmer and a personalized glass to go with it? Even though he said he didn't want anything for his birthday, this cool warmer and snifter set will be a lovely gift that he'll be excited to try out. Now he can enjoy his favorite brandy at the perfect temperature in his own monogrammed snifter!
Tactical Gift Set for the Always-Prepared Man Who Has Everything
Your dad is the kind of guy who enjoys going hunting, camping, fishing, and especially shooting. He's got a formidable collection of guns for each outdoor adventure. After a long day in the hot sun and the woods, he likes to come home and relax with a cool glass of whiskey or beer. He's always hard to buy gifts for because he doesn't need anything, but no longer! This awesome gift set is the perfect birthday or Father's Day gift for him because it has a little bit of everything he enjoys. The bullet whiskey stones and bullet bottle opener will be there for his relaxing drink after a successful trip. The engraved survival knife will go with him no matter what new adventure he's going on. This amazing gift set is one of the coolest gifts for the man who has everything!
A Grill that Cooks Anything Perfectly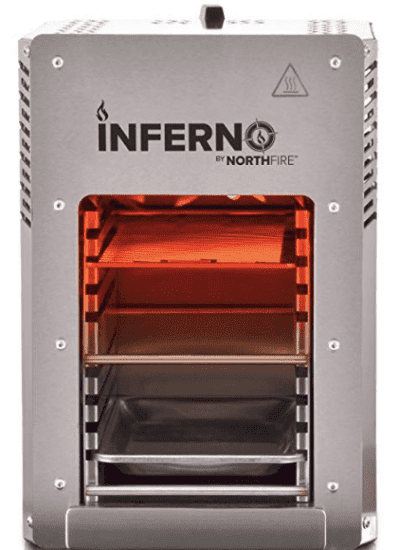 Gone are the days when your dad or husband has to wait for every steak and kabob to be cooked to perfection on his grill. With the Inferno, his BBQ will be done in seconds! You read that right, seconds. The incredible Inferno grill instantly gets up to 1500 degrees and has various levels of racks so that he can have his medium rare steak and cook yours well done at the same time. How cool is that? The amazing grilling ability of this high tech propane grill will create the perfect char and crispiness on his steakhouse-worthy food. Everyone in the family will want to come to your house for the Fourth of July and family reunions because of this awesome gift!
Practice His Putts Anywhere
For the golfer in your life who never wants anything, this executive golfing set is a great way for him to practice his shots on days when it's not good weather for the actual course. He'll enjoy the compact, portable style of the set so that he can bring it along to the office, his friend's house, or on work trips. Your dad, husband, or boss will especially enjoy this cool golf gift.
A Cool Metal Sign for the Guy Who Grills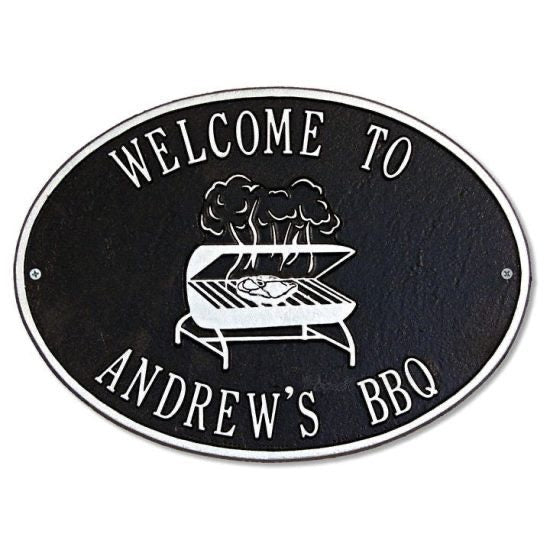 Is your dad a grill master? Celebrate his grilling prowess with his very own metal plaque to hang by his trusty grill! He'll love that you had it custom made just for him, and that it will last for years because of the durability of the metal. You can have it say anything from "Daniel Watts, Grilling Master" to "Papa Gino's Backyard BBQ." The perfect grilling gift for the guy who has everything for Father's Day or the holidays.
Legendary Gift Set for the Awesome Man Who Has Everything
Your husband or dad is the coolest guy you know. He's the kind of guy who has perfect aim, an incredible tolerance for liquor, and is good friends with various celebrities. Just last week, he attended a business conference and met Elon Musk. Now they have plans to get together for a tennis match! What kind of gift is suitable for such a legendary man? Even though he's always saying he has everything he could possibly need, you still want to get him a nice gift for Christmas. This set is your solution! He'll love showing off the engraved cigar flask as he offers a cigar to a new business partner for a celebratory smoke. The whiskey glasses belong in his office to offer visitors a classy drink. His ammo can will be at his side for when he goes to the shooting range or hunting. Everything about this totally awesome ammo can set makes it one of the best gifts for the man who has everything and wants nothing.
Steel Tumblers for His Cold Drinks
Regular glasses will be a thing of the past once he tries out these revolutionary stainless steel tumblers! Double walled and vacuum insulated, these cool tumblers will keep his cocktails and sodas ice cold until the very last drop. His ice will melt slower, too, so that his beverage doesn't get so watered down. Plus, the super durability of the steel ensures that he won't have to worry about breaking them whether he's enjoying a margarita by the pool or a cold glass of spring water at the campsite. Useful items like these insulated tumblers are always the best gifts for the man who has everything and wants nothing!
His Own 3D Printer
Remember when 3D printers were first invented? They cost thousands of dollars and were a rare commodity, typically only in universities for scientific purposes. No longer! Your boyfriend or husband can now have his own 3D printer in his home! He can print all kinds of things such as extra parts for that Ikea table you bought for him or his own custom figurines. He'll love bringing physical manifestations of his imagination to life with this incredible piece of technology! Even the guy who never wants anything will be over the moon to get a 3D printer.
The Classiest Way to Transport Beer
Forget a beer caddy, this is the way to bring beer to a party. Your executive boyfriend or husband will love packing his fancy suitcase with a six pack. His friends will be really impressed when he opens his secret agent-style briefcase to reveal a couple of bottles of beer! He'll want to use it any chance he gets because of how cool and fun it is. Even the guy who says he wants nothing will enjoy this totally awesome beer carrier.
A New Way to Drink Whiskey
Your boyfriend enjoys a good scotch on the rocks after work every evening as part of his routine. He likes to make you iced cocktails when you come over for date night. More often than not, you two get wrapped up in your conversation and forget to take a sip of your drinks, and now they are watered down. He doesn't like the idea of whiskey stones and prefers actual ice, but he doesn't want to invest in a new ice machine. With this unique gift set, you can solve the problem and you both can continue to enjoy your iced cocktails and scotch! The glasses come with a special ice mold that, when frozen, forms a perfectly triangular wedge of ice that takes twice as long to melt. Plus, he'll have a nice decanter to store his favorite whiskey on. It's a win-win! What are you waiting for? This set is the perfect birthday or anniversary gift for him!
221+ GIFTS FOR MEN WHO HAVE EVERYTHING>