Finding the perfect gift for a dude is tough. It doesn't matter if he is your friend, brother, coworker, or any other man in your life, it can be difficult to find the perfect gift for them. Why? Because he always says he doesn't need anything. You still want to get him a super cool gift but without a little guidance it can feel like a shot in the dark. Don't let that stop you though! The best gifts for dudes should be manly and personal gifts that make them feel really cool, are practical, and things you know they'll get a ton of use out of. But you're shopping for a dude, so what gifts work for the man who is a little more laid back than most? What sort of gifts would feel personal for him? How will I know he'll actually use my awesome gift? With these awesome upcoming gifts for dudes, you can be sure that you can score a fantastic gift for even the most difficult dude in your life!
A Set of Out of this World Gifts for Dudes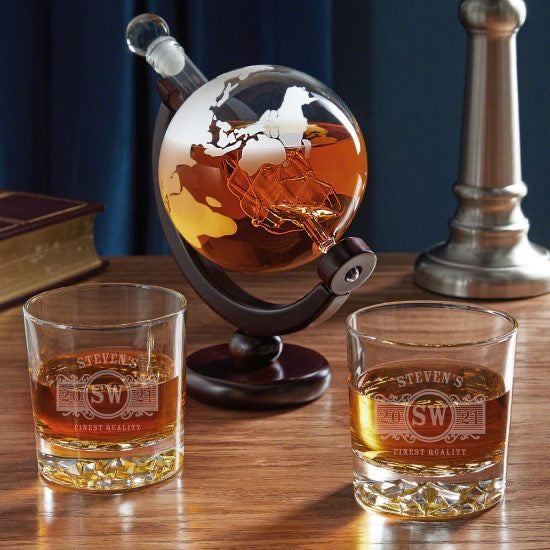 Rock his world with a unique decanter set that'll be one of the coolest gifts he's ever gotten. Any guy will fall in love with this awesome globe decanter and glasses set, no matter the occasion you get if for him! This is the perfect gift that allows him to unwind after a long day or he may even use to help plan his next trip in the world. So sit back and share a glass of whiskey with one the the classiest dudes you know with the most fitting decanter gift set!
A Personalized Sign for His Game Room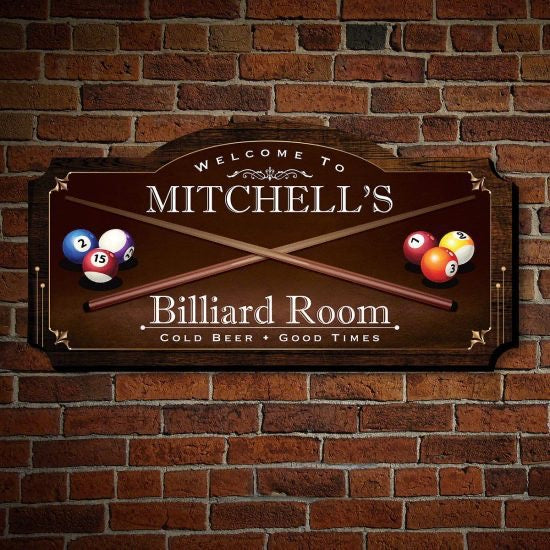 Really awesome dudes like to have friends over to play games on occasion. That's why this personalized wooden billiards sign is one of the coolest gifts for dudes out there! Your boyfriend or brother will love how awesome this sign looks hung up on the wall in their game room or man cave. It'll always put everyone in the mood to play some fun games together.
Ultimate Guy Gift Ideas are Ammo Can Beer Sets
Regular gift boxes are so last year, so get him an ammo can box set instead! He'll be really impressed by this beer ammo can gift set. You just know that he will be a big fan of the personalization of the ammo can, and it will make him want to bring it with him when he goes on a camping or hunting trip to store important items. He'll also really like the pint glasses and want to use them any time he wants to enjoy a nice cold beverage!
Most Awesome Griller Award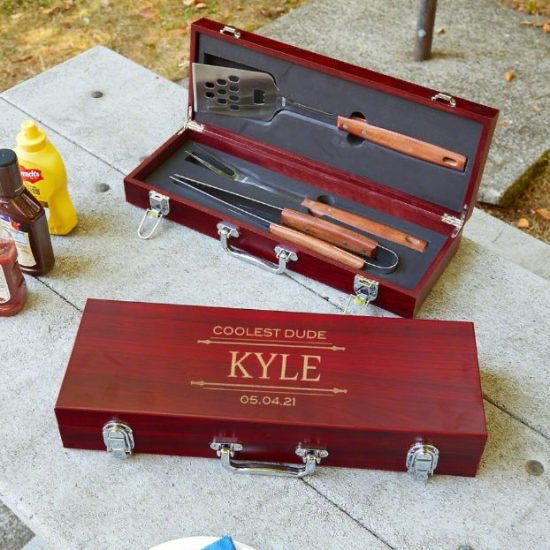 Make him feel like a super amazing griller with this present! This set of BBQ grilling tools is one of the most unique gifts for dudes that you can find. He'll be really excited to have friends and family over so he can show off his grilling skills with this gift! It'll make him feel like a total stud when everyone is raving about his brats and burgers.
Any Man Will Love This Set
Match your cool gift with the chillness of the dude you're buying for with this customized whiskey stones and glasses box set. It's the perfect gift to keep things mellow while also showing that you put a lot of effort into his fantastic gift set! There is simply something incredibly special about receiving a gift that quite literally has your name written on it (and the initials on the glasses are a nice touch too). You can be sure he will love a gift that keeps his drinks as chill as he is an absolute win! So, after you gift him his new guy gift, break out a bottle of Maker's Mark and have a toast toward an awesome dude!
709+ REALLY COOL WHISKEY GIFTS>
Ping Pong Tables Make Super Fun Gifts for Dudes
Men by nature are competitive creatures, always challenging their friends, spouse, and kids to friendly competitions. This miniature ping pong table will give him ample opportunity to challenge everyone to a game or two whenever he wants to! He'll love that this table is small enough to tuck into any corner of the house or garage, but it's still big enough for as many games of ping pong as his heart desires!
A Classy and Sophisticated Gift Set
Want to make your dad or husband feel the classiest they've ever felt? In that case, one of the best guy gift ideas for him is this personalized whiskey and watch gift set. It's a really attractive, sophisticated set that he'll love! Your dad or husband will really like how this handsome watch looks on their wrist, and they'll think of you every time they look down at the time. They'll definitely enjoy always having a handsome, customized glass or flask to use to indulge in their favorite spirits!
Golf All the Time
What kind of gift do you get a man that loves to be on the golf course? A gift that will make him feel like he's always there! This golf putting set is really cool because whether he's at home, the office, or anywhere else, he can take out this set and begin practicing his short game within seconds! He'll have a lot of fun using this gift and thank you profusely for it every time he sees you!
Uniquely Shaped Glassware Gift Set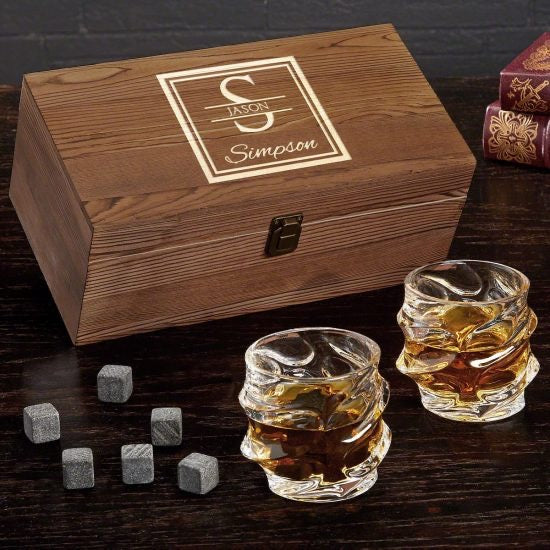 Got a unique dude? That make sure he gets one of the most unique gifts he's ever seen with this awesome whiskey gift box set! He may have had some dedicated whiskey glasses before but you know with these sculpted glass, he'll never want to use those old things again! This gift box is the perfect way to help him celebrate a major life event like a promotion while also being casual enough to be an awesome birthday present as well. However, when all the celebrations are done, this whiskey stone box set is still perfect for kicking back and sharing a relaxing drink with his spouse or even you for getting it for him in the first place.
Complete His Home Bar
A home bar, whether it's a full home bar or just the beginnings of one, isn't quite complete until he has his own really cool bar sign! This personalized wooden bar sign will look incredible hanging in his on the wall next to his liquor cabinet or even over the bar itself! This gift is the perfect way to his hobby of a home bar and make him look like he runs and operates a real bar!
For the Pro Dude on the Go
Guys are all about high-tech gifts, and this GoPro camera is one of the best gifts for dudes that he'll love! Nothing will bring him more joy than taking photos and videos of all his adventures, whether that's an afternoon in the park with you or diving off cliffs on a tropical vacation. He'll really appreciate being able to relive life's most fun experiences over and over!
The Ultimate Poker Set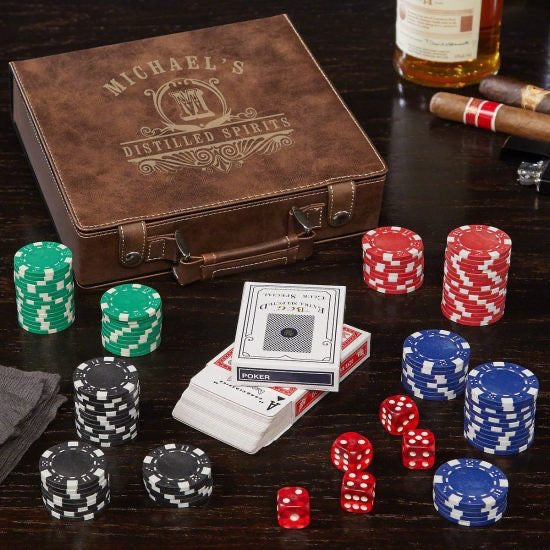 There's just something about a gift that lets a man have fun that makes it unmatched to anything else you could have gotten him. With this monogrammed poker gift set, he'll have a blast time and time again on game nights with friends and family! From games of Seven Card Stud to Texas Hold'em, he will be able to play any classic gambling game he wants, this set even has dice for games like Craps, how cool is that?
Hefty Beer Mugs Guy Gift Ideas
What's the only thing better than one beer mug? Two beer mugs! This beer mug box set is an incredible gift idea that will make any man absolutely overjoyed! Nothing will make him feel cooler than when he is using his custom beer mugs to enjoy his favorite brew whenever possible!
A Gift He'll Use All the Time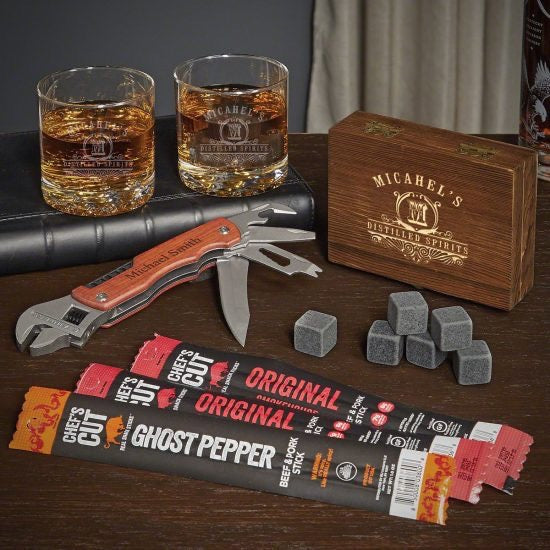 If there's one thing you know about him, it's that he's a big fan of gifts for dudes that he can use over and over again. Your boyfriend, father, or guy friend will really like this uncommon whiskey gift set because the glasses and stones are perfect for him to enjoy his favorite drink whenever possible. But that's not all! He'll feel like a professional mechanic using the multi-tool to fix anything that needs repairing around the house or outside! The beef jerky is also the perfect snack for when he's finished repairing items.
531+ INCREDIBLE GIFT BOX SETS FOR MEN>
Bring a Beverage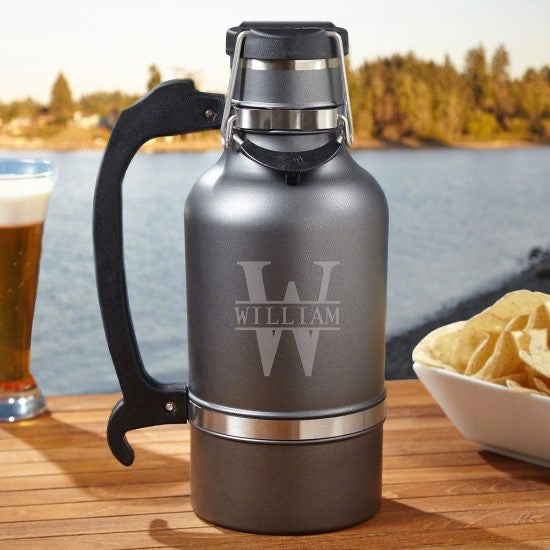 Every experience in life is made better by having a delicious drink with you at all times. With this customized gunmetal growler, he'll always have his favorite beer, coffee, or any other drink with him. Whether he's at work, on a road trip, or just lounging around the house, he'll really appreciate this growler and how useful it is no matter where he's going or what he's drinking.
So Many Snacks!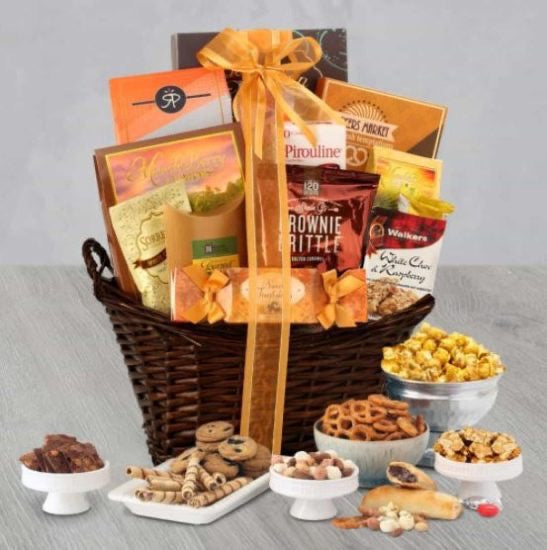 A way to a man's heart is always through his stomach. That's why this gourmet snack gift basket is a terrific present idea! Whether it's functioning as a thank you gift, a housewarming present, or a gift for any other purpose, he'll absolutely love it! From the creme brulee trail mix to the hazelnut filled puff pastry, you know as soon as he gets his first bite that you have won him over with this great gift basket.
Have All the Wine Tools Handy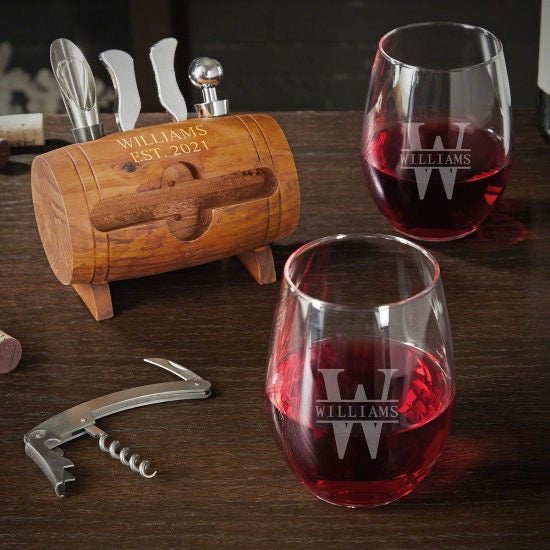 No one wants to have to search all over the house for the proper tools when they want to enjoy a delicious beverage. With this wine gift set, he'll be fully equipped with handsome personalized glasses as well as every tool he could ever need for enjoying wine! Having everything he needs to enjoy his favorite red or white right on his counter or home bar will make the experience easier and better, making this one of the best guy gift ideas out there.
Engraved Ammo Can Set of Gifts for Dudes
Make sure the gift you get him is the one he considers the best he's ever been given! With this custom ammo can gift set, that's definitely what he'll say about your gift! He'll be obsessed with using the personalized ammo can to store mementos from his life or even his drinking accessories. Enjoying a stogie and glass of whiskey will definitely be better than ever before with his new favorite custom glasses and cigar accessories.
Take it to the Golf Course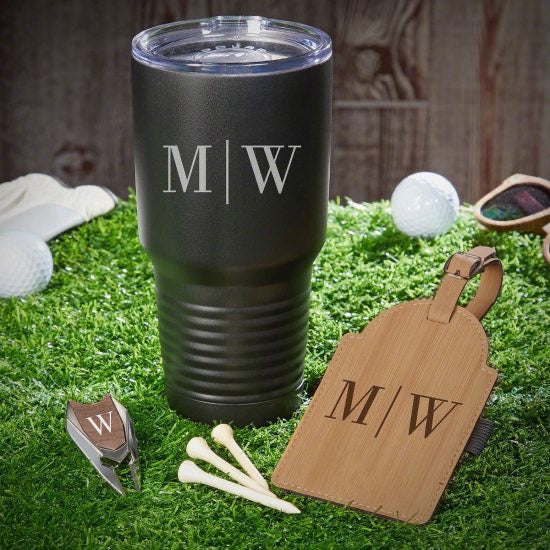 If there is one game that helps guys unwind it is golf. However, getting a set of clubs or even a golf club is too hard, which is what makes this golf gift set one of the best guy gift ideas! He can finally take a gift to the course that fits seamlessly with his game. When he is out on the green early in the morning the tumbler is the perfect way for him to bring his steaming coffee with while the bag tag is a pretty sweet accessory to set his bag apart from everyone else in his group. Thanks to you, he even has a divot tool and ball marker too! This truly is one of the easiest and best golf gifts to get for a guy!
Personalized Wine Chiller
It's always a big bummer when you reach for the bottle of wine to pour yourself another glass only to find that it's no longer chilled! Make sure that never has to happen to him by getting him this marble wine chiller! Not only does it look very sophisticated with the handsome marble and his personalization, but it'll keep his favorite chilled wines cold for hours.
Throwback Guy Gift Ideas
Get him a gift that will take them back to when he was young! This Nintendo DS Lite is a super creative present that your husband or boyfriend will be really excited to get! He'll love playing his old favorites using this vintage device, like Super Mario Bros or Pokemon!
Ultimate Bar Sign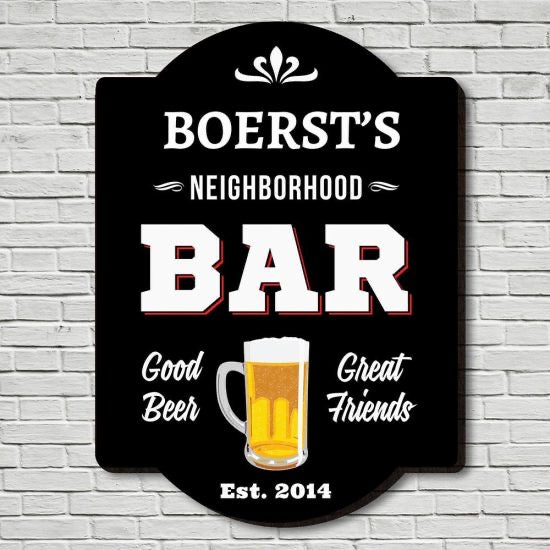 A handsome, personalized bar sign is a gift you can never go wrong with! Which is why this unique bar sign will look awesome hung up in his home, whether that's in the home bar or the kitchen. He'll really like that the space feels way cooler with this sign hung up. In fact, he might sometimes think he's stumbled into a real bar! He'll thank you over and over for giving him this sign because of how much he enjoys having it in his home.
Super Manly Gift Set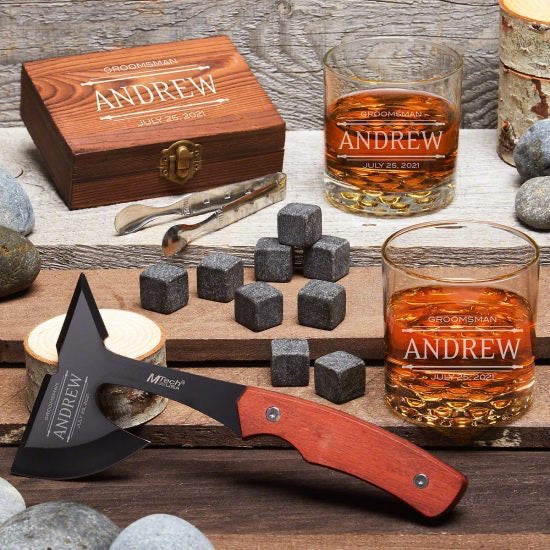 He loves gifts that make him feel like a manly man, which is why this custom axe and whiskey gift set is awesome! He'll feel insanely masculine while he is using this axe to cut through brush in the woods or chop up lumber. When he's finished, nothing will refresh him more than a nice cool glass of whiskey. For a true man's man, you can't do any better than this gift set!