Finding the perfect gift for a man can be tough, regardless of who it's for or what the occasion is. However, we're here to help you out and let you know that gift sets make terrific presents for men. Why, you may ask? Well, instead of a singular thing, they consist of several parts that come together to form a fantastic gift! The perfect gift set for men is one that's unique, enhances some of his favorite hobbies, and maybe even helps him relax after a long day. We worked hard to find awesome, one-of-a-kind gift for men that perfectly fit these parameters and that make really good gift ideas for men.
A Masculine Whiskey Gift Set
An awesome gift set for men will make them feel like the strong, manly men they are! This personalized whiskey glasses and hatchet gift set is the perfect present to make him feel like the most masculine man around! With this customized hatchet in his man cave or living room, he'll always be reminded of how strong he is, and also how hard he works and how deserving he is of a drink. After a long day doing strong men's work, he'll greatly enjoy coming home and enjoying a nice, cold glass of whiskey using these handsomely personalized glasses and whiskey stones.
Poker Gift Set for Men
A gift set that makes him feel super cool and provides hours of fun for him and his buddies? Say no more! This poker gift set is incredible because it has everything he needs to enjoy poker and other card games on game nights with friends or family. When he has his hand of cards in one hand and this handsome, monogrammed cigar glass in the other, he'll feel like the most badass card shark ever.
Awesome Ammo Can Pint Glass Set
The absolute coolest good gift ideas for men ever are those that come in an ammo can! This pint glass ammo can gift set is incredible because of its unique personalization as well as the badass gifts inside, and any man will feel so lucky to have it. He'll feel awesome using these custom pint glasses to enjoy his beer when he's celebrating a work or personal accomplishment or relaxing after a super long day. You can even include a six-pack of his favorite beer inside the ammo can to make this gift even more amazing!
Every Wine Tool in a Box
When all he wants is a glass of wine, he'll be so thankful you got him this wine kit box! He'll be super appreciative having every tool he could ever need for wine in the same convenient location. You can even include a bottle of his favorite wine with this box to make it an even better gift! He'll definitely want to keep a bottle of wine for a special occasion inside this box to save it for a special occasion like Christmas or his birthday.
Whiskey Box Set of Good Gift Ideas for Men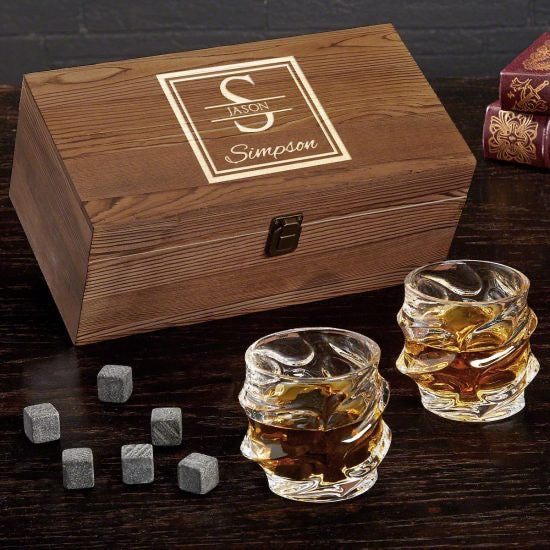 The coolest gifts sets for men don't have to be insanely complicated. In fact, this engraved whiskey gift box set is a simple, yet fantastic gift idea. He'll love coming home from work, propping his feet up on the coffee table, and sipping whiskey from these uniquely-shaped glasses filled with whiskey stones to keep it nice and cold.  This is gift set is so unique that it is even perfect for the guy who thinks he has everything, because you know for a fact he doesn't have a set of remarkable guy gifts like this whiskey stone set !
Smell Good, Feel Good
When he smells good, he'll feel good. That's why Burberry cologne sets like this one are extremely good gift ideas for men! He'll be a big fan of the confidence boost he feels when he sprays himself with this cologne when he's headed out on a date or going to a fancy location or event. He'll be really thankful you bought him such a fancy gift set that boosts his confidence while making him feel like a boss.
Hole in One Gift Set for Him
Got a guy who simply can't get enough time on the green? Then you know this personalized golf sign gift set will really make his entire day, month, or even year! At the next opportunity he has, he'll be so excited to take this custom divot tool and bag tag and use them at the golf course! They'll make him feel like a professional golfer at the PGA Tour. After he finishes his round of golf, he'll be able to head home to his very own 19th hole where this handsome sign is hanging and enjoy a celebratory beverage with friends.
Upgrade His Beer Glassware
Chances are, if he's a beer fan, he has a beer mug or two already. Give him a major upgrade with one of the most amazingly good gift ideas for men who like beer—this custom black box beer mug set! He'll be stunned by how awesome the engraving is on these hefty mugs, and he'll definitely want to use them for every single beer he enjoys. He'll love snacking on the unique beer nuts, too, which pair perfectly with whatever brew he's in the mood for! He'll love being able to enjoy beer at home more than ever before.
The Best Tools for Grilling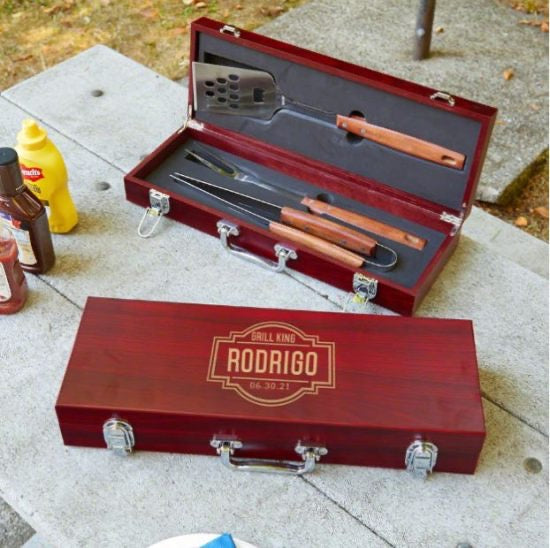 There are no gifts sets for men quite as appreciated as much as one that makes one of his hobbies so much better. This grilling tools gift set is a one-of-a-kind gift, and he'll be so excited for the next opportunity he has to invite friends and family over for a backyard barbecue! Grilling will be so much fun for him using his own tools, and he'll love the custom case he keeps the tools inside.
Most Practical Men's Gift Set
He probably has a set of tools of some sort, but there's no doubt that he'll put those old tools aside once you get him this 130 piece tool set as a gift! The practicality of this gift set for men will blow his mind, and he'll appreciate that it has tons of different kinds of tools. From various wrenches to fasteners and anchors to a tape measure, he'll be set whether he wants to fix a leaky faucet, crooked mailbox, noisy fan, or anything else that needs some repair!
Cigar Box of Good Gift Ideas for Men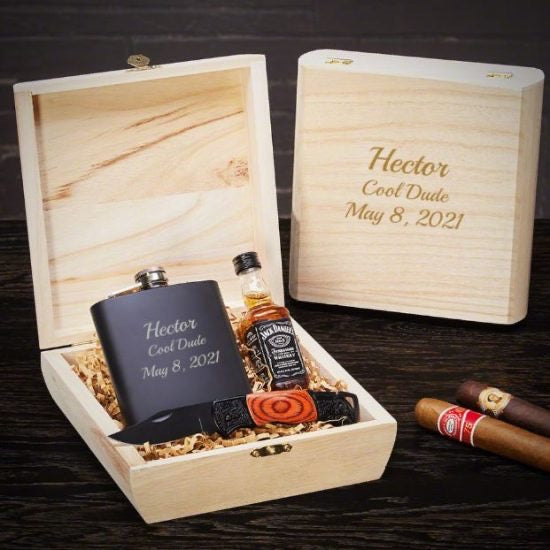 Get a one-of-a-kind gift set for him that he'll treasure forever. This cigar box flask set is an awesome present and he'll love using every part of it whenever he can! The personalized flask will fit perfectly in his pocket, backpack, or briefcase so he always has a way to enjoy a drink of his favorite spirit. Plus, this whole set comes inside a cigar box which he is sure to love. You can either add a few stogies inside with all his other gifts (to make it truly a personalized gift) or it can become his favorite spot to keep his next cigar!
Make Him Feel Sophisticated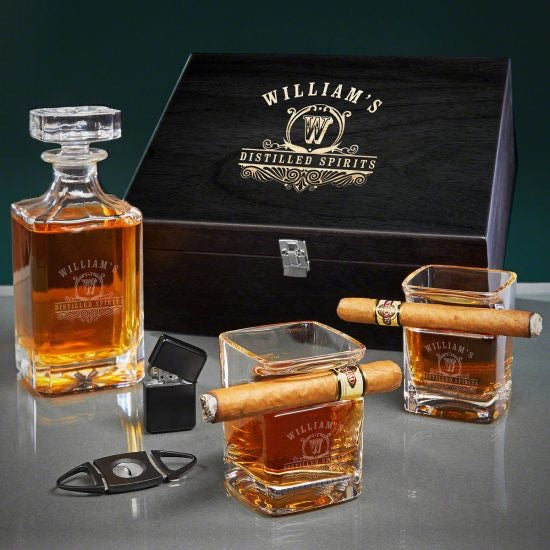 There's no doubt that this present won't impress him and anyone else who sees it. This personalized cigar glass and decanter box set is a super classy gift set for men that'll make him feel so sophisticated! As he pours whiskey from his stately, custom decanter into the unique cigar glasses and places a stogie in the cigar spot, he'll feel fancier than he ever has since he's able to enjoy two of his favorite vices at the same time. He'll love using this gift set on special occasions or whenever a celebration is necessary!
Manly Wine Tumbler Gift Set for Men
He might think manly wine gift sets don't exist; however, you will prove him wrong with this stainless steel black box set! From their handsome appearance to the way the strong steel feels in his hands to the cool customization, he'll love everything about these glasses. As a bonus, they'll keep any chilled wines or other drinks cold until the last drop, which he'll think is amazing. He'll greatly appreciate this amazing gift that'll last forever!
A Way to His Heart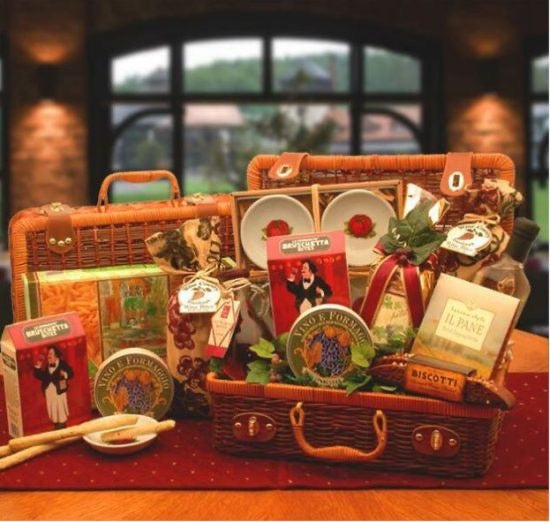 If you want a gift that will definitely make him happy, food is the way to go! This gourmet gift basket is one of the most delicious and very good gift ideas for men that he'll love. The scrumptious treats that come in this gift basket, such as wine cheese and biscotti, will satisfy every craving he has!
Cool Cognac and Cigar Set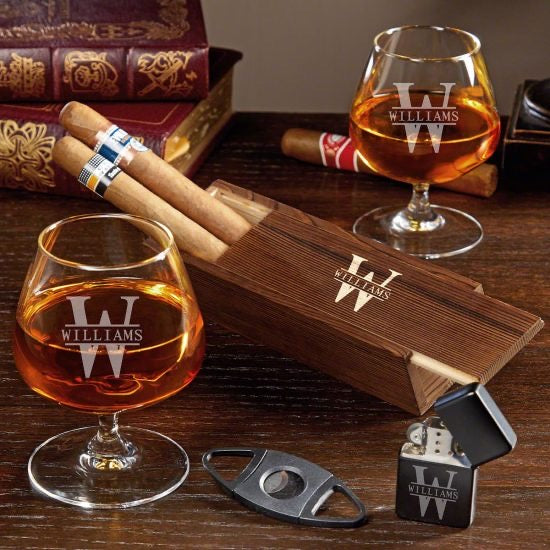 This custom cognac and cigar gift set is so cool, he'll be surprised something so awesome even exists! He's always been a big fan of cigars, so he'll definitely love the custom cigar box and other cigar accessories since they're all he needs for enjoy a stogie or two. He'll greatly appreciate owning a pair of glasses that are made specifically for cognac, making him feel so sophisticated as he uses them to sip cognac while enjoying a cigar. You can even include some cigars with this gift set to make it even better.
A Unique Gift Set for a Legendary Man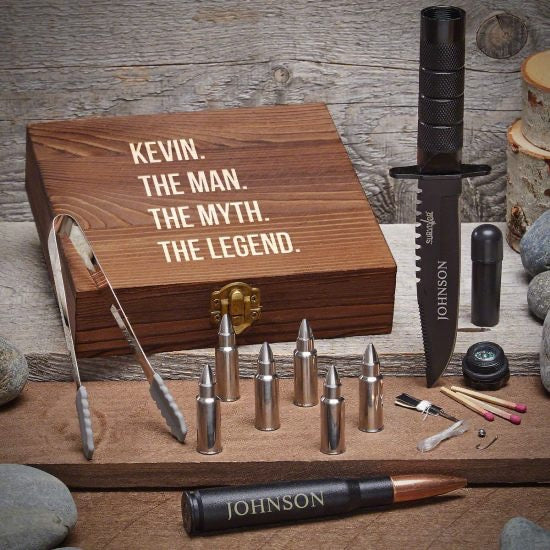 Everyone knows he's a legendary guy. But you should make sure he knows that too with this incredibly unique gift set. This personalized bullet whiskey stones set is a phenomenal gift set for men that he'll use all the time! He'll love using the rare bullet whiskey stones and how they keep his beverage cold after a long day. This gift could even save his life one day due to the amazing tactical knife! This is the perfect gift set for a legend like him.
An Awesome Whiskey Gift Set He Deserves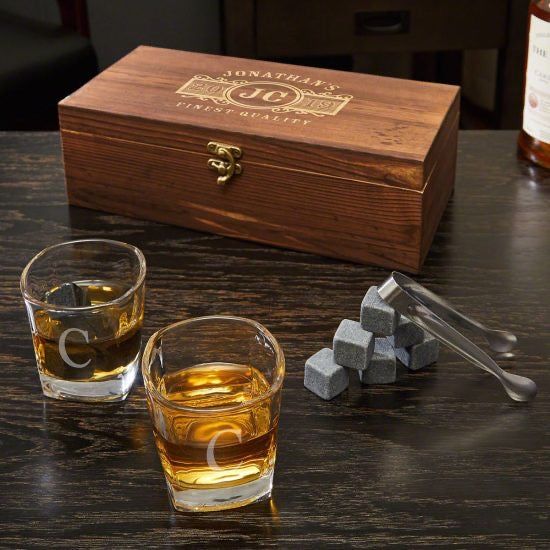 He definitely deserves a gift that helps him enjoy every special occasion in his life, from holidays to job promotions and everything in-between. This shot glass and whiskey stones gift box is excellent because not only is it customized just for him, but it has all he needs to enjoy his favorite spirits. He'll feel incredibly cool with his initialed glass in his hand, filled to the brim with his liquor of choice. Include a small bottle of his favorite spirit or some of his favorite snacks to pair with a drink inside this box to make it an even better gift set.
Reel in this Gift Set
Whether he's a seasoned fisherman or wants to get into the hobby, this fishing gift set for men a fantastic gift idea. He'll be so excited to head to the lake, ocean, or pond and try out the jig hooks, sinker sliders, and all the other unique tools in this set. You'll have him feeling like he can out fish anyone inside any Bass Pro Shops!
Cigar and Whiskey Good Gift Ideas for Men
Get him the fanciest personalized gift set ever with this custom whiskey and cigar gift set! Whether he wants to enjoy a glass of whiskey, a stogie, or both at the same time, he'll have the highest quality tools to do so. He'll definitely like having a custom box that can store all of his favorite whiskey and cigar accessories so he can easily take it out when he wants to have a celebration!