Finding a good gift for a guy is difficult enough, but what if you want to get him more than one present? His birthday, the holidays, or your anniversary is a very special occasion, after all, and he deserves the best gifts. That's why you should get him a gift set full of amazing presents! Mens gift sets are often gift baskets or box sets filled with a variety of items the man in your life loves, which means you need to carefully consider his favorite things when choosing the best gift set for him. Some gift baskets are even personalized to make it all the more special! Are you looking for a themed set of manly gifts? Wondering how much you should spend on a gift basket? Worried about finding the right set for the man who has everything? Not to worry, we'll answer all of your questions and more when it comes to the best men's gift sets!
The Coolest Mens Gift Sets Are Ammo Cans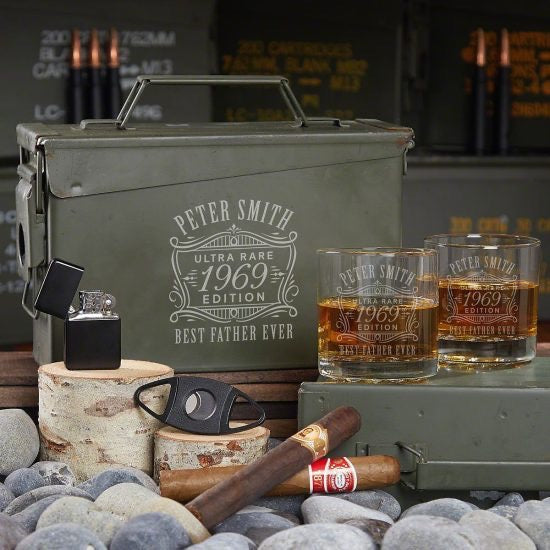 Seriously, one look at this unique ammo can gift set and the man in your life will be speechless! He won't know which part is his favorite: the personalized ammo can once used by the US military, the matching engraved rocks glasses, or even the cigar accessories. He will be so excited to try out each and every piece in this set that he'll pour the two of you a couple of drinks in his new custom glasses right after you give him this incredible gift. Whether it's for Father's Day, his birthday, or even his retirement, the special guy who gets this impressive gift basket for men will be over the moon with excitement!
A Golf Men Gift Set
When in doubt, go with a gift set themed around his favorite hobbies, like this golf gift set for the golfer in your life! He will love using this handy portable putting set on his lunch break at the office on a rainy day when he can't get to the green or to practice his swings while he's relaxing in his hotel room on a business trip. Thanks to your thoughtful gift, his putting skills will always be on point, even during off-season!
For the Guy Who Drinks Cognac
The man in your life deserves to treat himself once in a while, and there's nothing more luxurious than a glass of cognac after a long day! This classy men gift set is all about indulging in a warm glass of brandy or cognac and a cigar so that he can relax to the fullest. This suave gift set is perfect for the cognac fan in your life for their birthday or the holidays, especially if you include a bottle of their preferred brand!
The Ultimate Whiskey Gift Set
Any guy who has tried Jack Daniels or Jim Beam has thought about what their own namesake label would look like. Well, you can make that dream a reality with this incredible whiskey gift set! This entire set is customizable with a whiskey label-inspired design so that you can make a unique "label" for every whiskey fan you know from your dad to your best friend. By far one of the most impressive mens gift sets, such a fantastic gift is something they'll be enjoying for years to come and showing it off to everyone they know!
659+ WHISKEY GIFT SETS FOR MEN > 
You Can't Go Wrong with a Flask Set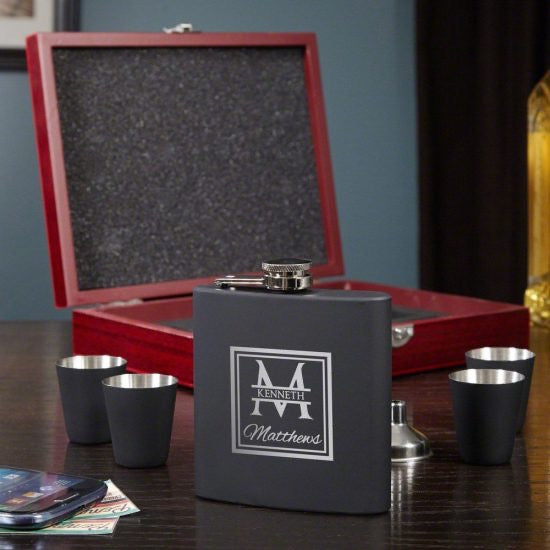 Flasks are among the most popular gifts for men for a variety of reasons, but flask gift sets are even better than a single flask! This handsome boxed set is perfect for sharing a round of shots or drinks with friends while hanging out or celebrating a special occasion with their best bros. The stainless steel shot glasses are built to last, which means they're portable and can come along on any cross-country adventure they go on whether they're taking the camper or backpacking. 
Cool Cologne Men Gift Set
Make sure the guy in your life always smells amazing with this Spicebomb body wash gift set! Men like to smell good too, after all, and this set not only smells fantastic but the cologne bottle looks like a grenade! How cool is that? Whether you're in need of a Valentine's Day gift for your boyfriend or you're not sure what to get your brother for Christmas, this awesome cologne gift set is ideal.
Manly Mens Gift Sets Are Best
You can't go wrong with a manly gift set! This awesome ammo can set is full of cool items that any guy would enjoy whether they're outdoorsy, enjoy doing DIY projects at home, or frequent the shooting range. Each part of this set is practical in more than one way, which makes it the ultimate gift because even the guy who has everything can't help but love this set for its manliness and versatility. Plus, it works for just about any occasion because the design on the ammo can is customizable to suit your needs! Seriously, this ammo can gift set is one of the best mens gift sets you can possibly buy for the men in your life.
Must-Have Whiskey Gift Set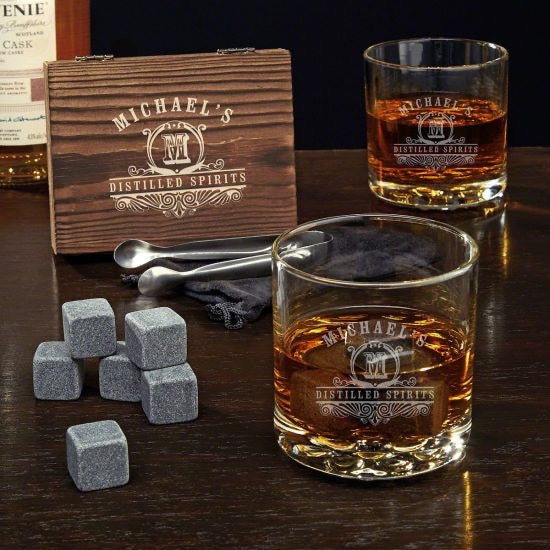 Grab a bottle of their favorite whiskey and surprise the guy in your life with this must-have whiskey gift set! The two of you can enjoy a chilled drink using his new custom glasses, just don't forget to put the whiskey stones in the freezer! He will be impressed not only by how well the chilling stones work, but he'll be touched by the personalization on the set because that little extra detail really shows that you wanted to get him something personal. Whether you're needing an anniversary gift for your significant other or a nice holiday gift for your dad, he will absolutely love this whiskey gift set.
Wine Lover Men Gift Set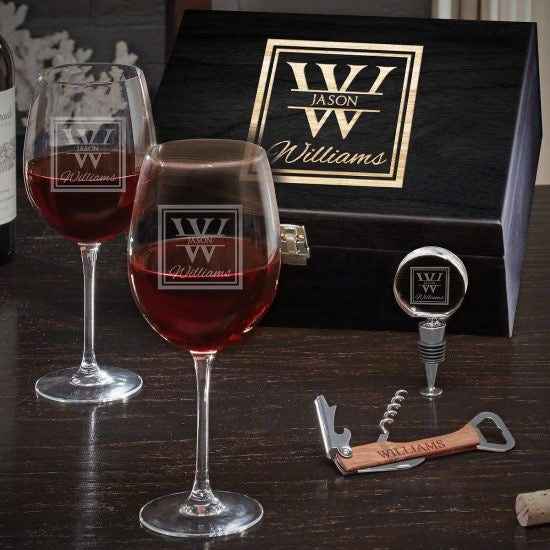 Looking for the best gift set for a guy who enjoys wine? This luxurious wine gift set is perfect from the stemmed glasses to the unique corkscrew multi tool. He will love each and every piece in this set, especially since he can share the wine glasses with his significant other or you. Whether he's a diehard red wine lover or enjoys trying all types of wine, this gift set is ideal for any fan of wine.
Impressive Decanter Set He Will Love
Gift sets don't always have to be in a box. This stunning crystal decanter set is one of the most impressive mens gift sets you can buy because it's so luxurious and even comes engraved with a unique monogram of his initials. He will be amazed by the many delicate details on the glassware and the handmade acrylic stand that makes it easy to display and carry. He will especially love serving drinks to his guests or enjoying a classy glass of his finest scotch using this incredible decanter set!
The Best Shaving Gift Set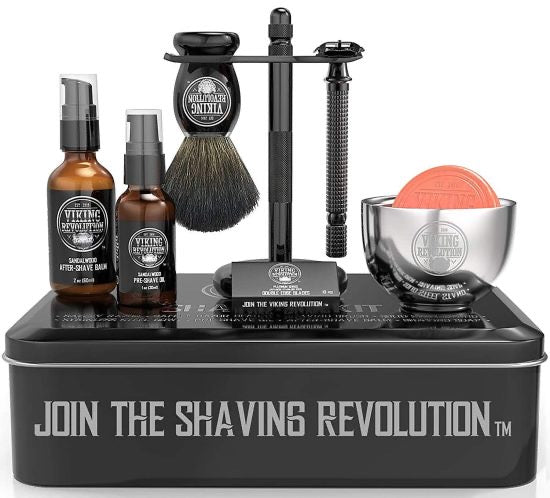 Every man needs a quality grooming set whether he keeps his face clean shaven or he sports a full beard. This classic shaving kit is a must-have men gift set that you can give to any guy in your life for his birthday or the holidays! He will have everything he needs for the smoothest, cleanest shave of his life thanks to this awesome gift set.
Relaxing Mens Gift Sets
Sometimes, a nice gift is all about making sure the person receiving it can sit back and relax. This classy whiskey and cigar gift set is all about treating themselves to a nice glass of scotch and a fresh cigar to help them unwind after a long day! They can enjoy the entire set on their own or with a friend as there are two glasses and plenty of cigar accessories to go around. This unique gift set is the best gift set for a man who enjoys cigars and whiskey because now he can enjoy the perfect pairing in the comfort of his own home whenever he likes, not just when he has time to go to the cigar lounge!
Unique Wine Gift Set
Wine glasses are great and all, but wine tumblers make drinking wine so much easier! The man you know who enjoys wine will be so excited to try out these stainless steel tumblers because they keep his wine chilled, they're practically indestructible, and easily portable! He can finally bring his wine glasses along on his next road trip, to the neighborhood pool, or even to his friend's houses and never be without chilled wine.
His Own Poker Set
There's nothing like a classic game of poker with the guys! Every man needs a poker set in his life, and this one comes with everything he needs for poker, cards, and dice games. As soon as you give him this set for Christmas or your anniversary, he will want to invite all of his buddies over for a game of Blackjack or Texas Hold 'Em to try out his new chip set. In fact, he might even start having a weekly game!
The Best Beer Gift Set
Does the guy in your life enjoy beer? Then he'll love this awesome beer mug gift set! Every beer drinker knows that most beers are best enjoyed in a large beer mug, but most people don't actually have them at home. Now, the beer-loving guy in your life can enjoy his beers to the fullest tanks to your thoughtful gift set! He will be especially excited to share the experience with a friend or loved one since he gets two mugs, both of which are personalized just for him!
Tasty Gift Set
You can never go wrong with a gift set full of savory snacks! This summer sausage gift basket has a variety of meats, spreads, and cheese so that he can treat himself to a scrumptious gourmet meal. Edible mens gift sets are always a good idea because even the guy who has everything will enjoy having unique tasty snacks!
Practical Gifts Never Fail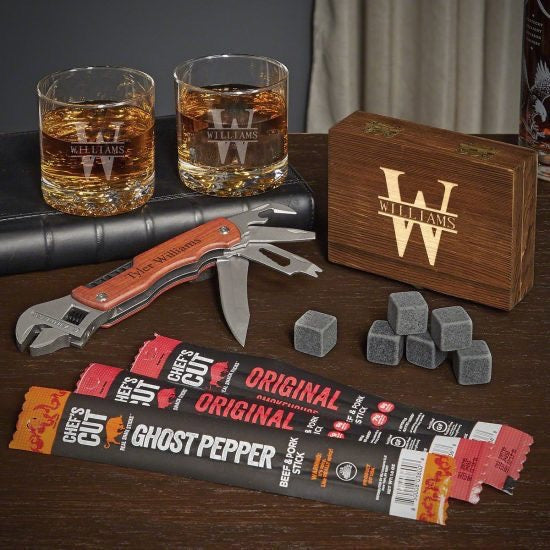 Men always appreciate gifts that are practical and useful in some way, which makes this unique men gift set the perfect present for any man! This gift set has everything from a multi tool to whiskey accessories so that it has a little something for everyone. There are even a trio of beef jerky sticks that make a tasty snack after he opens up his present! This unique variety of gifts is the perfect set for your impossible-to buy-for dad, your husband who wants nothing, or even your coworker who you don't know super well but you got them for Secret Santa at the company Christmas party.
The Coolest Mens Gift Sets for Him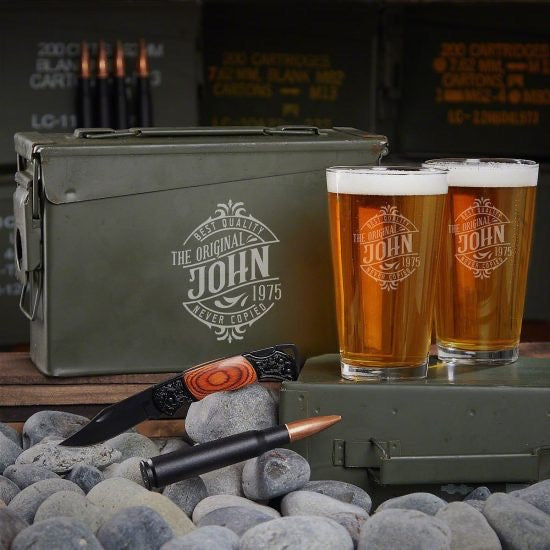 The best way to ensure a man will like a gift you're giving him is by giving him something undeniably cool, like this incredibly awesome ammo can set! He will be stoked to try out his new custom pint glasses, especially since they come personalized just for him. He will definitely enjoy the matching ammo can, which he can use to store his ammo, fishing gear, or even his favorite tools. Such an amazing gift set is sure to be enjoyed for years to come.
A New Way to Enjoy His Drinks
What if you could give him the experience of trying his favorite whiskey for the first time all over again? The smoke box system infuses his drink with a whole new smoky flavor, creating a unique combination that will taste like a whole new drink! He will love trying out the different types of wood chips with different drinks to discover what flavors go best together. And, the set comes with four glasses so that he can have his own whiskey tasting or share his new gadget with friends!