Pocket knives have been around since the Iron Age. They've never lost popularity, especially since they have hundreds of uses! Personalized pocket knives are a more recent trend where people like to give custom engraved pocket knives as gifts. Whether they bear your name, a special date, or even a fun phrase, a custom pocket knife is way cooler than one that isn't. Whether you're shopping for a nice gift for someone or you want a cool set for yourself, we found the coolest personalized knife sets!
All Things Manly Gift Set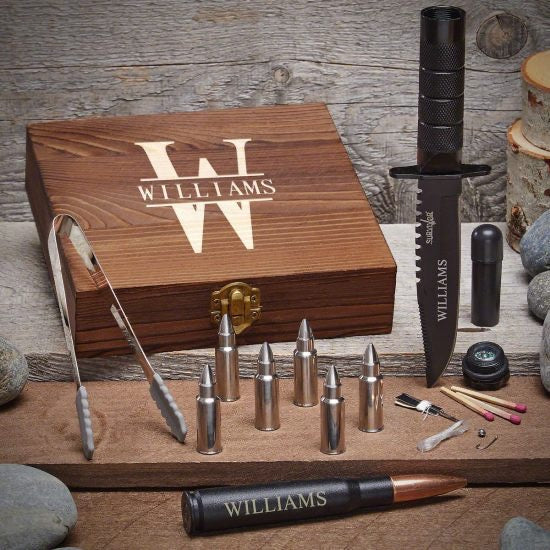 Having trouble finding the perfect gift for the manliest guy you know? Think about his interests. You're here because he likes knives, but what about guns? Does he drink? If you answered "yes" to all of the above, then this is the ideal gift set for him. It comes with all of his favorite things: an engraved tactical knife with a hidden survival kit, whiskey stones shaped like bullets in their own personalized gift box with tongs and a travel pouch, and a bottle opener made from a real bullet. Seriously, you can't get any manlier than this!
Ultimate Travel Set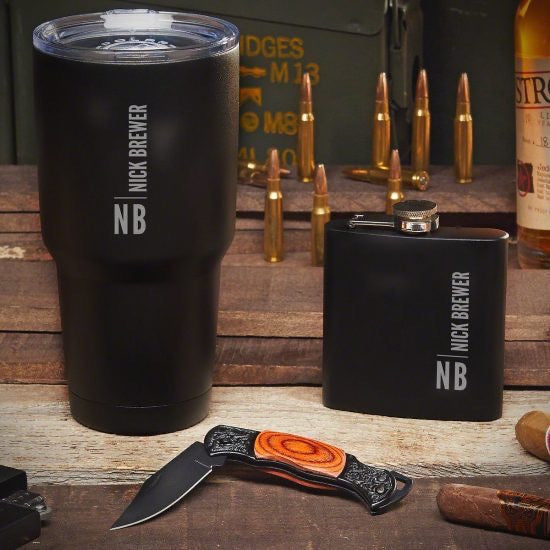 There's nothing worse than going on a business trip and forgetting something important. It can throw you off your groove, which can be disastrous. You'll certainly never want to leave the house without your essential travel set! The tumbler will hold 30 ounces of your favorite coffee or tea to keep you energized through your commute, and the flask is for after your work day is over. The handsome lockback knife has over 101 uses, such as cutting off a loose thread from your suit or opening a package. With these essentials by your side, your trip will go smoothly.
Set of Five Engraved Pocket Knives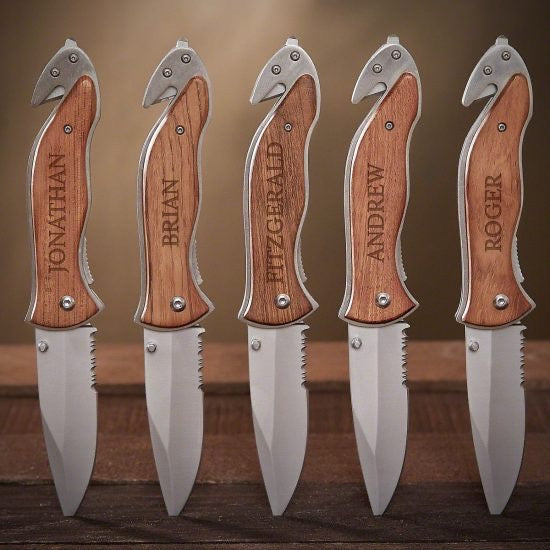 Looking for some personalized pocket knives to give as gifts? These are perfect! Whether they're gifts for your best bros, groomsmen, or coworkers, these unique knives are each engraved with the name of your choice. It's not just your ordinary pocket knife, either, these knives have a handy seat belt/rope cutter as well as a glass breaker attached. Certainly handy in an emergency, whoever you give these knives to will enjoy having them on hand. Each knife has its own sheath for safekeeping as well.
The Coolest Pocket Knife Set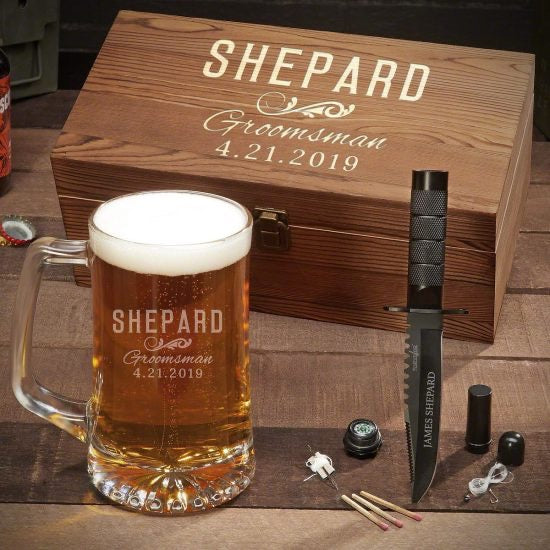 Your best man is a cool guy who's known to be a collector of knives, guns, and unique defense tools. He's also a beer lover with a vast knowledge of the beverage. You want to get him a great gift for being by your side all of these years as well as for being your best man. This cool personalized pocket knife set is ideal! He will love the custom beer mug to enjoy his favorite German lagers and ciders. The custom tactical knife has two razor sharp serrated edges, a carbon steel blade, and even a secret compartment that holds a small survival kit. This personalized gift set is truly the best gift for your best man!
Complete Beer Gift Set with Pocket Knife
You or someone you know loves pocket knives, beer, guns, and everything manly in between. The easiest birthday gift for him or her is typically a case of beer, gun parts, or a new blade. However, this year you want to give them something really special. This complete beer gift set has all of their favorite things in it: pint glasses, a handsome lockback knife, a bottle opener made from a real bullet, and an ammo can. Best of all, the ammo can and pint glasses are personalized with their name, a date, and even a title or a phrase of your choosing.
Personalized Ranger Knife Set
Whether you're an avid outdoorsman who loves to hunt and fish or just collect unique knives, this beautiful ranger knife is a must-have. It's a hybrid of two popular knife styles combined into one sleek, useful knife that's perfect for preparing fresh fish or gardening. You can customize the handle, the bolster, the type of steel, and the engraving. Plus, it comes with a high-quality leather sheath. You can make an entirely different personalized pocket knife as a gift!
Unique Gift Set with All of Your Favorite Things
There's nothing like an ice cold beer and a fresh stogie after a day of hunting or camping. Everything in this unique gift set is awesome, but the personalized knife is the main feature. You won't want to go on any outdoor adventure without this trusty tactical survival knife on hand. While this particular knife doesn't fold, it does fit easily in your pocket. It comes with a thick tactical sheath to keep it secure during travel. The two serrated edges are great for cutting wood, fabric, rope, and especially come in handy for when you want to prepare freshly caught dinner for the family. Inside the hilt is a secret compartment with a compass and a survival kit are inside. The kit comprises of three matches, a sewing kit, and a fishing set. With this knife, you'll be prepared for anything.
Cool Western-Inspired Whiskey Gift Set
Remember watching those old western movies with your dad on Saturdays? He'd be enjoying a glass of whiskey, and you'd try to copy the gunslinger tricks with your plastic toy gun. Your dad would show you how to use his pocket knife to start a fire and how to whittle figurines when you two go camping, just like your favorite TV cowboy does in the wilderness. With this whiskey gift set, you can remind your dad of those good times together. The two of you can share a bottle of Crown Royal and watch your favorite westerns again just like you did when you were a kid. The pocket knife in this set is beautifully detailed, and will certainly become his new favorite. This gift set would make a great Father's Day, birthday, or Christmas gift!
You'll Be Prepared for Anything with This Set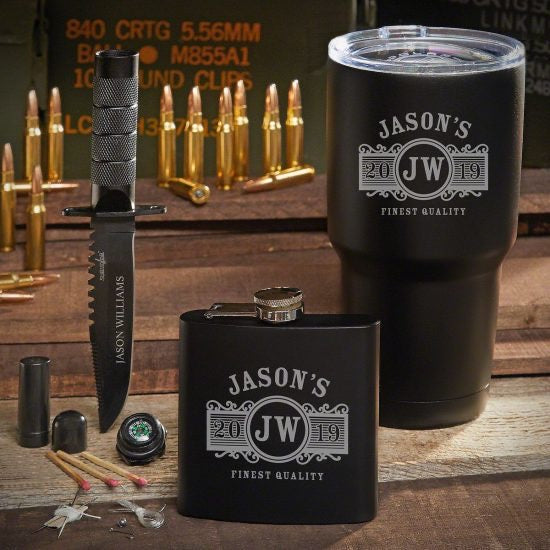 Do you often travel for work or leisure? You'll want to take these essentials with you. It doesn't matter if you're camping with the family, traveling across the country to speak at a conference, or going fishing with your best friend, each of these items will certainly come in handy. The insulated tumbler can hold 30 ounces of your favorite coffee, tea, beer, or plain water to keep you going throughout the day. After dinner, you can enjoy a shot or two of your favorite liquor from the hip flask. The engraved pocket knife is especially useful with its double serrated edge and hidden survival kit when exploring the great outdoors. Everything about this set makes it one of the most practical gift sets you can have!
Flasks, Knives, and Cigars, Oh My!
The person you're shopping for is cool, practical, and classy. He or she likes to wind down with a cigar and a glass of whiskey or go on a spontaneous road trip. You always struggle to find the right gift for them, but not this year! This awesome personalized pocket knife set comes inside a cigar box with a custom engraved liquor flask. There's plenty of room inside the add a pack of their favorite stogies, candy, or another small gift. The best part about this set is that the engraving on the cigar box and flask is totally customizable as it can have up to three lines of text. You can have them say anything from "Happy Birthday Matthew Hicks, World's Best Bro" to Robert Sullivan, The Man. The Myth. The Legend."
Basic Personalized Pocket Knife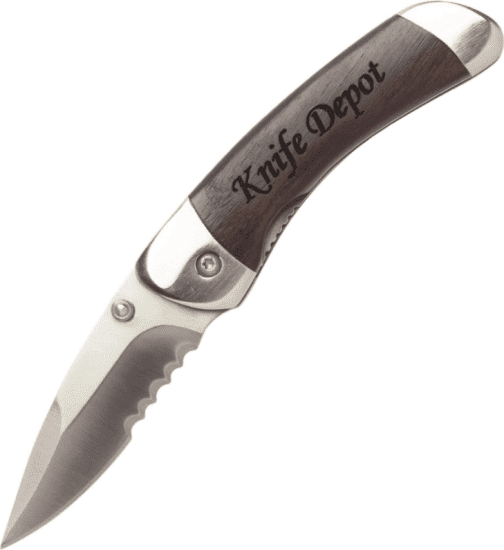 Looking for a basic, simple folding pocket knife with a little personalization? This is it. A classic linerlock knife that's perfect for everyday uses such as opening packages, cutting loose threads, whittling, and more. It has a half-serrated edge to cut rope, zip ties, and tougher materials. You can personalize the handle with the name or line of text of your choice. This basic knife is a great go-to gift for anyone on any occasion.
All of Your Favorite Things in One Gift Set
You're obviously looking for engraved pocket knives, but you probably didn't think you were going to find a set like this! It comes with all of your favorite things: a personalized tactical survival knife, a custom beer mug, a cigar cutter, and a Zippo-style lighter. Now you can sit back, relax, and enjoy a cold beer and a smoke after spending the day fishing and camping with your trusty new survival knife at your side.
Unique Gun Themed Gift Set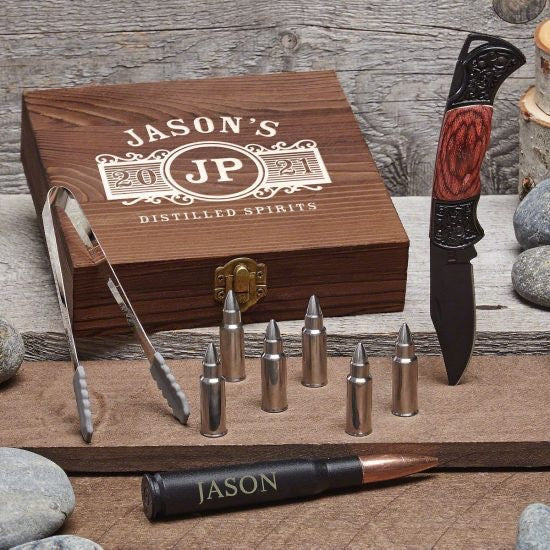 Looking for the perfect gift for someone who is a fan of guns, knives, and drinking whiskey? You've found the perfect gift. The main feature of this set is the handsome lockback knife with its intricate details and polished cherry wood handle. Almost as cool are the bullet whiskey stones, which have their own personalized gift box and accessories. Then there's the engraved bottle opener, which is made from a real .50 caliber bullet. How cool is this set? Cool enough for your best friend, husband, brother, or anyone in your life!
Manly Monogrammed Ammo Can Set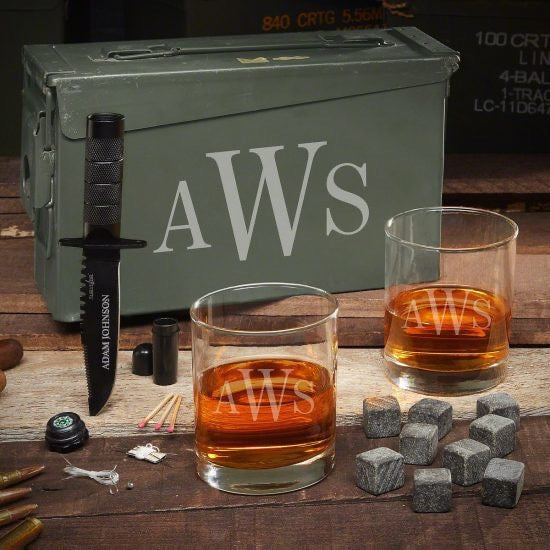 Knives are versatile tools with hundreds of uses. You certainly want to have one on hand when you go camping, fishing, hiking, and other outdoor adventures. This particular personalized pocket knife set is perfect for outdoorsmen. The engraved tactical survival knife will always be at your side with its handy double serrated edges and hidden survival kit. The ammunition box can hold your camping gear, tools, or just your ammo of course. After a successful hunting or camping trip, your personalized whiskey glasses and whiskey stones will be waiting for you to pour a scotch on the rocks at home.
Your New Go-To Gift Set for Any Occasion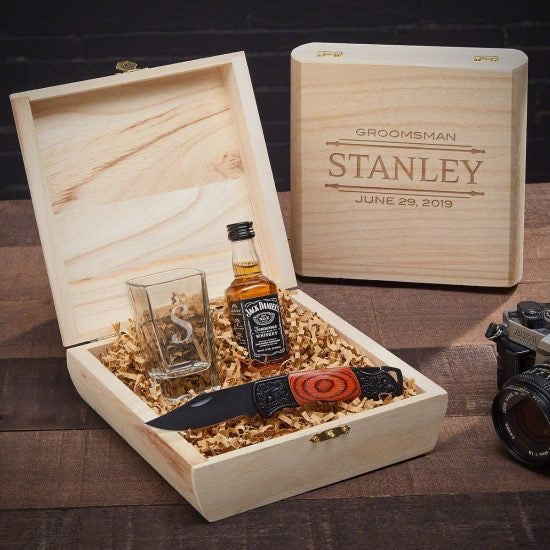 You'll never have to worry about finding the right gift for anyone ever again! Whether you're looking for an anniversary present for your husband, a birthday gift for your best friend, or a retirement gift for your coworker, this awesome gift set is ideal. It comes with a beautiful pocket knife, a monogrammed shot glass, and a personalized cigar box featuring a name, title or phrase, and a date. There's even enough room inside to add an additional gift, such as the recipient's favorite candy or liquor. No matter who you give this to, they will love everything about it!
Exotic Pocket Knife Set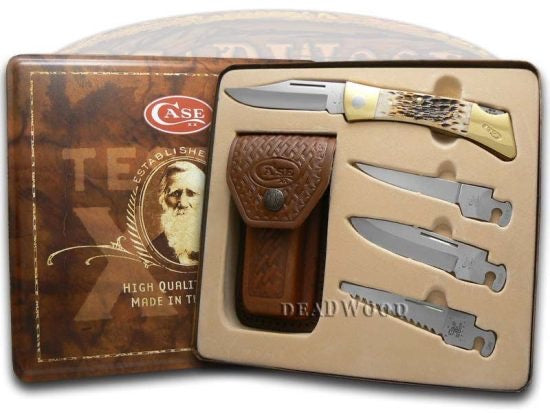 You thought you'd seen pocket knife gift sets before, but have you ever seen something like this? This unique gift set comes with a handsome amber bone pocket knife with a leather case and three additional blades. Each one has its own special qualities, and it gives you the freedom to have the perfect pocket knife for every situation. Need a filleting knife to prepare the fish you just caught? You've got a surgical steel fillet blade in this set to use. Need to cut rope for a DIY project at home? That's where the saw blade comes in handy. The clip and drop point blades are pretty standard for opening packages, cutting fabric or thread in a pinch, and over 100 other uses. You'll be prepared for anything with this handy gift set!
Ultimate Outdoorsman Set
Are you or is the person you're shopping for a big fan of the outdoors? You enjoy hiking, hunting, camping, fishing, all of it? Then you need this ultimate outdoorsman set. You won't want to go anywhere without these essentials from the engraved pocket knife to the 2-in-1 cigar case and flask. The personalized ammunition can is great for storing tools such as the hatchet and climbing gear or plenty of ammo for a weekend of hunting. If you're giving this set as a gift, you can customize the engraving on the ammo can as well as the knife to be just about anything you want so that it is entirely unique for them.
59+ PERSONALIZED POCKET KNIFE SETS>