Giving gifts is always a special occasion, especially when it is a gift box. However, did you know that you can make your gifts even better by taking that ordinary gift box, tossing it out, and putting your gifts inside black gift boxes? Putting your gifts inside a black gift box increases the class, sophistication, and even the expectations of what is inside! So, why wouldn't you want to make your gift feel more epic than it was before with such a simple swap out? Not sure on what gifts would be worthy of one of these awesome gift boxes? There are also gorgeous gift sets that come packed inside a black box ready to make your life as easy as possible. So, need a great gift for any occasion? Want to give the best-looking gift at a wedding, bachelor party, or retirement party? Need something that will look incredible no matter what? Get one of these fantastic black box gift sets and you'll never be let down!
The Coolest Decanter Box Set You've Ever Seen
While black gift boxes add an extra air of sophistication to any gift set, you'll have to admit, that this personalized whiskey decanter set already looks like one of the classiest things you've ever seen! This is the perfect gift to give on any occasion because with the combination of the box and glassware, you'll be blowing everyone away when they see this cigar and whiskey decanter gift set. Oh, and that isn't even to mention that this decanter gift set is personalized too. Talk about a classy gift!
Celebrate with a Gorgeous Champagne Gift Box
Celebrating a major occasion will never be as cool as it will be when you're pulling your custom champagne glasses out of this black box gift set! Perfect for occasions like receptions or New Year's, these glasses will show everyone you take your celebrations seriously! Better still, thanks to the gorgeous design, you'll be searching for any reason to use this set, so Sunday Mimosas will surely become a regular thing!
Top-Quality Wine Box Set
There is something special about finding gifts inside a gorgeous black keepsake box. It could be the memory of opening presents under the Christmas tree as a kid or the child-like glee of getting a gift someone took time to box, wrap, and hand to you. Either way, when you get these engraved wine tumblers out from this gift box, you know you're getting a seriously unique set of gifts! Not only are they personalized but from here on out, your Riesling or Chardonnay will always be chilled to perfection thanks to the insulated tumblers.
Groomsmen Love Black Gift Boxes
Ensure you show your groomsmen just how much they mean to you with a classy black box gift set for them! This personalized box set has all your best mates ready to toast you immediately with the rocks glass while the bow tie and flask ensure that they'll be fully equipped and ready to be there on your big day!
A Classy Presentation Box Set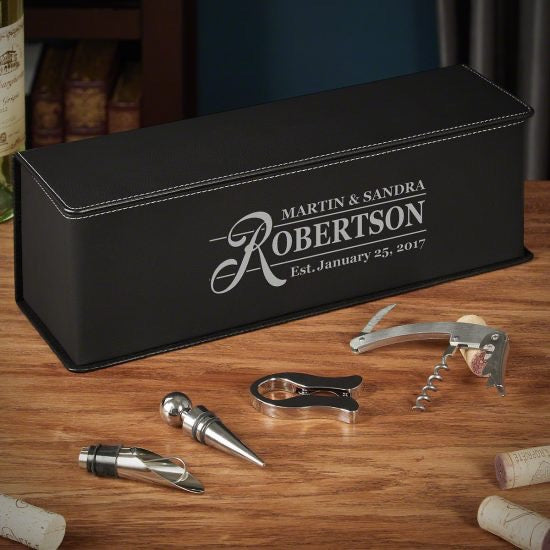 Giving a bottle of wine is a classic gift for so many occasions; however, you know that there is a better way to give it than with a bow around the neck. Instead of a bow (or worse, a paper bag) dress that bottle up in a classy black gift box that also is engraved and comes with all the tools they could possibly need to enjoy the bottle right away! It is even a great gift that they will continue using long after the first bottle has been drunk. Inside, they can store another special bottle for an upcoming occasion or for when the moment is right to uncork that rare or special wine!
Magnetic Black Gift Box
Put your gift on a gorgeous display with this black box. Inside, the box is velvet and satin-lined, so anything delicate will be protected as well as put on display as soon as they pop open the tab holding the lid down. Perfect for smaller items like cufflinks, necklaces, watches, or other jewelry, you can easily make anyone's night by presenting your gift inside this leather-wrapped gift box.
Black Box for Their Favorite Liquor
Upgrade the bottle of liquor you were planning on gifting them for their retirement, promotion, wedding, or birthday by placing it inside this amazing black box! Nothing makes a gift more special than the presentation and there is no better way to present their favorite bottle of whiskey, scotch, or bourbon than inside a fantastically crafted gift box. It even makes for a great keepsake where they can store their next bottle for a special occasion.
Monogrammed Gift Set
How can you even make a box set classier if it is already a gorgeous blackout set? Oh, that is right, simply make it monogrammed! Nothing says "Big Shot," quite like having your initials on each piece of this gorgeous gift. Now, whether you're at home or on the go, you can have that subtle flex of not only having the perfect way to enjoy a drink but being able to do so with a monogrammed flask or rocks glass.
Glencairn Gift Set for Aspiring Connoisseurs
Black gift boxes are also a great way to give a very specific gift. While most work for every occasion, this engraved Glencairn box set is ideal for those aspiring to become true whiskey aficionados. Aside from fitting in with the sophisticated feel involved with whiskey tasting, this set has everything they will need to host tasting parties. The Glencairn glasses are the perfect way to experience the subtle and minute flavors from liquor thanks to their unique shape with a wide-bulb and tulip shape mouth. So, when you've got a fan of whiskey you need to impress with a kickass gift, look no further!
A Personalized Mug Gift Set
Make every night feel like you're at that top-tier bar downtown but in the comfort of your own home with this custom beer mug box set. There is something about a quality box and glassware gift set that makes every beer taste just that much sweeter. Add in that since this set comes with two mugs, and you'll be thrilled that you can share a beer with your spouse, best bro, or maybe even bond with an in-law!
Nesting Gift Box Set
Check out these cool nesting gift boxes. Whether the gift is this gorgeous set itself or you fill each box with a different gift. Everyone will love getting such a unique box set. These boxes are fantastic for delivering tasty homemade snacks, DIY crafts, or even awesome store-bought gifts!
Engraved Whiskey and Cigar Gift Box Set
Get yourself a top-tier cigar and whiskey gift set with this personalized black box gift set! Inside, there is everything any fan of either vice could want when they're celebrating a massive personal win or simply want to unwind on a Friday night. What makes this set stand apart from other box sets is that you can actually take half the set with you on the go. Never be without your cigars ever again when you take the cigar case, acrylic stand, and lighter with you for impromptu celebrations!
Still Searching for Black Gift Boxes?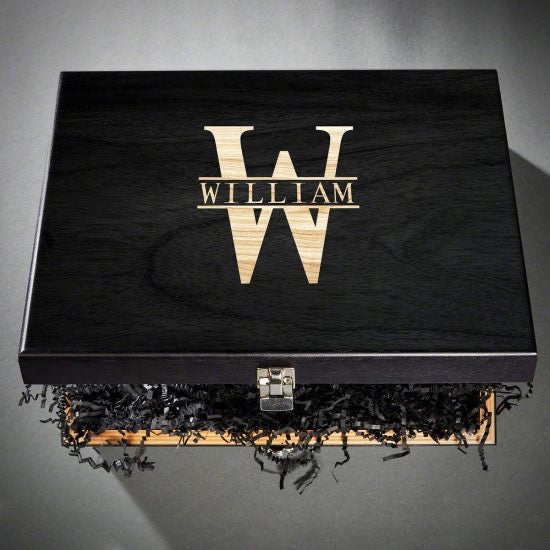 When you already have the gifts you need or want to create a more DIY feel to your gift, there is nothing better than making the experience as unique as possible with this black gift box. It looks gorgeous and classy, but it also has their name on it. How cool is that? Instead of spoiling the spotless box with a name tag, bow, or wrapping paper, they'll immediately know this is their gift thanks to the personalization!
David Harrington is a seasoned researcher with a degree in English literature. He uses his extensive training and research skills to evaluate thousands of gifts a year. He then narrows that list down to a select few, choosing unique gifts that will surprise and delight his readers and their gift recipients.