Gifts don't have to be expensive, even really good gifts. Small gifts for men can be a must when a man in your life deserves a great gift, but you're balling on a budget. You decide to buy him the best small gift you can find that's on the cheaper side. However, you don't want these gifts to look cheap. We realize that it can be difficult to come up with a gift that is small and yet a really good gift, and one that is high-quality while not breaking the bank. The best high-quality small gifts are gifts that express how much you care about this man as well as are things he can use often or enjoy thoroughly. You need to find a cool set of fun gifts for guys that he'll look back on, years from now, when he's thinking about his favorite gifts he's ever received. That's right, even small gifts, if they are the right gifts, will be remembered along with other very expensive gifts he has received. That's a lot of pressure, but it can be done. These small gift ideas for men are fantastic for your husband, brother, or other man in your life that deserves the best, and he'll remember them forever.
Whiskey Set – Great Small Gift for Men
Your man is crazy for whiskey and whiskey sets, but they can be pricey. This engraved whiskey chilling stones and rocks glass set is the perfect small yet fantastic set for a whiskey-loving man. Included is a handsome wooden box for storing small items and a lovely lowball rocks glass for his whiskey. Also included are nine whiskey stones, a pouch for them, and small tongs, making it easy for your man to keep his whiskey nice and chilled. Your man will use this set every time he wants to relax. He'll pull his ice cold whiskey stones from the freezer, place them in his whiskey with the tongs, and sip joyfully out of his new whiskey glass. This is a great small gift for men who like fancy things like whiskey stones and a fancy box.
Small Kitchen Gift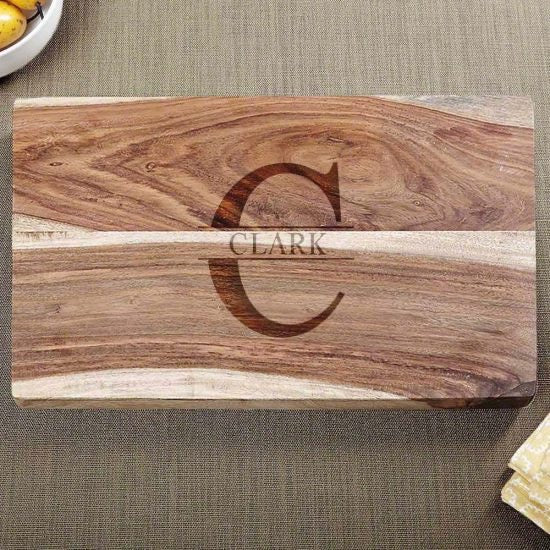 Buying for a man that loves to cook can be difficult when you're on a budget, because fancy cooking tools can cost an arm and a leg. This stylish personalized cutting board is a great small gift for men who cook regularly. This board is crafted from all natural sheesham hardwood, so it's a perfect surface for any cutting or chopping the man in your life does. This is a great small gift idea for men because it's functional and has a manly appearance.
Awesome Cigar Box Set
What is a simple small gift for men that will be loved and used all the time? A cigar box! Specifically, this awesome wooden cigar box is a fantastic gift for your boyfriend or husband who enjoys stogies. This cool set also has a modern whiskey glass and whiskey stones, so your guy can enjoy whiskey and cigars together. This is such an amazing small gift idea for men because it's something you know they'll use all the time.
At Home and On-The-Go
The man you're buying for has a favorite liquor, and you want to get him a gift that he can use to drink it both at home and when he's out and about. This two-part glass and flask gift is perfect for him. This sophisticated rocks glass is terrific for any liquor while he relaxes at home, with bubbles in the base to prevent condensation from forming. The handsome flask provides him the ideal way to transport his favorite liquor wherever he goes. The flask in this awesome golf gift set for men is small enough to fit in his pocket or bag when he is golfing, making it very convenient to carry with him all the time. He'll definitely love this really cool gift.
See the Sign
When you aren't sure if someone will like something or not, it's always safe to go with wall decor. Especially when you have a man in your life that is super proud of the bar and man cave he's cultivated, you know you can't go wrong with a personalized sign. This gift is simple and yet it will make your husband so happy when he sees this wax seal personalized bar sign. It is personalized with an initial on a red "wax seal," making it a very official sign he'll love. This sign is crafted from real birch wood, so it will stand out beautifully on the wall and be the envy of your husband's friends.
290+ GREAT PERSONALIZED SIGNS FOR YOUR HOME>
Everyone Loves Cookies
It's common knowledge that men love food and love gifts involving food. That's why a cookie assortment is a scrumptious, fantastic small gift for men. This assortment comes in different sizes, with the smallest being a 12-count and the largest being a 200-count. Each size comes with a various kinds of cookies, such as chocolate chip, oatmeal raisins, and sugar cookies. A sweet-toothed man will be obsessed with these cookies and will be so thankful to you. It's the perfect small gift that brings a lot of joy.

Growler Gift Set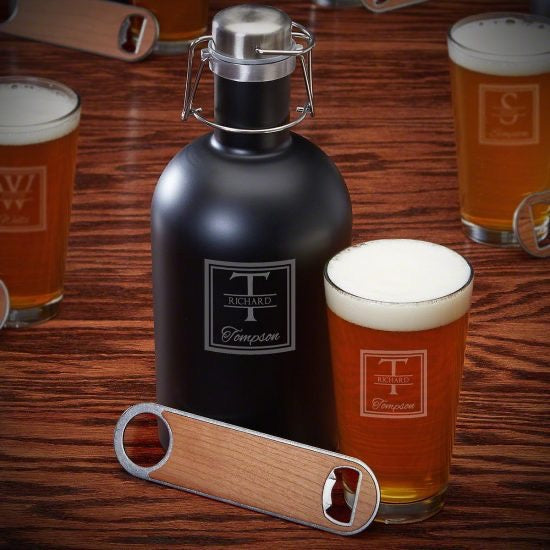 A container that keeps beer fresh and cold is a must-have for beer-loving men. A beer growler is a great container for beer, especially this stainless steel growler. The man in your life will be obsessed with how amazing this growler is and how cold his beer stays inside it. This growler set also includes a sturdy pint glass and a bottle opener, everything he needs to enjoy his favorite beer.
All About Classics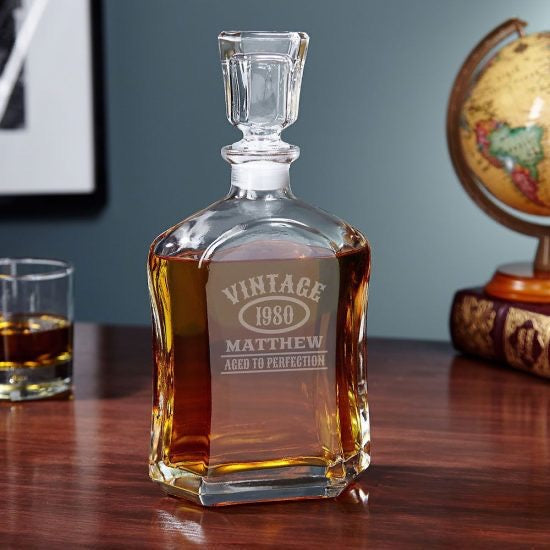 While some people like fancy glassware, others stick with the classic, vintage glasses. This classic decanter is perfect for the classy, whiskey-loving man in your life. His whiskey will never taste or look better than when it has aged in this premium decanter. This is an amazing small gift for men because it is something that they'll use all the time, it's classic and vintage, and it's personalized to fit his personality perfectly.
Coffee Coffee Coffee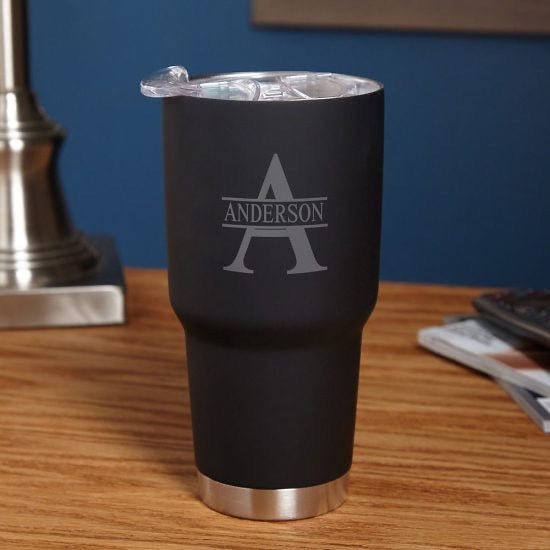 Coffee tumblers are timeless, because people are always going to want their morning coffee. Get your man the manliest, sleekest tumbler around: this personalized stainless steel drink tumbler. Its matte black, smooth appearance will be the envy of all who see it. Its stainless steel interior will keep your dad's or boyfriend's coffee, up to 30 ounces of it, piping hot for up to six hours. It's the perfect small gift for men who love coffee that they'll use for a long time.
Cologne for Him
Women love a good-smelling man, which is why so many men wear cologne. An attractive gift for men that won't break the bank is a monthly cologne subscription. Each month, a package will come to his door with a travel-friendly size cologne bottle of a different scent each month. This makes an amazing gift because it will make any man feel great about themselves and make you very thankful that you got it for him.
Flasks Make Great Small Gifts for Men
You can't think of small gift ideas for men without flasks crossing your mind. The best flask is one that is dignified and classy, and the leatherette wrapped liquor flask in this set is just that. Your friend can carry his favorite spirits in this sleek stainless steel flask wrapped in faux dark brown leather. Its color will help it blend in with many outfits, so the great friend in your life can store this flask discreetly in his clothing without arousing suspicion. Also included in the set are stainless steel shot glasses and a funnel, making pouring shots from his flask so easy. He'll love this super fun flask set and is sure to enjoy a shot or two with you.
Manly Wine Glasses
Wine is a popular drink among men as well as women, but dainty glass wine glasses may not fit your man's personality and aesthetic. These sleek, stainless steel wine glasses set is a phenomenal gift for a wine-loving guy. Crafted from durable stainless steel, these glasses will keep your husband's white wine chilled for hours. The handsome box adds a manly touch to the set as well, and the black corkscrew will help him pop open all of his favorite bottles of wine.
163+ STUNNING WINE GLASSES GIFTS>
Cold as Ice
Room temperature whiskey is no good, so you want to buy the whiskey fan in your life a set with whiskey stones. Look no further than his amazingly unique whiskey set. These whiskey stones are identical to bullets, adding a special twist to the typical cube-shaped whiskey stone. The bottle opener in this set is also shaped like a bullet, adding to the uniqueness of this set. The man in your life will be obsessed with this whiskey set and will use it again and again.
Funny Socks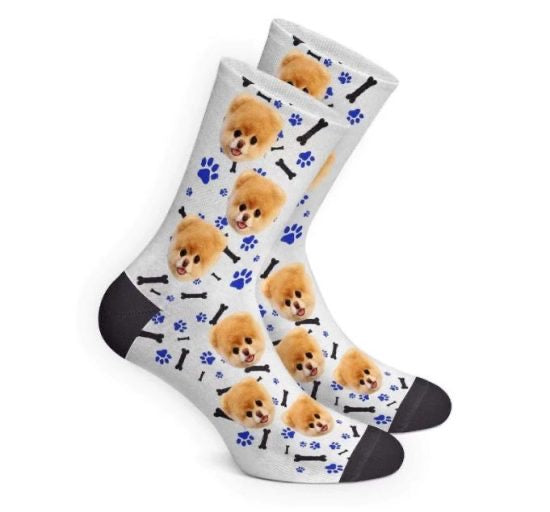 Socks seem to always be a go-to gift for men. So why not get him socks that aren't typical socks? Your husband will get a kick out of these hilarious socks – they are personalized with cutouts of his dog's face on them! The colors are rich and vibrant, with the face perfectly cut out and patterned onto the socks. It's made from polyester, Nylon, and spandex, with premium threading that resists fabric pull and prevents the faces from fading. This hilarious gift will last for a very long time, and the sock-loving and dog-loving man in your life will be extremely grateful for this small gift.
Awesome Bar Sign
He's a huge golf fanatic, and you want to buy him a golf-related sign for his home bar. This 19th hole sign is a funny, golf-related and customized sign that he will absolutely love. It's a handsome dark green color with bright lettering, so it will stand out from across the room and make all who see it very jealous. The golf-loving man will be obsessed with this awesome gift, and he'll look at it all the time.
Man Cave Must-Have
Man caves just aren't complete without attractive, meaningful wall decor. This shadow box is the perfect addition for your guy's man cave. He can store his cigar bands in this display case for everyone to see, adding contrast colors to the black frame, making this decor really stand out in his man cave. This one-of-a-kind shadow box is an amazing accessory that is not only visually attractive but a functional way to collect cigar bands.
Coolest Can Ever
The novelty of a gift can make all the difference. This ammo can is repurposed from the United States military, meaning it used to carry live rounds of ammunition for the armed services. How cool is that? Your husband or boyfriend can now carry this repurposed can as his own, with whatever he wants inside it. He'll love the novelty of his gift, and all his friends will no doubt be extremely envious of it.
Cup and Carafe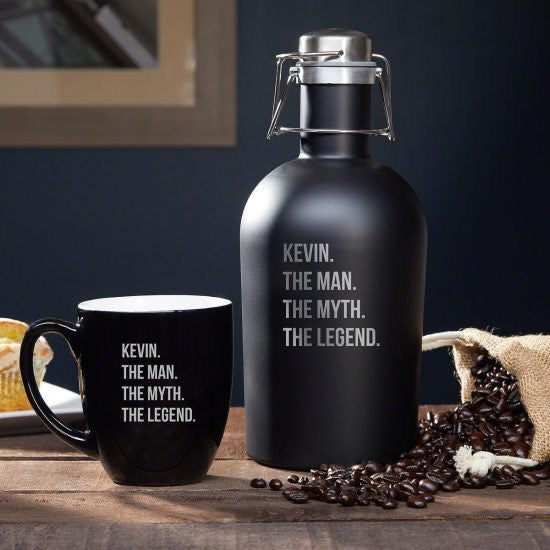 Coffee-on-the-go is a must-have, and sometimes the amount that fits in a typical tumbler isn't going to cut it. Your caffeine-frenzied man needs this coffee carafe in his life. It holds an impressive 64 ounces of his hot coffee, and because of the stainless steel interior, it will stay piping hot for hours. The matching black mug is a great addition to the carafe, and your man will feel amazing drinking coffee out of it.
Watch Me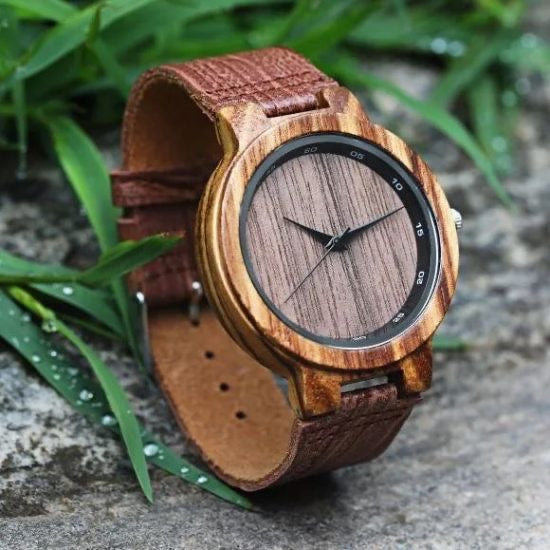 Watches are a great way for men to accessorize – and tell the time, of course. This engraved wooden watch, crafted from Zebra wood and Bamboo, is an outstanding small gift idea for men. It's very handsome, with the two materials creating a beautiful brown exterior that looks very expensive while being extremely affordable. The leather band is genuine distressed, making the watch look even more high-class. It comes in a nice eco-friendly box which completes the novelty of the watch.
Golden Gift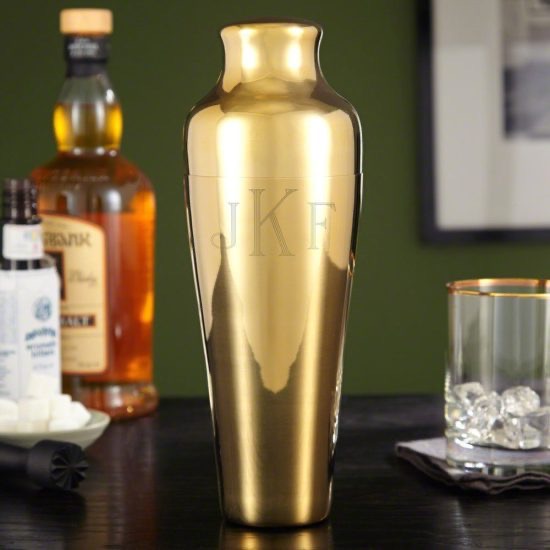 Men who have their own bars and love to make mixed drinks greatly appreciate any gift, whether a big or a small gift for men, that makes their bars better. A phenomenal gift for your bartender husband or father is this gold cocktail shaker. This piece of barware will stand out beautifully from the rest of his tools by its stunning gold appearance. Crafted from stainless steel, this french-style cocktail shaker will help your favorite bartender make delicious cocktails easier than ever before. And as another upside of this gift, your dad or husband will likely start making you a lot more cocktails with this gift.
For a Legend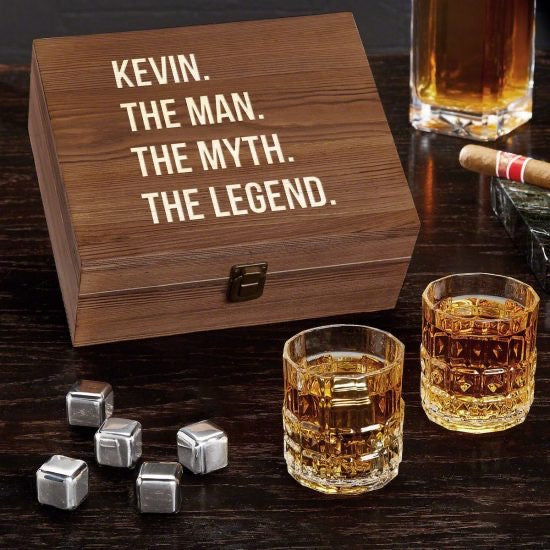 Box sets make great gifts, even if it's a smaller gift set. This personalized whiskey box set is a tremendous gift for any man in your life who loves whiskey. It comes inside a beautiful brown box to store the other items or anything he wants. The man in your life will feel super cool when friends see his box displayed in his home. Inside the box are two rocks glasses for his favorite whiskey, eight stainless steel whiskey stones, a pair of tongs, and a travel bag for easy transport of the stones. His whiskey will stay ice cold for a long time with these beautiful whiskey stones. This is a fantastic small gift idea for men because it's an entire set that he can use for the rest of his life. The glasses and whiskey stones are very high quality and will last a long time, which is what you want from any gift.