Escaping from reality and going camping in the great outdoors is one of their favorite activities, and you can't blame them. While camping is a fun experience, it's made way better by having the best camping gifts around. Super awesome camping gifts are those that are extremely practical and make all aspects of camping easier. You might be wondering: What kind of practical gifts make camping easier? We'll let you know, because we've found all the greatest gifts for camping that everybody—including you—will want to use for all of your camping trips from here on out!
All the Necessities
The ultimate camping gift is this ammo can set. The essentials in this set will make their camping trips so much better because they'll have the proper tools they need for cutting and chopping as well as the perfect flask for enjoying cigars and liquor around the campfire. The awesome ammo can is the perfect way to carry all the essentials with ease. They'll regret all the times they went on camping trips without this set!
Best Camping Gift for Beer
No truly great camping trip can possibly be complete without the campers' favorite beers. This custom beer tote makes it easy and convenient for them to bring bottles of their favorite beer along. This won't just be a useful gift for carrying their beer either. The tote ensures they'll never be without a bottle opener, this truly is the best gift for camping ever!
Non-Fragile Best Camping Gifts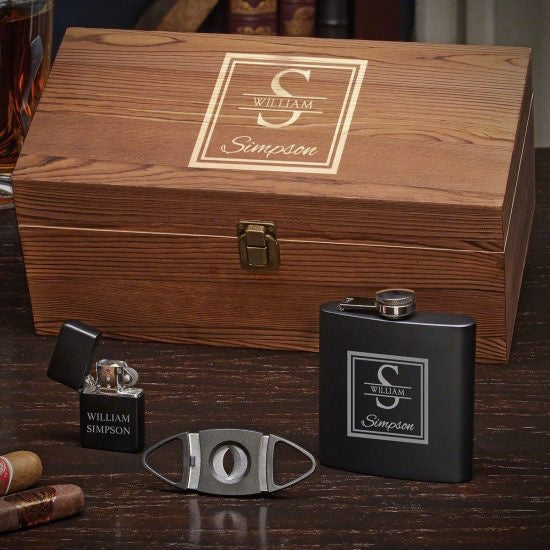 When you're lugging all of your possessions on your back as you traipse through the forest, it's important that your items aren't breakable. The cool accessories in this box set won't break, so you don't have to worry about their safety. Not to mention you will love smoking stogies and enjoying your favorite spirit while you're on your camping trip. Talk about one of the best gifts for being outdoors!
Stealthy Drink Growler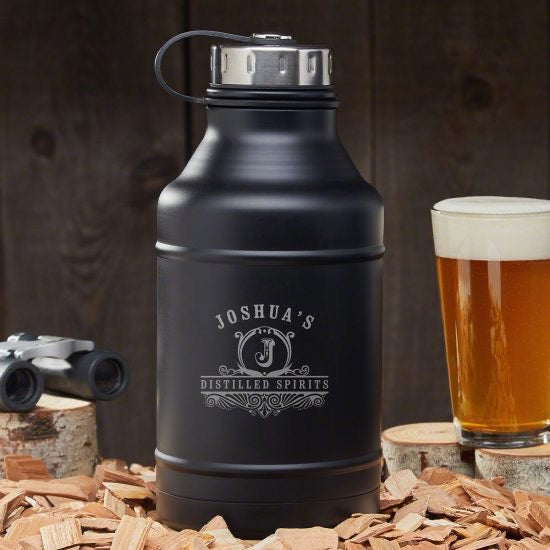 Although camping trips are usually about spending more time in nature, it is even more relaxing when you are able to enjoy a delicious drink from home. This large growler is the perfect gift that will keep their favorite drink how or cold for hours. They'll love having their favorite coffee, beer, or any other drink with them while camping!
Stay Alive With this Camping Gift
It's borderline foolish to be out in Mother Nature without the proper tools, which is why this is the perfect gift! They'll have a knife for any of their cutting needs, and the emergency supplies might just save their life too. Because water is necessary for life, the drinking accessories are must-haves as well.
Communication is Key
Safety is extremely important when you and your buddies are out and about in Mother Nature. Communication is essential to staying safe, which is why this set of walkie talkies is an awesome camping gift for any of your camping friends. They'll never have to worry about not being able to get a hold of you and the rest of the group.
An In-Tents Ammo Can
Because it can be difficult to carry all necessities when on camping trips, a container is a phenomenal gift to use while camping. This ammo can is perfect for camping equipment, fishing tackle, ammunition, or anything else they may choose, and it will make carrying these items so much easier. Plus, they'll feel like the coolest person ever carrying it around.
Fresh Air + Fresh Liquor = Perfection
There's nothing quite like sipping on delicious liquor while enjoying the fresh air of the wilderness, and there's no better and easier way to fully indulge in vodka or whiskey than with a personalized flask, and shot glasses if they choose. This gift will fit perfectly in their shorts pocket or backpack, and they'll be super glad they have a way to enjoy their favorite spirit in the woods!
Beat Your Buds at Bean Bag Toss
When you're camping with your buddies, you need to take full advantage of your time together. This bean bag toss game is the perfect camping gift because it will provide hours of fun and competition for you and your friends on your camping trips. You won't regret tossing this game into your online cart.
Best Camping Gift for Stogies
Camping trips provide ample opportunities for people to enjoy their favorite beloved stogies. The perfect way to transport them on a camping trip is with this cigar case. The monogram on the case will have the feeling like a classy aficionado, even in the rugged woods. They'll love having three of their favorite cigars with them as they chill outside their tent, and they'll be so happy you got them this super cool case.
Water is Life
Water, of course, is an absolute essential to life, so no camper ever wants to find themselves without some when they're in the wilderness. This pack of Lifestraws are must-haves because you can drink out of any lake or stream with these straws without fear of getting sick. This is the best camping gift that could literally save somebody's life!
Hot Joe and Mother Nature
In the early mornings of your camping trip, nothing is better than enjoying a delicious hot cup of coffee while listening to the birds chirp. This coffee carafe set is phenomenal because the carafe will keep your coffee piping hot for hours, so when you pour it into your mug, it'll taste exactly like you just brewed it at home.
Don't Get Stuck in Forest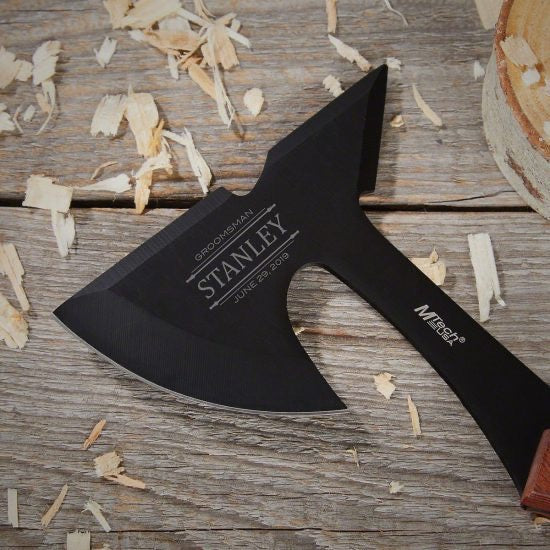 When in the wilderness, you never know when you could find yourself in desperate need of a useful hatchet like this one! You'll be able to cut through dense shrubbery in seconds with this powerful tool, which is sure to come handy in the great outdoors. Plus, using this will make you feel super cool as you carry it around the woods, making it an awesome camping gift.
79+ UNIQUE CAMPING GIFTS EVERYBODY NEEDS>