There's a special person in your life who is a huge fan of camping, and you want to find a really good camping-related gift for them. If you aren't sure what to get them and have questions, don't fret! We're here to answer your questions about camping gifts, such as what would a camper actually like and use while camping? Should gifts be more on the practical side or the fun side? Or maybe you just want to find out what some great camping gift ideas are? Well, they are unique, useful gifts that will make at least one aspect of camping easier and more enjoyable. We've tracked down all the best camping gifts that the camp-loving person in your life will love and use.
Custom Drink Growler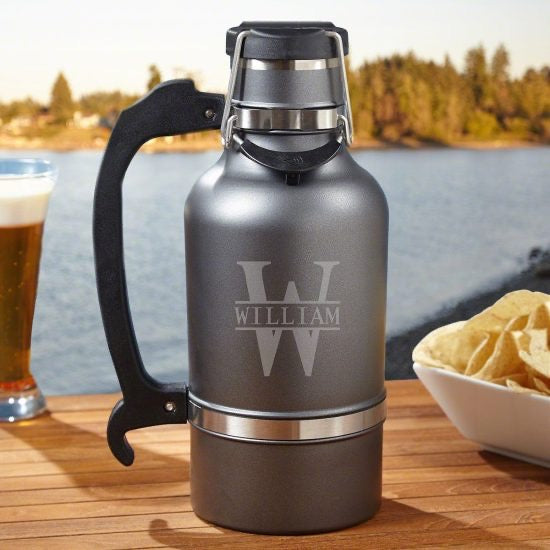 Being out in the wilderness can make you work up a thirst. That's why any camper will wonder how they ever lived without this double walled gunmetal beer growler! This is one of the best camping gifts that is super useful because whether it's beer, coffee, water, or any other beverage, they'll really appreciate having enough beer for the day inside this handsome growler. Not only that, but it will keep hot beverages hot for up to 12 hours and cold ones chilled for up to 24 hours. How awesome is camping gift?
Ammo Can Set of Camping Gift Ideas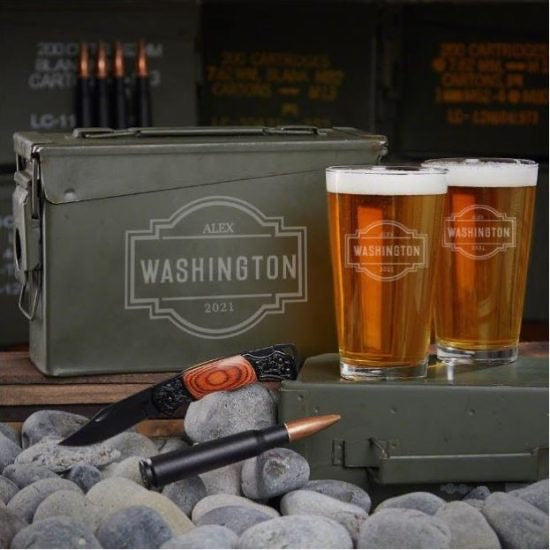 There's no way that this ammo can gift set isn't the coolest gift they've ever received! The personalized, rustic ammo can is the perfect container for bringing snacks on their camping trip, a first aid kit, grilling tools, or anything else they can think of. Plus, when they're relaxing in the evening after making hot dogs or fish over a fire, they'll have these custom pint glasses to finish off the meal with a nice brew will absolutely make their day.
Keep Them Caffeinated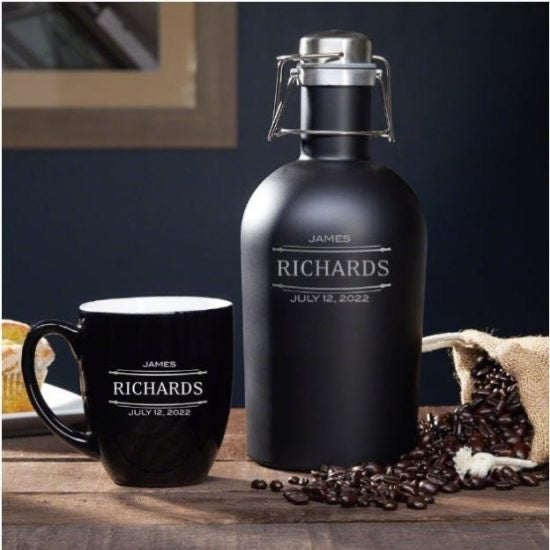 Coffee is an absolute must on those early mornings after you've crawled out of your tent. Give them a great way to drink and store their delicious hot coffee with this custom mug and carafe set! They'll really like sipping coffee from this handsome black mug while enjoying the sounds of the great outdoors in the early morning. Not only will they be able to enjoy a mugful of coffee, but when they want to enjoy coffee throughout the day, they can store it in this carafe so they have piping hot coffee for the rest of the day!
Best New Tent
Amp up the camping experience like never before! This 8 person tent is definitely one of greatest camping gift ideas ever! This will immediately replace their current tent because it's made from sturdy materials to ensure it can withstand strong winds and other weather conditions, and there's plenty of room for them and up to seven others when they want to camp with several others. They'll be so appreciative of a nice, brand new tent that they can use to camp with friends and family.
Camping Idea for Liquor and Stogies
Camping is the ultimate time to relax and enjoy their favorite things. That's why they'll absolutely love bringing along this stainless steel cigar flask after you give it to them! This flask provides them a very compact way to bring a couple stogies and some of their favorite liquor to the campsite. They'll be really thankful for the lack of space it takes up and how it makes their camping trip that much more awesome!
Whiskey and Axe Set of the Best Camping Gifts
Any avid camper has had to do their fair share of chopping firewood. This whiskey set is the perfect camping gift to pay homage to that hard work! They'll feel so cool with this custom axe displayed in their home or cabin, reminding them of how tough they are. After the next time they have to chop wood for the fire or do other camping-related work, they can reward themselves with a nice cold glass of whiskey!
715+ INCREDIBLE WHISKEY GIFTS >
Personalized Outdoorsy Sign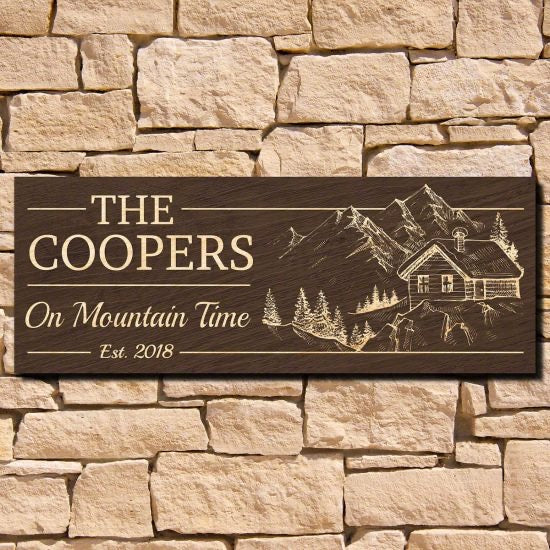 Being in the wilderness is their absolute favorite place to be. They don't ever really feel at home unless they're in the mountains, relaxing with nature. That's why you know this wooden mountain sign will look awesome hanging in their home, their cabin, or in their RV. It'll encourage them to make as much time as possible doing their favorite thing.
Ammo Can Set that's Perfect for Camping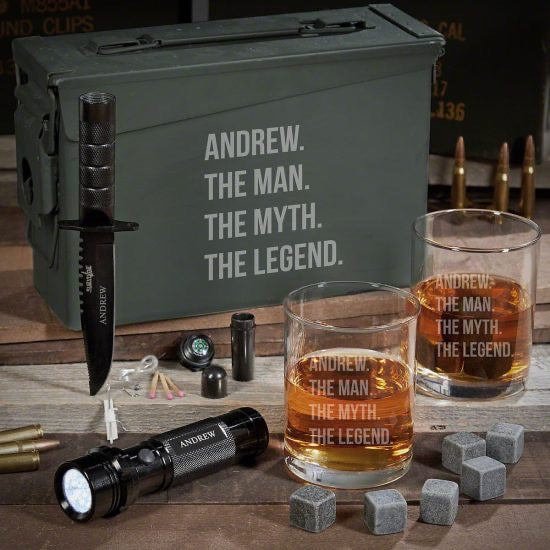 This personalized ammo can set is one of the most perfect camping gift ideas ever! With it, they'll be fully prepared for all kinds of scenarios. When they need the perfect container for transporting cooking equipment, fishing tackle, or anything else, the ammo can is just what they need! One thing they'll definitely need to keep inside it is the flashlight and tactical knife, which will definitely come in handy when they're walking around at night and in any other potentially dangerous situation. That isn't even to mention yet the rocks glasses which are perfect for the evenings when they need to unwind after a hard day in the wilderness. They'll be so thankful for a gift that helps them in so many different ways!
Bringing Beer is a Must
Don't forget the beer! Make sure they always have a way to bring a six pack of their favorite brews with this handsome wooden beer caddy! They'll be a big fan of how easy and convenient it is for them to bring some delicious beer bottles with them to the campsite so themselves and their camping companions can enjoy. This gift will bring them joy every time they go camping!
Fun Camping Game
The best camping gifts include a fun activity to do while on a camping trip! This ladder toss game set is an awesome gift idea because it's a unique, fun game that everyone on the camping trip will enjoy participating in! Camping is all about spending time with friends and family, and what better way to enjoy each other's company than with a fun, competitive game? They won't be able to imagine a camping trip without such an exciting game that is simple yet a load of fun!
Useful Gift When Camping
This set will definitely come in handy during every single camping trip! Having the perfect flask and tumbler to sip on their favorite liquor or coffee will be so convenient when they're out in the wilderness. And there's no doubt they'll be a huge fan of the survival knife with its potential to save their life! That's why these gifts will never leave their side when they're at the camp site as well as on their person when they're on hikes.