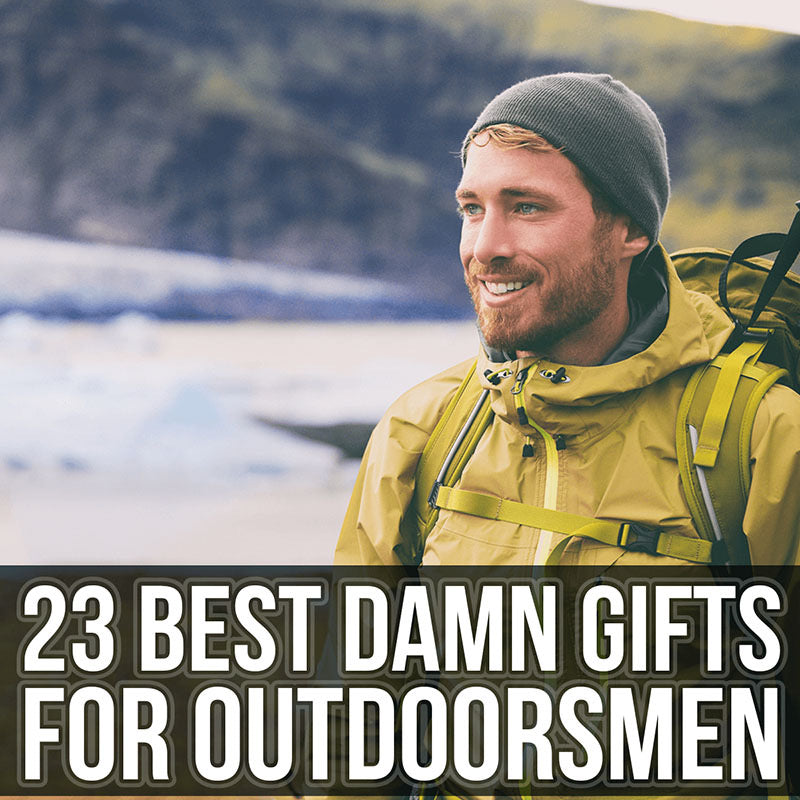 23 Best Damn Gifts for Outdoorsmen
Make His Next Trip Badass With These Awesome Gifts for Outdoorsmen!
Men, they live to be outside. They take a deep breath and can smell the morning dew as they approach a forest full of cedar or pine trees. Gifts for outdoorsmen need to be something easy to carry and practical. These presents must be something they need, because if it isn't necessary, it isn't coming with them on their trip outside. When a guy goes off into nature, he is only bringing his essential tools and a few creature comforts; however, that doesn't mean the stuff he is bringing with him can't be completely and totally kick ass! Make his next outdoors trip better than ever because of your awesome outdoor gift for men. Buy the outdoor gift that best suits the outdoorsman in your life!
Can You Imagine a Better Gift for Outdoorsmen?
He's out all day on the job. He is almost always gone from dusk until dawn. Make his day a little better with some of the bare essentials! He may have a box or even an ammo case to take his things to and from, but does he have an ammo box with his initials on it? Have him use this ammo can during the week to bring all his outdoor needs with him and on the weekend, he can use the ammo can, for, well, ammo! Once the day is done, he is sure to find a use for the bullet bottle opener and pint glasses, and you know he will always have the knife on him for any of his cutting needs!
Custom Cornhole Sets Are Great Backyard Gifts for Guys
Any guy who loves hanging out in his backyard with family and friends needs a custom cornhole set! This awesome outdoor gift is perfect for casual gatherings, family reunions, and holiday parties any time of the year because it can be played outdoors or indoors when the weather isn't ideal. The outdoorsman in your life will love having his own cornhole set to play at home so that he doesn't have to wait for the chance to play it at his favorite bar when he goes out with his buddies! Watch out, he'll get so good at this game that he'll want to enter the local cornhole league in no time.
Infuse His Outdoor Passion Indoors
If for some reason he can't make it outside to his normal bonfire, but still needs some of that smoky goodness indoors, have him take his best whiskey to a whole new level of flavor. This smoker set lets him infuse his booze with wood chips or herbs to alter the flavors to his liking. Sometimes outdoor gifts are more about bringing nature to him, rather than bringing him to nature. If he loves the taste of a whiskey that has been sitting by the campfire all night, he'll be able to recreate that taste any time he likes with this awesome set of gifts for guy friends who love the outdoors!
The Ultimate Gifts for Outdoorsmen
Grilling and the outdoors go hand in hand like coffee and the indoors, you just can't have one without the other. Make sure the outdoorsy guy you know has the best grilling tools possible with this custom bamboo set! By far one of the best personalized gifts for outdoorsmen, any man who enjoys being outside whether it's just his backyard or relaxing at the lake needs his own set of grilling tools. He'll especially appreciate the fact that he can bring these tools on any outdoor adventure thanks to the handy carrying case that's engraved with his name!
A Hot Gift for Him
Whether he is a backpacker or a hardcore camper, a stove that lets him cook without weighing him down will always be appreciated. Light up his world like nobody else with this ultralight cooking stove. Weighing in at less than 9 ounces, he'll hardly notice that it's even in his bag; yet, it will still do all the cooking he needs. The stove is patented to work off only a few twigs and still be able to do all the necessities of a stove!
Beer, To Go Please
He plans on going on a hike with you and a few friends. The plan is to make it to a peak or cliff and then crack a couple of cold ones. A cooler is too bulky and the only bottle opener you and he have is on the top of your wine bottle opener. A perfect solution is a wooden beer caddy with a built-in bottle opener as a gift for the outdoorsman in your life! This caddy will have you arriving to any location off the beaten path in style and ready to pop the top off some sweet brews!
The Manliest Gift For Outdoorsmen
Your man is more man than most men you may know. For that sort of manly man, a gift set with all the tools of exploration he could ever need is in order. He doesn't need a compass; he can simply stroke his beard and look all smoldery-like off into the distance to determine which direction he can go. But as much as he has tried, he can't cut things with his bare hands (yet, that is). Give him the knife and hatchet for cutting and chopping, a liquor flask and cigar holder combo, with his own personalized ammo can! This set will have him clearing wilderness brush in no time! Whenever he gets a little tired from blazing his own trail, he can stop to enjoy a cigar and take a sip of his favorite whiskey from his flask. Give the manly outdoorsman, a manly gift!
Versatile Gifts for Outdoorsmen He Never Knew He Needed
When the outdoor-loving guy is out enjoying nature, he often likes to bring a couple of cold beers with him. However, once he takes them out of the cooler, he doesn't have very long to enjoy his beer before it gets warm. Make sure that he never has to deal with a warm beer ever again with this versatile insulated beer chiller! He can use this chiller to keep cans or bottles cold until the last drop, and it even has a built-in bottle opener so that he has one less thing to worry about bringing along to the lake or the mountains.
Waterproof His Adventures
Not all things go to plan in life. Sometimes what looks like a perfectly sunny day can turn into a torrential downpour. For these occasions, a high-quality hiking jacket is always great to have on your person. For the guy who gets stuck in storms or maybe even for the guy who looks nature in the eyes and doesn't let some rain stop him, a waterproof jacket is the best outdoor gift. He'll be able to keep everything he had planned that day by ignoring both wind and rain with this awesome jacket!
Beer Box of Manly Mugs
After a day out on the trails nothing beats coming back home to a cold one. That refreshing beer hitting your lips after getting sweaty and dirty makes that first beer taste all the better. Outdoorsmen who spend hours upon hours outside will have a thirst for more than just one pint glass when they get back. To make them feel at home, give them a set of mugs they so they can quench their thirst with two hands! While the glasses stay in-doors, the display box is a perfect case for any of his outdoors needs!
The Perfect Cigar & Whiskey Gift for Any Outdoorsman

Some of the best gifts for outdoorsmen are simple and sleek. A personalized cigar case with a cigar cutter is fantastic for the cigar smoking woodsman. If he is out in the forest, walking a trail, heading to the top of a peak, what better way to stop and enjoy the moment than with a cigar? And since you know that no matter rain or shine, he'll be outdoors, a flip-top lighter is the perfect complement to his cigars. He may prefer to use matches, but sometimes nothing beats the reliability of a refillable lighter when a celebration is in order! Then, when he gets home after a long day, he can fill his new favorite glass to relax with his favorite bourbon!
A Sharp Idea for a Gift
You're pretty sure if he needed to, he could shave his face with a rock and then use sea foam for shaving cream. This gift for outdoorsmen will give a man of that caliber everything he could ever need. In lieu of a rock, he has a hatchet or knife to shave or he could put them to a more practical use for any of his outdoor needs. The set also comes with everything he will need while hiking the trails or climbing a mountain to celebrate his victory with a cigar and sip of whiskey. Let him explore the world with an awesome set of tools by giving him this incredible gift set!
These Boots Are Made for Walkin'
No matter how macho he is, everyone wears shoes. He needs them for both short and long hikes alike. For the guy who walks all day, in all conditions, there is no substitute to a good shoe. For that, a waterproof hiking shoe is exactly the gift to get. The solid rubber bottom with give him enough grip to climb any mountain in his way, while the coating on the outside will keep his feet dry through any stream. Keep him happy by keeping his feet happy!
Relaxin' in the Rough
He comes home often smelling of bonfire smoke and he would go camping every weekend if he had his way. For the times when he can make it out into nature, he'll want his bug out set. An ammo can with his best cigar and whiskey accessories means he is always prepared for a weekend of roughing it in the woods. Gifts for outdoorsmen aren't always about making them rough it, sometimes giving them a bit of relaxation is what it's all about. After splitting wood, filleting his catch of the day, and pitching a tent, he can finally sit down and enjoy a bit of refined society!
Unique Outdoor Gifts
It doesn't matter if he's relaxing in his camper after a long day of driving cross-country or just chilling on the patio at home, this set of gifts for outdoor lovers is sure to be enjoyed anywhere! He will love the unique bamboo sunglasses for protecting his eyes while he's out in the sun that also look awesome, but his favorite part of this gift set will be the custom glass and whiskey stones. There's nothing like a nice, cool drink after being out in the heat all day and this set ensures that his bourbon or Jack and Coke stays perfectly chilled until the last drop.
Must-Have Golf Gifts
Whether you're in search of outdoor gifts for dad, your boss, or your brother, you can count on one thing: golf gifts are always a good idea! Any guy who enjoys being outdoors will of course enjoy the ultimate outdoor sport, and this trio of golfing essentials will make his day on the green better than ever. With a custom bag tag, he'll never mix up his golf clubs or bag with anyone else's again, and he won't have to mess with the flimsy divot tools he gets at the course now that he has his own stainless steel one! Plus, when he gets a hole-in-one, he can celebrate with a sip from his handy flask.
A Bright Idea
What's one of the most important things when going outside? Being able to see! If he is an early riser or a night owl when it comes to going out into nature, let him see as if it were daylight! This flashlight can blast 12000 lumens for 700 yards. He'll win every round of flashlight tag from here on out. Even better, it's lighter than other lights this bright because it is powered by a rechargeable lithium battery. This light will keep him going and he won't ever be weighed down by those giant D batteries again.
Fire Away with This Gift
Gift sets that guys can use whether they are at home or away with the boys are awesome. When he is out camping, he can bring his own whiskey set and chill his drink with the most manly whiskey stones ever: bullets. If he's too far off the path and can't bring his glassware, that is okay too because he'll always be able to pocket a bottle opener made out of a 50 caliber bullet! This gift for the outdoorsman in your life is perfect because he'll never go dry with this set up in in his pocket!
Give Him The World
On the days he isn't out in the world doing manly outdoors things, a gift that reminds him of exploration is one of the best things you can get him. You know he already has all of the tools he needs for outside, so get him something he can use when he comes home after trekking miles and miles in the woods or in the desert. A globe decanter with glasses that have the Earth on them is the perfect gift for the outdoorsman. He can check out all of the places he has visited on his globe while sipping his favorite whiskey or scotch!
A Gift for Outdoors and Back Again
When he gets back home from the sun beating down on his neck all day, he is going to need a tall, cold drink. Help him get one with this gift set. Nothing makes a day outdoors feel worth it more than a frosty mug waiting for you when you get home. With this set, he can have that perfect mug full of beer after blazing the trails all day. Not to forget that he'll also have his personalized survival knife with him too, just incase. Give the beer-loving outdoorsman you know a gift set he won't soon forget with this survivalist beer box set!
Not Your Average Backpack
He walks outdoors for miles every day and is still using the off-brand backpack from when he was in high school. You both know it works, but you really want something better for him. Something that will make his day easier, take some of the load off if you will. A bag that can be tailored to his size with chest straps will do just that! Get him a bag that can carry everything he needs and more, that will be as comfortable as possible!
Legendary Gifts Any Outdoorsman Would Love
You asked for outdoor gifts, and you've got it! This ultimate ammo can set has it all: a survival knife that makes sure he's ready for anything, an LED flashlight to light his way on nighttime adventures, an ammo can to carry his gear or rounds, and even a set of rocks glasses and whiskey stones to enjoy a relaxing drink after a day in nature. Plus, the personalization on this incredible gift set will make any outdoorsman feel like the coolest guy in the world as he carries his custom ammo can around the campground or sips from his matching glasses on the porch. With all of the practical items in this set, he's sure to get plenty of use of each and every part of your gift for years to come.
Masculine Minimalism
Even the most minimalist guy is still going to need some tools when he goes off into the wilderness. Keep his spirits high and hand him one of the most versatile tools he could ever ask for. This box set comes with a personalized flask and a knife, which are perfect for the minimalist. Gifts for outdoorsmen who truly go out to nature only need the bare essentials! Using this gift, he'll be able to take his favorite spirit into the woods, without much added weight or inconvenience and he'll have a knife for all his sharp and pointy needs!