Whether he's always traveling for work or just enjoys exploring in his free time, the guy in your life is constantly on a new adventure. He loves being outdoors, stopping at every quirky tourist stop on a road trip, and always takes the roads less traveled for fun. Such a guy is impossible to buy gifts for because he likes to pack light and only bring the essentials. Well, this time you're going to get him the most impressive travel gifts for men he's ever seen! The most important things to consider when searching for gifts for men who travel are to think about how useful it is, if he can easily bring it along with him, and if it's something that will help him out. As long as the gift fits those criteria, you're golden. See? Shopping for men always on the go can be easier than you thought!
The Classiest Gifts for Men Who Travel
Ah, there's nothing like a freshly cut stogie and a glass of bourbon after a long day. Whether he's a corporate guy who often travels the world for work or is a classy man who likes to explore, he would love to bring his two favorite vices along with him. He's tried to do so before, but his cigars ended up getting crushed, which ruins the whole experience. Solve his problem with a cigar case and the coolest rocks glass he's ever seen! The stainless steel cigar case will hold up to three of his stogies and keep them both fresh and safe from harm, and it even comes with a cigar cutter! When it's cigar and bourbon time, he'll want his awesome new rocks glass that holds his cigar for him. This unique feature allows him to puff and sip with one hand while flipping through a book or scrolling through his Twitter feed on his phone with the other.
A Gift He Can Take with Him Fore Miles
For a guy who often travels for work, he doesn't get a ton of time to do his favorite things, especially golfing. One of the best gifts for men who travel and love to golf is this portable putting set! Wherever he goes, he'll be able to enjoy his favorite hobby indoors or outdoors. He can practice his swings and aim whether he's in the office at work, his hotel room, or even at the campground when he's on vacation with the family. When he gets to go to the actual golf course, his fellow golfers will be impressed at his skill and how it's improved! The entire set is collapsible and fits neatly in the handsome wooden carrying case so that he can bring it anywhere.
Always Be Prepared for a Drink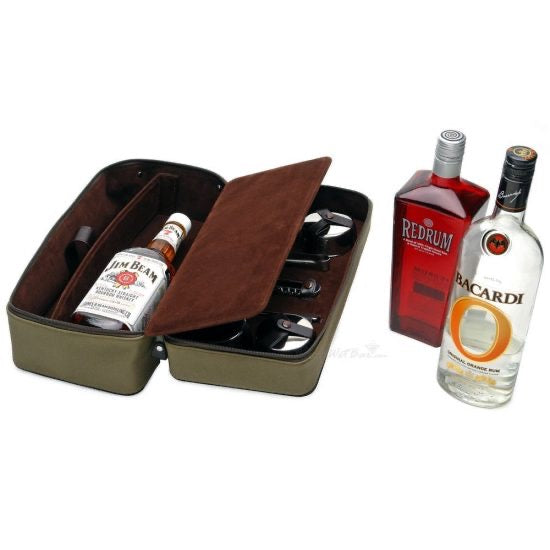 Sometimes when traveling, a strong drink sounds great. However, there isn't always a bar nearby, especially if you're camping or on a cross country road trip. Make sure that the traveler in your life always has his own bar wherever he goes with this handy set! Designed to look like a regular toiletry Dopp bag, inside he'll have collapsible steel glasses, mixing tools, a place for an entire liquor bottle, as well as extra room for cocktail mixers. He'll have everything he needs to make his favorite cocktail thanks to you! He won't want to go on a trip without this handy set after using it on his next journey.
Travel Gifts for Men Don't Have to Be Big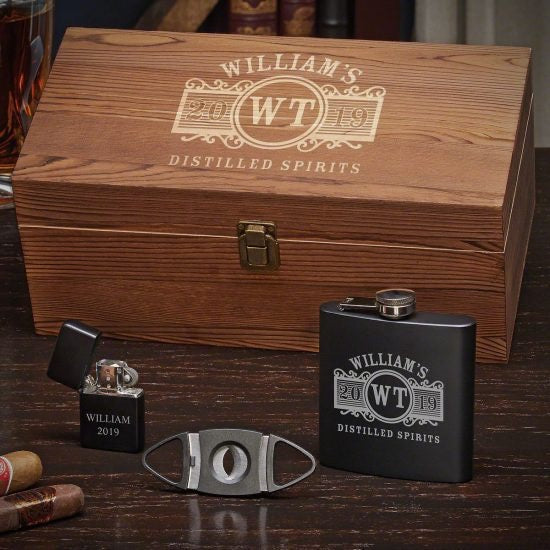 Sometimes, it's the small things that matter when traveling. After all, he's got to pack light and only bring what he needs. You can make his adventures a little more enjoyable with this unique personalized gift set! After a long day of adventure, he'll love using his custom lighter and cigar cutter for a relaxing cigar. His trusty new flask will be close by as well, filled with his favorite liquor. These items are easily packable into his luggage and won't take up much room, and they'll help him relax. Plus, the wooden gift box they come in can be used to store keepsakes from his adventures at home! Overall, this set is one of the greatest travel gifts for men.
A Fun Game to Play Anywhere He Goes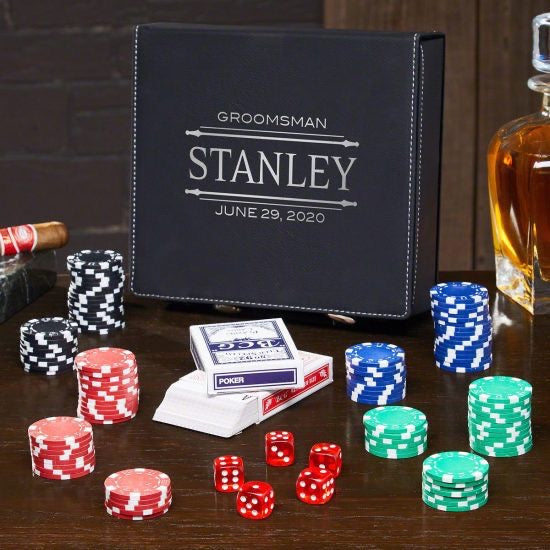 When traveling with friends, family, or classmates, bringing a game along to play with everyone is always a good idea. The traveler in your life will love to have his very own portable personalized poker set! He can play Blackjack, Texas Hold 'Em, Go Fish, Balut, and more with all of the different pieces in this set. Thanks to your awesome travel gift for men, he and his traveling companions will never get bored on their adventures again.
419+ GIFT SETS AND GIFT BASKETS FOR HIM>
The Ultimate Shaving Kit
Even when he's traveling, he needs to stay well-groomed everywhere. Make sure your man stays comfy and clean-shaven with The Perfect Package by Manscaped! Included in this incredible set is a waterproof electric trimmer, anti-chafing and cooling boxers, anti-chafing deodorant, toner, disposable shaving mats, and a handy storage bag. He'll brag about how great he feels after shaving just as much as you do after you shave your legs! Once he uses this amazing set, he will never dread shaving again.
The Best Way to Travel with Beer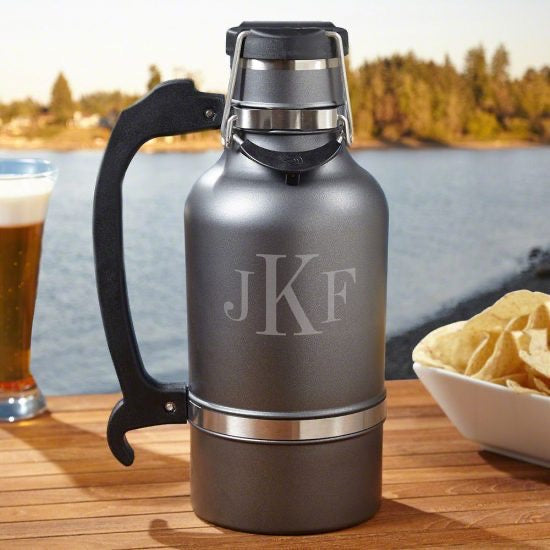 Bringing beer along on a trip is an absolute must for most men, and the guy you're shopping for is no exception. He wants to bring plenty of it to enjoy for himself, and maybe even some for his traveling companions. However, the beer tends to get warm as they're hiking through the mountains or patiently waiting for fish to bite at the lake. With an insulated beer growler, he'll never have to deal with warm beer ever again! One of the all-time best travel gifts for men, he will love taking this growler along everywhere. His beer will stay ice cold all day long, and it can hold up to 64 ounces! That's plenty of beer for a couple of hours. Plus, it's made of super durable stainless steel and has a convenient carrying handle so that he doesn't have to worry about being gentle with it like he used to do with cans and bottles. You could give it to him for his birthday, Christmas, or any occasion! Just make sure you get him plenty of beer to fill it up with, too.
The Manliest Travel Gifts for Men
Is the traveling guy you know a really manly dude who enjoys outdoor activities such as hunting, hiking, camping, and fishing? Then he needs the proper tools for his adventures! This unique set of gifts for men who travel, especially outdoors, are must-haves to make his journey awesome! He will love having the lockback knife in his pocket in case he needs to cut a tree branch or to help him prepare freshly-caught dinner. The hatchet is great for gathering limbs for firewood, and the flask has storage for two cigars! How cool is that? He will enjoy the ammo can most of all to keep his live rounds, valuables, or even food safe and secure.
Even Wine Can Travel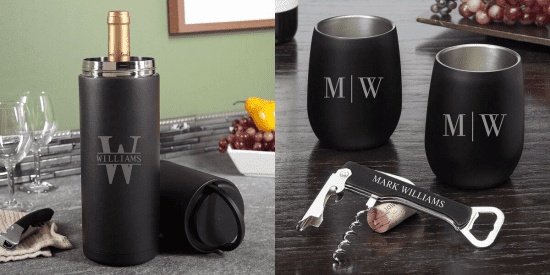 Bringing wine on a trip can be lots of fun. Whether it's for a romantic getaway with his spouse or he just prefers to drink wine instead of other liquor while he's away, it's not always easy to bring it along. He has to be super careful with the bottle, bring a corkscrew, and he usually ends up using plastic cups to drink from. You can make his wine time so much more enjoyable with this travel wine set! His wine bottle will stay safe, secure, and chilled thanks to the insulated wine chiller. When it's time to pour, he can use handy corkscrew multitool and stainless steel tumblers! The multi tool has a corkscrew, foil cutter, and two types of bottle openers attached so that he's prepared for wine or beer on his travels. The incredibly durable tumblers and chiller are virtually indestructible so that he never has to worry about broken wine glasses or a ruined wine bottle ever again while he's on the go!
Collect Beer Bottle Caps From All Over America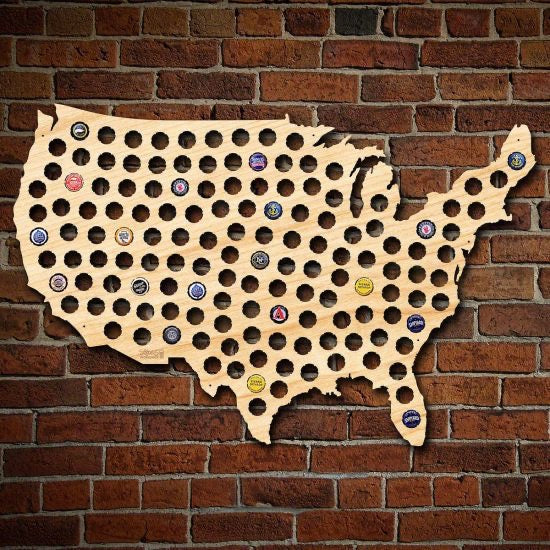 The traveling beer lover in your life often brings home keepsakes from the breweries he's visited such as bottle caps, coasters, or pictures for his beer review blog. These mementos are scattered all over his house, and he's often told you that he wishes there was a better way to keep track of the beers he's sampled. Solve his problem with a gigantic bottle cap collector map shaped like the United States! Certainly one of the most unique travel gifts for men, he will love having a unique way to show off both his travels all over the country as well as the local beers he's tried. This one-of-a-kind piece of decor will become quite the conversation piece when he has company, that's for sure. He'll love coming home from a trip with a handful of bottle caps to place on the map and watch as it fills up over time.
The Ultimate Camping Set
For a guy who enjoys traveling the wilderness, a good set of camping equipment is an absolute must. He needs a big tent, comfy chairs, sleeping bags, and more. Give him everything he needs with this ultimate camping combo set! Seriously, this thing has it all: Includes: a 6-person tent, a gear loft, a media pocket, nine tent stakes, two sleeping bags, two pillows, two foam sleeping pads, two chairs, two dry bags, two camp towels, a lantern, a tent fan with a built-in light, a backpack, and a carry-all bag. That's a ton of stuff! His camping adventures with you, a friend, or his spouse will be quite sufficiently prepared thanks to your incredible gift.
An Easy Game to Share With Everyone He Meets
There's nothing like a good old fashioned game of cornhole to make new friends. The guy in your life loves to meet new people on his adventures, and the easiest way to do so is by playing a game with them! He will love bringing this easily portable cornhole set everywhere he goes. The boards each have handles for carrying, but they also latch together so that the entire set is can travel as one unit. He'll want to bring this set along when he goes on business trips with coworkers, cross-country road trips, and even local parties around his hometown. Everyone can learn to play this easy and fun game, after all! Once he's met someone new and played a little bit of cornhole with them, the two will be as thick as thieves before the night's over. Thanks to your unique travel gift, he'll be able to make new friends and fun memories like never before.
Unbreakable Beer Glass Set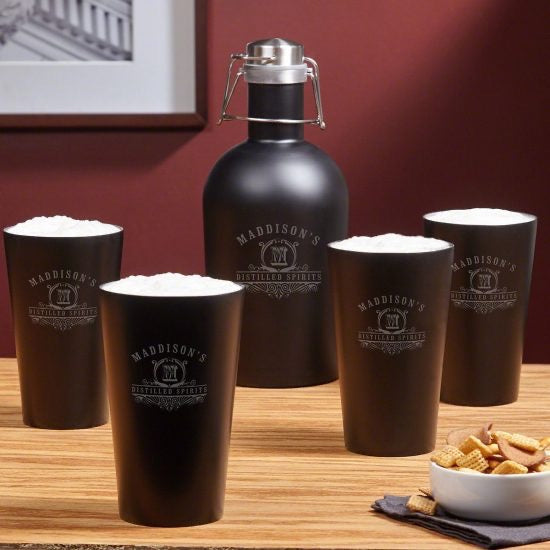 After traveling for a while, disposable plastic cups become such a huge pain to carry around and they're not exactly environmentally friendly. The guy on the go in your life has been looking for a good alternative, but you've found it first! This complete stainless steel set is perfect for drinking beer, water, cocktails, coffee, or even hot cocoa. He will love that the whole set is lightweight and durable enough to endure a backpacking trip through the woods or camping at the lake. Stainless steel is easy to clean, too, and will ensure that his drinks stay the same temperature until the last drop thanks to the double walled insulation. He'll never have to buy disposable drinkware again!
Essential Tumbler Gift Set
Men who are always traveling often have specific items that they never leave home without. They don't necessarily use them on the journey, but they're just nice to have just in case. Some guys bring a lucky keepsake, some bring more than enough ponchos in case it rains. The best travel gifts for men are useful and help make their trip easier, like this custom tumbler set! He will love being able to enjoy piping hot coffee or ice cold water for hours on end thanks to the double insulated tumbler. When he's stopped for the night, his trusty new flask will be close by for a drink. As for the pocket knife, any guy knows that having a pocket knife on hand is essential since they can be used for hundreds of different things! Any guy who enjoys being on the go needs this essential set whether it's a birthday, holiday, or anniversary gift. Even a college graduate going backpacking in Europe would love it!
Keep His Beer Bottles Safe During Transport
Bringing beer along when he goes to the lake, the mountains, or even just to a friend's house is an absolute must. He prefers bottled beer, but sometimes he accidentally drops or breaks the six pack before reaching his destination! Solve his problem by getting him a sturdy wooden beer caddy. Made of cedar, this simple but useful travel gift for men will make sure that his beer stays secure. Plus, this handy caddy even comes with a built-in bottle opener! He'll want to bring this along on every trip!
Complete Luggage Set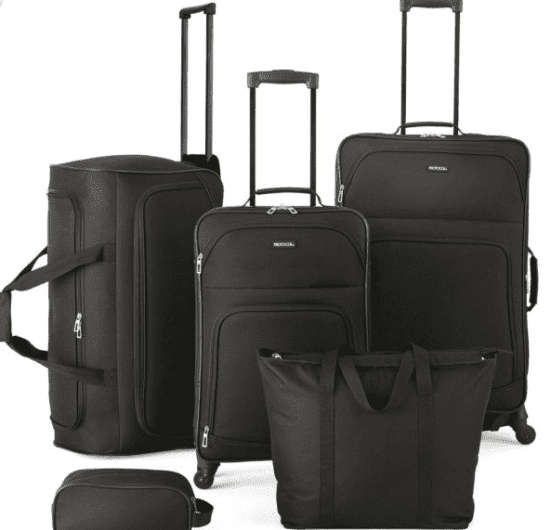 It goes without saying that luggage is a must for guys who are always on the go. They need a large enough suitcase for longer trips, a good carry-on size suitcase for shorter ones, a decent-sized bag for food and entertainment, and of course, a toiletry bag. Luckily for him, you're going to make sure he has all of the luggage he needs with this ultimate set! It comes with everything he needs, even a rolling duffle bag for weekend trips! He will love having a brand new set of suitcases that he can use for a variety of trips.
Manly Gifts for Men Who Travel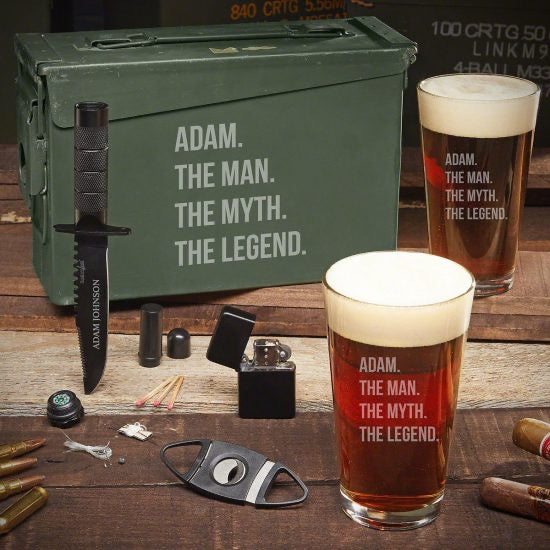 You've made it this far and haven't found the right gift for the men who travel in your life? Well, look no further! Any guy would be thrilled to receive this incredibly awesome and manly set as a gift. From the cool attention-getting design to the variety of manly things included inside, he won't know what to say. He'll love bringing the ammo can, survival knife, and cigar accessories on every adventure. When he gets home, his new custom pint glasses will be the first things he reaches for before telling everyone about his trip. Wherever he goes with this set, everyone who sees him will know that he's cooler than Keanu Reeves! Who wouldn't want that? Whether it's for his birthday, Christmas, graduation, or an anniversary, he will be ecstatic about every single piece in this totally awesome and manly gift set.
227+ TRAVEL GIFTS FOR MEN WHO HAVE EVERYTHING>