Every year, you struggle to find your dad a good gift for his birthday, Father's Day, and Christmas because he insists that he doesn't need anything. Why should you get gifts for dads who have everything? The truth is, they don't have everything. They may claim they don't want anything, but your dad will be so happy to receive a gift from you regardless of what it is, but especially if it's something unique that he never knew he needed! Don't just settle for another assortment of wrenches or a gift card to Lowe's when searching for an awesome set of gifts for dad. Relax, we've found all kinds of gifts for the dad who has everything that even the pickiest of dads can't help but love!
Even the Dad Who Has Everything Will Love a Manly Beer Gift Set
Your dad is a manly guy who you've always admired. He loves spending time outdoors doing yard work and going on adventures such as camping, hiking, fishing, and hunting with you and his friends. As soon as he gets home, the first thing he does is grab an ice cold beer. When a gift-giving occasion comes around, you normally settle for a new piece of equipment for him to use on his adventures. You should step it up a notch and get him something a little more personal, like this manly beer gift set! Dad will love using the pint glasses (that you get to customize with three lines of text!) to share a beer with you or a buddy after spending the day fishing. He can use the ammo box to store anything he likes from live rounds to tools! This incredible set is one of the coolest gifts for dads who have everything.
Dad Definitely Doesn't Have Grilling Tools That Look Like Golf Clubs
Dad's two favorite hobbies are grilling and golfing, so it's no surprise that he says he doesn't need anything. He's got plenty of golf clubs and accessories, but you've noticed that his basic grilling tools are looking a little worse for wear. One of the best gifts for him is this combination of his two favorite things: grilling tools that look like golf clubs! How cool are these? Your dad can't help but chuckle when he uses these fun grilling tools for cooking up a delicious home-cooked meal for the whole family. Even the dad who has everything will get a kick out of this grilling set!
An Exquisite Decanter Set for His Home Bar
Dad's home bar is nice and all, but it isn't nearly as impressive as any of his friends' home bars. He always says he doesn't need anything when you ask around his birthday and the holidays, so you've got to think outside the box. One thing he doesn't have is a nice decanter set! This beautiful five piece set is all laser engraved with a unique vintage-inspired design that you can customize. Your dad will love using the decanter to show off and serve his top-shelf whiskey. The crystal whiskey glasses have a unique glacier-like base that enhances the colors of the liquid inside, creating a dazzling effect. This incredible set is one of the best gifts for dads who have everything but a centerpiece for their home bar.
Upgrade His Wardrobe with All New Accessories
Your dad is a stylish guy. He's always got an impeccable wardrobe of a tailored suit, designer tie, and a handsome watch that compliments the entire outfit. Because of his excellent taste in clothing, all of his employees strive to dress as well as he does. Why just give him a new tie when you can give him a whole new set of accessories to add to his suits? The Tie Bar's Essential Set comes with three pocket squares, four ties, two pairs of dress socks, tie clips, and collar stays. Dad can mix and match new outfits now thanks to your incredibly stylish gift!
The Ultimate Beer Lover Gift
For as long as you can remember, your dad has loved beer. He enjoys different kinds, and especially loves going to craft breweries to try new brews. As soon as you turned 21, he took you on a couple of brewery tours to introduce you to the wonderful world of beer. Ever since, you two love talking different beers you've tried and suggesting new brews to each other. One of the best gifts for dads who have everything that love beer is a complete set of the most popular beer glasses! Dad will love trying out his favorite pilsners, porters, IPAs, and craft beers in these connoisseur glasses. He'll never go back to drinking straight from the bottle or can again after noticing how much better beer tastes in these glasses.
A Sweet Gift He'll Treasure Forever
You and your siblings always argue about what to get dad as a gift. He's hard to buy for, and usually claims he has everything. You all have gotten together to get him a nice group gift such as a new lawnmower or a set of golf clubs. He insists that he doesn't want anything big this year, so you can all pitch in and get him this touching personalized sign! Featuring all of his children's names and birthdates, dad can't help but get a little teary-eyed once he sees this sign. He will proudly hang his new sign in his home office or prominently in the living room for everyone to admire. Such a sweet gift is perfect for Father's Day!
499+ INCREDIBLE GIFTS FOR DADS>
The Perfect Gift for the Dad Who Likes Guns
Is your dad a fan of guns? He loves going to the shooting range to shoot clays and targets, and even taught you how to shoot various kinds of guns. When he comes back from the range, he pours a glass of scotch on the rocks for himself and his shooting buddy. Dad will never know he needed this whiskey gift set until you surprise him with it on any occasion! He will love using the monogrammed glasses and unique whiskey stones that look like real bullets. His scotch on the rocks will have more flavor than before thanks to your great gift idea!
Create His Own Hot Sauce
Does your dad love to cook? He's the kind of guy who enjoys experimenting with flavors and ingredients so much that you've never had the same meal twice. One of the coolest gifts for a dad who has everything that enjoys cooking is this DIY hot sauce making kit! He will enjoy creating his own Cayenne, Habanero, Serrano, and Jalapeno sauces to use in his dishes. The kit comes with everything he needs, but he will probably add a couple of extra ingredients to make it truly unique and give all kinds of meals an extra flavorful kick.
A Personalized Tool He'll Take Everywhere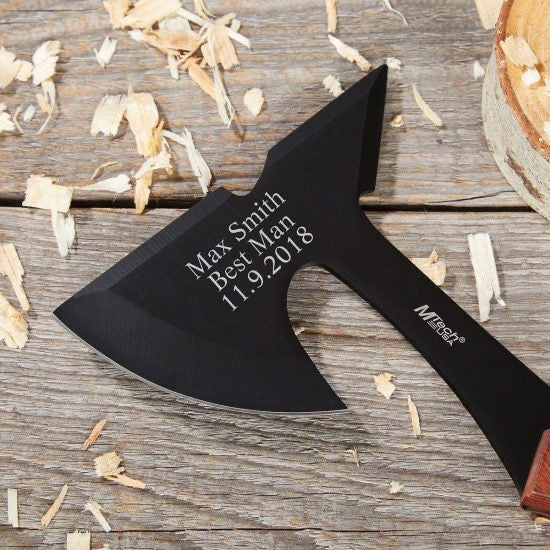 You've given your dad plenty of tools as gifts over the years. Now that he has a full tool chest and all kinds of nifty gadgets to use for gardening and yard work, you're stuck on what to get him for the next gift-giving occasion. How about a personalized hatchet? He'll love having a little hatchet around to help him chop firewood and trim trees, or even make a fire while he's camping! The customizable three lines of text on the side is what makes this awesome gift a step above normal tools. You can have it say anything from "World's Best Dad, Richard Fairbanks, Since 1993" to "Happy Father's Day, From Your Favorite, June 16th, 2019." The options are endless to give your dad the perfect gift that's both practical and personal. He'll certainly use it for years to come!
Make His Drinks Luxurious
Whiskey is as synonymous with your dad as cooking is with your mom. Your dad is known in the family as the liquor connoisseur, and is even in the local whiskey club! He could go on for hours about the different brands and his collection of rare bottles. When you asked him what he wanted for his birthday, he said he didn't want anything. You want to get him something anyway, so it has to be unique and useful! One of the most impressive gifts for the dad who has everything is this unique smoke box system set that comes with a set of personalized rocks glasses! Dad will love entertaining his whiskey club with smoke-infused whiskey that tastes like a whole new drink. They'll all want to try out the smoke box system with their favorite types of scotch and bourbon to see what tastes best with which type of smoke!
The High Tech Upgrade to His Bedside Table
Dad's bedside table has always been his catch-all for his daily accessories. As soon as he gets home from work, he unloads his phone, wallet, keys, watch, jewelry, and anything else in his pockets onto the small table. Because of this habit, he's always losing various pieces of jewelry and pens underneath or behind the table. Solve his problem with this awesome valet tray! Not just a place to keep track of his things, it will also wirelessly charge his phone! How awesome is that? Gifts for dads who have everything can be as simple as this leather tray, and he'll really appreciate that you solved his problem.
Classy Whiskey Gift Set Even the Dad Who Has Everything Will Love
Your dad is a classy guy who appreciates the finer things in life. He prefers a glass of scotch and a cigar over a beer and pretzels. He's the kind of man who buys top-shelf liquor and antiques for his home. When he does go outside, it's to the outdoor shooting range to shoot clays every month with a couple of friends. One of the most perfect gifts for the dad who has everything is this classy whiskey gift set! He'll love having vintage-inspired personalized glasses and new cigar accessories to make his nightly stogie and scotch better than ever. When it's time to go to the range, he'll want to bring his cool new ammo can loaded with shotgun shells to show off!
A Fancy New Bar Cart that Doubles as a Piece of Decor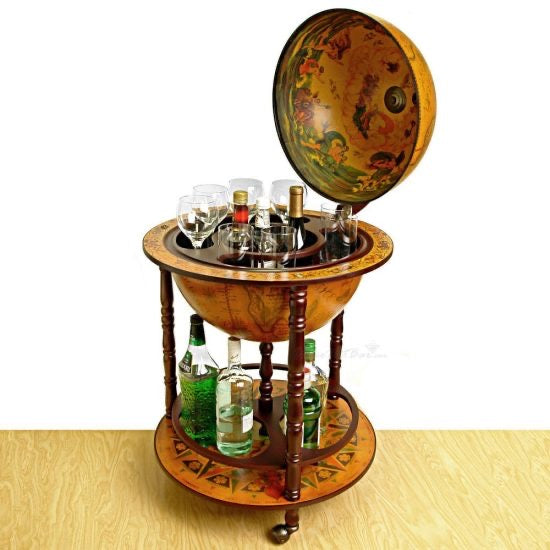 Speaking of classy dads who enjoy antiques, this gorgeous bar cart is also a great gift idea. Designed to look like a 16th century piece of decor, the globe opens up to reveal a fully stocked bar cart that's perfect for entertaining! He can store plenty of glasses and bottles of all sorts of liquor inside the globe and below, too. His guests will certainly be impressed by his unique decor!
Outdoor Camera to See What Wildlife is Around
For the dad who loves to go hunting, a trail camera that he can set up to see what's in the area is one of the most useful gifts for the dad who has everything. He's got plenty of hunting equipment after all, but a camera to keep track of the animals nearby during the night or while he's away from the site will ensure that he knows exactly what to look for. All the camera needs is a cell phone signal so that dad can get an instant alert on his phone that an animal has been spotted!
Create the Ultimate Grilling Gift Set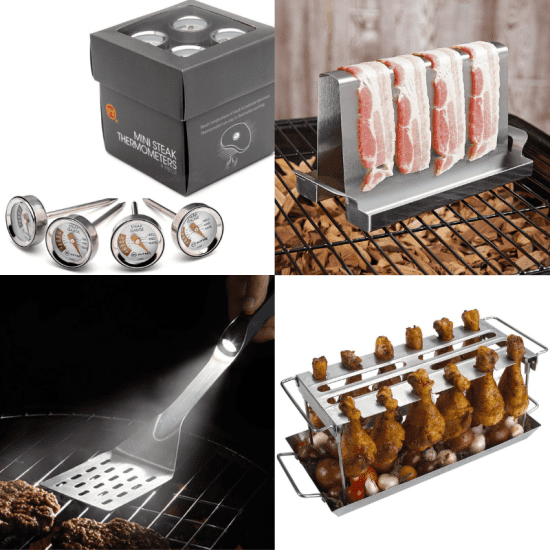 Your dad loves to grill, but he claims that he doesn't need any more tools or accessories. However, all he has are the basics! He needs some fancy grilling accessories such as a set of four mini steak thermometers so that he doesn't have to use the same one over and over, a bacon rack for extra crispy bacon, a new spatula with a flashlight for grilling after sunset, and a professional wing rack guaranteed to make the perfect chicken wings every time. Any dad who grills can't help but want these incredible gadgets! You can divy each one up among your siblings so that you get him an entirely themed gift that he'll be over the moon for, or just create a fun gift set just from you.
A Fun Way to Collect Cigar Bands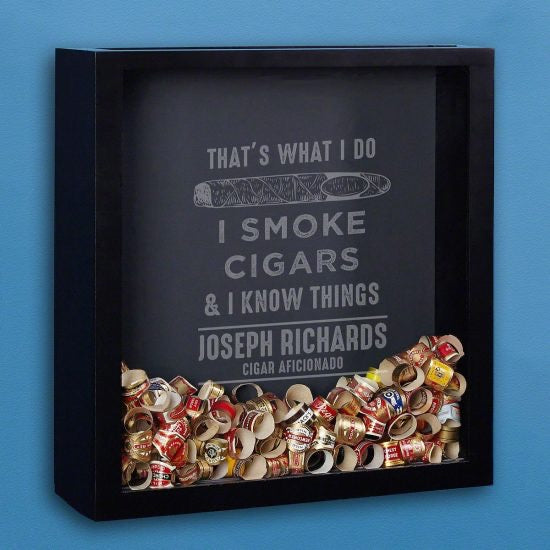 When dad is done smoking his cigars, what does he do with the colorful plastic bands around them? Some people collect them to show off their favorite stogies or even high-end cigars they saved for special occasions. One way to collect them is with a shadow box! Both a unique piece of decor and a different way of showing off a collection, this fun personalized shadow box is the perfect gift for your dad. He'll love watching the cigar bands pile up over time, filled with memories of special occasions such as your graduation, the birth of your niece or nephew, and a milestone anniversary with your mom. A new hobby is one of the most unique gifts for dads who everything you can give!
Ultimate Rotary Tool Kit for Dad's Projects
Dad might say he doesn't need any more tools, but are there any he has that could use a high-tech upgrade? With this complete rotary tool kit, and he can toss out that old rotary he's had since you were born. This incredible set comes with all kinds of attachments for dad to use to sand, carve, engrave, and cut all kinds of things. He'll love using it to add details to his DIY projects such as that birdhouse he's been working on all summer or to redo the coffee table he picked up in the neighborhood the other day. Tool upgrades always make great gifts for the dad who has everything, especially when he claims he doesn't need any new tools!
A Gift That Will Impress His Friends on Poker Night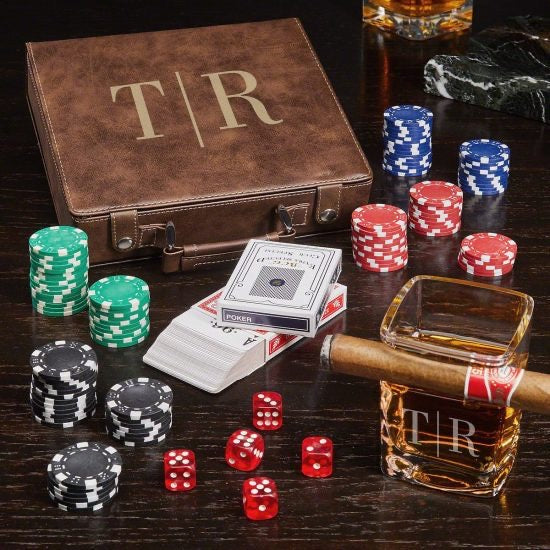 Your father has been using the same old poker set that he's had since he was in college. It's looking shabby and missing a couple of pieces, which is why he never volunteers to host poker night with his friends. It's time for an upgrade! Surprise him with a brand new poker set that has its own monogrammed faux leather carrying case. Also included is a matching monogrammed whiskey glass that actually holds his cigar for him! How awesome is that? All of his friends will be jealous of his incredible multi-tasking glass. Replacing a well-used item is an always-appreciated gift for dads who have everything.
397+ GIFT SETS DAD CAN'T HELP BUT LOVE>
A Classic Dad Gift
Dads and beer go together like moms and wine, it just makes sense. Your dad enjoys going over to his buddy's house with a six pack or traveling to the lake with the family with beer in tow fairly often. One of the best gifts for dads who have everything is a gift that will make simple, everyday tasks a little bit easier. In this case, you can make transporting his beer easier than ever! This wooden caddy will hold his six pack securely, and it even has a bottle opener attached! Dad will love using this handy, sturdy caddy to bring his beer everywhere he goes.
Make His Own Espresso At Home
Your dad is a bonafide coffee snob. He dislikes Starbucks, and is incredibly picky about coffee any time he goes to a new coffee shop. He has a coffee maker, but it's pretty basic. One of the best gifts for the dad who has everything is a top-notch coffee machine! The Nespresso Vertuo makes all kinds of delicious coffees and even has a milk frother! Now your dad can enjoy his favorite coffee from the comfort of his own home without having to drive 20 minutes to his favorite shop.
A Unique Piece of Decor for His Home Bar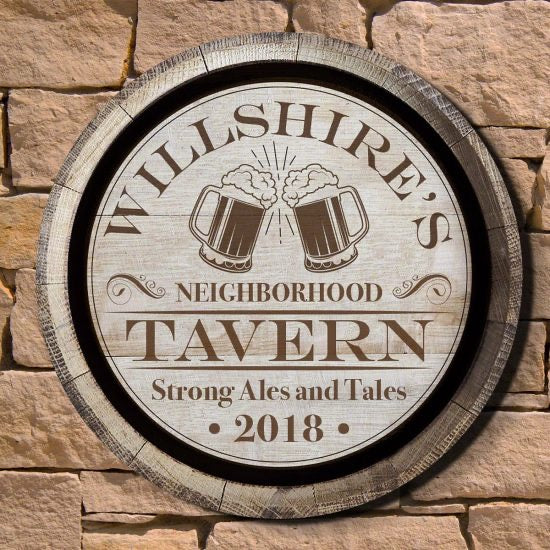 Your dad is the kind of guy who has been striving to create his dream home bar. He loves to entertain his friends and keep a keg or two of their favorite beers on tap just for them. He's got a great set up with tap handles, cool bar stools, and a nice variety of liquors. Simply put, he has everything. What's missing? An official bar sign! He will love having this rustic neighborhood bar sign displayed in his awesome home bar. Now when his buddies visit, they'll feel like they're coming to an actual bar instead of your dad's house! This custom bar sign is one of the simplest but most thoughtful gifts for the dad who has everything.
A Cool Decanter for His Office
Dads love having cool stuff in their office at home and at work whether it's an autographed baseball or a fancy piece of art. This gorgeous globe decanter is the perfect new decoration for his office! He'll love the intricate etching of the Earth around the entirety of the decanter. The ocean will be whichever spirit he chooses, and he'll want to offer all of his clients or visitors a drink just so that he can show off the decanter.
A Digital Picture Frame for His Desk
Sometimes you have to go back to basics when it comes to gift-giving. Your dad never wants anything and says he has plenty of stuff. The last time you visited his work, you noticed that he doesn't have many pictures of his family. One of the most thoughtful gifts for the dad who has everything is a digital picture frame that shows off dozens of pictures all day long! He'll love seeing the pictures you picked out, and it will surely brighten his day every day.
Ultimate Golfer Dad Gift
Your dad loves golf. He spends as much time on the green as he can, even though it's really just a hobby rather than a profession. He's got a good set of clubs and plenty of golfing clothes, so what should you get him? This set of golf lover gifts would be perfect! He'll love having a cool sign to display in his home bar, where he and his fellow golfers often hang out at after 18 holes. He can serve beer in his cool new pint glasses and even open their bottles with the fun little golf club bottle opener. He'll certainly enjoy the shadow box where he can show off every golf ball from every hole in one. On the course, the flask and tee set will come in handy! Even the dad who has everything will enjoy every part of this set.
Dads Who Cook Will Love This Cutting Board
Your dad loves to cook. He enjoys cooking every and any meal for the entire family. Whether it's a hobby or a career, cooking is one of your dad's favorite things to do. Naturally, you've given him all kinds of kitchen gadgets and tools as gifts over the years. Now, he claims he doesn't need any more! So where does that leave you for Father's Day? With this thoughtful personalized cutting board. Made of natural hardwood and designed to have a rustic appearance that looks great in any kitchen, this thoughtful gift is engraved with "My favorite people call me Dad" followed by all of the names of his children. How sweet is that? He'll love using this new cutting board to replace his old one so that he has a newer, cleaner surface to do all of his cooking prep on.
A Portable Grill to Cook Anywhere
Speaking of cooking, does dad like to cook when you go camping and fishing? Then he needs this awesome outdoor grill! Easily portable and just as powerful as the one he has at home, he'll be able to grill up burgers and steaks for everyone from his own grill so that he doesn't have to use the old and gross one at the campground. After he uses this incredible grill, he'll never want to go on trips without it!
Manly Travel Gift Set He Won't Leave Home Without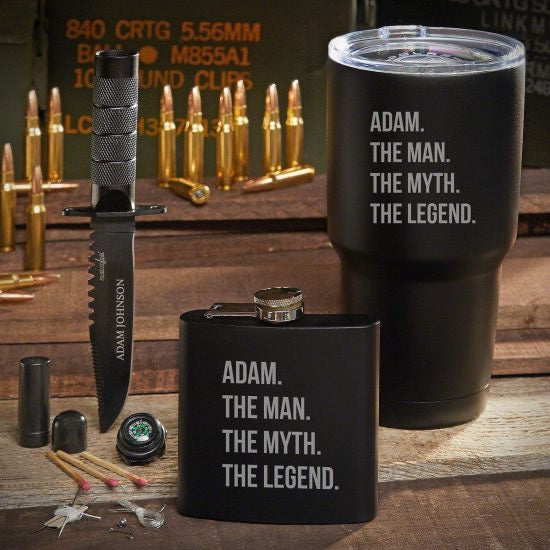 Does your dad often travel for work or just enjoys going to new places for fun? Whether it's weekend trips to the tourist attraction across the state or a long road trip to multiple places, your dad's trips are legendary. He says he doesn't need anything when you ask him what kind of gift he wants for his birthday, but you know there's something out there he could use. How about this awesome personalized travel gift set? He'll love having an insulated tumbler that will keep his ice water cold or hot coffee piping all day long while on the road. Once he's stopped for the night, the flask will be on hand for a drink so that he doesn't have to pay for the expensive hotel mini bar. When it comes to camping, hiking, hunting, and fishing, the tactical knife is a must-have accessory. The cool engraving on the whole set is the cherry on top of this incredible travel gift set, making it one of the most useful and awesome gifts for dads who have everything.
The Manliest Gift Set He's Ever Seen
Fathers are some of the manliest men in the world. They have to set an example for their children by being strong, brave, and smart. Your dad is such a man, and you've always tried to follow in his manly footsteps. When you asked him what he wanted for his birthday, he said he didn't want anything. Too bad, he's getting this incredibly manly gift set he never knew he needed! He'll love using his own custom pint glasses to share a beer with you after spending the day outside testing his cool new hatchet. The flask and ammo can will certainly come with him when he goes camping and fishing next weekend. Everything about this set is a tribute to your dad's awesomeness and manliness!
Vintage Inspired Wet Shave Kit
Having the right shaving set is vital for a dad who keeps a clean shaven face. He often struggles with razor burn and dry, rough skin after shaving each day. He claims he doesn't need a new razor and that it works just fine, but you should gift him a new one to help him out! Gentleman Jon makes a complete wet shave kit that will change your father's life. It comes with everything he needs for the cleanest, smoothest shave of his life. Reviewers say that the quality of this shave kit rivals a professional barber, which should tell you just how amazing it is!
Make His Man Cave Official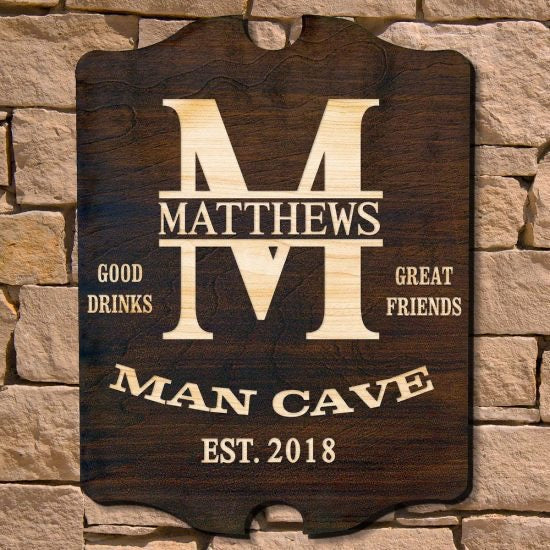 Dad's man cave has been around for a while now that all of his kids are grown and moved out, but he's still got a couple of things to add. The last time you asked if he needed anything for his man cave he said no, but you noticed it's missing some decor. Make his favorite room in the house official with this personalized sign! He'll love that you got him a custom piece of decor to spruce up his man cave. All of his friends who have man caves will be jealous of his cool personalized wooden sign because they got all of their decor from Hobby Lobby!
Must-Have Whiskey Glasses
For as long as you can remember, your dad has been a whiskey drinker. He loves trying new blends and brands, and even joined the local whiskey club! Now that he's becoming quite the connoisseur, he needs the proper tools despite the fact that he says he doesn't want anything. He has rocks glasses, but he doesn't have the whiskey glass. The Glencairn glass is specially designed for drinking whiskey, and he'll notice how much better his favorite scotch tastes in this glass compared to a regular lowball glass. His fellow club members will be impressed, too! This set of Glencairn glasses is one of the best gifts for the dad who has everything and loves whiskey.