A man of the wilderness is often seen as one of the most confident men on the planet. He's calm, cool-headed, and great in a sticky-situation. From unbelievably hot deserts to dense woods to frozen tundras, he's traveled them all. In each, he's brought with him the perfect tools to survive. Now, the time has come for you to get him something new that you want him to absolutely love! Gifts for outdoorsy guys need to be practical while he is on the move or they should make coming home relaxing after braving nature and the elements. However, what do you get an outdoorsy guy? What could he take with him? These questions are common when trying to get him something he'll treasure as much as his first knife or the bow-drill set he made himself. Unlike starting a fire by hand, this collection of gifts will only take you a few minutes, and by the end, you'll have the perfect gift for outdoorsy guy!
A Gift So Good You Won't Need to Axe if He Likes It
For the man who enjoys spending his days outside as often as possible, there is nothing quite like this whiskey stone and hatchet gift set! When he is done hacking through bushes and vines, he can cool off his sweat with an ice-cold whiskey from his whiskey stone set! A gift for outdoorsy guy can't be better than one that is perfect for his hobby and his home!
Gift for Outdoorsy Guy He'll Take Everywhere
Ensure that no matter what corner of the Earth he ends upon, he will always be able to quench his thirst thanks to this personalized growler! Whether he decides beer is the liquid of choice or if he prefers something else, you can be sure this stainless steel growler will be at his side from the heat of the Sahara to the fridge plains of the Arctic!
Sleek Hiking Pants
Being an outdoorsy guy simply won't go well if he doesn't have a quality set of pants. This pair has been specifically designed so he will be protected from harsh tall grasses, bugs, the elements, as well as allowing him to move as freely as he needs. He can even scale a rock-wall wearing these! Make sure he is stylish and properly equipped by getting him the ultimate pair of hiking pants!
The Survival Essentials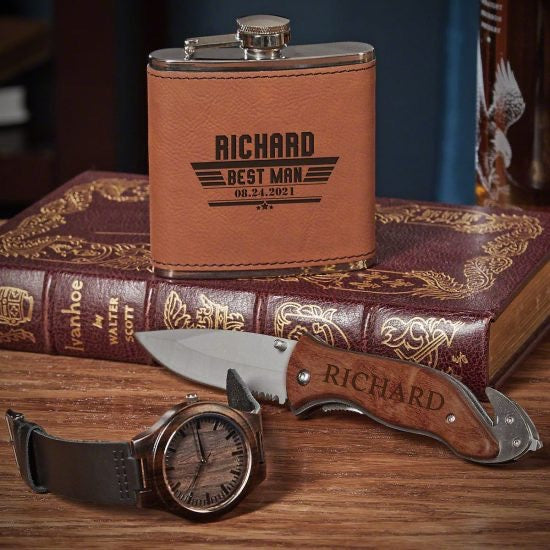 Searching for a whole set of gifts for outdoorsy guys? Look no further than this personalized gift set! Each item may be small, but that means it'll be easy and unhindered when he decides to bring the personalized watch, flask, and knife on each and every one of his adventures!
A Personalized Gift Set as Tough as He Is
Being outside for most of his life has made him one of the toughest dudes around. In fact, you think he might just be indestructible which is exactly why he needs this engraved stainless steel tumbler set! They're great for wine or cocktails; however, what makes it the perfect gift for the outdoorsy guy is they work great at home but because of their strength, he can take them camping, hiking, or on any other adventure!
235+ GIFTS FOR OUTDOORSY GUYS WHO HAVE EVERYTHING>
Story Time
Whether he needs something to read by the fireside or is just starting off at becoming a bush-master, no man can ever know too much about survival which makes this outdoor book guide a great gift for outdoorsy guy! This will tell him how to make a shelter, what plants to eat, teach knots, and more!
A Whole Set of Gifts for Outdoorsy Guys
Need to give him a gift set that blows away any other outdoor gift he's gotten before? Look no further than this customized ammo can gift set full of essential items for wilderness survival! The ammo can will protect any of his tools or delicate items into the wilderness, and the knife and hatchet are sure to get used from cutting threads to sharpening hand-made spears. He can even celebrate his adventures while deep in the woods thanks to his cigar whiskey flask!
In Case He Needs Cigars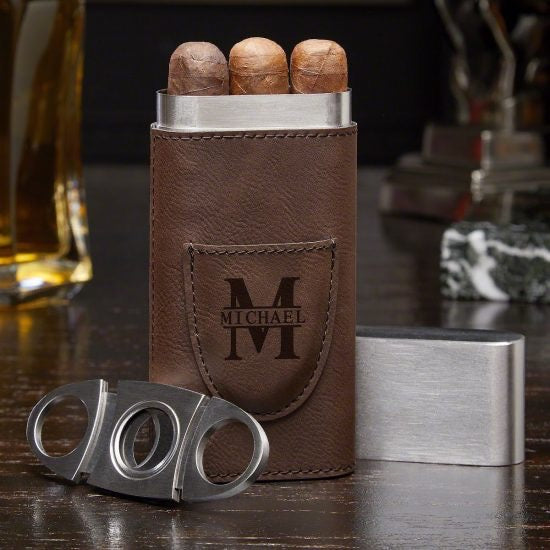 Just because he is an outdoor man who loves the wilderness doesn't mean that he doesn't also love what is classy and refined. Help him bring a taste of civilization with him everywhere he goes with an embossed cigar travel case as the ultimate gift for outdoorsy guy! This is the finest way for him to combine the classy and elegance and civilization with the rawness of the wilderness by lighting his cigar with a fire he made himself!
Kicks for the Trail
Without shoes, few men would make it more than a handful of steps out the front door, make sure he is always surefooted in every environment on every trail with the cream-of-the-crop hiking boots, a set of Keen's! These are guaranteed to keep his feet dry while also making sure he can hike every dusty to muddy trail he encounters!
Grill in the Great Outdoors
When he has a few minutes at the campsite with friends, few things can beat the taste of grilled meat while kicking back alongside the fire. This customized grill tool gift set makes bringing all the tools he needs to grill up his favorite cuts and meals thanks to the spatula, fork, and tongs. It even comes inside a convenient carrying case, how cool is that?
Manliest Set of Gifts for Outdoorsy Guys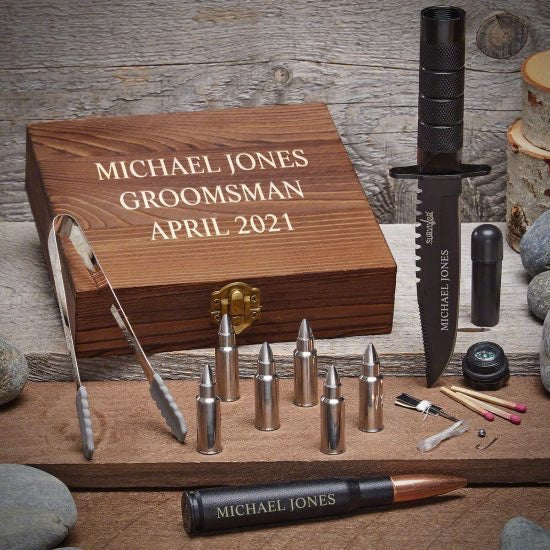 When you give this set of gifts for outdoorsy guys to him, he may just become one of the manliest guys the wilderness has ever seen. Bear Grylls? Never heard of her. Now, he'll be ready to survive endless nights in the woods using his knife but when he has conquered every forest, desert, or marsh in his path and comes home, he can keep his machismo up by using his bullet whiskey stones and awesome .50 caliber bottle opener!
Cookin' and Campin'
You simply can't spend countless nights in the woods without craving a hot home-cooked meal; however, with this portable grill stove, anywhere he goes he can create home-cooked goodness! Sturdy enough for the heartiest of meals but light enough to bring to any campsite, he truly couldn't be happier with any other way to prepare his food!
A Bright Idea for a Gift for Him
Not every trip ends in the daytime, sometimes they stretch until dark. Instead of carrying a fire torch through the woods, this monogrammed flashlight is the perfect gift that he can keep on his person for such occasions! He could even leave it in the car in case he needs it when driving to remote locations.
531+ GIFTS FOR OUTDOORSY GUYS>