To serious hunters, hunting is more than a hobby—it's a lifestyle! When looking for the perfect gift, you want to hit the bull's-eye with your present, but you might really question what kind of gift a hunter would both like and use. However, it doesn't have to be too complicated because gifts for hunters are simply gifts that will make both the hunting experience and the post-hunt celebration better than ever. They're often useful, help them to relax, and always make them even more passionate about hunting. We've found the perfect hunting gifts that will make their next hunting experience the best one yet!
A Gift of Essential Tools
A hunter is only as good as his tools. Get the hunter in your life this ammo can set of hunting gifts for men so he can be the best hunter ever! He'll fall instantly in love with the customized ammo can since it's perfect for storing live rounds or other hunting essentials inside it. Whether you give it as a Christmas, birthday, or anniversary gift, it will come in extremely handy when they're hunting in the thick wilderness!
Gifts for Hunters and Their Drinks
Know someone that can never seem to get hunting off of their mind? Then there is nothing better than a gift that these shotgun shell coasters! It doesn't matter if it is for a celebratory drink after getting that large buck or for a morning cup of coffee, these are the coasters you know they'll use from now on!
Hunting Gifts for Men Indoors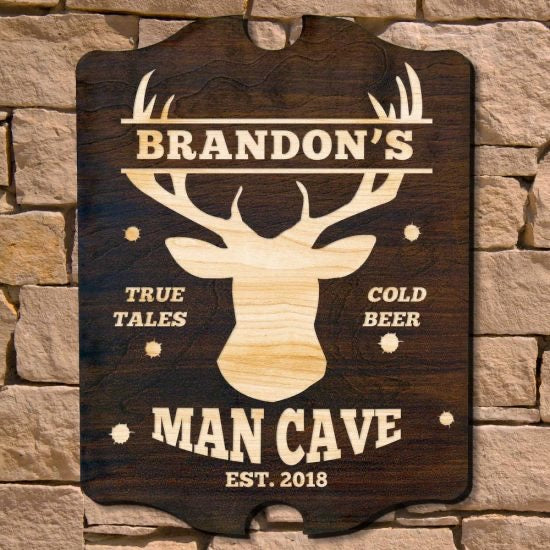 The wilderness is his sanctuary, but he has to come home eventually. However, with this custom wooden man cave sign, his love for his favorite hangout spot in the house will rival his passion for the great outdoors! It'll give the room the classic rustic hunter's vibe while also being the perfect custom gift. He simply won't want to stop looking at it!
Technologically Advance Their Hunting
Most hunters have an optical device that helps them better see the animals. So, for your hunting gift, take their scope game to a heights with this super useful smartphone optics adapter! They'll instantly be obsessed with this ingenious device that makes viewing through their optical device so much more convenient. It also makes it easy to digitally record what they're seeing so they can send it to friends or relive the moments years from now!
The Ultimate Reflection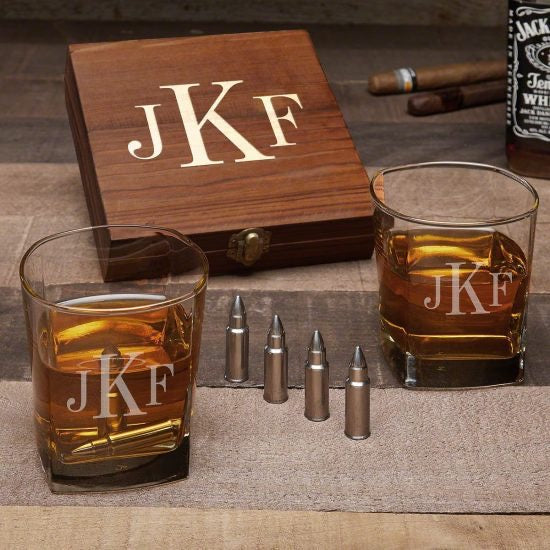 After a hunt, hunters like to take some time and reflect on their adventure. There's no better way to reflect and relax than with a nice cold glass of spirit, which is exactly what they can do with this glassware set! They'll instantly fall in love with the bullet-shaped whiskey stones that remind them of their favorite hobby! Nothing will cap off their trip better than having a drink with this set to celebrate their success and reminisce about their wilderness adventure.
Make Their Next Hunting Trip Legendary
Don't let him go into the woods without being equipped with this manly gift set ever again! Having a flask and tumbler to keep a spirit and a beverage with him will really come in handy when he needs a hot cup of Joe or a victorious sip of his favorite liquor. Also, if he ever finds himself in a tricky situation, this survival knife could help him out tremendously. He'll feel more ready to hunt than ever with these awesome hunting gifts for men.
171+ AWESOME FLASKS TO BRING HUNTING>
Keepsakes Keeper
You know they'd love to collect mementos from their hunting trips so they can remember their favorite hunting experiences. This shadow box is the perfect gift for them! Whether it's shotgun shells, bottle caps, photographs, trophies from animals, or anything else, they'll greatly enjoy putting them inside this box. It'll look so awesome hung up on the wall!
Lifesaving Gift Idea
When you're out in the wild, you never know what you're going to run into or what unexpected incidents could happen. One of the most useful and important gifts for hunters is this first aid kit! This will fit easily in their backpack or anywhere else and could definitely save their life some day! It's filled with various medical supplies, such as bandages, medication, and an emergency whistle, so they are prepared no matter what happens.
That's the Spirit
Hunting brings an emotional high, especially when they bag an impressive animal. That calls for immediate celebration! That's what makes this shotgun shell flask one of the greatest gifts for hunters. They'll love how small and compact this flask is, making it very convenient to carry along with all of their hunting equipment. They'll really like the unique appearance of this flask as well as how perfect it is for celebrating.
Funniest Gift for Hunters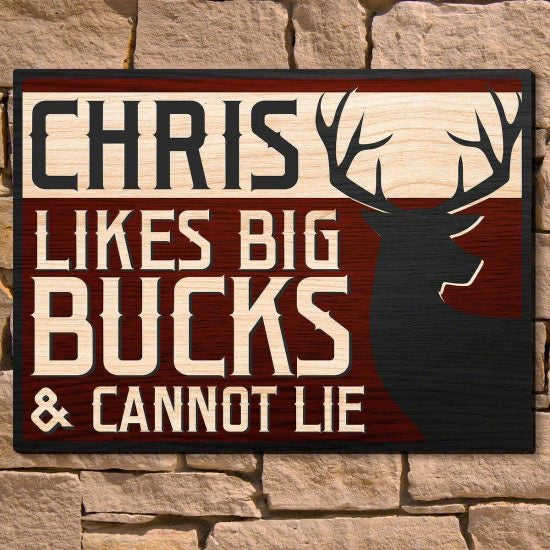 The best kind of home decor is something that reminds them of their favorite hobbies and makes them laugh! This personalized hunting sign is an amazing gift that they'll absolutely love having hung up in their cabin, man cave, or anywhere else. It's incredibly rugged and aesthetically pleasing as well, making it all around one of the most awesome gifts for hunters.
Most Useful Gifts for Hunters
A good knife is one of the most important aspects of hunting. Make sure they're always equipped for skinning, cutting, and slicing with this handsome, personalized hunting knife! They will really like seeing their name on the hilt every time they use it, and they'll definitely appreciate that it could potentially save their life someday!
Keep Them Charged Up
Hunting typically involves being away from civilization for a little bit, and that means having to improvise when it comes to technology. A fantastic hunter gift that will help them out tremendously is this solar powered lantern. Not only will this gift provide some light at night, but they'll be able to charge their smartphone or anything else that requires electricity for charging. These make great hunting gifts for men and women that they won't know how they lived without!
Fawn'd of this Gift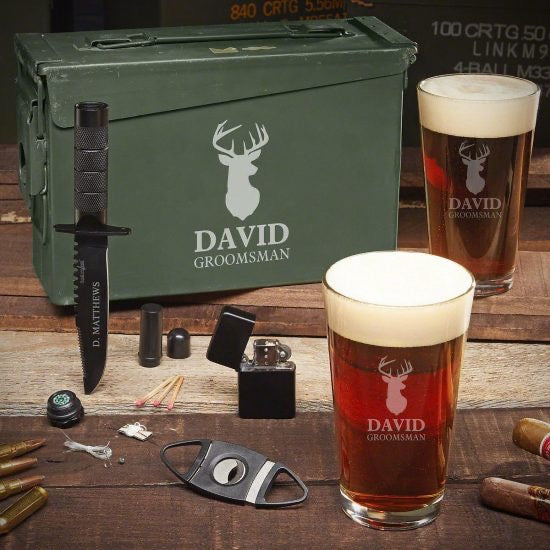 Since they are a passionate hunter, you know they would love this ammo can gift set! That's because it's personalized just for hunters and useful both during and after a hunt. Storing their ammunition or other hunting necessities inside the handsome ammo can will come in very handy, and they'll feel more secure and safe when in the wilderness knowing they have a survival knife. After the hunt when they're relaxing, they'll love having a nice cold beer and smoking a cigar to celebrate a great time!