Some guys can be very difficult to shop for, especially if they're the type that always claim they don't want anything. Coming up with a gift idea for the guy who already has it all is definitely not easy, but we've managed to find the absolute greatest gifts for these guys who have everything they want already. The most awesome gifts for guys who have everything need to stand out from anything else they own; to do so, make your ultimate gifts for men uncommon or customized so that they become the coolest and most unique thing they have ever gotten. When any guy sees these awesome gifts, they'll be in awe that something that cool could exist!
Coolest Gift for the Guys Who Have Everything Ever
Get the guy who has everything a gift so amazing he won't be able to believe it exists—this amazing smoker system. This incredibly unique gift won't just look great, it is going to change his entire whiskey experience from now on! Before he could only buy different flavors, now he can make his own smoke infused drinks! He'll love using his unique gift to infuse his whiskey with all kinds of different flavors, and he'll definitely want to show it off to all his buddies. This item is so timeless that it works perfectly as a gift for older men as well as for young guys getting into the world of whiskey!
World-Famous Gift
Guys, especially those who have everything, love getting gifts that look great and are functional. This globe bar cart easily fits the bill for both of these categories, making globe bar carts perfect gifts for guys who have everything. Whether he keeps this in his game room, man cave, or even by his home bar, this gift is ideal! Why? Because, even if he changes his mind, he can simply move it to another room to serve himself or his guests with ease!
An Awesome Gift Box He'll Love
Even if a guy has everything, there's no way he has anything as fantastic as this personalized beer gift set. He'll love taking this growler to the brewery so he can have his favorite beer whenever he wants at home. It can also come in handy when he's on a camping trip to bring coffee or any other beverage with him. It's one of the most quintessential gifts for the guys who have everything because the high-quality beer accessories will make his beer experiences better than ever.
A Ferry Impressive Gift
As soon as he sees this spigot decanter, he'll be so glad you didn't listen to him when he said he didn't want a gift! He'll love how awesome this unique decanter set will look when he puts it on display in his home bar or kitchen. He'll be even more delighted when he fills it with some of his favorite liquor, this way his ship in a bottle finally gets to set sail! This gift is sure to impress him all every time he sees it.
395+ SUPER IMPRESSIVE WHISKEY DECANTER SETS>
Memory Collection
He probably thinks he has every cigar accessory out there, but he'll be gladly proven wrong when you give him this custom shadow box! It's one of the most perfect gifts for the guy who has everything because it's not just an attractive piece of decor for his home. This gift will make enjoying stogies even more fun! Now, he can build a nostalgic collection from the bands of the cigars he has smoked, so the more good times he has, the fuller this gift will get!
Tech Gifts Make Fantastic Gifts for the Guy Who Has Everything
Let's be real, guys love to be in control of their thermostat. So why not make it super easy with this smart thermostat? It has tons of features that regular thermostats don't have, and he'll really like both how cool it is and how easy it is to use compared to normal, everyday ones. For example, he can make changes just by talking to his thermostat, how cool is that? He'll feel like the most sophisticated man ever.
Wine Sophistication
This fancy wine box set is fabulous, and it's one of the most luxurious gifts for the guy who has everything. Once he sees it, he'll be floored by how beautiful it is and immediately fall in love with it. It doesn't matter if he had a set of wine glasses before, because this fully personalized gift set is the unique gift he never knew he needed so badly. Replace his old standard glasses with this amazing set of engraved ones that have his name on each piece! He won't be able to find a better way of enjoying Chardonnays or Merlots!
Most Awesome Gift He's Ever Seen
He thinks he has absolutely everything, but once he sees this ammo can cigar humidor, he'll realize what his life was missing! He'll feel insanely rad storing his fancy cigars in this rare humidor that will keep them in tip-top shape until he smokes them, making this a super useful, amazing gift. He can even use this can to collect any other items if he chooses, making this a terrific, multi-purpose gift.
A Confident Gift for the Guy Who Has Everything
He may already have a decanter that he uses, but he'll immediately put it in the back of the cupboard when he receives this gift! This bull decanter set is an astounding gift set, and he will definitely agree when he sees it. The bull is a symbol of strength and valor, so this gift will make him feel confident when he sees it sitting on his mantle or home bar. He'll feel as confident and strong as a bull whenhe pours himself a glass of whiskey from the magnificent decanter gift set!
Handsome Accessory Box
Men who have it all likely own several nice watches and other accessories, so this leather valet box is an excellent gift for guys who have everything. He'll love having this handsome box on his dresser, displaying all his fancy timepieces and making sure that his watches, tie clips, cufflinks, and more never get lost. It'll also ensure that these possessions stay organized so he can get ready faster.
Feel Like Royalty
Whether he already has a bathrobe or not, he'll never want to take off this amazing velour robe! It's a phenomenal gift for the guy who has everything because it's made from luxurious yarn with a soft velour finish. It'll dry him off and warm him instantly when he puts it on after a shower. Plus, wearing this luxurious robe around the house will make him feel like a king.
Fillable Gift for the Guys Who Have Everything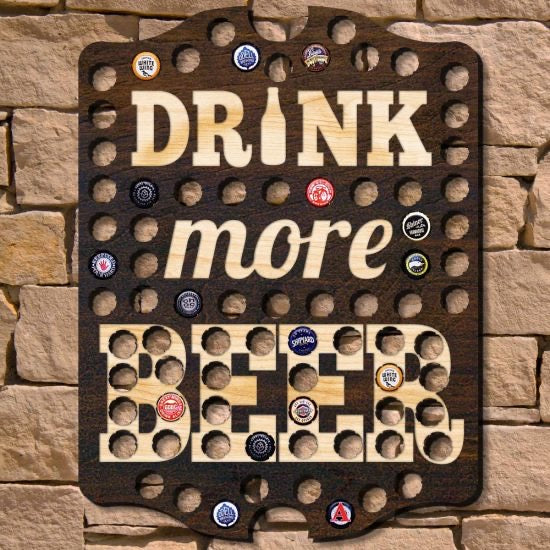 Give the guy who has it all an experience he will absolutely love with this personalized beer sign! It'll look awesome hanging in his home bar or man cave, and he'll really enjoy filling it with beer caps from all the exotic beers he tries. Pair this gift with a sixer or two of his favorite rare craft beers and watch as he snaps a cap off and immediately starts adding to his bottle cap collection!
317+ AWESOME PERSONALIZED SIGNS ANY GUY WILL LOVE>
Personalized Poker Present
When he already has everything, a gift that helps him have fun with friends is a great choice, which is why this custom poker set is the perfect gift for him! He'll have hours of fun playing poker with his buddies using this awesome gift, and he'll feel like a top-notch poker player betting, bluffing, and winning with his monogrammed cigar glass in one hand and cards in the other.
Grilling Gift for Guys Who Have It All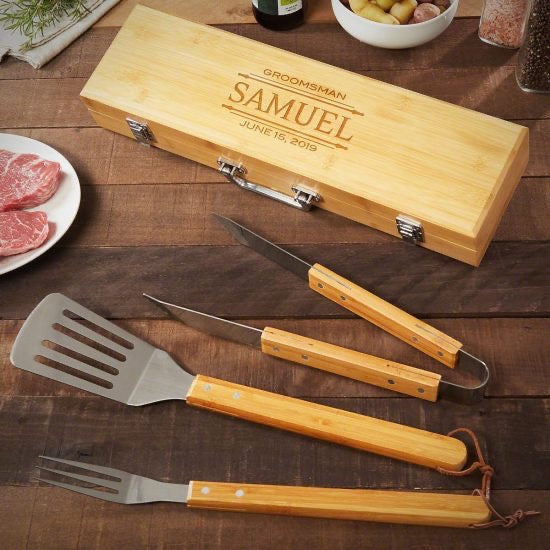 Some of the best gifts for guys who have everything are useful gifts that are made special to him by their novelty and personalization. This set of bamboo barbecue tools is exactly the kind of gift for him that he can use all the time, and he'll love flipping burgers, turning over brats, and searing steaks with his most unique grill tools ever!
Out-of-This-World Glassware Set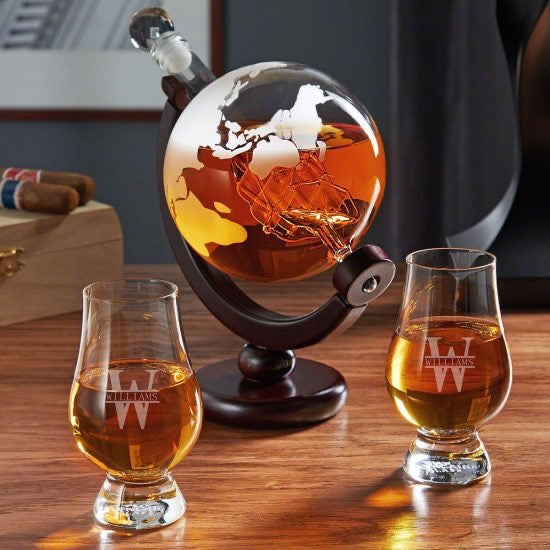 Even if he's seen the world, he definitely hasn't seen anything as breathtaking as this globe decanter set! He will marvel at its beauty, especially when it's full of his favorite whiskey. He'll feel so sophisticated pouring whiskey into his Glencairn glasses which allow him to sip, taste, and relax in style!
Sunglasses and Sound
He'll feel like the coolest, classiest, and most innovative guy ever when he uses this awesome gift! These sound sunglasses have Bluetooth enabled speakers built into the sides, so he can rock out to his favorite music and he walks down a busy sidewalk or lounges by the pool, sporting his super attractive and technologically advanced sunglasses. It's the perfect gift that he didn't even know existed.
Real Brewhouse Vibes
Still on the hunt for perfect gifts for the guy who has everything? Turn his home into a classic brewhouse with a vintage style plaque! This piece of home decor is a fantastic way to make any room feel like his own at-home brewery. He'll love seeing that this plaque is unique and special with his name on top of it too!
Fun Competitive Gift
Guys who have it all like to let loose and have fun sometimes, and this cornhole set is an amazing gift to help him do just that! He'll have so much fun with friends, jokingly talking trash and trying to sink more bean bags in the hole. He'll feel like the coolest person ever with his personalization on the board with the traditional-looking whiskey design!
Arm Him with His Favorite Vices
This ammo can gift set is an insanely unique gift that he will absolutely go crazy for, because he's never seen anything like it. When you tell him this can was once used by the US military to store ammo, he'll be even more astounded and excited to use it to carry around drinking accessories, fishing tackle, his own ammunition, or anything else he wants! Along with the pint glasses and flask, this ammo can makes a terrific gift that any guy will love.