Dads can be impossible to shop for. It's just a fact of life. He's still wearing the same buttoned-up shirt he wore at your first birthday party. The majority of his TV watching is reruns and you still don't understand how M*A*S*H is a comedy. Why not make this year the gift-giving year that stands out? But what kind of gift ideas for dad could that possibly be? What do dads even need that they don't already buy themselves? Relax and put that pair of socks back on the shelf because we have the list to make sure your dad gets a gift he won't ever forget.
The Coolest and Manliest Gift Ideas for Dad
Dad deserves to get gifts that are just as cool and manly as he is, like this awesome personalized beer ammo can gift set! The fun design will remind him of Top Gun, which is one of his favorite movies and will make him feel as cool as Tom Cruise himself once he gets his hands on his gift. The fact that you went to the effort of having the entire set personalized just for him will show him that you think the world of him, but having a beer with him using his new pint glasses will really make this gift special.
Dad Gift Ideas You Just Can't Beat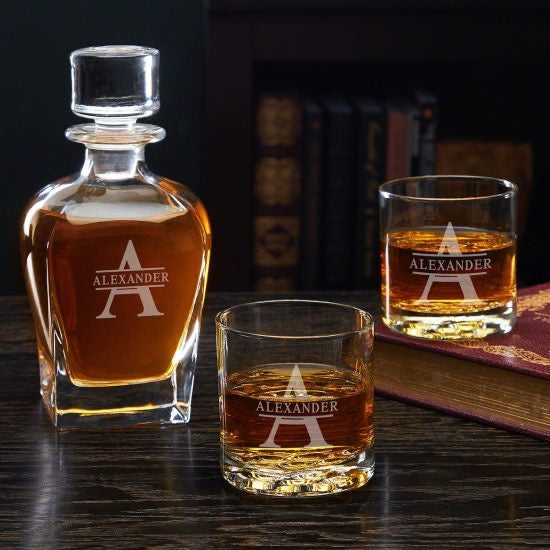 Your dad is the kind of man who likes to enjoy a glass of scotch when he comes home from work. Instead of using the regular glasses from the kitchen cabinet, he deserves to enjoy his drinks in style with this stunning personalized decanter set! On his birthday or for Father's Day, you should surprise him with this set along with a bottle of his favorite scotch so you two can toast to the occasion together.
The Perfect Dad Gift

You know your dad is the world's best dad, but does he know it? With this beer mug in hand, he'll always know how proud you and your siblings are of him. He will love that this gigantic mug allows him to kick back and relax with plenty of beer to drink as he lounges in his favorite chair and watches his favorite sport on TV. This awesome mug is definitely one of the coolest gift ideas for dad you can get!
A Powerful Telescope to Stargaze With
For the dad who loves anything and everything to do with space, a new telescope is the perfect gift! This impressive reflector telescope will allow him to see the craters on the moon and each of Saturn's rings in incredible detail. As soon as you give it to him, he'll want to drive the whole family out to the country so that you all can stargaze together with his new telescope.
For the Dad Who Always Says "Bigger is Better"

Does your dad love to impress friends and family? Well, this giant cocktail shaker is sure to wow everyone who sees it! He'll love using this huge shaker to mix up margaritas for all of his friends. Not only is it more efficient, but it's so comically large and fun to use that he will want to make cocktails as often as he can with it. This cocktail shaker is one of the most fun dad gift ideas that he is sure to enjoy for years to come.
Awesome Ammo Can Gift Set

These custom ammo cans are always a head turner. Bundled with two engraved whiskey glasses, lighter, and a cigar cutter, your dad will love this gift. It doesn't matter whether he's relaxing on the back porch or camping in the middle of the woods. It has everything he needs for a good time. Throw in his favorite liquor and a couple cigars and this one of those dad gift ideas he'll be bragging to his friends about.
459+ AMAZING GIFT SETS DAD WILL LOVE>
Take His Golf Anywhere

Some dads are stuck in the office all day while they daydream about being on the links. With this sleek putting set, your dad can stealthily bring aboard a putting set into his office with the office being none the wiser while he works on his short game. You can even customize the case so it looks even more official.
Royal Beer Stein

Make your father feel like royalty on Father's Day or his birthday with a gift that's fit for a king! With a cool vintage-inspired design that you can fully customize to make entirely unique, this beer stein will be your dad's favorite way to drink his favorite brew. When he's not using it, the stein makes an awesome display piece for his man cave or home bar.
Thoughtful Dad Gift He'll Never Expect

You want to get your dad the best gift possible, and so do your siblings. Instead of competing for the best gift, why not get him a personalized sign from all of you? This thoughtful gift is so touching, he might just tear up when he opens it. He'll want to hang it right away in his office or the living room so that he can see it and the sweet reminder of his greatest blessings every day.
The Coolest Gift Ideas for Dad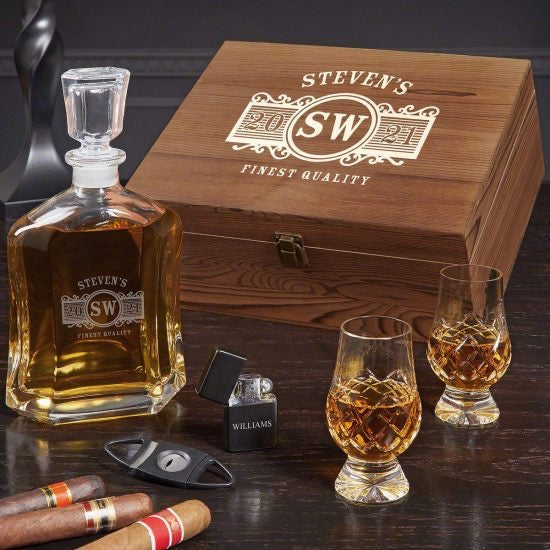 One of the most thoughtful gifts you can give your dad is something that makes his favorite activity even more enjoyable. For the dad who loves to unwind with a glass of whiskey and a stogie, he can enjoy both like never before with this awesome decanter set! The exquisite crystal Glencairn glasses are designed to deliver the best glass of whiskey every time while the handy cigar accessories make sure he's prepared for a stogie anytime. Best of all, you can join him and the two of you can puff and sip in style as you watch his favorite sport on TV together.
New Irons Are Always Good Dad Gift Ideas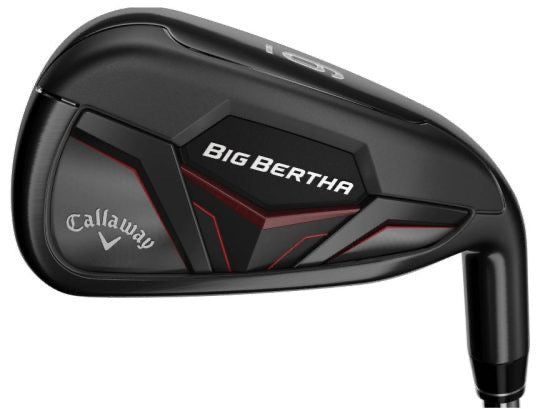 Make sure dad always has the best clubs on the green by getting him a new set of irons for Christmas or his retirement! These awesome irons, called "Big Bertha," are designed to deliver long distance and precise drives with their unique Suspended Energy Core Construction that gives the ball an extra boost. These irons will ensure that he plays golf better than ever before!
The Best Grilling Tools for Dad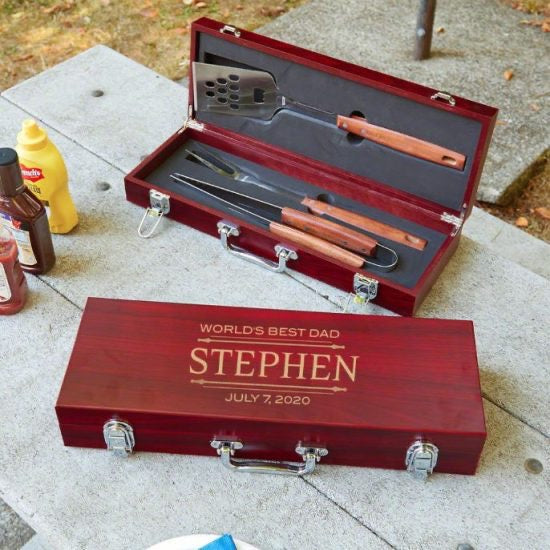 Like most dads, yours loves to grill every summer. One of the best gift ideas for dad this Father's Day or for his birthday are these personalized grilling tools! He will be so amazed by the handsome personalized case and how professional the tools are that he will want to get behind the grill right away and cook up some BBQ with them. Thanks to your awesome gift, he can take his trusty new tools to the campground, the lake, his buddy's house, or even the neighborhood park so that he can grill wherever he goes.
The Ultimate Beer Gifts for Dad
You've always known that your dad likes beer and you've given him tours of local breweries as gifts before, but this year you want to do something different. You can't go wrong with a complete set of personalized beer tasting glasses! Whether it's to celebrate his retirement, his new job, or Father's Day, he will be over the moon for such an incredible gift.
Make Him Feel Special

While you know that your dad is one of a kind, make sure he knows it too with these legendary dad gift ideas! Declaring him an "Ultra Rare Edition," kind of man, he will feel like the coolest dad in the world when you give him this amazing set! From the engraved glasses to the multi tool, he won't know which part of the set is his favorite to use because they're all so practical and awesome. This set is ideal for dad's birthday as you can put the year he was born on the unique vintage-inspired design!
For the Dad Who Enjoys Stogies

Whether he's the kind of man who enjoys a cigar every evening after work or only indulges in them on special occasions, your dad will love this personalized cigar lounge sign! Whether he hangs it in his man cave or home bar, this sign will instantly make him feel like a badass gentleman who knows everything whenever he sees it. Of course, make sure you give him a pack of his favorite stogies along with the sign!
Add a Personal Touch to His Favorite Bottle of Liquor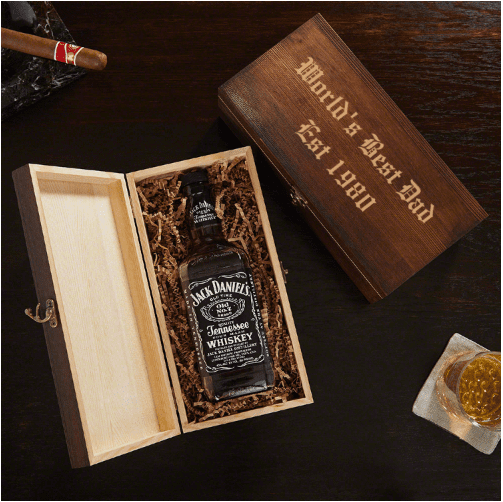 Sure, if you hand dad a bottle of his favorite liquor, he'll appreciate it. But why not set your gift apart with this engraved liquor bottle gift box? He'll marvel at the craftsmanship and personalization so much that you might have to remind him there's something inside. He can even store mementos, tools, or his watch collection in the box and keep it on display for all to see.
For the Dad Who Loves to Cook

If your dad loves to grill or prep meals at home for friends and family than a cutting board customized for him is exactly what he needs. Personalize two lines below his "Dad" title to remind him why he's cooking. Our customized cutting board is great for steaks, vegetables, or whatever your dad loves to cook.
Make Sure He's Prepared for a Drink Anywhere

Everyone knows a dad that has seen every James Bond film at least ten times. This is one of those gift ideas for dad that will let him pretend to be a super spy as he packs this secret agent styled travel bar with his favorite bottles of liquor. The carrier has everything your dad will need so he can drop the travel bar on a table, spin it around, open the latches, and surprises his friends with what lay inside.
The Best Gift Set for Him

You've looked at getting him a watch, maybe a nice bottle of whiskey, and heck, even a new wallet. Well, why not get him a gift set full of awesome gifts instead of settling for just one? From the watch case to the custom rocks glass, your dad will be speechless at how many amazing gifts this incredible set has! He will want to store his old watch in the case and put on his new wooden one instead as soon as you give it to him. You two can even use his new flask and glass to toast to the occasion! These unique gift ideas for dad are so awesome that you'll be hard-pressed to find better ones next year.
The Perfect Place to Keep His Stogies

It's time for your dad to stop storing his cigars in his cigar drawer. This personalized cigar box is one of those gift ideas for dad that will finally let him store his cigars how they were meant to and give him an excuse to grow his collection. The suave Oakmont design will let you tailor the cigar box for a suave look he's sure to appreciate.
Taste the World with This Subscription
Some gift ideas for dad give month after month. Try the World's subscription box does just that. If your dad wants to expand his culinary palette than this subscription box is key without ever having to leave the country. Every month they pick food products produced from a different country and ship it to your front door. Now your dad can experience the world from his own kitchen.
The World's Best Dad Deserves the World's Best Pint Glasses

You know your dad. He's probably been drinking from the same glass since you were born. Well, this is one of those gift ideas for dad that will upgrade his life and remind him of why he drinks when he sees the birth date of you and all your siblings engraved on the pint glass. This gift set also has the added bonus of making sure he never forgets your birthday.
Personalized Whiskey Gift Set

A nice glass of whiskey is what some dads need to relax after a long day of work. This personalized whiskey gift box comes with everything your dad would need to enrich that experience. If you're looking for one of those gift ideas for dad that will upgrade his current lifestyle than we have it. Each gift box can be customized for your dad and comes with two matching whiskey glasses, a set of 9 whiskey stones, and tongs.
The Ultimate Golf Gifts Your Dad Needs

Does your dad love to golf? Then this set of golf gifts is perfect for him no matter what the occasion is! He will love using the insulated tumbler to bring plenty of water or coffee with him on the course so that he stays hydrated through all 18 holes. The divot tool and bag tag will come in handy when he needs to fix a divot or pick out which bag is his at the clubhouse.
Relaxing Gifts He Will Love

Help your dad unwind after a long day with this thoughtful relaxing gift set! He can enjoy a warm glass of cognac and a freshly cut stogie alongside you on Father's Day or his birthday after enjoying an amazing home cooked meal made by your mom. Dad can use the handy little wooden box to keep his stogies in, collect cigar bands, or even use for small keepsakes. This relaxing set of dad gift ideas is sure to be his new favorite way to unwind after a long day!
Gifts for Dad Don't Get Cooler Than This

You thought the last gift set was cool? This one is, as Keanu Reeves would say, "Breathtaking." Inside the custom engraved ammo can are the perfect gift ideas for dad: a flask, multi tool, and even beef jerky! Your dad won't even suspect that there are more awesome gifts inside the ammo can when he sees it under the Christmas tree or on the kitchen table the morning of Father's Day. He'll enjoy every item in this set and will especially use the ammo can and multi tool for years to come.
Make Him Feel Young Again

We understand if your dad still covers his face in paint for gamedays or frets about what to wear because it might jinx the team. That's why we love these really cool, quality collegiate sweaters. They're one of those dad gift ideas that are stylish, will provide comfort, and maybe make your dad retire the face paint. No promises, though.
Sophisticated Gifts Just for Him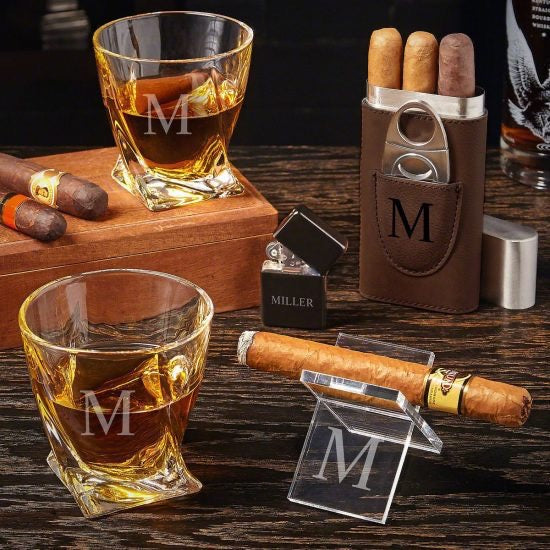 Make sure your dad is treated like royalty on his special day by pampering him with these amazing cigar and whiskey gifts! Perfect for kicking back in his favorite chair, he can sip on his favorite scotch in the luxurious glasses and enjoy a fresh stogie from the cigar case. The portable cigar holder, lighter, and even the cigar case can go with him everywhere so that he can unwind or celebrate with a Macanudo whenever he likes.
Dad Beer Cap Map

Collecting is a hobby that comes in many shapes and forms. With this dad beer cap map, you can remind your dad that you think he's the best in the world and let him add and collect beer caps from across the world. He could even save caps from memorable occasions: the day you graduated college, the first shared drink after his grandchild was born. The possibilities are endless with this gift idea for dad.
His Own Poker Set

Remember the first time your dad taught you how to play Texas Hold 'Em with his old poker chip set? Years later and he's still using the same one! Why not get him a new set for Christmas or Father's Day? This personalized set is perfect for dad's weekly game with the guys or for family game night as it comes with everything he needs for poker, classic card games like Go Fish, or even dice games such as Farkle! By far one of the best gift ideas for dad, he'll be using this set to teach your kids how to play one day.