Your father molded you and made you into who you are today, and you can't imagine going through life without his love and support. You know you'll never be able to repay him for everything he's done for you, but you want to show your gratitude in some way. One of the best ways to do that is with unique gifts for dad! He will love getting a personal or custom gift that has been made just for him! Whether you're searching for a gift for milestone event, an upcoming holiday, or just because, you can be sure these are the most creative gifts for dad around!
Ultimate Glassware Set of Unique Gifts for Dad
When you want your dad to be shocked by how awesome his gift is, this ultimate whiskey glass set is the way to go! This extensive set will greatly impress your dad because with it, he can have countless experiences. From tasting an old favorite whiskey from back in the day to trying something new in a glass shape that's new to him, he'll be provided with fun opportunities to enjoy one of his favorite things.
Sign for the Bar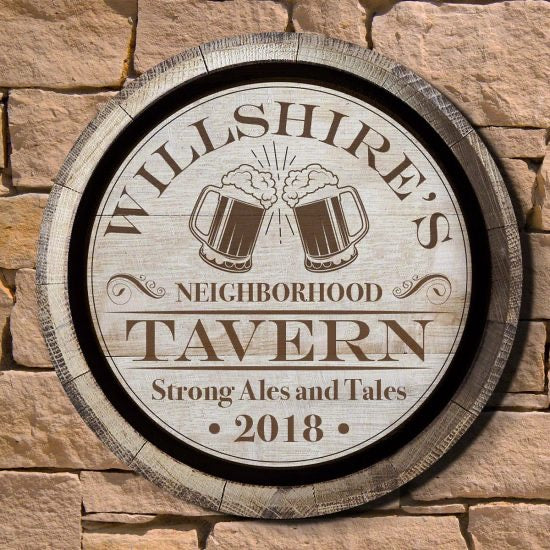 If there's one thing any dad would love, it's the perfect sign for his home bar or kitchen to make the space really feel like his own. That's what makes this customized tavern sign one of the best unique gifts for dad you can think of! He'll love the way this sign looks up on the wall in his home, giving the space an awesome pub vibe, and he'll think of you every time he sees it!
Creative Gifts for Dad Who Is New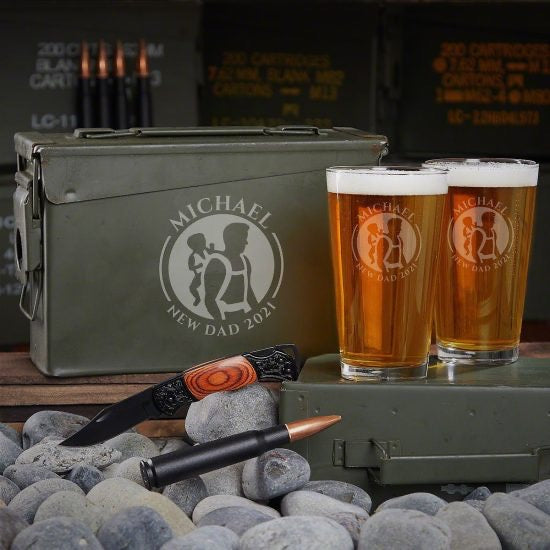 Even if he's only been a dad a short time, he deserves an incredible gift. Get the new dad in your life this ammo can gift set to show him how great of a job he's already doing at being a father. He'll love using the specially personalized pint glasses to enjoy his beer, and he can use the ammo can to store mementos from his early days of fatherhood.
A Man's Purse
For your whole life, your dad has been your ultimate fixing teacher. Whether it's the dishwasher, plumbing, air conditioner, or anything else, your dad has been there to help fix any problems with you, and the two of you have bonded over that. This zippered tool bag is an incredible gift for your dad that will make those inevitable future fixing jobs so much easier. With easy access to any tool he needs, this bag makes storing tools very convenient, and your dad will be very grateful for such a useful gift.
Don't Complicate These Unique Gifts for Dad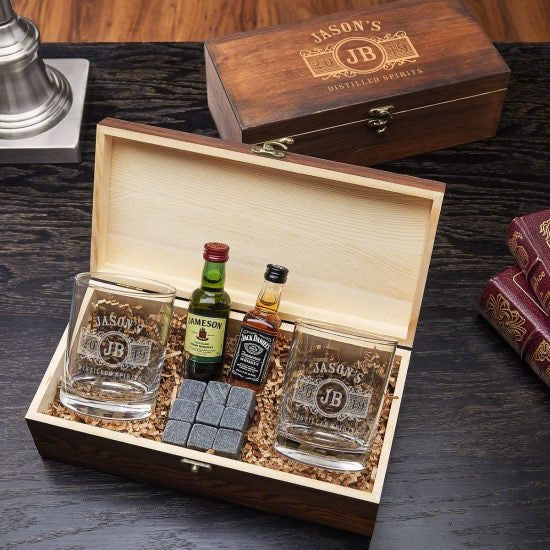 Your dad isn't a complicated man. Often, all it takes to make him happy is a nice cold drink and some good company. Give him both of these by taking this whiskey stone box over to his house! He'll be a huge fan of the customized glasses that make this simple gift so unique, and he'll love how they're perfect for enjoying a drink with a friend or even with you. He won't be able to imagine a more incredible gift!
493+ AWESOME BOX SETS FOR DADS>
Hold His Watches and Other Items
He's undoubtedly received many useful gifts in his life, but none that he will find more useful for organization than this one! This leather valet box and display case is one of the more creative gifts for dad because he'll love how convenient it is for storing his watches, cufflinks, tie clips, or any other accessories. It'll look so fancy on his bedside table or dresser, too, and he'll be really happy to have such a useful gift he gets to use every day!
The Perfect Dad Set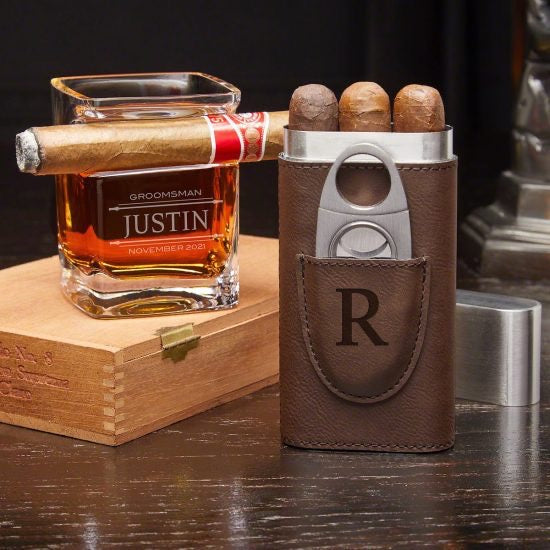 If there's anyone who is deserving of indulging their favorite vices, it's your old man. That's why this whiskey glass and cigar case are terrific, unique gifts for dad. He'll love that both items are personalized just for him, making enjoying his favorite vices so much more enjoyable, whether he's enjoying them to relax or celebrate a special occasion. He'll love that you recognize how hard he works and deserves an amazing gift.
Unique Gifts for Dad and His Oldies
Whether it's Paul Simon, Counting Crows, or any other musical artists, your pops is passionate about his favorite music. A gift that lets him listen to his favorite artists the old fashioned way and gets him to dust off his old favorites from his record collection would make him very happy. So, for this gift, put a smile on your father's face with his own high-quality record player! He'll love the smooth sound this record player gives his music, and he'll feel so grateful for such a unique, incredible gift.
Store Cigars Safely
Some gifts just scream "dad," as soon as you see them, one of which being this ammo can cigar humidor! Because he values his cigars and doesn't want them drying out or getting too moist, this humidor is the perfect gift he can use to keep them in tip-top shape. Your dad will be very thankful for such a useful gift that will keep his cigars fresh, and he'll be very impressed with one of the most creative gifts for dad he's ever gotten.
Set of the Most Creative Gifts for Dad Ever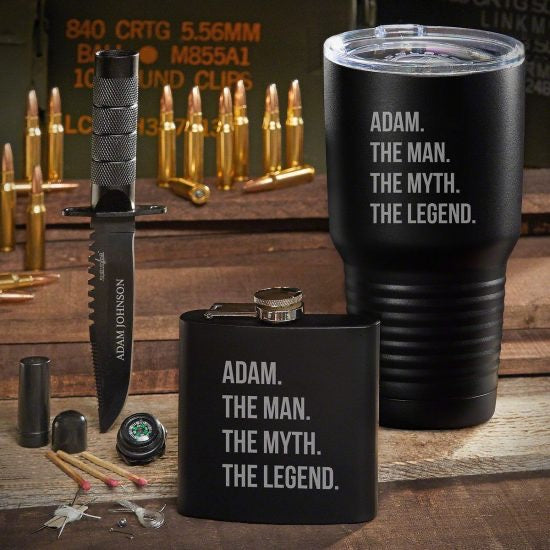 When you have a legendary dad, you need to get him a legendary gift. You simply can't go wrong with this customized, manly gift set. Whether he wants to bring a taste of liquor or cup of coffee with him, he'll be fully equipped to do so from now on! Also, if he's ever caught in a sticky situation in the great outdoors, the survival knife just might save his life. Your legend of a father will love this unique gift set!
Their Names on the Wall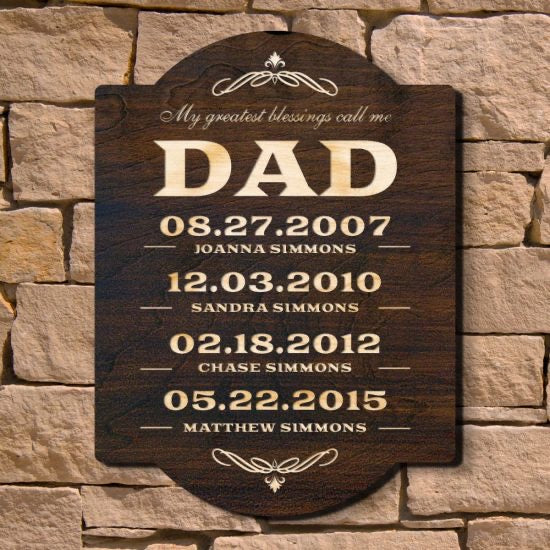 The one thing your dad loves more than anything else is his children. With this personalized wall sign, he'll be able to display his biggest blessings in his home wherever he pleases. He'll love the rustic look combined with the sentimentality of this sign, and it'll make his heart swell with pride every time he sees it!
Wrist Gift for Dads
A man's watch says a lot about him. For ultimate dad, this Casablanca watch is the perfect gift! He'll love how stunning this watch looks on his wrist with all its intricate pieces. Some gifts for dad have to say "World's Best Dad," or "Best Father Ever," well, this watch is so good he'll know you think the world of him and you won't have to say a word.
Putting Around With This Gift
You know your dad would hit the links every day if he had the time! Help him experience the excitement of golf from home or the office with this golf putting set. He'll be so excited to perfect his short game at all hours of the day so the next time he's playing a round with his buddies, they'll be so impressed with his new skills!
Ultimate Unique Gifts for Dad From His Favorites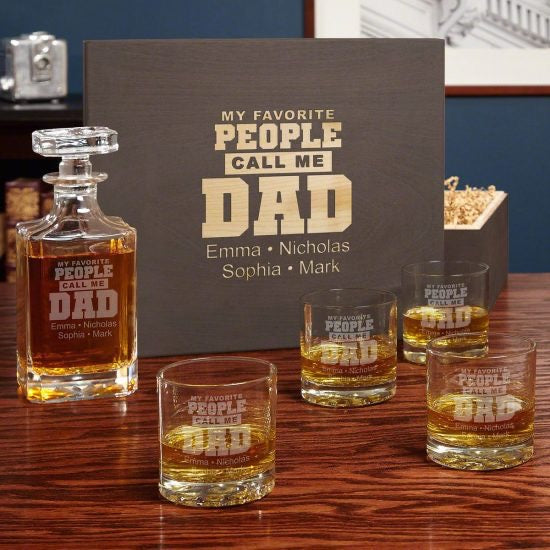 Dads are proud of a lot of things in their lives, but nothing comes even close to the pride they have in their children. That's why your dad will love this decanter box set. The names of his favorite people are engraved into every piece of this set, so every time he pours liquor into the decanter, sips from the glass, or puts something inside the box, he'll think of how lucky he is to have gotten such a unique birthday or Christmas gift from his favorite people.
Massage Those Feet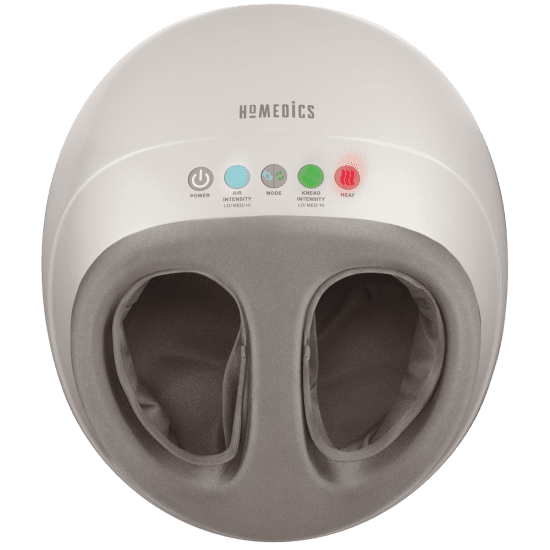 If there's one thing dads do, it's work hard! Some of the more useful, unique gifts for dad are ones that help them to fully relax, such as this foot massager! He'll love sticking his feet in this device after a long day and relaxing as all the tension in his feet is soothed. He'll be so thankful for this creative present!
Sly, Sneaky Dad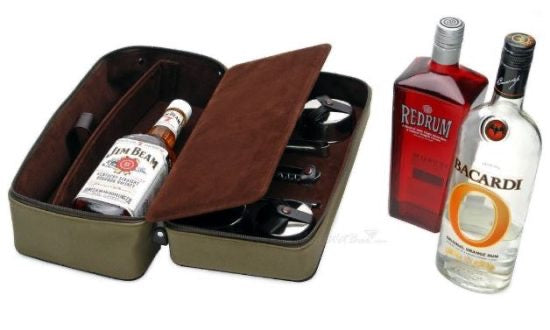 Dads get a kick out of some good old trickeration, which is what this gift brings to the table! This unique leather travel bar set is disguised to look like a DOPP shaving kit, but it's actually equipped with everything your dad could ever want for a good time with a drink! He'll love bringing this set to a buddy's house when he wants to relax and have a good time, and he'll be really grateful for this fun gift!
His Kind of Tools
Who is the first person you think of when you think about grilling gifts? Your dad, of course! Get him one of the most creative gifts for dad out there: this BBQ grilling tool set! He'll have a blast inviting friends or family over to his house and grilling up anything and everything he can think of.
Favorite Beverage Vessel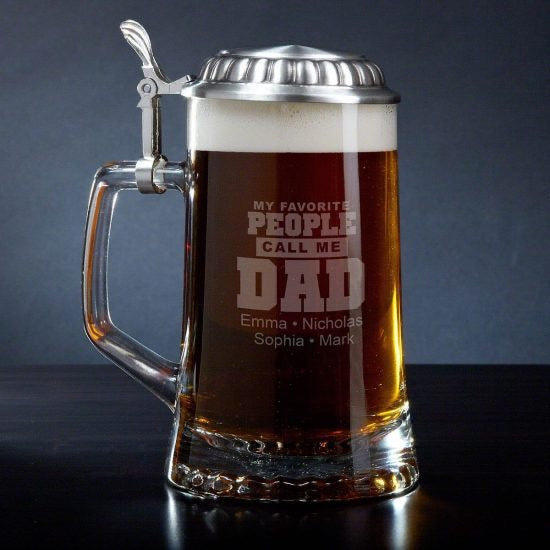 A gift that's personalized just for dads will always make him happy. Your dad couldn't dream of a better way to drink his favorite beverages! This customized beer stein will instantly become his favorite because of the special personalization showing his kids' names. He'll love that every time he takes a sip, he'll see their names and be filled with joy. He'll definitely want it displayed in his home when he's not using it to enjoy a drink.
347+ BEER GIFTS DAD WILL LOVE >
Most Creative Gifts for Dad When He Travels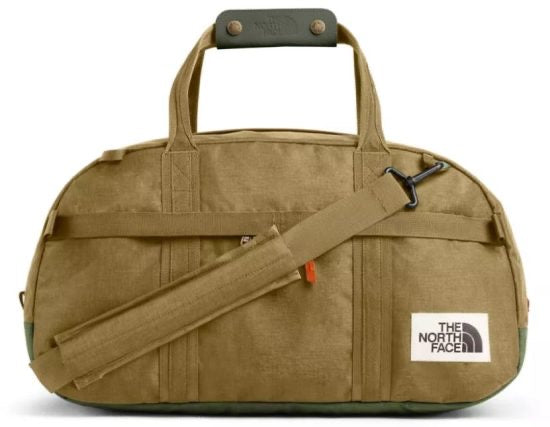 Most dads don't have their own nice luggage. If they do own a bag for traveling, they've likely been using the same one for years and years. Get your dad this handsome duffel bag so he's always equipped to travel, whether he's going on a cross-country trip or just to the gym and needs to pack a change of clothes. He'll love how attractive this bag is and how much more convenient it makes to pack clothing and other important items.
In the Kitchen, On the Board
Your dad deserves to be reminded whenever possible that he's the best dad ever. With this customized cutting board, he'll be reminded every time he's in the kitchen chopping up foods! Your pops will love using this bamboo board when he's making food, and the customization is sure to make him smile every time he sees it.
Impress Your Dad
No dad will be able to believe how awesome this ammo can gift set is! It's so incredibly unique and incredible that he won't be able to believe it's even a real thing. When you tell him the ammo can was used by the U.S. military, he'll be even more impressed with it and use it to store fishing tackle, drinking accessories, or anything else he desires. When he wants to enjoy his favorite vices, he'll be fully equipped to do so.
A Memory-Filled Decor Piece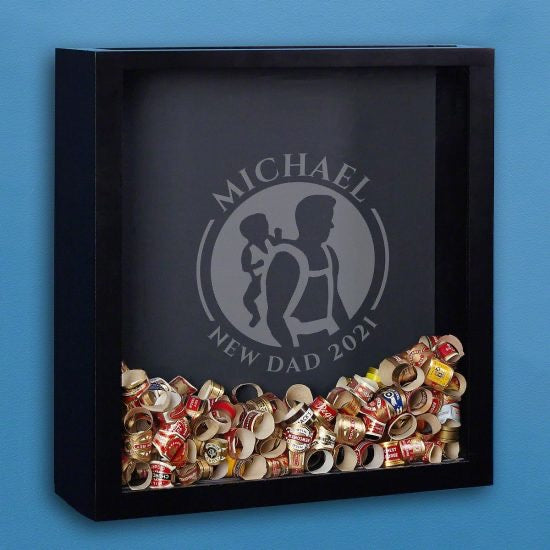 Dads want to retain every memory with their kids, and the best way to do that is with a shadow box! With this box, your dad can store cigar bands, bottle caps, or any other small trinkets that help him remember experiences he celebrates milestones in his children's lives. Any dad will love receiving this amazing, unique gift.
Impossibly Cool Shoes for Dads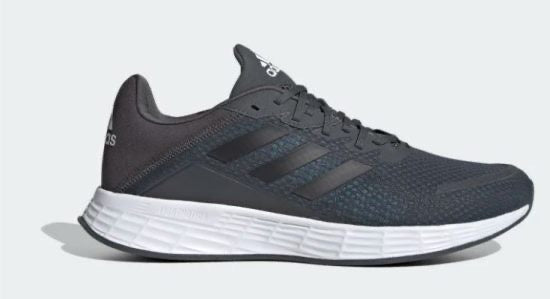 The coolest dads deserve the coolest shoes. That's why these men's Adidas sneakers are some of the coolest, most unique gifts for dad you can think of! He'll feel totally awesome sporting these rad shoes around, and he'll have you to thank for making him feel like the coolest dad ever!
His New Favorite Wine Accessories
A bottle of his favorite wine is great gift on its own, but the way to make it the most amazing gift he's ever received is by putting it inside this wine box and tool kit! He'll love how handsome this personalized box is and how great it is for keeping a fancy bottle of wine safe. He'll be a huge fan of the convenience of having all the necessary tools right inside the box as well, making this an awesome gift for your dad.
Make It His Space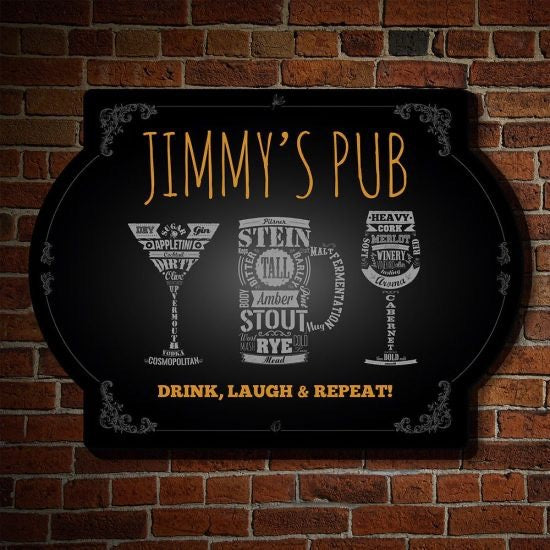 When a man is as hardworking as your father, you know he deserves a time to be by himself. This personalized bar sign is the perfect gift for him that he can hang up on the wall in his bar or man cave to declare the space his own! He'll be so grateful for such a unique, awesome gift, and he'll definitely constantly admire it during his alone time.
Brand New Technology
Get your old man a piece of new technology he'll use daily! Surface Go tablets make terrific, unique gifts for dad because whether he needs to do research for work, wants to watch a movie, or feels like video chatting with his long-distance family members, he can use it. He'll love how much use he gets out of this one awesome gift!
Ultimate Cigar Creative Gifts for Dad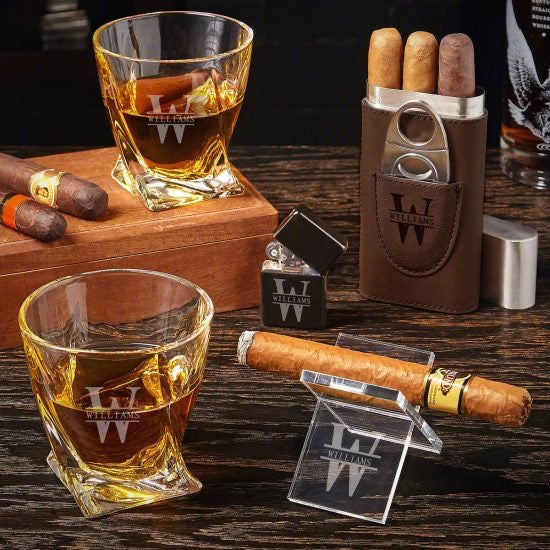 Make him feel like he earned the title World's Classiest Dad with this whiskey and cigar gift set! He'll love holding the unique, twisted cigar glass while placing his cigar on the cigar stand. He'll feel like the fanciest, most sophisticated person in the world, and he'll love that you got him such a fantastic, amazing gift.
631+ INCREDIBLY UNIQUE GIFTS FOR DAD>