Another gift-giving occasion has rolled around for your dad. Unfortunately, your dad always claims he's one of those dads who want nothing. It's true that some dads are impossible to shop for. Even if they don't want anything it's only because they don't know what they want. It doesn't make it any less difficult. You're likely plagued with questions like what gifts are there for the dad who doesn't want anything? What gifts can I get for hard to shop for dads? What is a memorable gift for dad? Thankfully, we've gathered a list of 17 unique items that will change your dad's position on not wanting anything.
Monogrammed Decanter Set
It's tricky to find gifts for the dad who wants nothing. He might reconsider his position when he sees this monogrammed decanter set. He will love finally having a way to handsomely display his favorite liquor and share it with his friends and family. The monogrammed design will have your dad looking for excuses to use it.
All the Vices Ammo Can Gift Set – A Gift Dad Will Never Forget
You may think that gifts for dads who want nothing don't exist. This list clearly shows that's not the case and this All the Vices ammo can gift set is a prime example. Your dad will be able to enjoy cigars again with the cigar cutter and lighter, drink scotch how it was meant to with the lowball glasses, and he can even store ties, watches, or whatever memento he likes inside the ammo can.
Ultimate Whiskey Set for any Dad
Long before you even knew the difference between whiskey and whisky, your father was able to discern where a certain spirit was distilled by smell alone. It's why this ultimate whiskey glass set is perfect, even as a gift for Dad who wants nothing at all. He'll change his mind when he opens this exquisitely crafted box and sees whiskey glasses for every possible variation of the golden elixir. He'll marvel at finally having the ideal glass for every single style of his favorite kind of liquor.
Finders Seekers Subscription Box – A Gift Idea for Amateur Sleuth Dads Who Want Nothing
If your dad is addicted to true crime shows, reads a ton of mystery novels, or considers Batman one of his personal heroes, then he will love this mystery solvers subscription box. Every month a new mystery is shipped to his house and the only thing he has to solve it are his own skills. He'll love cracking a new case wide open every month.
Liquor Smoke Box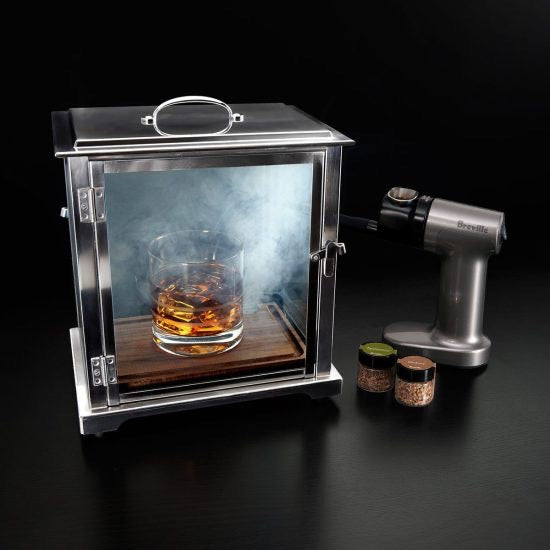 There are some people who think that there are zero gifts for the dad who wants nothing, but that's only because your dad didn't know a product like this smoke box even existed. Your dad will love the chance to craft and accent his favorite liquors with wood chips, spices, and smoke. It's almost a guarantee he's never seen anything like this.
Cool Beer Serving Tray – A Gift for the Beer Loving Dad Who Wants Nothing
This beer mug box set is an awesome gift for a few reasons. The custom beer mug is only the start. If your dad loves to brew his own beer, loves to try new craft beers, or loves to host on gamedays then this gift has everything he needs. He can fill the mug with his beer of choice or the favorite of each of his guests. It's destined to be a hit as a birthday or holiday gift.
Engraved Flask & Cigar Holder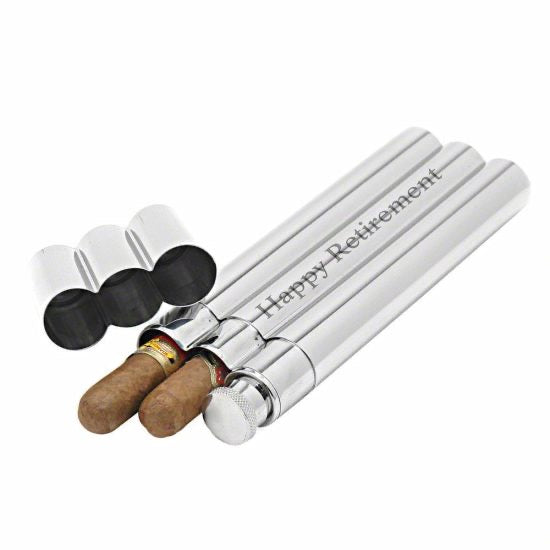 If your dad loves cigars and whiskey then he will love this engraved flask & cigar holder. He'll love the custom engraving and the ability to smoke a quality cigar and sip his spirit of choice whenever the moment calls for it wherever he is. You can pair this stylish gift with a couple cigars and a bottle of liquor for a gift he's sure to never forget.
Globe Liquor Decanter – Creative Gifts for Dad Who Doesn't Want Anything
If your dad loves both drinking and traveling then he will love this really cool globe liquor decanter. Your dad can store whiskey, cognac, or even port inside the remarkable display. The globe design will look great in your dad's office or home bar. He'll love seeing the brilliant hues of his favorite spirits and being able to easily sample what's inside.
Custom Stemless Wine Glasses – A Gift for Wine Loving Fathers
This is one of those unique gifts for Dad who doesn't want anything is out there. If your dad loves coming home after a long day at work and having a nice glass of wine then he will love these custom stemless wine glasses. Designed to fit comfortably in his hand, they're shaped to make sure he enjoys every note of his favorite wine. With a set of 4, your dad will be able to share his favorite bottle of wine with anyone he chooses.
Dads Who Want Nothing Still Want Cigars and Whiskey
Your dad always has a cigar for special occasions. And now that he's gotten older, sometimes those special occasions are just because he has a fine cigar in his possession. It's why this cigar gift set is one of those ideal gifts for dads who have everything. He'll love enjoying a cigar wherever it's called for. This gift even has everything he needs to make sure it's a memorable occasion. This even makes a great gift for retirements or birthdays.
Personalized Axe
Your dad may think he wants nothing, but that's because he didn't know that engraved axes were a thing. Handover this impressive hatchet to your dad and he will love chopping wood for the fireplace, getting rid of overgrowth in the yard, or displaying it above the mantle. This is the kind of gift that's great for retirements, birthdays, or any occasion you can think of.
Elevate How Dad Shaves
There's nothing quite like that perfect barbershop shave. Your dad still laments about salons taking over quality barbershops. He hasn't gotten a good shave since. Thankfully Legacy Shave created a gift for dads who have everything that mirrors the shave experience they used to get. They can attach the shave brush to their favorite canister of shaving cream and get an even, smooth distribution for a shave experience they only used to daydream about.
Engraved Whiskey Gift Set – A Gift for the Whiskey-Loving Father Who Wants Nothing
This handsome whiskey gift set is great if your dad enjoys whiskey, scotch, or bourbon. Housed in a quality crafted wood box, your dad will love being able to savor his favorite spirit while the whiskey stones keep the drink cool and don't want the flavor down. With two glasses, your dad can sit anyone down to share the splendor of this gift set.
Homemade Hot Sauce Kit – A Gift for the Aspiring Chef Dad Who Wants Nothing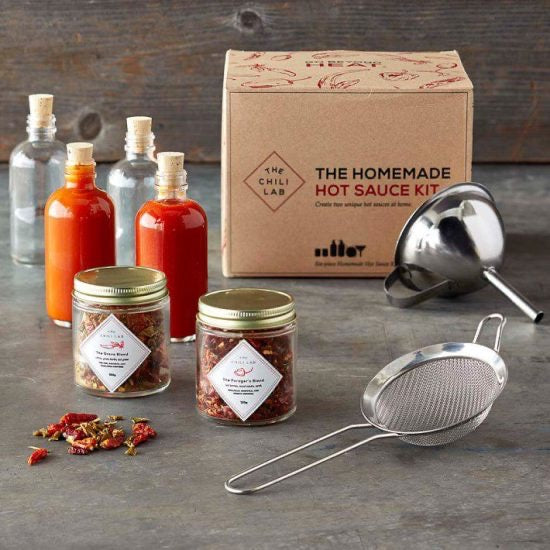 Guys love hot sauce. It goes on everything: pizza, French fries, cocktails. Your dad is no different. You probably already know his preferred hot sauce brand. But part of him has always thought it could use a tweak or two. With this homemade hot sauce kit, you can finally give your dad the chance to craft his own master hot sauce.
Personalized Poker Set
There's a good chance your dad taught you how to play cards before he taught you to swim. He's always fancied himself a card shark amongst his group of friends. That's why a personalized poker set is an amazing gift for dads who have everything. It has everything a veteran card shark needs to take home the pot. It doesn't matter if he prefers Texas Hold 'Em or some classic rounds of Blackjack, he'll feel like a king with this set.
Personalized Home Bar Sign – A Gift Idea for Dad's With a Man Cave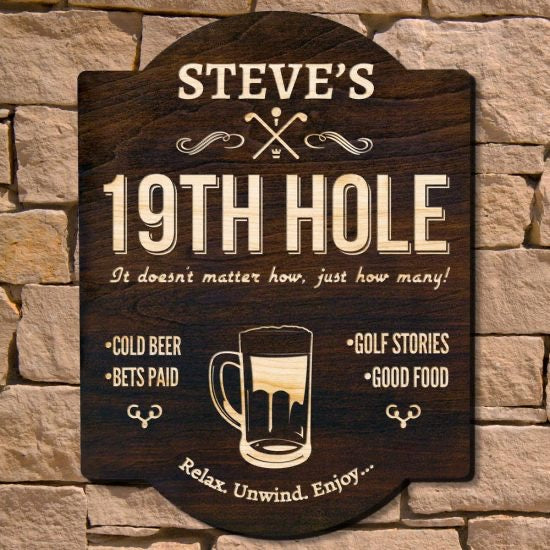 It doesn't matter how hard your dad is to shop for, if he has a man cave, home bar, or spends time in his garage then he will appreciate the thought behind a quality, personalized sign. This personalized sign is oftentimes the last thing to really tie the whole room together. It will give your dad and guests are fun welcome wherever they go to relax in the home.
Carson Custom Decanter Set – A Gift for the Liquor Aficionado Dads Who Want Nothing
Every dad needs a decanter in their life whether they realize it or not. Of course, a decanter is kind of useless without the right glasses to serve the liquor inside with. Your dad will love how his favorite liquor looks in a custom monogrammed decanter. He'll appreciate how the included rocks glass allows him to taste every note and aroma of his favorite liquor. This is a gift that will elevate how he drinks liquor.
Whiskey Cigar Glass Holder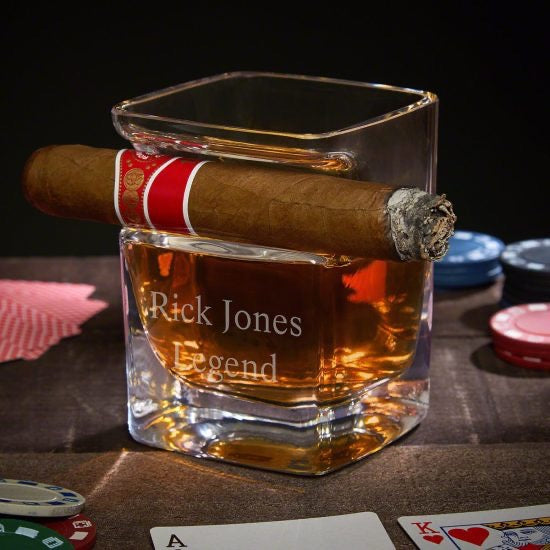 It's not impossible to find cool gifts for the dad who wants nothing. This whiskey cigar glass holder is something that he could never have imagined. It's the perfect pairing between two of his favorite things in a sleek design that makes enjoying them even easier. Your dad will have a free hand for whatever he needs while he puffs from a fine cigar and sips his favorite liquor.
Let Dad Improve His Golf Game in the Office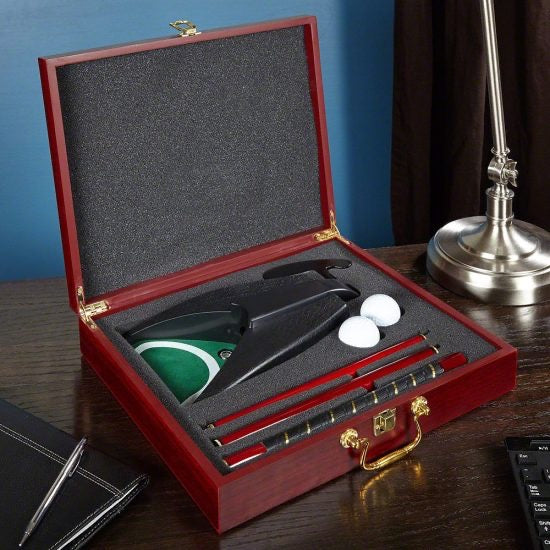 Everyone would rather be on the golf course instead of the office, especially when it's a perfect day outside. Even if your dad has to be in the office, he can still work on his short game between boardroom meetings with this discreet portable putting set. Everyone in the office will be none the wiser when your father walks past with a briefcase. Of course, they'll have no idea what's on the inside, but they'll be wondering how he managed to take a few strokes off his handicap when he spends all day in the office.
Waterproof Bluetooth Speaker
Does your dad love to sing in the shower? If so then he will get years of use out of this waterproof Bluetooth speaker. He will love being able to bring a speaker to the pool, beach, or finally having his favorite artists able to harmonize with him in the shower.
Stainless-Steel Pint Glass
If you think gifts for Dad who doesn't want anything are hard to find then this might be the gift you are looking for. Your dad loves sipping his favorite beer but hates when it loses that refreshing coolness when he first opened. These stainless-steel pint glasses and growler are a solution to that age-old problem. The double-wall design will keep your dad's favorite stout, pilsner, or lager nice and cold much longer than he ever would have thought possible.
195+ UNIQUE GIFTS FOR DAD WHO HAVE EVERYTHING>