No one deserves a thoughtful Christmas present as much as your grandfather. The holiday gift for your family patriarch should be personalized, fun, and show how much you care for everything he does throughout the year. The best Christmas gifts should honor his legacy and celebrate the favorite things from his youth. Are there cool Christmas gifts for a grandfather in every budget? Can the gift be from the entire family? Are there Christmas gifts he will love to use the entire year? Are you married to the older guy, because these even work as Christmas gifts for husbands who are older too. We've taken the time to answer all of those questions with 21 amazing gifts your grandfather will love to unwrap this holiday season.
Custom Tumbler for Grandpa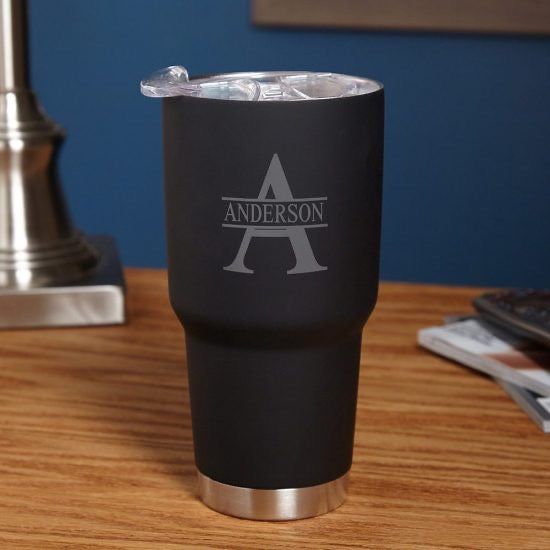 Your grandfather hasn't shown any signs of slowing down. That's why a custom insulated tumbler is one of these fantastic Christmas gifts for grandpa he will get a ton of use out of. Whether he's making a trip to visit the grandkids or going to a ballgame with friends, he can always be sure to have his favorite beverage by his side. This tumbler will keep it as warm or cool as he likes. He's likely to fill it up for the ride home after he unwraps it this Christmas.
Golf Grilling Tools this Christmas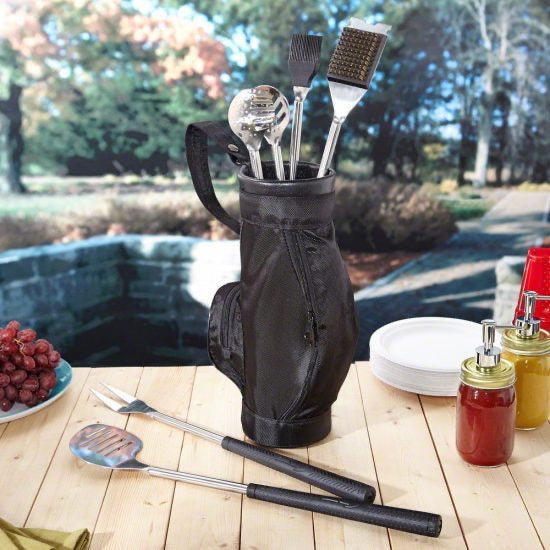 You can probably recite your grandpa's golf handicap from memory with how much time he spends on the course. He's told you the same golf stories while making hamburgers and hotdogs for the whole family. Now you can combine his two passions with one of those grandfather Christmas gifts that he will never forget. A complete set of grilling tools resembling what's in his golf bag will give him something to look forward to after he passes the 18th hole. He may have to warm until the weather warms up to hit the links, but this gift is sure to tide him over and fill everyone's plates.
Traditional German Beer Stein
The ability to be a great toastmaster is learned from father to father. Your grandfather loves to give speeches that make the room laugh and feel warm inside. Now he can raise a proper glass when he toasts with this traditional German beer stein. It doesn't matter what kind of beer your grandpa likes, he'll love the way his beer looks and tastes in this mug. The pewter lid is an awesome touch for the grandfather that likes to give passionate speeches and talks when he's drinking. Keep him guessing what this gift could be under the tree if you wrap it with just wrapping paper.
Whiskey Stones Gift for Your Grandfather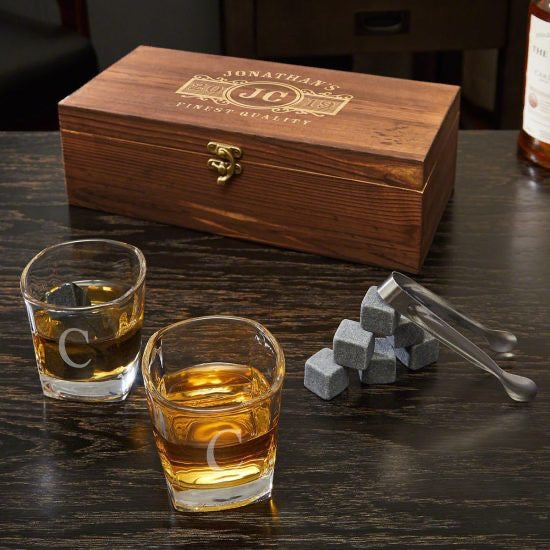 Some grandfathers have been saving a bottle of scotch for decades. Give them the push they need to finally indulge with one of these amazing Christmas gifts for grandpa. The presentation of this set is a classic design your grandfather will love, but not as much as he loves sipping on his favorite scotch with these monogrammed glasses.
Custom Been Bag Toss Game for Grandpa
Gathering with the family in the backyard and playing a game of bean bag toss will always bring a smile to your grandfather's face. Now you can get him on those grandfather Christmas gifts where he can have the experience inside and outside the house with this engraved cornhole. He'll love being a captain and picking teams. He'll always pick the grandkids first and they'll love having a Christmas gift where they can bond with their grandpa.
Classic Car Rental for the Holidays
Give your grandfather something he'd never expect this Christmas. With Driveshare, you can rent him a classic car like a '66 Mustang or a '57 Cadillac Eldorado. Imagine the look on your grandpa's face when he gets a chance to drive the dream car from his youth. You can ever get a car with enough room for the grandkids to share this experience. For an older guy, this is one of the best Christmas gift ideas for men he could ever expect!
Unique Whiskey Cigar Glass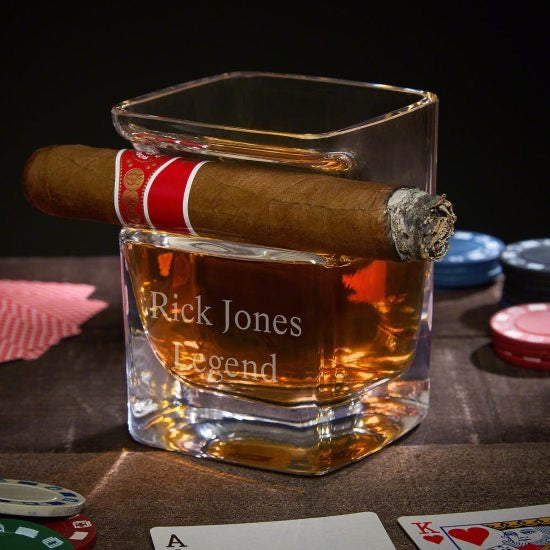 Your grandfather has built up quite the impressive collection of cigars over the years. Now he can enjoy them in style with this personalized whiskey cigar glass. He won't know what to think when he unwraps this gift, but once he realizes he can enjoy his favorite liquor and cigar in one hand. He'll always have an arm free to hug his family even when enjoying the vices he's earned.
51+ GIFTS FOR CIGAR LOVING GRANDFATHERS>
Beer Cap Shadow Box for your Grandfather
Framed photos line the walls of your granddad's home. That's why it's time this holiday season to get a Christmas gift for your grandpa that lets him still treasure his memories and have fun in the process. Now he can save every bottle cap from his favorite beer or soda and save the memory that goes with him. Did his team win the World Series? Toss a cap in. Sharing a beer with his grandson for the first time? Toss a cap in. This collection is only going to grow over the years.
Monogram Presentation Set
There isn't a grandfather alive who doesn't love to play the host. The best grandfather Christmas gifts keep this in mind and that's why a monogrammed serving tray is something he'll love. Being able to share his spirit of choice with an enticing decanter and perfectly crafted rocks glasses with friends and family will your feel grandfather with warmth and joy. Once he unwraps this gift under the Christmas tree he'll scour the home for a liquor bottle just for a chance to use this gift right away.
Comfortable Sports Chair
At every peewee sporting event, there is a grandfather in a lawn chair cheering his grandson or granddaughter on. That's why this sports chair is an amazing Christmas gift for grandfathers. Not only in this chair comfortable, but it even has built-in pockets and a side table so your grandpa can comfortably post up for hours. It's even a great beach chair or when watching hanging poolside. The moment he opens this gift he'll be sitting in the chair until it's time to go home.
Custom Highball Glasses for Christmas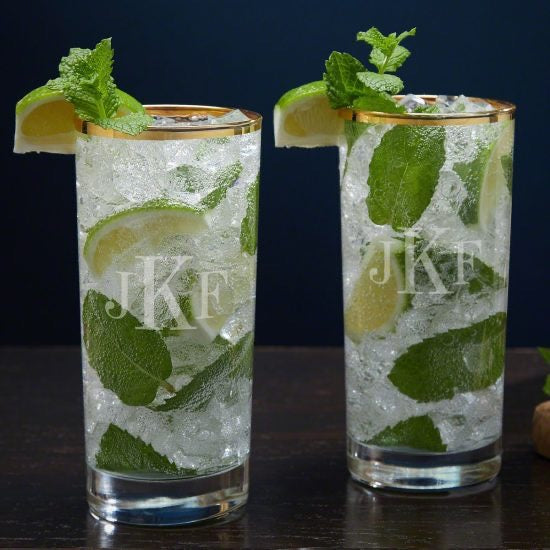 Your grandfather is the fun-loving sort. He always has a cocktail at the ready for any occasion. With highball glasses meant just for him, this Christmas will be one to remember for your grandfather. Cocktails never looked or tasted better than from his own highball glass. He'll make mojitos for the summer and hot toddies for the winter. With two glasses, he can share with those closest to him anytime he'd like.
Personalized Wine Glasses
If anyone knows wine it's your granddad. Whenever the family goes out to dinner, he always peruses the wine menu and orders the perfect bottle for the table. This Christmas he can have that experience in his own with friends and family with wine glasses personalized just for him. After he unwraps this gift he'll want to use these glasses with Christmas dinner and every meal he has from here on out.
Stylish Cutting Board
Your grandfather is a whiz in the kitchen. No one can grill a steak, make a stew, or make vegetables seem appealing like the patriarch of your entire clan. Get one of those Christmas gifts for your grandpa that shows how much you admire his knife skills with a custom cutting board. It will elevate his kitchen, his cooking, and you'll be sure to get a lot more home cooked meals. Don't be shocked if he uses this gift to prep Christmas dinner for everyone.
Wooden Dominos Set Grandfather's Love
You don't quite understand how dominos is played, but you know that your grandfather is a master at the game. A wooden domino set is really an amazing Christmas gift for your grandpa. It's great as a stocking stuffer or on his own. He'll love opening a fresh set and teaching everyone how to play. Pretty soon, this Christmas gift will become a staple at every family gathering. So it wouldn't hurt to brush up on your dominos skills.
Complete Presentation Set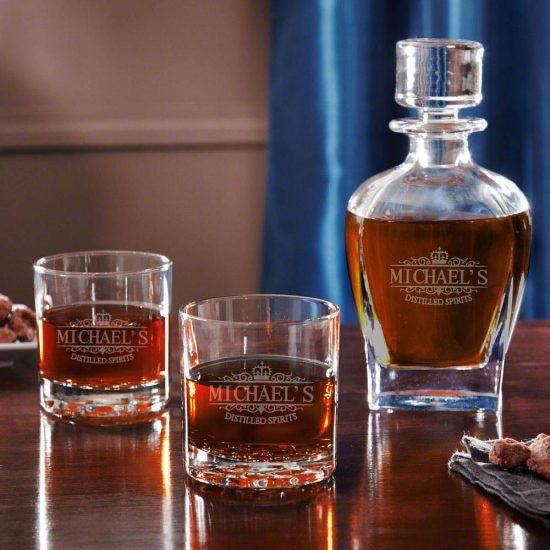 Too many years have passed with your Grandpa taking his liquor straight from the bottle like some sort of sap. A Draper-style decanter will become a mantlepiece in his home. He'll love the way his liquor looks and tastes in a decanter made just for him gifted to him by his family. With two rocks glasses, he can share this thoughtful Christmas gift with anyone he likes. He'll realize serving the liquor from the decanter is almost as fun as drinking it.
Ammo Can for the Veteran Grandfather this Christmas
Countless grandfathers spent time serving this great country in their youth. Get one of those grandfather Christmas gifts that honor his duty and sacrifice. He will appreciate the thought you put in this ammo can gift. You can even personalize it with his final rank. He'll store mementos, tools, or whatever he likes inside. This is a great Christmas to honor your grandfather's history.
311+ GIFT BOXES FOR GRANDFATHERS>
Bourbon Infused Coffee
Every morning your grandfather gets a cup of coffee brewing before he does anything else. It's time to take his love of coffee to a new level with bourbon-infused coffee brewed by actual firefighters. This stellar coffee will have your grandpa going back for cup after cup. He'll love this Christmas gift so much he won't want to drink any other kind of coffee ever again. This is a Christmas gift that allows him to relish being older while still kickstarting his day. Don't be shocked if he starts gifting this coffee to other people just so they can try his new favorite java.
Monogram Insulated Growler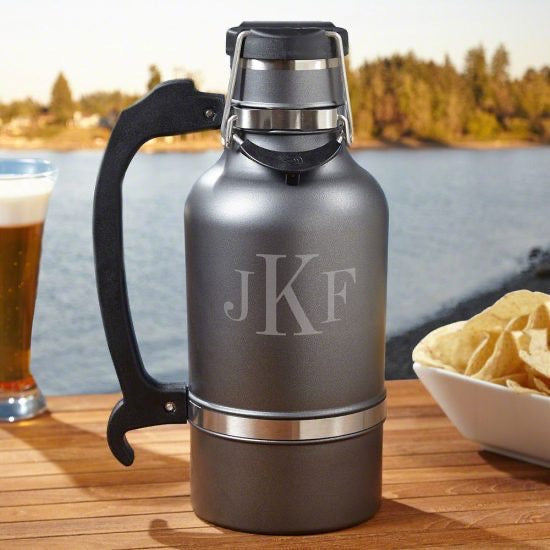 No grandfather should be forced to travel without a comforting beverage right by their side. A double-wall insulated growler is exactly what your grandpa needs this Christmas. If he's on a fishing trip, taking the family to an amusement park, or has a full day of BBQing planned, he'll want to have his favorite beer within reach. After this Christmas, it will always be there for him and as cold as it was when he poured it from the bottle.
Custom Sign for the Wine-Loving Grandfather
When you close your eyes and think of your grandfather's place you can perfectly picture his wine rack, wine fridge, or wine cellar. A cool grandfather Christmas gift ties this together with a custom wine sign that will look great in any space. This design is as cool and classic as your grandpa. He'll love the way the sign presents his lifelong love of wine. You could even offer to hang it for an extra special Christmas gift.
Pet Blueprints for Christmas
A faithful companion has always been by your granddad's side. That's why this Christmas he will adore a blueprint of his animal to hang on his wall. Animal Blueprint Company offers countless breeds for dogs and cats, so you can be sure to find the perfect grandfather Christmas gift. It can even be customized to add his pet's name for an extra special touch. He'll love the way this looks and reading all the neat facts about the breed this holiday season.
Engraved Keg Tap Handle
One day your grandfather turned his home bar dream into a reality. That's why the best Christmas gifts for grandpa elevate the sanctuary he spent years turning into a reality. This personalized beer tap handle will remind your granddad of all his favorite pubs, bars, and speakeasies he frequented. He'll never know what was missing until he pours his first beer from his own tap handle. It's even a great Christmas gift for any homebrewing granddads.