In all his years, your grandfather has always loved Christmas. However, with the holiday months fast approaching, it is time for you to start shopping around to get him the Christmas gift you know will knock him off his feet. But finding the perfect holiday gift for grandpa isn't always so easy. But that is okay, our team has consulted with some contacts at the North Pole to put together the best collection of Christmas gifts for grandpa around! These are awesome personalized gifts that make his free time relaxing or enjoying one of his many hobbies so much more enjoyable than he could have ever imagined. Make your grandfather think you are in cahoots with St. Nick this year by getting him the top-recommended Christmas gift ideas for grandpa!
A New Twist on Christmas Gifts for Grandpa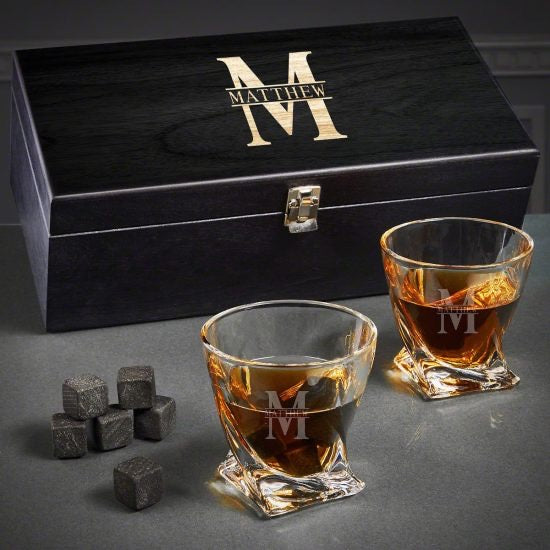 There is nothing quite like sitting by an open fire on Christmas. However, since not every home has a fireplace anymore, you can help capture some of that warmth grandpa loved to feel like when he was a kid with this engraved twist whiskey glass box set. Your grandfather simply won't be able to wait to be able to enjoy some holiday spirits with all of his loved ones from such a personal gift. You can be sure this will be a great gift to keep him in the holiday mood!
Arm Him with His Favorite Beer Set
Got a grandfather who is as tough as nails? Make sure you get him a whole box set of Christmas gifts for grandpa with this awesome custom pint glass ammo can gift set! This is a perfect gift for the manly grandpa. It comes with everything he needs to enjoy a good pint of beer but you can make this even more unique by adding some of your own personal touch to the gift. Fill the ammo can with his favorite snacks, a few tools, or even a few bottles of beer for the ultimate badass gift for grandpa!
A Sophisticated Gift for Your Grandad
Grandfathers are some of the classiest people on the planet. It may seem impossible to get him a gift that is even more sophisticated than he is but have some faith. This presentation set is the set of Christmas gift ideas for grandpa that will have him feeling finer than the Dos Equis guy! Each time he sees this set on the counter of his home bar or near his poker table, he'll instantly feel like a top-tier dapper man who deserves such a good-looking gift.
Put This Gift on the Chopping Block
No one can cook like your grandpa. After all, he has had a few more years than most to get his practice in. But age aside, you know that this engraved cutting board is the perfect gift for the "Grillfather," in your family. This gift is so good that even in December he will pull the tarp off his grill and fire up the propane so he can justify using his new cutting board.
Monogrammed Cigar Whiskey Gift Set for Your Grandfather
Nope, that isn't the chimney making all the fantastic smoke in the winter, it is your grandfather outside enjoying one of his famous cigar breaks. Make his favorite hobby something even easier to enjoy this year with this set of incredibly creative Christmas gift ideas for grandpa! This monogrammed cigar whiskey glass and cigar case means that not only can he bring his stogies everywhere he goes but that he can also enjoy some holiday spirits with his cigar with ease too!
249+ GIFTS FOR GRANDPA WHO HAS EVERYTHING>
A Sign of Patriotic Christmas Gift Ideas for Grandpa
Turn grandpa's space into an incredibly unique area as possible with this American flag made out of reclaimed wood from bourbon barrels. Is there a more American and patriotic gift than this? Probably not! This is the perfect unique piece of decor that will look amazing in any room of his house, but you know he'll want to put it up in the room he has his poker game, home bar, or smokes his cigars.
Steins are Fantastic Christmas Gifts for Grandpa
Over the years, your grandfather has had a few beers. Okay, probably more than a few. However, you can make each brewski feel new and special with this super creative gift, a personalized beer stein! There is no man on earth who doesn't love a stein. From ales to lagers to pilsners, all of his beers will be so much more epic when they come from this unique gift. Plus, when he isn't drinking from it, it makes a fantastic display piece for his mantle too!
A Sophisticated Stogie Set for Him
Christmas gifts for grandpa need to keep him as the classiest older gent you know. With this personalized cigar whiskey box set, he'd be hard-pressed to not feel like he is making Don Draper look like a bum. Pair this gift with his favorite whiskey and maybe some Cohibas or Padrons and he'll know you want him to have the classiest Christmas ever!
The Perfect Plaque for His Space
Your grandfather, for as long as you can remember, has been a man that works with his hands. In fact, he spends so much time working in the garage it feels more like home than his house. For the awesome grandad who can fix anything from a leaky pipe to a shorted circuit board, he absolutely must have this engraved garage plaque! Once he hangs this up on Christmas night, he'll always smile when he looks up from a project or as he opens the door to begin a night's work on a project.
Shake Things Up with a Creative Gift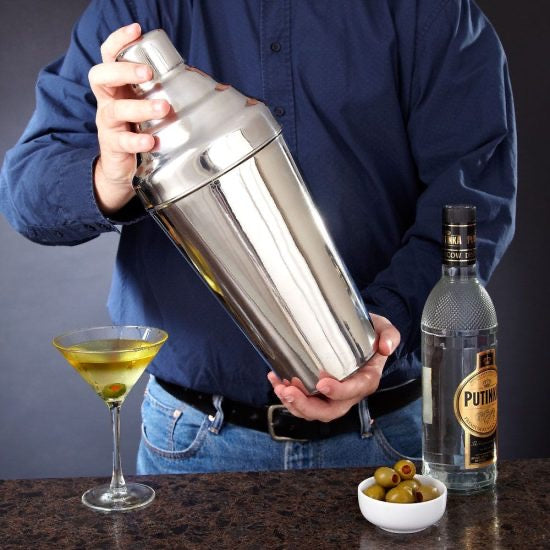 Get creative this Christmas while also giving one of the most fun gifts a grandfather will ever get, this oversized cocktail shaker! It may seem like a big joke at first but when he is able to make Martini's for the whole family at once, who will be laughing now?
Get Him in Touch with Tech
Tech can be harder for the older generation and getting them online on a cellphone or laptop can be truly difficult. That is why iPad Airs make some of the best Christmas gifts for grandpa. Now, he can Facetime with his grandkids, order necessities off Amazon, or check his news feed all in one place with just a few taps and swipes of his fingers.
Personalized Wine Tumbler Grandpa Christmas Gifts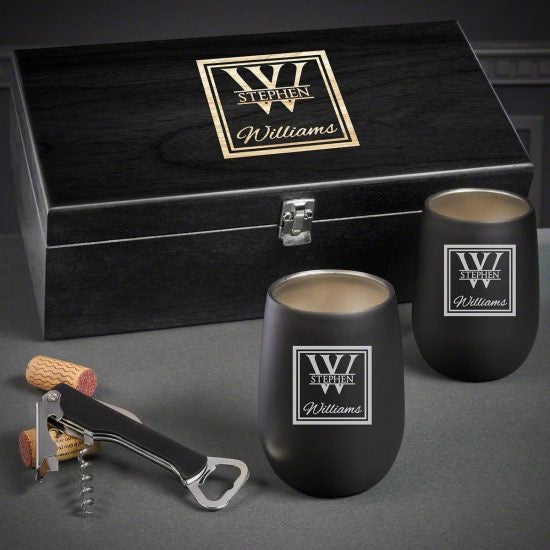 Check out this badass set of Christmas gift ideas for grandpa! While some wine sets look fancy and classy, this blackout set is just as cool looking as your grandfather! There is no better way to show him how awesome you think he is than with this personalized tumbler box set. Now, he'll always have a perfect gift set to look at when he isn't quite feeling as cool as the Fonz or Johnny Cash. Plus, it of course lets him have a refreshing drink too! This is an ideal sentimental gift for your grandfather.
Help Him Bring Beer Everywhere
Never let gramps be without his must-have beer ever again with a beer caddy he can trust as much as he can be sure that the Lone Ranger is always getting the baddie by the end of the episode. Instead of flimsy cardboard, this custom tote is made from wood. That means his beers will never fall through. Plus, it even has a bottle opener, so no matter where he goes with this awesome Christmas gift, you can be sure he won't be thirsty once he gets there!
A Classy Cognac Set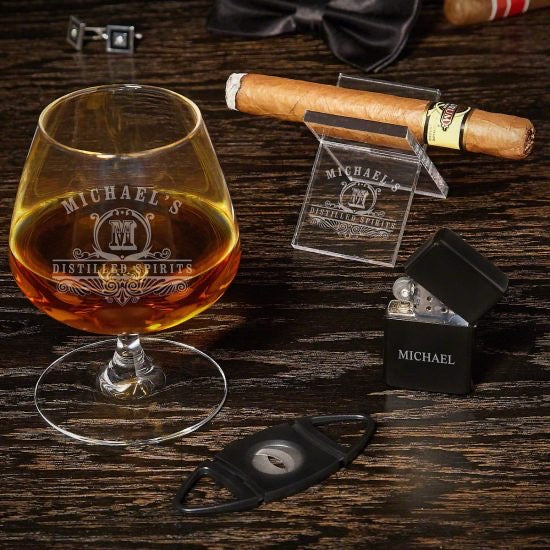 There simply isn't a better way to get someone in the holiday spirit than with an engraved cognac gift set. These sets are some of the best Christmas gift ideas for grandpa because you can already see him sitting in his rocker, personalized glass in one hand and stogie in the other. He will have the time of his life this Christmas enjoying his favorite holiday spirit while spending time with all his loved ones.
A Golf Sign Fore Grandpa
Ensure that even in the dead of winter your grandpa can feel like it is a perfect Sunday morning after knocking a few links on the green with this rustic, wooden 19th hole bar sign. He'll love seeing this in his home bar or even out in the garage. Wherever his go-to spot post-golf is, is exactly where he'll want to display his custom gift. Now, he and the boys will have the perfect place to unwind after a day on the green.
Keep Him Clean Shavin'
Don't have your grandfather looking like Chris Kringle all year long, instead, help him get the closest shave of his whole life with this old-school safety razor set. From now on, each time he needs a shave, it'll be like being in the barber's chair thanks to this awesome Christmas gift.
Poker Christmas Gifts for Grandpa
This Christmas, make sure that Grandpa can show off his gambling skills with this monogrammed poker and whiskey gift set. Sure, you may think he was around when they were betting in the saloons over a bottle of whiskey in the Old West, but he isn't quite that old. However, that doesn't mean he won't want to throw down after Christmas dinner with a few hands of Texas Hold 'Em.
Keep Him Caffeinated
Even grandparents need some coffee to get things going in the morning. Sure, he gets up at 5 A.M. to get the day started but he could still use a little boost sometimes with a good cup of Joe. This custom coffee carafe gift set ensures that no matter what time of day it is, he'll be able to have some piping hot coffee! It even has two mugs, so if he wants to share a cup or has one left at his desk, he'll always be ready for his morning brew.
A Cigar Humidor for Him
Keep his cigars locked up tighter than the secret to Santa's lair in the North Pole with this personalized cigar humidor. This is not only one of the most creative gift ideas for grandpa but one of the most useful! Now, no matter what is going on with the air—dry or humid—his cigars will be protected! Add in that this humidor is made from an actual United States ammo can, and it'll be a Christmas he will never forget.
Top-Shelf Beer Christmas Gift Ideas for Grandpa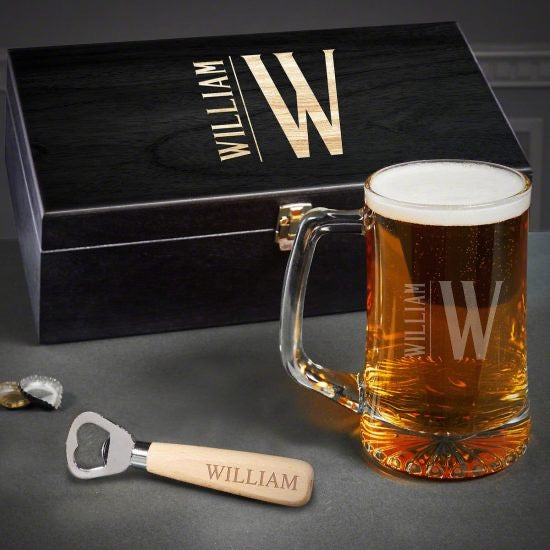 Grandfathers are not all about feeling content. Some still have a fire burning in their heart. For the masculine grandad, few gifts will make him feel like a badass quite like this personalized beer mug box set. This has got to be one of the best Christmas gifts for grandpa since it makes each sip of his lager or ale feel like he is right back at his go-to bar hanging with the boys, even when he is at home enjoying the game from his favorite chair!
Keep His Feet Comfy & Classy
Winters are cold, which means warm clothes. However, what of his feet? Keep his toes as toasty as if they were next to the fire with this luxury set of moccasin slippers. Thanks to the classy style, he can even wear this out when he needs to run errands. Now, whether he is running to the store or stepping outside to grab the morning paper, his feet will be warm and comfy!
Give Gramps His Own Whiskey Label
If there is one thing that will put a smile on his face this holiday season it must be this custom sign! Finally, he'll have what he has been chasing after, his own whiskey brand! This sign that makes him feel like he has his own distillery will definitely become one of his prized Christmas gifts that he simply won't be able to help show off. So, while it is perfect for his game room or man cave, don't be surprised when he wants to hang it up in the living room for all to see!
Monogrammed Box Set is the Ultimate Christmas Gift
Check out this awesome gift box of Christmas gifts for grandpa! He'll feel like a little kid on Christmas morning opening up the gifts he waited months for when he unwraps this monogrammed liquor gift box! Perfect for enjoying the holidays, he can have a little bit of everything thanks to the rocks glass, flask, light, and bottle opener. Make sure to stuff his stockings with a few stogies, a few bottles of beer, and maybe even some Johnnie Walker, and this will be his best Christmas yet!