Companies are striving to make their workplaces better than ever by rewarding their employees for their hard work each year. That is why corporate Christmas gifts are a must this holiday season! They need to be practical gift ideas that show employees that their business cares about their interests as people. Your employees have gone the extra mile all year and you need to get them a gift that shows you have recognized their hard work and dedication. Your managers have been doing great too, and they deserve a unique and cool Christmas gift for employees to recognize their work. For their efforts, your managers' gifts may need to be more specialized than the gifts you'll be getting for the other employees. With our help, picking a corporate holiday gift will be easy!
Some Holiday Spirit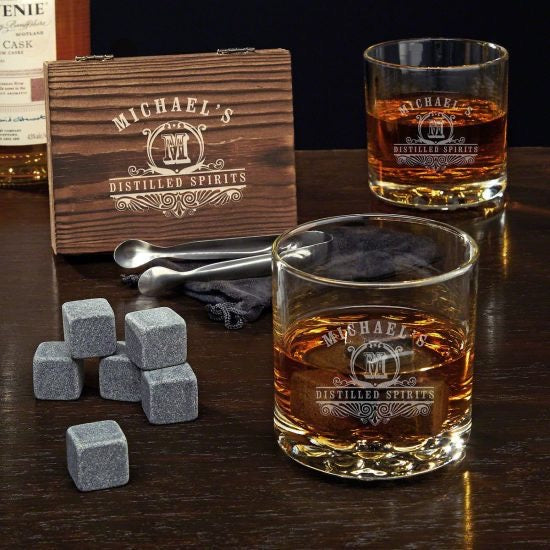 A whiskey stone gift set is the perfect gift for an employee, manager, or supervisor who has brought your company to new heights. They have given you one of the best years so far and team morale is at an all-time high. Give them a way to sit back and relax this holiday season with a gift set all about relaxation and the finer things in life! They will be able to drink their favorite liquor in style when you give him them this personalized gift set!
A Corporate Christmas Gift Box
Cigar boxes make ideal gifts for almost everyone but they work especially well at the office. These decorative display boxes can be used to store almost anything. Make each one personalized for the employee you are giving it to and let them figure out what they want to put in it! They can make it a glorified pencil holder, document file, or they may even be a cigar smoker themselves and they can fill it with their favorite stogies. Get a gift your entire office can use with a handmade cigar display box!
Best in Snow Wine Box
A wine box makes a great gift because your employees get to use it for years to come. A wine bottle can be enjoyed once, but with this gift, they'll be able to enjoy it countless times! They can store their favorite wine in their and reuse the tools any time they need to celebrate. The engraved lid of the box will be a nice personal touch as a corporate Christmas gift. They'll love that as a finishing touch, it will show that their supervisor pays attention to them as an individual.
Signs of a Long Winter
Walking into the office with a personalized sign will be the greatest surprise corporate Christmas gift you could ever get for your employees! A sign that has their name and can be hung up in their house is one of the last gifts they would ever suspect! This piece of decor is perfect for any room in their home, whether it is the living room or their home bar! Surprise your employees by putting their name up on their own sign and having them gifts this Christmas season be a "Grand Affair!"
Growler Set for Corporate Holiday Gifts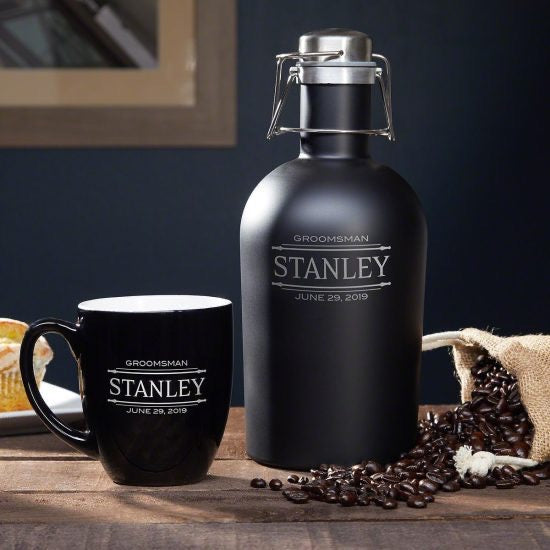 Perk your employees up with a drink set up that lets them carry their favorite way to wake up with them! Whether they love coffee, tea, or something else, this growler will keep it at the perfect temperature for them all day long! Pair the new growler with their own mug, and they'll never go thirsty during the work day again. You can even personalize each one with their name, title, and an important date! Talk about a great business gift for clients!
Embossed Leather Journal
Everyone can always use something to write on, so why not make this years Christmas gift something that takes mundane paper and turns it into something special? This rustic looking leather journal is a great gift at the office. Whether it becomes a great looking grocery list, a place for notes, or their own personal diary, everyone will find a use for this leather wrapped journal. Go the extra mile and have it embossed with their name or the name of the company too!
Fantastic Flask Set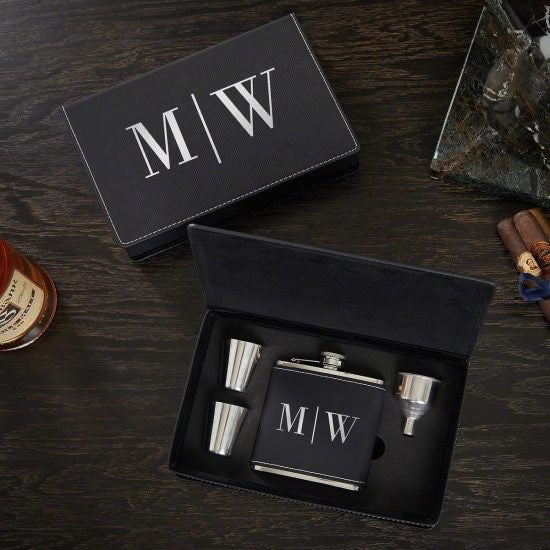 A decorative gift box containing a flask set will be a great gift this holiday season. They'll be able to conveniently carry a little bit of holiday cheer with them everywhere they go! Also, if they need to share, they can take out their shot glasses. Make it a personal gift by placing each employee's initials on their set. They'll love that they can either take their new gift out and use it at throughout the seasons, or set it up on their desk as a display piece.
Not Your Typical Gift Cards
You may think this next gift is a bit of a gamble, but it is guaranteed to be loved by all of your employees! Everyone has an occasion to play cards. Whether they have a weekly poker game or have the occasional game night, there is always a time for a good set of cards. Put their name on this gift set and add a few more lines of personalized text to really make this corporate Christmas gift stand out this year.
A Unique Corporate Holiday Gift Box
Ammo cans make great gifts around the office because they have so many uses! The personalization on each can will also be appreciated by your employees. Each of your employees will find their own unique use for their holiday gift. At their desk it can carry anything from their lunch to all of their office supplies! For this corporate holiday gift, give your employees a gift that allows them to use their new gift as they choose!
An Exquisite Corporate Christmas Gift Set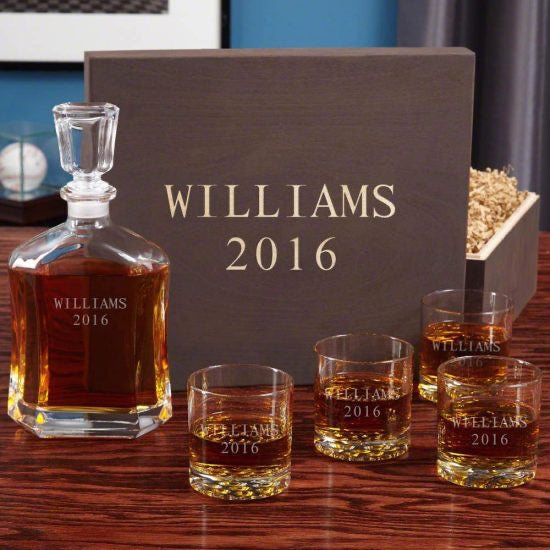 An entire decanter set is a great way to show appreciation to an employee who has truly stood out all year. They'll be able to fill it up with their best liquor and enjoy a nice relaxing night with their matching glasses. It is a great gift that will fill them with the holiday spirit! This gorgeous decanter set also becomes a stunning display piece when it isn't in use. As a corporate holiday gift for your top performer, you can't go wrong with this as a gift!
Christmas Coffee Sampler Set
Everyone needs a little bit of a pick-me-up in the morning, so why not have them try something new? You're sure many of your employees have been drinking the same coffee for years, so for this corporate Christmas gift, take matters into your own hands and give them a change they'll love. Rather than some of the grocery store staple brands, give this uniquely marketed brand a go! The sampler lets them try five different flavors, and who knows? You may have just found their new favorite brand!
The Very Best Celebration Set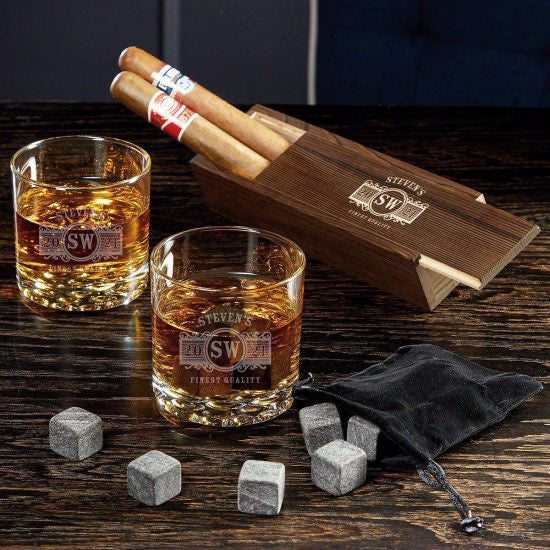 When things have been going excellently, the end of the year calls for a celebration. And what better way to celebrate than with whiskey and cigars? Give this personalized gift to the team member that truly deserves to be recognized with their corporate holiday gift this year! They'll feel like you saw all of the hard work they put in each day and they'll know that they deserve such an awesome gift for the holidays!
Team Tumbler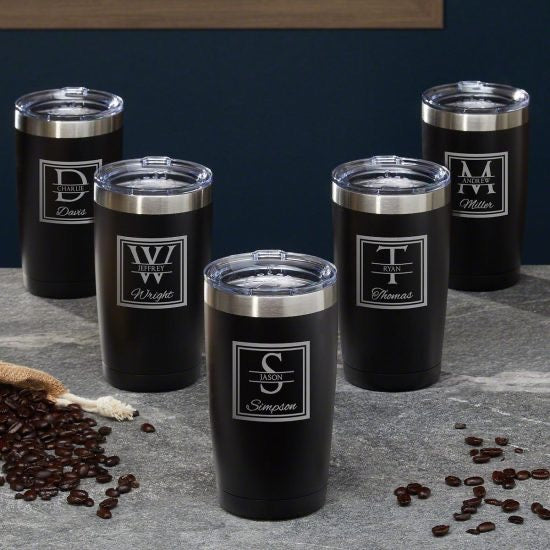 Nothing ever quite says "team" like matching pieces of equipment. For your team members this holiday season, a personalized, yet matching set of coffee tumblers will be a great gift. The insulation of these tumblers means everyone of your team members can keep their hot drinks hot, and their cold drinks cold. They'll each have their initial, and last name on their very own Yeti-style tumbler. This practical holiday gift will be a hit at the office because everyone is able to use their gift every day!