Becoming a grandfather is one of the most exciting things to happen in a man's life. Seeing one of his children become a parent of their own to a precious little one will bring him so much joy. Now that he is a grandfather, the best way to congratulate him for reaching this point in his life is with a gift! You might be wondering, what kind of gift is the most congratulatory? Or is a gift that helps with a baby a good gift? The greatest new grandad gifts will help him celebrate the birth of his first grandchild, act as keepsakes that remind him of the special day, and often make life as a grandpa easier! If you're still not sure what the perfect gift to get a new grandad is, don't worry. We found the most amazing first time grandpa gifts that'll truly cement becoming a grandfather as the best time of his life.
Ultimate Decanter Set for Celebrating Grandad
Becoming a grandad calls for major congratulations and celebration! The best new grandad gifts to congratulate him are ones like this personalized whiskey decanter and glasses set! The special personalization on this set will always remind him of the fact that he's a grandad, and he'll love having a drink with his spouse, children, or closest friends to celebrate his new title with them. Even years in the future, this set will bring back that excited, happy feeling every time he sees it.
Bean Bag Toss Board Set of New Grandad Gifts
Before he knows it, his now infant grandchild will be walking and talking and wanting to play with grandad all the time. That's why this bean bag toss game is a fantastic gift idea! He'll immediately want to start brushing up on his bean bag toss skills in hopes of teaching his grandchild how to play. As they grow, this game will become a special bonding experience for the both of them, and he'll think it's so special to be able to share it with his grandchild.
Custom Ammo Can Set Grandpa Will Love
Make him feel like the manliest, most amazing grandpa ever with this personalized ammo can gift set! It's one of the most unique first time grandpa gifts that's perfect for celebrating the occasion. He'll really enjoy raising a pint glass and toasting with a loved one to this exciting chapter in his life, and he'll really appreciate having the ammo can as a special place to keep mementos from his time as a grandad.
Wear His New Title Proudly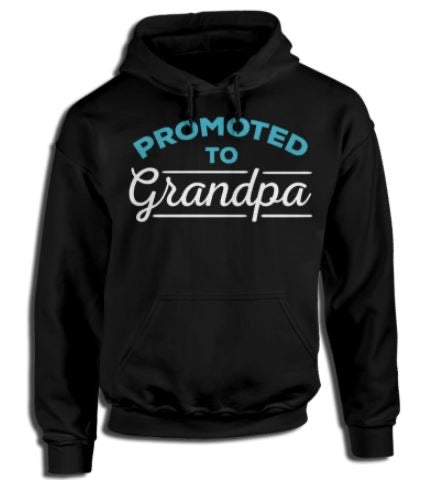 Now that he's been promoted to grandpa, he's beyond thrilled, and wants to tell the world. This black grandfather sweatshirt is the perfect way for him to do that! He'll love wearing this hoodie absolutely everywhere he goes, showing off the fact that he's a grandad. Even in the hottest months of the year, he'll never want to take it off!
Shadow Box for Every Memento
He never wants to forget his time as a grandfather and the experiences he shares with his grandchildren. That's why this custom shadow box is one of the best new grandad gifts out there. He'll very much appreciate a gift that lets him store mementos such as photographs or bottle caps from his experiences with his grandchildren in a box up on the wall for all to see. Each object will represent a fantastic memory, that will mean so much to him, and everyone knows grandfathers are all about sentimentality.
The Ultimate Box of Memories
A copy of the ultrasound. One of their first little hats they wear. Their earliest photo. Some tiny shoes. These are all items that grandad will love having to look back on. That's why a personalized wooden keepsake box is a terrific gift idea for a new grandpa! He'll love having this practical box tucked away in his closet or under his bed, filled with some of the most precious items he's owned. Once in a while, he'll greatly enjoy opening up the box and looking at the important items inside, remembering the amazing feeling of becoming a grandad.
Gift for Grandads Who Need Caffeine
Being a grandfather is amazing, but it also takes some hard work helping the parents take care of their new baby. That can be very tiring, so you know he'll be in need of some caffeine. This custom mug and carafe set is one of the most fantastic first time grandpa gifts that'll keep him energized as he helps out the first time parents! He'll be a big fan of filling his carafe with his favorite coffee and bringing it over to keep him caffeinated while he's watching the baby. He'll be very appreciative of such a useful gift that helps him be there for his grandchild.
A Bar Sign for the Best Grandpa Ever
Now that he's a grandad, it's the perfect time for a personalized bar sign like this one hung up in his home bar or kitchen! He'll love that every time he sees it up on the wall, he'll be reminded how he's already such a beloved grandad. He'll look forward to the future when his grandchild can share a drink with him at his home bar!
325+ SUPER HANDSOME PERSONALIZED SIGNS>
Poem He'll Cherish Forever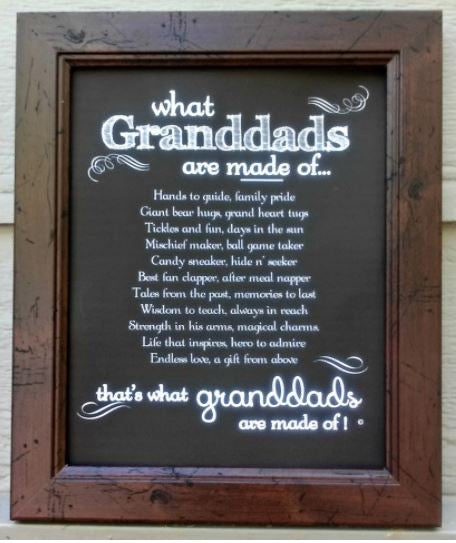 You already know he's the best grandad ever. Show him how awesome of a grandfather he already is with this grandad framed photo. It's one of the most sentimental first time grandpa gifts that he'll really like having this gift in his living room or bedroom, always reminding him of how amazing he is and how much his grandchild already adores him. It'll bring tears to his eyes every time he reads it!
Best Grandad Gift on Earth
He feels like the luckiest man on the planet to have a precious baby grandson or granddaughter. This globe decanter set is one of the most impressive new grandad gifts that will represent the fact that his new grandchild means the world to him! Better still, even as he starts thinking about all of the trips and adventures he wants to take his grandchild on, he can celebrate becoming a grandfather with a toast from his new decanter gift set.
A Grilling Gift for Grandad
He's always been a champion of the grill, but now he's doing it as a grandpa, which he loves! A brand new cutting board that he can use for grilling is just what he needs! He'll love using this board to chop and season meats before tossing them onto the grill. After they're cooked, he can use the board to serve them as well! He'll love perfecting his grilling skills using this cutting board so he can pass them down to his grandchildren.
It's Time for this Grandad Gift
New grandad gifts that are constant reminders of how amazing they are as grandfathers are always phenomenal choices. When his grandchild is born, this engraved wooden watch is the perfect present to give him because it'll serve as a reminder of that special day. He'll love seeing the baby's name and initial engraved into the back of this watch, and it'll mean so much to them when they're wearing it each and every day.
The Most Dapper Grandad
Make sure he feels like the most stylish gramps around with this tie gift box set! It is one of the coolest new grandad gifts that'll have him feel like the best-dressed grandfather on the planet. In all the pictures he takes with his new grandchild, he'll really enjoy wearing one of these fancy ties so he feels his very best. The new grandfather will definitely appreciate being so well dressed!
Liquor Boxes are Awesome First Time Grandpa Gifts
A new grandfather deserves to celebrate with a drink! Get him a bottle of his favorite liquor as a gift, but dress it up inside this personalized wooden liquor bottle box to make it more impressive and truly memorable! He'll think this handsome box is absolutely fantastic, both because it makes the gifting of the bottle so much classier and also because the customization will always remind him of that amazing day he became a grandad.
Let Everyone Know He's a Grandfather
He's so proud to be a grandfather, and he wants to show it off to everyone. That's why this custom wooden sign is one of the most amazing first time grandpa gifts. This sign will look fantastic in the entryway or living room in his home, letting every person who enters his home know that he's the proudest grandad ever. This handsome decor will make the room look terrific, and he'll be so thankful for how awesome this sign is.
High-Tech Gift for Grandpa
There's no way this gift isn't one of the best ones he's ever gotten! The best way to congratulate him is with this kobolibra e-reader device! He'll love relaxing with a good book after working hard to help the new parents take care of their new baby. He'll love looking for children's books he can read to his precious grandchild! You can even download books from a few of his favorite authors for him before you give it to him.
A Custom Cigar Set of First Time Grandpa Gifts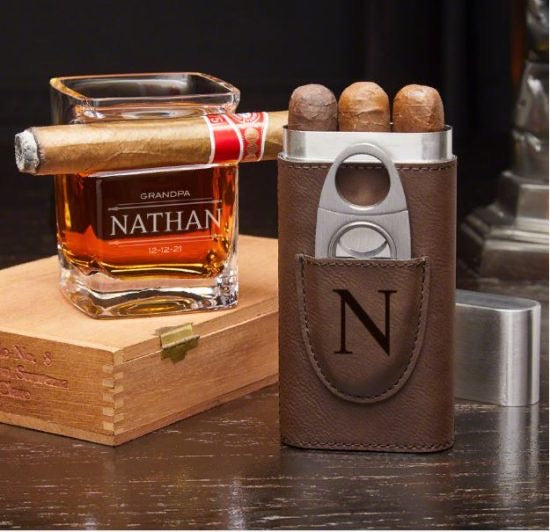 A celebration this huge calls for the perfect way to enjoy a cigar! That's why this personalized cigar gift set is one of the greatest gifts out there! He'll be able to celebrate such an amazing time in his life fully with this set, and he'll feel like a classy grandfather being able to enjoy whiskey and cigars using one hand in his own unique, etched glasses. It'll be the perfect way to celebrate such a momentous occasion.