Wow, that time of year is almost here once again. It is time to try and find the ideal Valentines gift ideas for husbands. For Valentines Day, you'll want your gifts to be presents he'll get a lifetime of use from, this way, each time he enjoys his gift, he can always think of you! So, you may be wondering how to find a gift he can use for his whole life? How to find the ultimate gift that he will love for years? Or, you may be wondering, "Where do I even begin?" Don't sweat it! We've got a curation of the ultimate gifts for your husband on Valentines Day! Check out our awesome collection, and you are sure to find a gift perfect for every kind of husband!
The Manliest Valentines Day Gift Set
There is something about military gear that makes every guy feel like the toughest and coolest man around. Have your husband feeling like the manliest man on Valentines Day with an ammo can gift set that will have him cracking open his favorite beer and raising a glass with you in celebration! When he isn't in need of a beer, he can always have a piece of this gift with him thanks to the knife he can carry around everywhere he goes!
For the Everything Man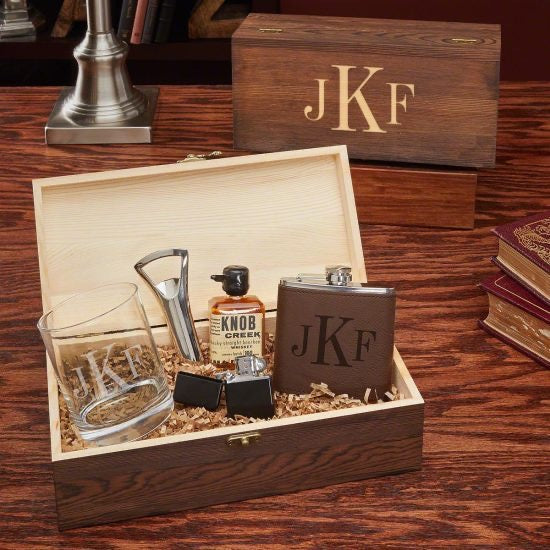 It is often over said and overused, but the truth is some guys are hard to buy for, they're just too eclectic. Instead of settling on one thing, use these awesome Valentines gifts for husband! Inside his keepsake box, he is ready for a sip wherever he goes, a cocktail at home, or he can even enjoy his favorite liquor and a cigar when he is on the go. This gift set is truly ready for a guy who is up for anything!
Valentines Gifts for Husband and His Hang Out Spot
Valentines gifts for husband should feel custom, and having an official sign made for his man cave, garage, or home hangout spot is the ideal way to get him that personalized gift! He loves hanging out in his man cave, this is the spot where he spends hours on his favorite hobbies or hanging out with the boys. Your gift makes that space feel even more official and unique, which is just what he has been needing as the finishing touch to his favorite hang out spot. Talk about a great Valentine gift for him!
A Steel of a Gift Set for Husbands
A super classy way to celebrate romantic occasions is with a drink. This year, get him a tumbler set ideal for his favorite drinks, including when he wants to have a glass of wine with you! These personalized tumblers will have him feeling sleek and classy because they are in a cool matte black finish, and they even have his name on them! Once he takes the glasses from the box set, that will be the last time they'll be in there! He'll always want to drink from them, leaving the gorgeous keepsake box ready for the countless uses he will find for it.
Classy Decanter Gift Set
This Valentines Day, ignore the cute heart-covered gifts you see at the stores and get him a decanter set he will love almost as much as he loves you! Drinking scotch, whiskey, or bourbon will never have made him feel like such a classy gentleman as it does when he drinks from this set. This year's romantic holiday will have him wanting to immediately indulge in his gift and have him sharing a drink of his favorite whiskey with you!
381+ DAPPER DECANTERS FOR HIS VALENTINES DAY>
His Own Masseuse
A lot of Valentines gift ideas for husbands include massages and spa days. It is true, husbands do need to unwind like everyone else, but make it so they can relieve tension whenever they want with a high-quality therapy gun! He can relieve tension, stress, and muscle knots from the gym or from a desk job with this deep tissue massaging gun! He'll love that he can get a quality massage every single day thanks to this awesome gift!
High-Spirited Valentines Gift Ideas for Husbands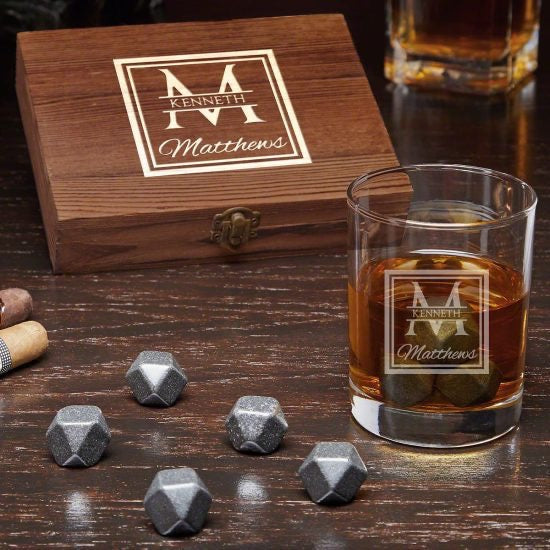 Use Valentines Day as the perfect opportunity to show you pay attention to the little things that make his life better with this old-fashioned glass and whiskey stone set! His favorite way to take the edge off after a long day or even a busy week is with a sip of his favorite spirit. He'll love seeing the personalized touch on the box and glass as he puts his feet up and enjoys a chilled sip of liquor from his new drinking gift set!
A Mug Fit for Kings
Use this Valentines gift for your husband as an opportunity to make him feel like the manliest dude around with a gigantic beer mug! Every guy loves drinking from a mug, and you know he will love having one that is bigger than any he has ever seen before. Plus, now he doesn't have to get up for a refill nearly as often. He'll feel like the king of the castle when this glass is in his hand.
A No Bull Gift for Him
This Valentines Day, grab his life by the horns with this fantastic decanter gift set! Use this incredibly unique set of Valentines gift ideas for husbands as the ideal way to show him you think he deserves a manly, awesome gift! He'll feel both classy and super macho as he shares his first drink of liquor with you from his custom glasses and bull decanter.
Every Man Lives by a Code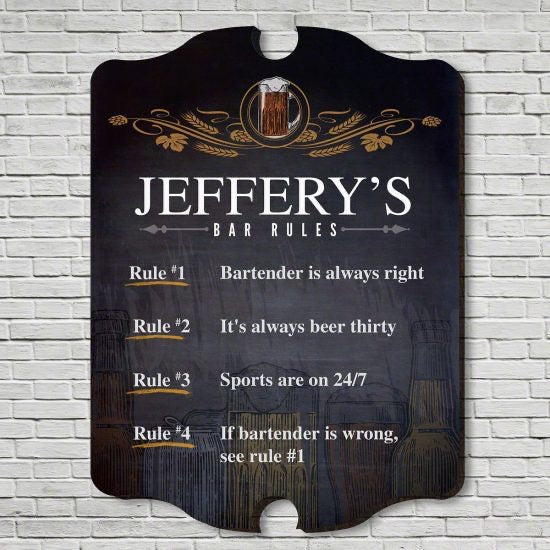 Does your man like to live his life by a set standard of rules? No matter how strict or silly, this personalized Valentines gift for your husband is the perfect sign for him! He will immediately want to hang his sign up in his main hang out spot. You just know he'll be ecstatic since he gets to make your gift the finishing piece of manly decor, Not to mention that your gift also shows he is the man in charge, and that if you want to hang with him, you've got to live by his rules!
His Gift for Mise en Place
Put a smile on his face each time he makes dinner with this cutting board that is engraved with his initials. Every time he chops an onion or minces garlic, he'll be getting a perfect view of the gift he loves to use! Cutting boards make perfect Valentines gift ideas for husbands and the thoughtfulness of this gift might just bring a tear to his eye, even though he'll claim it is just the onions.
The Gift for Homebrew Hubbies
Some of the cleverest Valentines gift ideas for husbands don't just enhance his hobby, they change it for the better! Thanks to this beer tasting set, he can enjoy the subtle flavors of his favorite brews that he has been missing for years! A pint glass works, but it doesn't give him the same awesome beer experience as drinking from the ideal glass! Turn your husband into the beer aficionado he has always wanted to be with this personalized gift set!
Make it a Movie Night
Make an at-home date night this Valentines Day with a collection of films any movie-loving guy will be stoked to watch! Your husband has always been a cinephile, so this collection of all the James Bond films will have him in awe. Actually, they'll have him wanting to become a secret agent himself! Have him take his pick from one of five films to have the most unique Valentines Day he has ever had.
A Gift That Gets in His Grill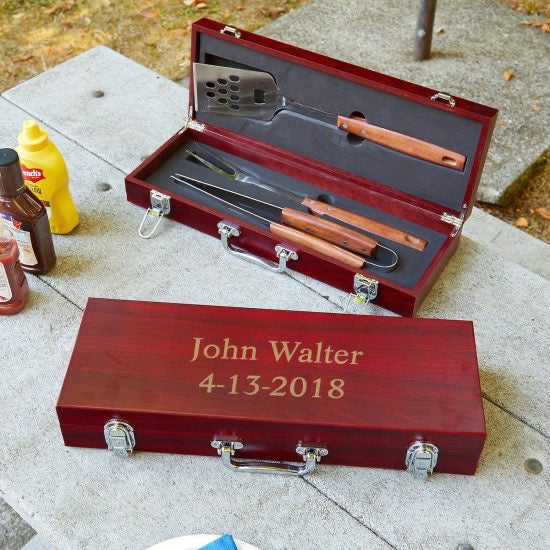 You are very familiar with the saying: "The best way to a man's heart is through his stomach." That saying is why for Valentines Day, you'll get him a gift for his second love, food! He loves throwing meat on the grill, in fact, with a grill tool gift like this he may just grill out for the holiday! What could he like better than a set of Valentines gifts for husband that he can use that day, and for years to come?
The Classiest Valentines Gifts for Husband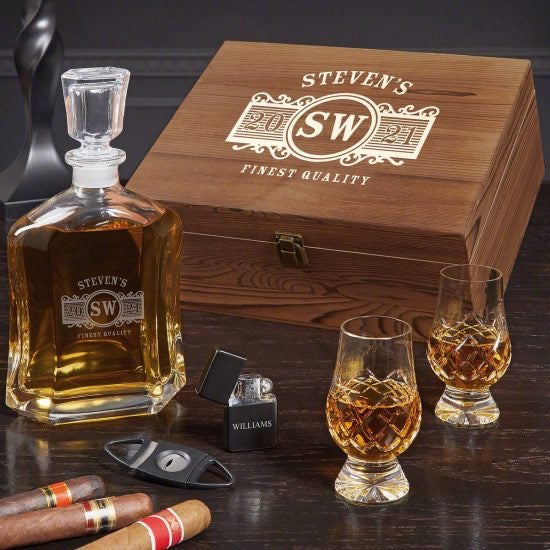 There is nothing quite like treating your husband to a classy gift set. You've seen that over the years he has always enjoyed the finer things in life, so why not help him indulge a bit? This amazing, engraved gift set is the ideal way for any many to partake in some of his favorite things! Plus, you can be sure on Valentines Day, he is sure to want to use his new gift. So, pair his new set with a bottle and you and your husband can have a toast to another amazing romantic holiday together!
633+ WHISKEY GIFTS HE WILL LOVE>
Master of His New Domain
Does he have a burning passion he has always wanted to become a master at? Or maybe at least learn from a master? Well, now he can! From chefs like Gordon Ramsey to scientists like Neil deGrasse Tyson, he can take an online course with the master's teaching their favorite subjects! What better way is there for him to explore his hobbies than from the people he admires most? This Valentine's gift idea for your husband isn't just great, it will be one of the most unique things he has ever gotten.
Personalized Humidor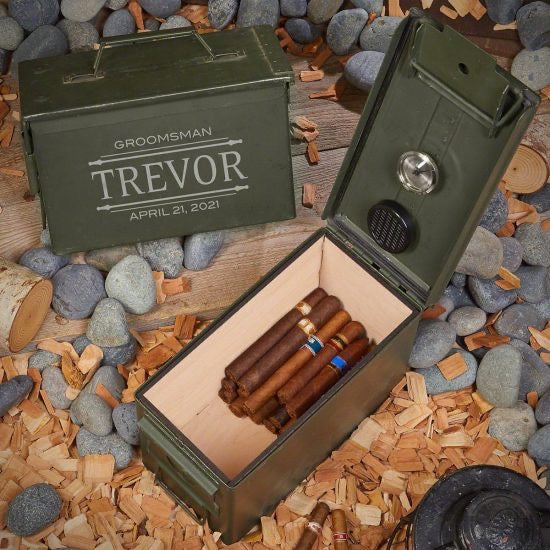 He has a collection of super important items that he wants to keep pristine. Everything from cigars to comic books, all of which are ideal to store in his own ammo can humidor! Not only will it store his collection without the fear of decay, drying out, or rotting, this gift will have him feeling like the military commando from his favorite comic book or as the 5-star general who only smokes exquisite cigars. Make your gift on Valentines Day about the hobbies he loves with this awesome humidor!
The Ultimate Valentines Gift Ideas for Husbands Who Love Beer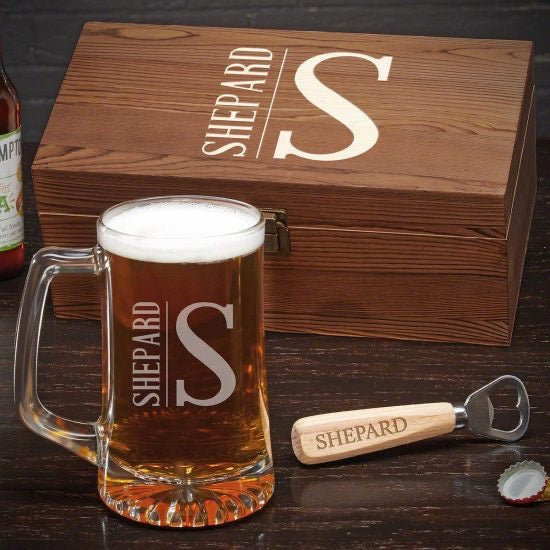 Enjoying his favorite drink should be a thing of relaxation. He should never have any stress when he is trying to unwind with a frosty cold one. Instead of searching for the perfect glass in the cabinet or trying to find his bottle opener, give him a personalized gift set he'll use each time he has a craving for some hops! This engraved beer mug set makes a fantastic gift for him on Valentines Day, it lets him indulge in a drink he loves almost as much as you!
A Legendary Gift for Him
Make him feel like Hercules with a drinking set that quite literally talks about how awesome he is! This personalized Valentines gift for your husband is the perfect way for him to celebrate the holiday. After a night out on the town, nothing will taste better than some chilled, smooth drinks from a gift set he couldn't wait to use from the moment he opened it. Make this Valentine's legendary with this awesome gift set!
335+ PERFECT VALENTINES DAY GIFT IDEAS FOR HUSBANDS>
David Harrington is a seasoned researcher with a degree in English literature. He uses his extensive training and research skills to evaluate thousands of gifts a year. He then narrows that list down to a select few, choosing unique gifts that will surprise and delight his readers and their gift recipients.