Valentine's Day is right around the corner, and you're searching for a gift for the man in your life. You really want your gift to be something special that conveys your love for him, but still aren't really sure what to get. Do you find yourself wondering things like: What kind of gift will show that love? Does he want something that he can use all the time? Then fear not, there is a solution for getting him the gift he deserves! The perfect Valentine gifts for men are manly, one-of-a-kind presents that they can use to celebrate Valentine's Day with you! Any man will be so lucky to receive one of the phenomenal Valentine's Day gifts for him that we found!
Etched Whiskey Decanter Set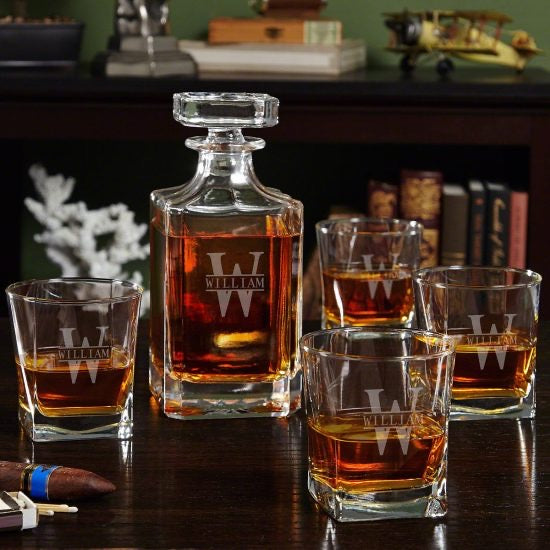 This gift idea is so good-looking that he'll fall in love with his new customized whiskey decanter set just like he fell in love with you! There's no chance this set won't be his new favorite glassware set that he uses on every special occasion for the rest of their life. It's one of the best Valentine gifts for men because he'll be a big fan of how classy this stunning set is and how sophisticated he feels sipping a glass of whiskey from one of these glasses. Having a drink with you to celebrate Valentine's Day will be a must!
Butcher Blocks are Great Valentine Gifts for Men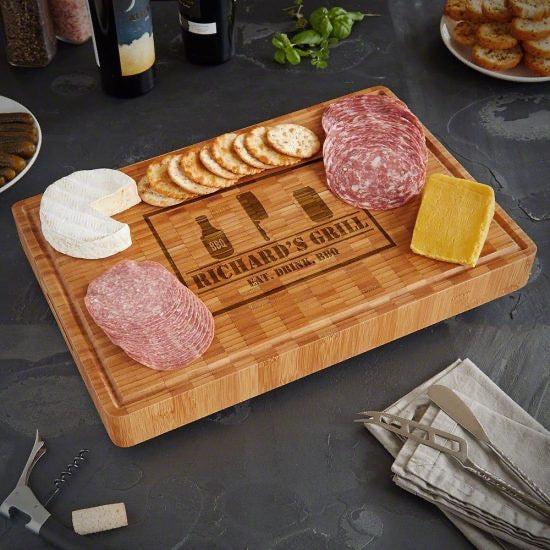 When shopping for the perfect Valentine gift for him, why not get one that makes his favorite hobby even better? This personalized butcher block cutting board comes in! This board is ideal for seasoning meat on and cutting it up before putting it on the grill. After the pork chops and turkey burgers are finished grilling, this board will also double as a serving tray for all his deliciously grilled meats, especially when he has guests. Thanks to your awesome gift, it'll be so easy to cook and serve food whenever he likes!
Best Beer Mug Box Set
The best Valentine Day gift baskets for him will definitely involve handsome beer mugs! Any man will absolutely love this personalized set, especially the hefty beer mugs with his name on them. He'll definitely want to use his new gift set to share a beer with you to celebrate Valentine's Day. You can even include a six-pack of his favorite beer with this set to make it the best Valentine's Day gift ideas for him ever!
Mythical Valentine Gift Basket
There's no way your man won't be absolutely obsessed with this legendary whiskey gift set! It's one of the best Valentine Day gift baskets for him because thanks to the legendary customization, he'll feel like King Arthur when he pulls the knife from the gift box just like Excalibur from the stone! Better still will be the engraved whiskey glasses as a way to reward himself with a drink after performing any mythical feat! You can make it an even better gift by adding miniature bottles of his favorite liquors or some of his favorite snacks!
Custom Wooden Bar Sign
There's a reason why personalized bar signs are some of the most popular Valentine gifts for men! Super handsome, custom wooden bar signs like this one will make him feel cooler than ever before. It will definitely be one of his favorite gifts he's ever gotten! He'll feel so rad when this sign is hanging in his home bar, bar area, or kitchen, almost as if he is the owner of a super rad bar. No piece of décor will ever take the place of this sign as his absolute favorite ever!
327+ PERSONALIZED SIGNS FOR THE HOME >
Super Cool Nike Shoes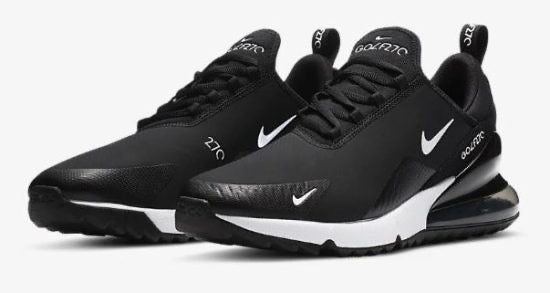 Nothing will make him feel loved on Valentine's Day like getting him a gift that makes him feel his best. That's exactly what these Nike Air Max 270 G shoes will do! He'll feel like a million bucks as he sports these super cool shoes. Depending on where you're going for your V-Day date, he probably will want to wear them to that, too!
Ammo Can Valentine Day Gift Baskets for Him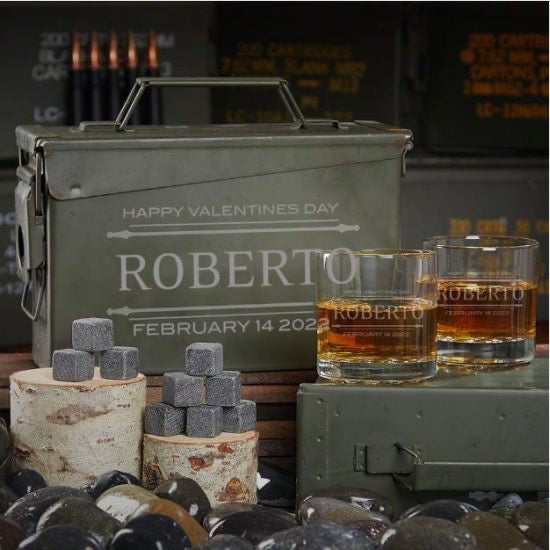 Absolutely wow him on Valentine's Day with this personalized ammo can set! He'll be thrilled to get such a unique, special present that gives him incredible glasses to use to enjoy whiskey along with a rugged ammo can for storing whiskey accessories or any other tools for any of his hobbies. It's one of the most useful Valentine Day gift basket ideas because whether that's live rounds of ammo, garage tools, or anything else, he'll love storing them in the can after using them. After working so hard on his manly activities, nothing will taste better or be more rewarding than for him to enjoy a nice cold glass of whiskey.
Personalized Bean Bag Toss Board
Get him a gift that is super fun for him to enjoy with friends and family! This custom bean bag toss board is an excellent V-Day present idea that'll provide him hours of competitive fun! Not only will he enjoy challenging you to a game of bean bag toss as part of your Valentine's Day together, but he'll be excited to host backyard barbecues with his buddies where they can play, too!
Sophisticated Cigar and Whiskey Gift Box Set
The best Valentine Day gift baskets for him will make him feel like the most sophisticated gentleman alive, which is exactly what this whiskey and cigar gift box set will do! He'll feel like absolute royalty holding one of these fancy cigar glasses (especially when they're filled to the brim with whiskey). Enjoying both his favorite whiskey and stogie using one hand will make him feel incredibly fancy, and he'll also feel so loved by you that you would get such a nice Valentine Day gift basket ideas for him.
Beer and Shadow Box Valentine's Day Gift for Him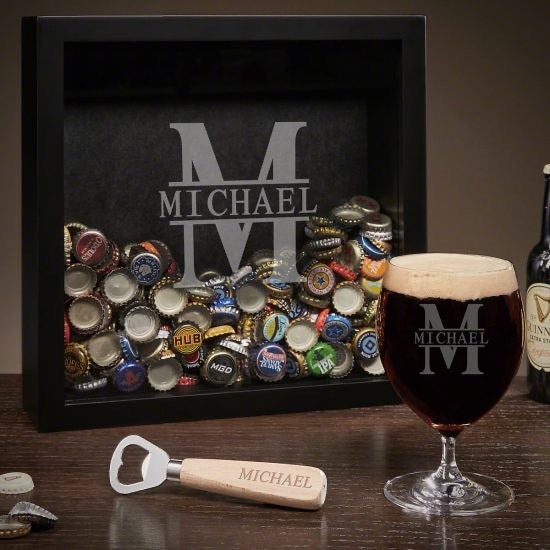 There's no gift out there that's better than this custom shadow box set for a man who loves beer! He'll be absolutely obsessed with this set that helps him treasure every moment he shares with you. Each bottle cap, wine cork, ticket stub, or anything he wants to collect will represent a fantastic memory with you, and he'll love having a place to keep these mementos up on the wall thanks to these awesome Valentine Day gift basket ideas for him.
Bulls-Eye V-Day Gift
This is one of the most unique Valentine Day gift baskets for him out there that he'll be so excited for! Not only does this bullseye deluxe gift basket contain delicious treats such as Smokey beer sausage and chocolate wafer cookies, but it includes both a traditional dart board and a special baseball-themed board along with darts to use! He'll be so thrilled to receive such a unique gift set from you that gives him such delicious snacks and fun dart games to play with you and his friends!
Custom Stainless Steel Wine Tumbler Set
Manly. Classy. Strong. All words that describe both the love of your life and this set of custom stainless steel wine glasses you're getting him for V-Day! It's one of the best Valentine gifts for men because not only will he feel cool holding such a sleek, handsome tumbler, but it'll keep his favorite drink cold until the last drop. He'll definitely want to use this set to share a drink with you to celebrate your love for one another.
Poker Set of Valentine Gifts for Men
You can bet he'll love these Valentine Day gift basket ideas! This personalized poker set is an awesome gift idea that he'll be so excited to use! Few things will sound better to him than playing poker and other card games like Double Solitaire or Kings in the Corner with you as part of your V-Day celebration. He'll also be so excited to host a game night with his buddies and use this set!
Vintage Beer Stein
He'll never want to drink beer from anything else after you surprise him with this traditional German beer stein! The customization and vintage look of this stein will make each time he drinks beer from it feel like a special event! He'll even want to use it as a décor piece when he's not having some beer because its appearance is so unique and awesome.
329+ INCREDIBLE BEER GIFTS FOR HIM >
Personalized Flask and Glass Gift Basket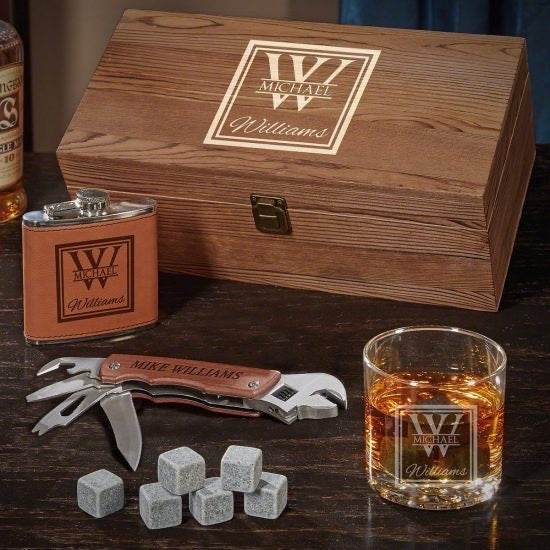 This ultimate customized whiskey box set is definitely one of those Valentine Day gift baskets for him that he'll never forget! He'll really like having a way to enjoy his favorite whiskey whether he's at home or on-the-go with the glass and the flask. You can enhance this gift even more by including miniature bottles of his favorite whiskeys, some of his favorite snacks, or any other awesome accessories inside the box.
Latest and Greatest SmartWatch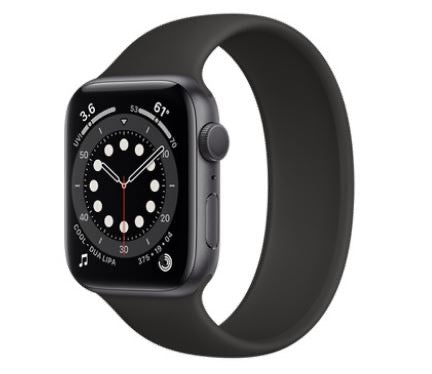 There's no way he won't be insanely grateful to receive the newest Apple Watch 6 as a V-Day present! For men who love tech, what could be better than the most high-tech watch on the market? He'll feel so cool with the latest in smart watch technology on his wrist, letting him monitor his blood oxygen levels, track various workouts, and talk on the phone hands-free. Your guy will thank you over and over for such a useful Valentine gift!
Beautiful Brewery Sign
Get him his new favorite thing that's in his home! This custom brewery sign will look incredibly stunning when he hangs it on the wall in his home bar, kitchen, or man cave. It's an awesome manly décor piece that will impress each and every person who walks into his home. Never before will he have a Valentine's Day gift that he is so proud to display for everyone to see!
Ultimate Cold Cocktail Set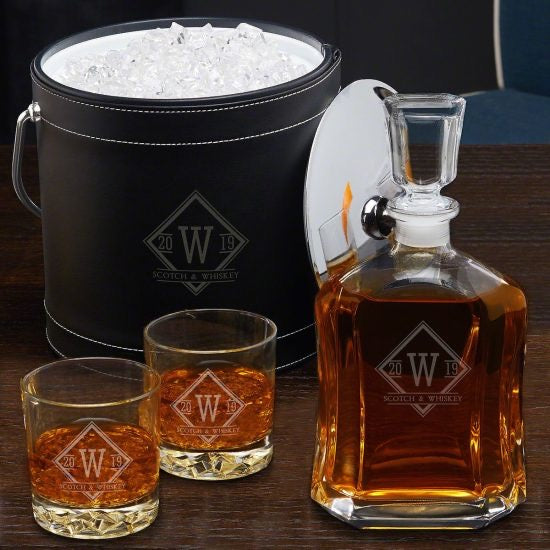 What better time to enjoy delicious cocktails with your significant other than Valentine's Day? The special man in your life will be so excited to share cocktails with you using this ice bucket and glassware set! It's one of the most impressive Valentine gifts for men that he'll get a lot of use out of. Whether it's drinking cocktails with you on special occasions or enjoying some out by the pool or on the beach during the summer, he'll love using this set to do so and keep his drinks nice and cold.
Best Beer Set Ever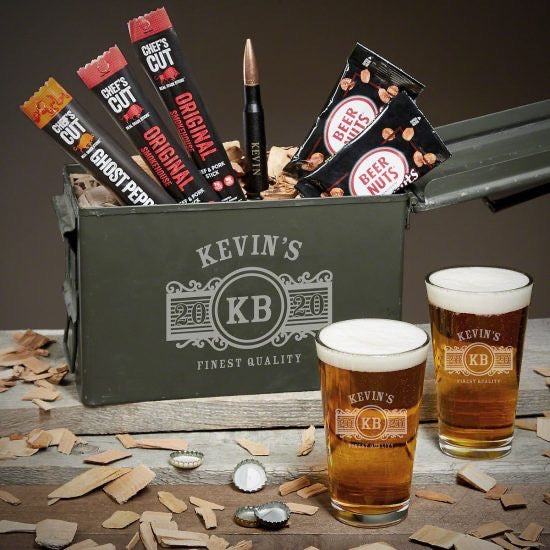 This custom ammo can beer set will absolutely knock his socks off because of how incredible it is! Not only will the rugged ammo can be perfect for storing some beer accessories or car equipment, but the pint glasses and snacks make it one of the greatest Valentine Day gift basket ideas for him. He'll definitely want to share a beer and a beef jerky stick with you to celebrate the holiday of love!
Fancy Valentine Day Gift Baskets for Him
Make sure he's always dressed his best with this necktie and cufflink set! Your man will be so appreciative of this useful set that gives him options at every opportunity he needs to dress up. When he's going on a fancy V-Day date with you, to a friend's wedding, or any other dress-up occasion, he'll love color coordinating his tie, cufflinks, and tie clip to look super snazzy.
Simple, Sophisticated Whiskey Set
The best Valentine Day gifts baskets for him for the man in your life don't have to be super complicated! Sometimes, a gift like this classy twist whiskey glass set is all he needs to be filled with joy and know how much you love him! He'll be obsessed with the personalized, unique-shaped glasses and really enjoy using them to enjoy his favorite drinks. He'll definitely want to enjoy a drink with this pair of glasses with you to celebrate Valentine's Day!