It's Valentine's Day, which means you want to get the man in your life something special that shows him just how much you love and care about him. However, you don't want to get him something cheesy like boxers with hearts all over them or beef jerky shaped like a rose. The best Valentines Day ideas for him are cool, practical, or personalized gifts that reflect the things he likes while also being romantic or sentimental. This may sound challenging, but don't worry! Perfect Valentine gifts for him can be anything from a custom version of something he already has or a practical gift that helps him relax or even at work! Think about the kind of gifts you would get him for his birthday or even your anniversary and you'll be golden!
Whiskey Valentines Day Ideas for Him
There's nothing more romantic than sharing a drink with your valentine, and this year you can make them feel extra special with this personalized whiskey glass set! Perfect for the man who enjoys a good Scotch on the Rocks or a Whiskey Sour, these double old-fashioned glasses are ideal for any kind of drink. He will be amazed when he uses the whiskey stones to chill his drink and actually enjoy every bit of flavor down to the last drop because they don't water down his Jack Daniels like ice usually does. From this Valentine's Day onward, he'll never want to use any other glasses but these personalized ones you gave him!
The Best Valentine's Day Gift for the Man Who Grills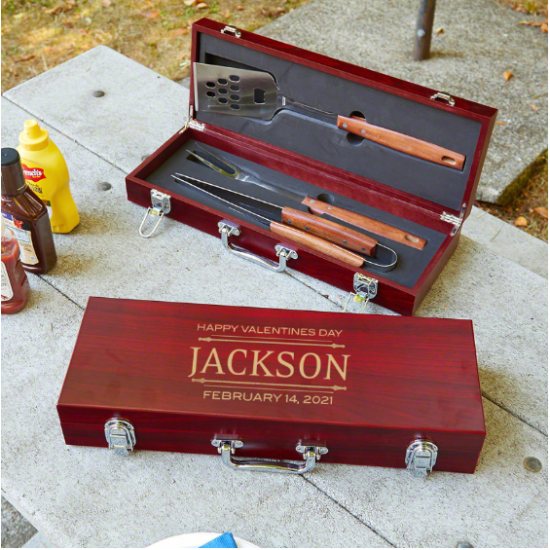 Sure, you've gotten him grilling gifts before, but nothing quite as awesome as this set of custom grilling tools! He will be in awe of the handsome rosewood tools and uniquely engraved carrying case, but once he recovers from the surprise at your incredible gift, he'll be on the grill cooking up a few delicious steaks for your Valentine's Day dinner. He will especially love that he can bring his trusty tools along when you two go on road trips, to family gatherings, and even his friends' houses so that he can grill anywhere. As far as Valentines Day ideas for him go, this set is one he'll be enjoying for years to come!
Make Him Feel Like a King on Valentine's Day
Treat your man like the king he is this Valentine's Day with a beer stein fit for royalty! He will love drinking his favorite ale from this awesome stein because it's so hefty and manly, but the beautifully decorated crest and lid makes this a regal gift for him. He will especially love that you had the crest engraved just for him, too. Even when he's not using this handsome stein to drink with, it is also an impressive decoration for his office or kitchen!
Give Him the Home Bar of His Dreams
Your valentine has been talking about putting together a home bar for a long time now, but he hasn't really gotten around to creating it yet. One of the most thoughtful Valentine's gifts you can give him is something that will help make his dream come true: a personalized bar sign! The rustic style of this cool sign will look awesome in his home bar no matter what theme he's going for, and thanks to your unique gift it will be official! Once he hangs it up, he'll want to invite all of his buddies over to his bar for drinks just to show off your amazing gift.
Impressive Valentine Ideas for Him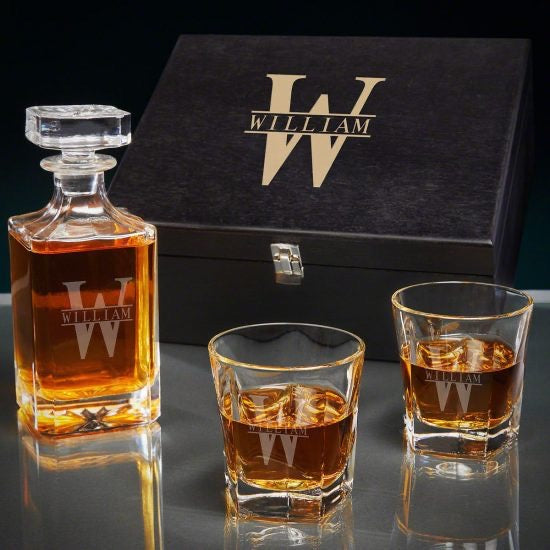 Want to really vow your sweetheart this Valentine's Day? Get him this stunning crystal decanter set! Perfect for his office or home bar, this luxurious set of Valentine Day gifts for him will make him feel like a million bucks every time he uses it for a celebratory drink or a casual nightcap. The two of you can even have a couple of romantic drinks together on Valentine's Day with this gorgeous set, but make sure you also give him a nice bottle of his favorite whiskey so that he can try it out right away!
499+ AMAZING GIFT SETS FOR HIM>
A Unique Keepsake He'll Treasure Forever
One of the best Valentine's Day ideas for him is a gift that represents a special day for the two of you, such as your first date, first kiss, or even the day of your wedding. Space Time Coordinates takes the date of your choosing and looks up the alignment of the planets on that day and then turns it into a cool keepsake! This silver memento can be worn as a necklace or bracelet so that he has a reminder of that special day with him at all times. This romantic gift is just as cool as it is sweet, and he'll want to hang onto it forever!
One-of-a-Kind Piece of Décor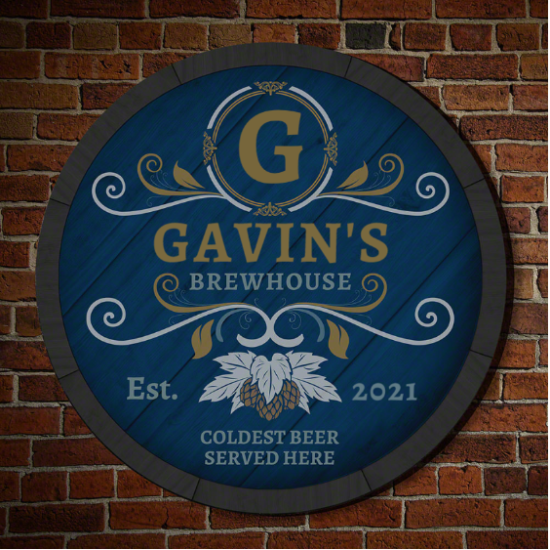 Surprise your man with a valentine's gift unlike any other: a personalized wood sign! This unique decoration is entirely customizable as it comes in four different colors and you can choose the initial, name, and year on it. This way, your gift is a one-of-a-kind piece that no one else in the world will have, which makes it even more special! He will be so impressed by your creativity and care that you put into making this incredible gift, and he will be very excited to display it in his home for everyone to admire.
Cool Valentine Ideas for Him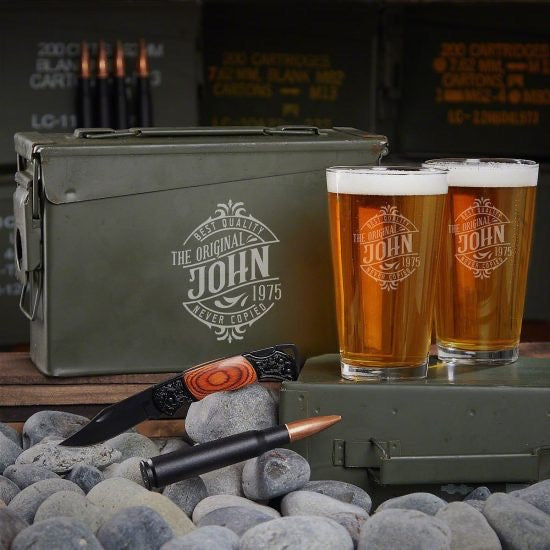 Are you struggling to find a Valentine's Day gift as cool as he is? Well you don't need to worry anymore because this badass ammo can gift set will make him even more awesome than he already is. From the custom pint glasses to the unique bottle opener made from a real bullet, each item in this incredible gift set is practical and awesome. He will be so stoked about having his very own personalized pint glasses to have his beers in, especially since he can share a drink with you or a buddy! He'll definitely be bringing the handsome new pocket knife everywhere he goes, and he might even keep the ammo box in his car so that he has his favorite tools and gear with him at all times.
Must-Have Watch Case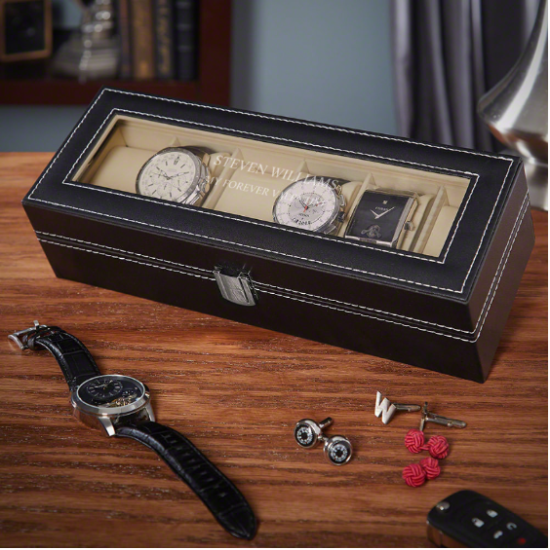 Does your boyfriend or husband have a couple of watches but always seems to misplace them around the house? Solve his problem this Valentine's Day with a watch case! Both thoughtful and practical, this custom watch case will keep all of his watches secure and organized. You can engrave the glass lid with just about any two lines of text you want so that you can make your gift as sweet or funny as you wish. The only thing that would make this a better gift is if you put a new watch inside it before you give it to him on Valentine's Day!
For the Man As Strong As an Ox
Whether he's really into fitness or you just love how strong and manly he is, this awesome bull decanter set is a testament to his incredible strength. The impressive bull decanter will make a fantastic centerpiece in his office or home bar, and every time he has a drink from it in one of the custom glasses he'll feel like a brave Matador. The two of you will certainly be using the glasses and whiskey stones for romantic drinks together on every holiday and date night from now on!
645+ WHISKEY GIFTS HE WILL LOVE>
The Only Valentine's Gift for a Football Fan
What football fan doesn't dream of having their very own jersey of their favorite player? By far one of the best Valentines Day ideas for him, he will be over the moon when he opens up his gift to find this awesome jersey! In fact, he'll be so excited about your amazing gift that he won't ever want to take it off! The next time he and his friends go to a game, he will proudly wear his new jersey in support of his favorite player.
A Fun Gift He'll Never Expect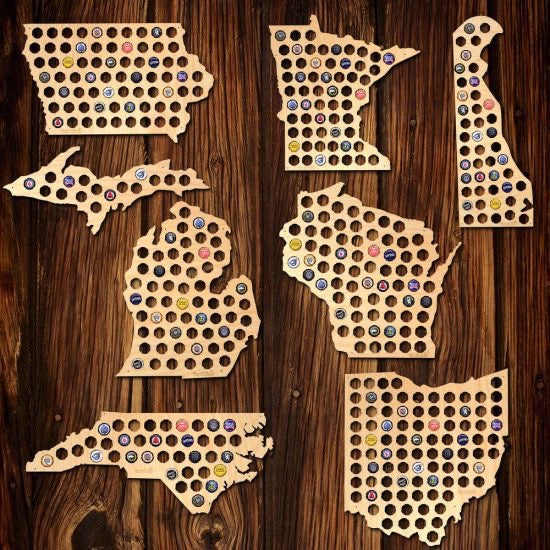 Surprise your valentine with a fun interactive gift that doubles as a cool new decoration for his home! With a cool beer bottle cap sign shaped like his home state, he'll have a unique way to show his pride where he comes from and a cool way to collect bottle caps from his favorite beers. He will without a doubt enjoy placing the bottle caps as he fills up the sign over time, and once it's full he might want to start over with a new one, which means you can get him one for his birthday or Christmas as well. This cool sign is one of those Valentine ideas for him that just keeps on giving!
Give the Gift of His Favorite Liquor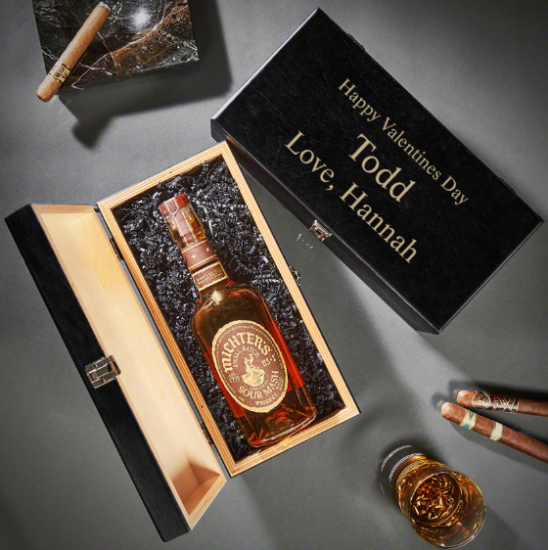 Whether he's a one whiskey brand kind of guy or he's been eyeing a luxury bottle at the store for a while, Valentine's Day is the perfect time to surprise your guy with a nice bottle of liquor! But don't just give him the bottle on its own, you need to dress it up in this handsome wooden gift box first. You can customize the lid of the box with up to three lines of text, which means you can have it say anything from "To My Valentine Gabriel Jones," or "Jackson's Pappy Van Winkle Whiskey." He will be amazed at your creativity and thoughtfulness with this gift and will treasure the gift box forever for sure!
Manly Valentine Ideas for Him
Valentine's Day gifts for men don't have to be cheesy, gushy, overly romantic items. They can be manly and cool, like this badass ammo can beer set! When your valentine opens up this incredible ammo can and finds all of the awesome stuff inside, he will be speechless. Once he recovers, he'll want to pour the two of you a couple of cold beers using his new custom pint glasses to celebrate Valentine's Day, and you could even put a few stogies in the set before you give it to him so that he can enjoy a nice cigar along with his beer. Everything about this gift set makes it one of the all-time best Valentine's Day Ideas for him!
Celebrate Valentine's Day in Style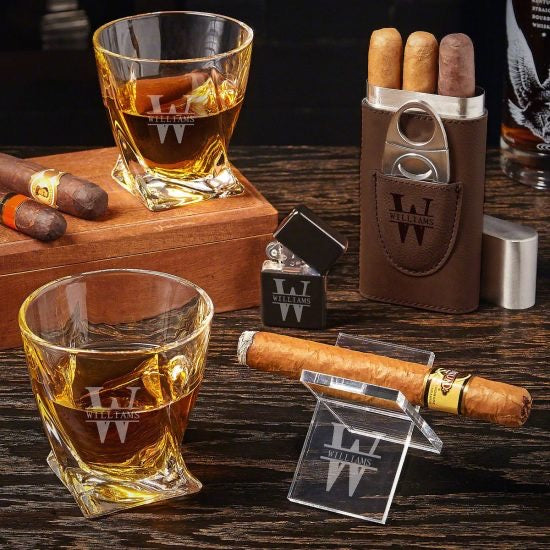 Toast to your love for one another with this sophisticated whiskey and cigar gift set! He will love how elegant and luxurious the entire set is, especially the unique glasses and the handy cigar case. He will greatly enjoy having cigars ready to enjoy whenever he wants since he can bring them anywhere in the cigar case and be able to set it down no matter where he is thanks to the portable cigar stand. Thanks to your unique Valentines Day ideas for him, he'll always be ready to celebrate a special occasion or relax after a long day.
Complete Skincare Kit for Him
Skincare is just as important for men as it is for women, and there's no better way to show him that you care about his wellness than with a men's Clinique gift set! He can enjoy each part in a routine: first the face scrub before his daily shave, followed by a moisturizing body and hair wash, and then finally a spritz or two of cologne. Starting on Valentine's Day, his skin will be smoother and healthier than ever before, and he'll smell wonderful, too!
Beer Gifts Are Always a Good Idea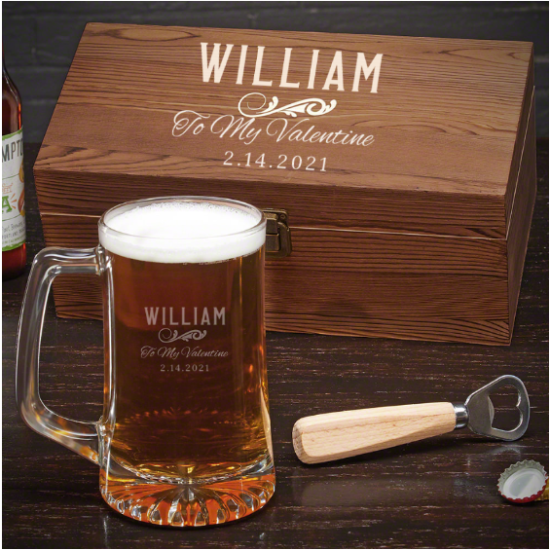 Last year, you got him a case of his favorite beer with a bow on top and a gift card to a local brewery but you're not sure how to top that. Look no further than this custom beer mug box set! He will be so excited about having a pub-style beer mug to drink his favorite brew from in the comfort of his own home that he'll never use those cheap pint glasses from a department store again. The fact that you had it and the matching gift box custom engraved makes it all the more special, and he will certainly think of you every time he uses them. Plus, he'll have a new bottle opener to add to his collection! You really can't go wrong with such awesome Valentines Day ideas for him.
Badass Valentine Ideas for Him
The only gift you could get your boyfriend or husband that's almost as cool as he is for Valentine's Day is this bullet whiskey stone set! He will be amazed by the cool whiskey stones that look almost exactly like genuine bullets, but not as amazed as he will be when he tries them out to chill his drink! The two of you can toast to the romantic holiday with a couple of Old Fashioned cocktails using this awesome set as soon as he opens your badass gift!
Practical and Personal Gifts Are Always Best
Still not sure what to get your valentine as a gift? You can't go wrong with a custom beer caddy! Both practical and personalized, this unique gift is even better when you fill it up with a six-pack of his favorite beer before giving it to him. Now he can bring his beers along when he goes to his friend's house, to the lake with you on a romantic weekend getaway, and even to his family reunion!