The dinner is planned. The outfit has been decided on. But you still haven't found a Valentine's day gift for your husband. We've put together an incredible list of gifts he is sure to love. The best gifts for Valentine's day are either romantic, fun, and something he'll use every single day. This list has everything needed to find the best Valentine's Day gift ideas for men, so you can spend the rest of the time enjoying the day with each other and looking forward to many more to celebrate together.
Whiskey Lover's Gift Set
Whether your guy is an aspiring whiskey drinker or a devout connoisseur, he will adore receiving an engraved whiskey tasting set. Valentine's Day ideas for your husband don't get much better than this. It has everything he needs to enjoy his whiskey neat or on the rocks without spoiling the notes and aromas. Enjoying your whiskey from a genuine whiskey glass will elevate the experience for your husband in ones previously unimagined. You can even pair it with a few miniature bottles to get him started.
Romantic Personalized Decanter Set
Looking for a gift with a touch of romance? This Love & Marriage decanter set is an amazing choice to gift your husband this Valentine's Day. He will admire having a quality decanter to store his favorite spirit and glasses to share the drink with friends and family. He can even store whatever he'd like inside the box. But the real crème de la crème of this set is having your name and date you tied the knot engraved on each piece. It's sure to put a warm smile on his face.
Stainless Steel Wine Glasses
A Valentine's without wine might as well be a hollow celebration. These custom stainless-steel wine glasses are one of those perfect Valentine's Day gifts for your husband. Designed to ensure his wine stays at the ideal temperature, he will love breaking out a bottle for you both to share over dinner or as a nice way to wind down on this romantic holiday. He'll struggle to ever use a traditional wine glass after being spoiled with this set.
Classic Custom Bar Sign
Does your husband have a man cave? Consider getting him a personalized sign to hang in his sanctum. He'll love getting a Valentine's gift that ties the space together, makes it seem even more inviting, and really puts an exclamation point that it is his man cave. Even if it doesn't have a man cave, it's still a great gift to hang over a home bar, garage, or wherever your man likes to unwind.
A Valentine's Gift for Beer Lovers
Just because it's Valentine's Day doesn't mean your husband's love of beer should be left in the dark. Show him you love him with this unique Valentine's Day idea for your husband. A personalized beer mug will give him that manly, bar experience in your home. The tactical knife is the real gem. He can open the handle and find a treasure trove of items he'll use on his next camping or fishing trip. You can even personalize this set to make it an extra special gift.
311+ BEER MUG GIFTS FOR HUSBAND>
Top Notch Bacon Subscription
Your husband loves bacon. It was practically engrained him when he was born. That crunchy, smoke taste is unbeatable in the world of protein. This bacon subscription will encourage your husband to have bacon recipes for every meal, even dessert and cocktails. Each box gives a detailed bacon history, so your guy's bacon knowledge will grow leaps and bounds. As long as you're cool with delicious bacon always being in your home, then this is a great gift to get your husband for Valentine's Day.
Engraved Cutting Board for Men Who Love to Cook
Does your husband love to cook? Get him a personalized cutting board that's great for any meal. If he's planning on making a romantic dinner for Valentine's Day then he can use this gift right away. If he's an avid griller or makes a special meal for the family this will become his go-to cutting board. This Valentine gift for him is a simple way to show you appreciate his knife skills and the meals he whips up.
Classic Decanter
The finest Valentine's Day gifts for your husband are often the classics. You can never go wrong with a stylish decanter. The elegant design on this decanter makes it perfect for his office, study, or anywhere else he likes to display his favorite liquor. Just make sure to remind that your Valentine's Day isn't over when he opens this gift. He'll be raiding the liquor cabinet trying to decide what spirit should be the first in the decanter.
Vintage Globe Bar
This Valentine's Day get a gift that will completely wow your husband. A 16th century globe bar has a timeless appeal. Your guy can feel like he's a super spy as he opens the globe to unveil a myriad of beverages. This globe bar is extra cool because it can even store glassware. It's a home bar and conversation piece rolled into one extraordinary Valentine's gift.
A Wallet for Tech Lovers
Looking for a practical gift? This dapper bifold wallet is a fantastic Valentine's Day idea for your husband. Even with it's classy and elegant style, this wallet is more than he might notice at first glance. It's an RFID blocking wallet, so your husband's cards will always be secure. If he travels a lot, it's especially perfect because it also protects hotel room keys. This gift is practical, sleek, and is something a tech junky would love.
Valentine's Gift for Men Who Love Brandy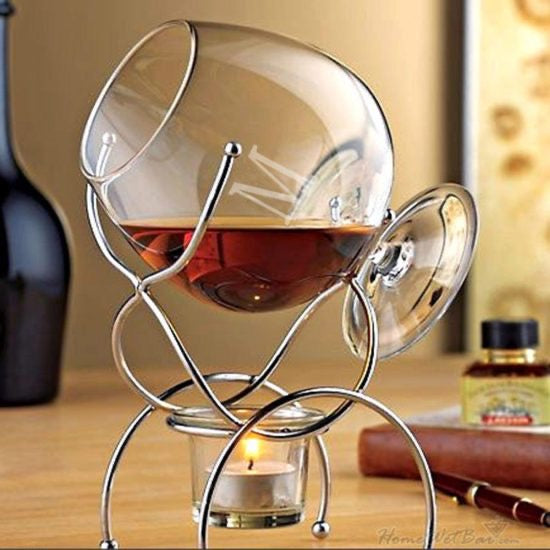 Some of the best Valentine's Day gifts for your husband are going to be surprising, even to him. A brandy warmer with a snifter glass is an incredible gift to receive this holiday. It unleashes subtle notes and flavors of brandy that are completely lost without a warmer. Your husband will love this gift and the candle gives an excuse to try it out immediately because it adds to the romance.
Unforgettable Ammo Can Set
Want an exceptionally memorable Valentine's Day? Celebrate with a gift your husband won't soon forget. A personalized ammo can that was used by the U.S. military is a gift unlike any other. The matching pint glasses and manly tools in this set will be in frequent use. Your guy will have to admit you're the "better half" when he unwraps this incredibly thoughtful gift.
297+ MORE GIFT BOXES HE'LL LOVE>
Incredible Sleep Sound Machine
If you've gone years without a sleep sound machine, prepared to have your life changed. One of you probably hogs the blanket, takes up more than their fair share of the bed, and snores so loudly that the walls shake. Thankfully, a Dohm sleep sound machine will be there to put an end to those restless nights. This is one of those Valentine's Day gifts for your husband that he will love to use right away. He may not be able to do anything about the snoring, but he can drown it out with some soothing sounds.
The Essentials Box Set
If you really want to warm your man's heart this holiday, consider a gift that has all the cigar essentials. It's one of those Valentine's Day ideas for your husband he'll be bragging about to his friends. The sleek cigar cutter and engraved Zippo-style lighter can easily fit in any pocket, so he'll always be ready to enjoy a cigar. This set even comes with a flask so he can pair a cigar with a liquor of his choice. You can really elevate this gift by adding a couple cigars into the box. He'll think of you anytime he indulges in one of his favorite vices.
Custom Insulated Tumbler
Don't leave the man-on-the-go in the cold this Valentine's. Get an insulated tumbler that's personalized just for him. If he's rushing to the office or taking a relaxing trip to enjoy nature, he can keep his brew of choice piping hot or ice cold for hours. He'll love filling it with his favorite coffee in the morning or making sure he has enough craft beer to get him through his fishing trip. This is the kind of Valentine's Day he'll be using every single day. He'll always find reasons to reach for this thoughtful gift idea.
Portable Briefcase BBQ
A great Valentine's Day gift will make your husband laugh and still be functional. Imagine the look on his face when he unwraps a bright red suitcase only to open it and see a charcoal grill. He will love taking this to friend's homes and grilling up a couple hamburgers. He can even use it as an excuse to grill you both an amazing Valentine's Day dinner. Just make sure you have a bag of charcoal on hand.
Awesome Ceramic Beer Stein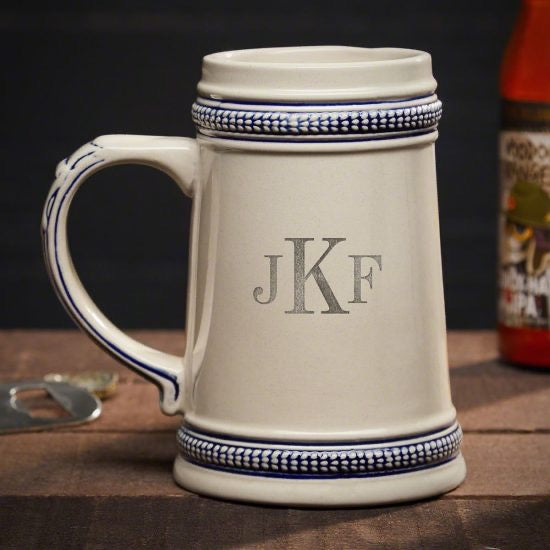 A monogram always has a sense of class. That's why this Valentine's Day gift for your husband blends class with awesome beer traditions. Your husband will love having a ceramic beer stein. A traditional German beer stein makes beer drinking a fun experience. Your husband will reach for this clever gift whenever he wants to celebrate, is watching the game, or is just in a good mood. This is a gift that reminds him just how fun the person he chose to marry really is.