Sure, you can stock your home bar and kitchen with basic glassware from any old department store, but that's so boring. Why not upgrade your home with these amazingly unique drinking glasses? From personalized to unusual shapes, these glasses are designed to be far from average so that your drinking experience is more enjoyable and makes your home more unique. We made sure to find all kinds of glasses to suit your spirits of choice, or even if you're just looking for some cool daily water glasses. No matter if you're looking for whiskey glasses, gin glasses, bourbon glasses, vodka glasses, wine glasses, or anything else, we have you covered. Once your friends and family see your impressive and unique glassware, they'll all want to go shopping for some cool glasses for their homes!
A Striking Rocks Glass You Can't Stop Admiring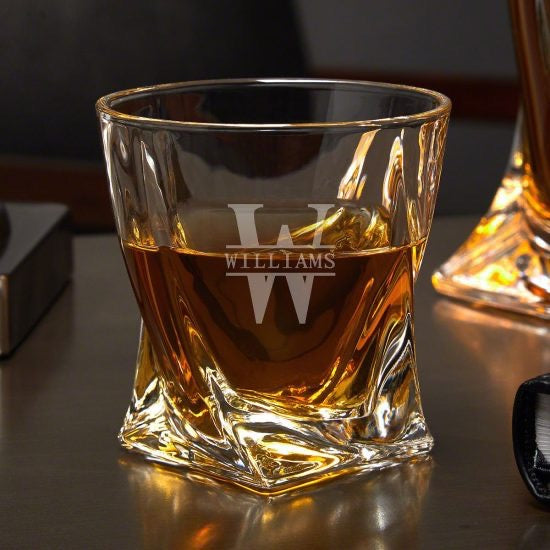 Rocks glasses come in all kinds of shapes and sizes, but this gorgeous glass is one you definitely need in your home! By far one of the most breathtakingly unique drinking glasses, the elegant curves and personalization make it a one-of-a-kind. That is, until you buy a whole set to make this a custom liquor gift basket! Whether you're a scotch on the rocks fan or just enjoy the occasion White Russian, this stunning glass is a must-have. (Bonus: this is the glass used most often by Lucifer Morningstar in the hit Netflix show Lucifer!)
Unique Glassware Larger Than Life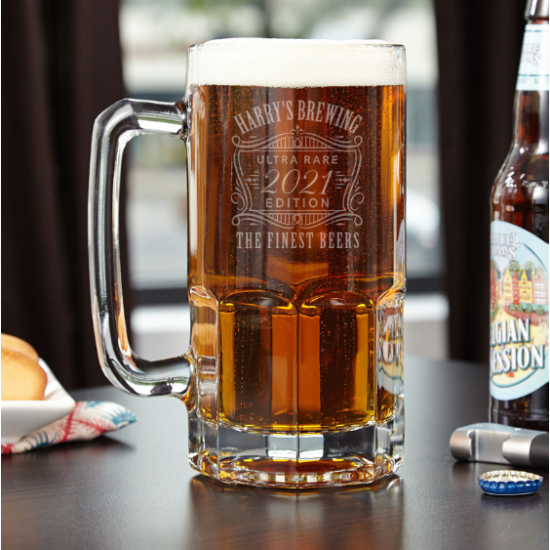 Help yourself to as much beer as you want in this giant beer mug! Three times the size of an average bottle or can, you can enjoy plenty of beer without needing to get up for a refill throughout an entire movie or at least until halftime. This unique glass is even personalized just for you with a cool vintage-inspired design that ensures no one else can use this glass as it has your name on it!
Beautiful and Unique Drinking Glasses for Wine Fans
These striking wine glasses aren't just works of art, their unusual curves actually aerate your wine! Your wine will be smoother and sweeter with every sip or swirl thanks to their unique design, which means you don't have to worry about using an aerator or waiting for the wine to breathe ever again.
The Perfect Rocks Glass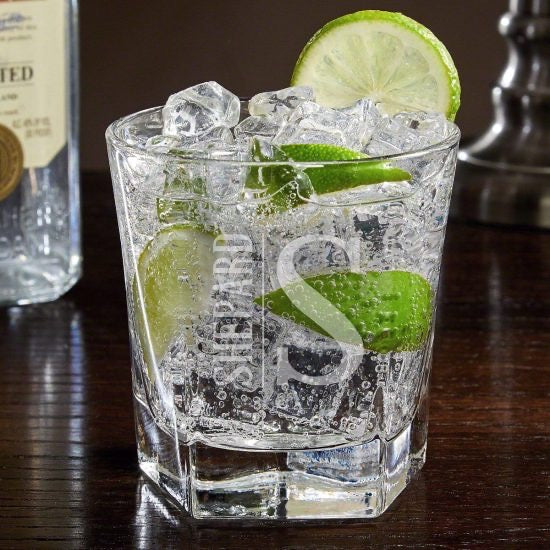 This neat glass may look like your average rocks glass, but it definitely is not! This large, double old-fashioned glass is bigger and has thicker glass than most standard rocks glasses, which means you can enjoy larger drinks that won't get ruined by melted ice right away. The tall base even prevents your drink from producing any condensation, keeping your furniture intact! Seriously, you need a whole set of these unique drinking glasses!
The Coolest Glass You'll Ever Own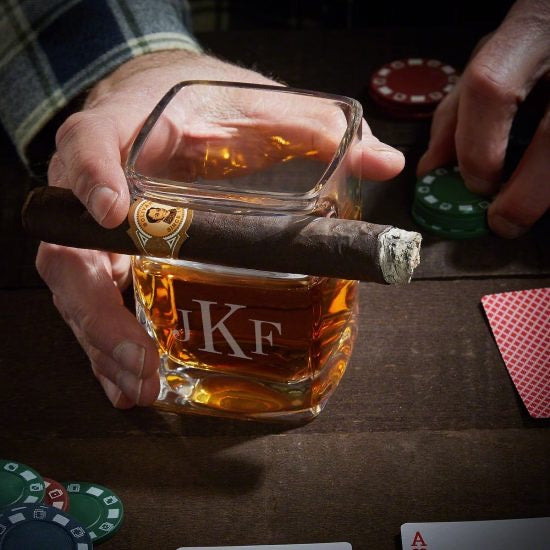 Seriously, this is the most awesome glass ever. As far as unique glassware goes, you can't get any more one-of-a-kind than this! You can sip on your whiskey and puff on your cigar all at once thanks to this 2-in-1 glass, which frees up your other hand to deal your cards in poker or flip through Hulu to find something to watch. All of your friends will want one of these glasses, so be prepared to buy a whole set!
A Glass That Defies Gravity
No, you're not seeing things, this glass really is floating! Using a powerful magnet, this awesome glass allows you to enjoy a drink in the coolest way possible. You'll feel like an astronaut floating in space every time you grab it to take a sip or a Star Trek captain as your drink levitates impressively on your desk. This out-of-this-world glass definitely belongs in your office or home bar so that you can show it off to everyone who visits and it just looks badass on display!
Drink Beer Like a Viking
Sure, you could be a normal person who drinks beer out of a boring pint glass or even just straight from the bottle. Or, you could drink your favorite brews out of a beer stein like the Vikings did! This impressive beer stein is designed to resemble the regal, ornate beer steins often seen as antiques in Europe. With a handsome pewter lid and a custom engraved pewter crest, this royal beer stein will have you feeling like the toughest, manliest Viking who ever lived with every sip of your ale! Plus, when you're not using it, this stein looks amazing as a decorative piece no matter where you keep it.
Cool Wine Glasses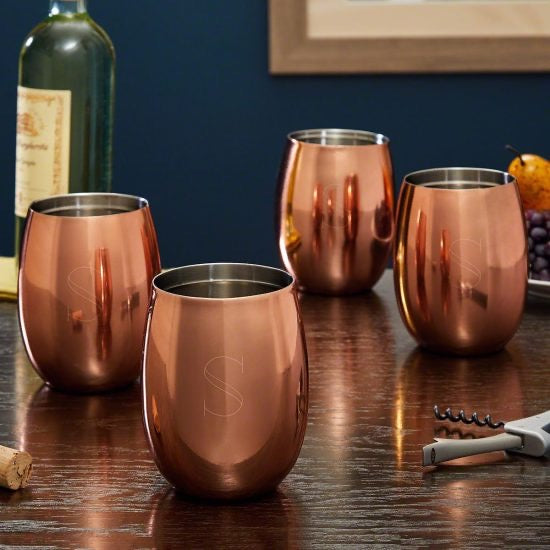 Literally, these copper wine glasses are way too cool! The insulated stainless steel interior guarantees that your wine will stay the perfect temperature whether you prefer it chilled or just below room temperature. Perfect for sharing wine with friends and family, these unique drinking glasses make enjoying your favorite Chardonnay better than ever before!
Must-Have Cocktail Glass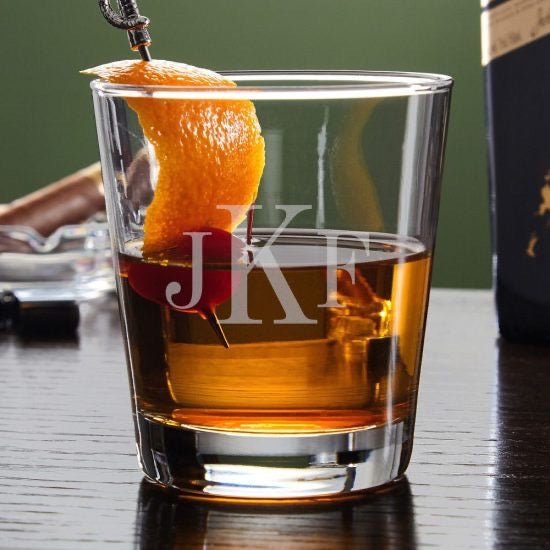 It doesn't matter if your cocktail of choice is a Vesper Martini like James Bond or a White Russian like Jeff The Big" Lebowski, this cocktail glass can hold them all! The perfect size and shape for any kind of cocktail you can imagine, this classy monogrammed glass is infinitely better than your average lowball glass. The slender cone shape fits snugly in your hand, the wider lip allows for more ice or garnishes, and the thick base means your drink won't sweat. On top of that, it's engraved with your initials! Seriously, get rid of all of your boring old cocktail glasses and stock your home bar with a couple of these.
The Best Whiskey Glasses
These Glencairn glasses were specifically designed to deliver the most flavorful whiskey with each sip through their unique design, meaning that your favorite scotch in a regular rocks glass tastes totally different than the same scotch in a Glencairn! You and a friend can have an at-home whiskey tasting of your favorite brands with this pair, or you can enjoy a nice romantic drink with your partner. Definitely some of the most unique glassware out there, these whiskey glasses will change your whiskey experience forever.
Unusually Fun(gi) Glass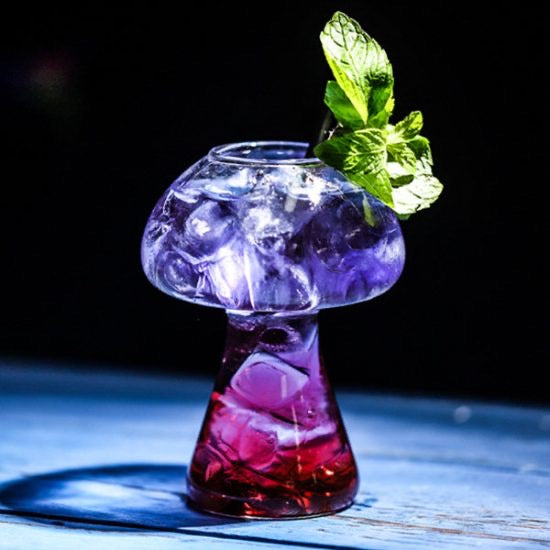 Get a load of this fantastical glass! Shaped like a mushroom, this unusual cocktail glass does crazy things to your favorite mixed drinks. The wide bulb on top makes it perfect for creating layered drinks and is designed to be the optimal placement and angle for your nose when taking a drink in order to get the fullest effect. Also great for beers to allow plenty of foam to build or wine to aerate, this versatile mushroom glass is one of the most unique glasses you'll own.
You've Never Seen a Wine Glass Like This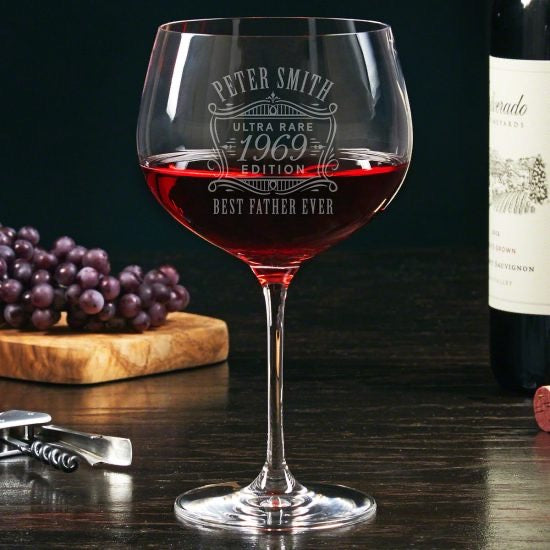 Wow, how cool is this stemmed wine glass? Called a balloon glass, this unique glass is the best way to enjoy your favorite red wines. The large, wide bulb allows your wine to aerate while the aromas are directed toward your nose with the tapered rim. You'll finally be able to discern the subtle flavors of the spices and unique ingredients thanks to this stunning glass! In fact, you'll become a sommelier in no time once you start using it and you'll never want to go back to drinking your red one from your cheap stemless glass.
Royal Pilsner Glass Fit for a King
Do you enjoy pale ales like pilsners? Then you need to be drinking them out of this handsome glass! The perfect pilsner shape allows the hops to be evenly distributed with a thick head of foam at the rim; this ideal pilsner glass will make your beer taste better than ever before. It'll look great inside this glass too, and you'll feel like royalty because of the regal design and custom crest!
Versatile and Unique Drinking Glasses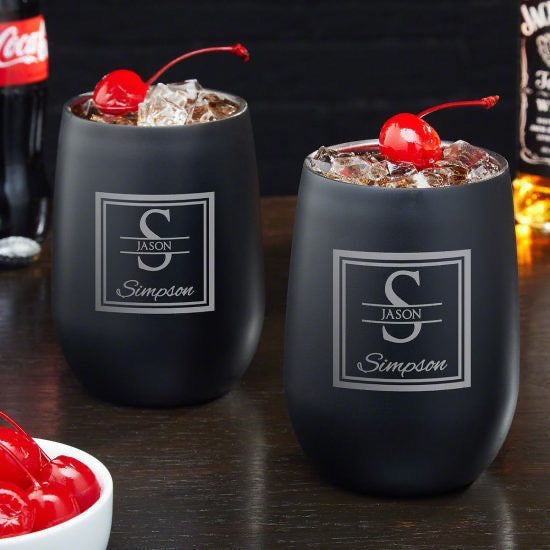 Tumblers are on the rise because of their convenient insulation, virtual indestructibility, and easily portable design. These custom tumblers are great for just about any kind of drink from margaritas to Cherry Coke! You can use them by the pool, on the road in your RV, or even by the fire because these incredible glasses are must-haves for anywhere. Their versatility and engraving definitely make these practical glasses unique, and you definitely need a couple in your home!
Get a Grip With This Unique Glassware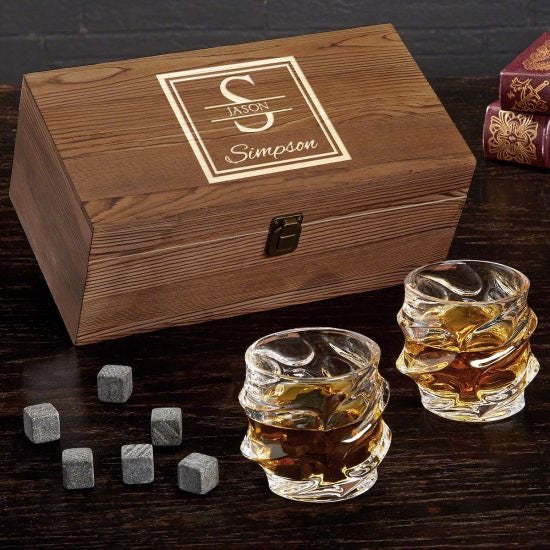 They might not look like it at first glance, but these unique whiskey glasses are designed to fit in your hand so comfortable and securely that you never have to worry about losing your drink or getting tired or holding it! They also have extra thick glass to keep your Whiskey Sour or Jack on the Rocks extra chilled, and the whiskey stones that come with them ensure that your drink is never watered down. You just can't go wrong with this essential set!
Modern Glasses Unlike Any Other
These unusual glasses might look like something you'd see in a geometry book, but they're definitely real! With their modern bowl-like design, you're guaranteed a smooth and intense flavor whether you're drinking wine or a cocktail. The cylinder base keeps your drink well away from the table and your hand so that it isn't affected by temperature and doesn't produce any condensation on your furniture. These cool glasses can be mixed and matched to suit your needs as well and come in a variety of sizes!
The Best Way to Drink Cognac
Forget that mug or rocks glass you've been using for your annual holiday brandy, you need a proper snifter. This handy set of unique glassware is ideal for brandy or cognac as the curvy shape fits snugly in your palm, absorbing the warmth and revealing all of the tasty exotic flavors. You can enjoy a nice stogie along with your brandy in your custom glass thanks to the included cigar accessories! Anyone who enjoys a good brandy now and then will want to indulge in the luxurious spirit more often after trying it out in this unique set.