Make drinking at home feel like a special occasion! Don't just drink from any old set of glasses. Get yourself a set of custom glassware! Your own set of engraved glassware is sure to enhance your drinking experience; that is because a set of specialized glasses will make you feel even closer to your favorite drink! Each person who loves a specific alcohol also has a particular set of glassware that will not only functionally enhance their drink, but will also be a great piece of decoration in the home too! You may be wondering: What sort of glasses do I need? Do specialty glasses really make a difference? Will people take notice of my special glasses? Don't worry, we are here for all of your questions about the awesome glassware you want to get in your home! Prepare yourself for some knowledge, and get ready to find the set of glassware you've always dreamed of having in your home!
The Ultimate Whiskey Tray Set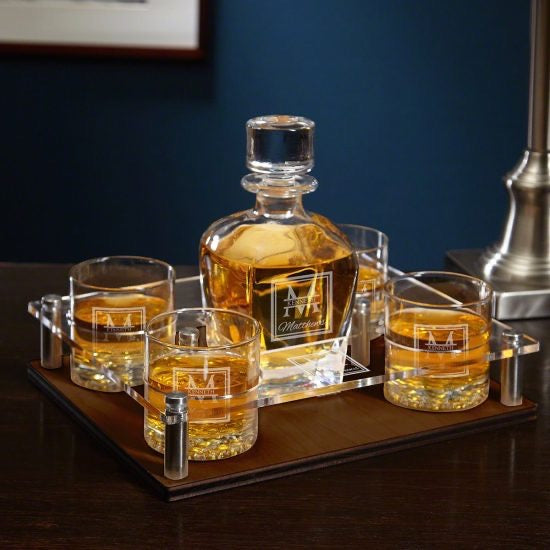 Make your glassware as impressive as possible by going big! This whiskey serving set has everything you could ever want to be able to drink at home, by yourself, with your SO, or even with your friends! The matching engraved set will surely impress everyone, and show that you're serious about your liquor! It'll be impossible not to enjoy an old-fashioned or even a neat glass of whiskey when you're drinking from such an awesome custom glassware set!
An All-Inclusive Wine Set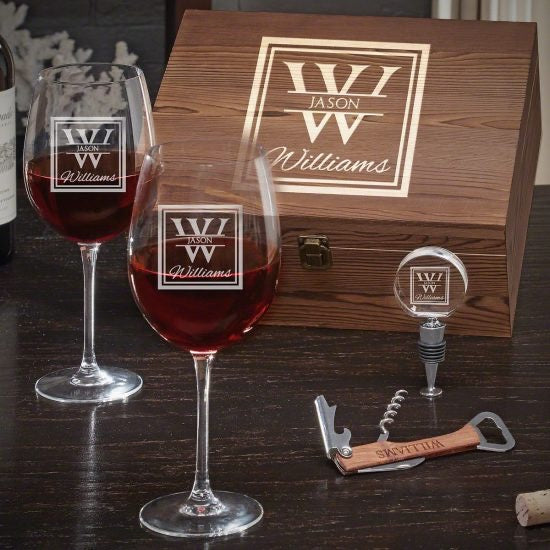 Impressive engraved glassware sets don't have to rely solely on a massive tray or decanter; instead, they can be elegant and refined, like this wine set! Top to bottom, this set is customized, even the wine stopper has an engraving! As a true wine lover, you would love to have a custom wine glassware set like this in your home. You can even use the box to store all of your wine accessories or decide to display all of your new customized barware. You can be sure that anyone who sees the engraving will be blown away at such a spectacular matching set.
Awe-Inspiring Whiskey Glassware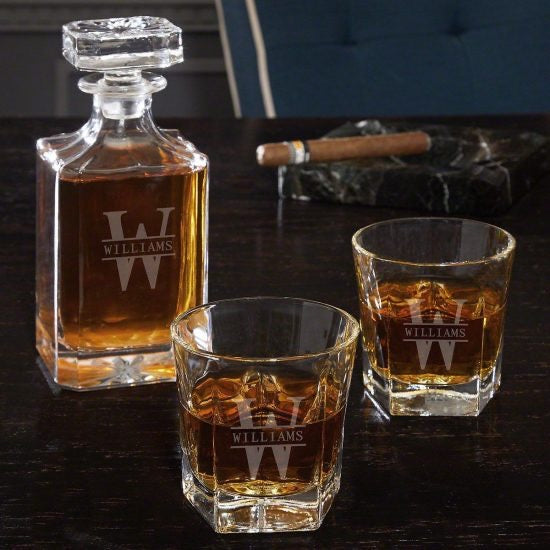 When you're in need of a set of custom glassware that is awe-inspiring, you need look no further than this decanter with matching glasses. Whether it is in your hand or on your end-table, the sizable glasses and impressive ridges will have a profound effect on anyone who looks at them. They'll just start assuming you're the authority on everything, they're that cool looking! You know you're awesome, so make your home glassware set just as kick ass with a set of whiskey glasses you can't help but want.
A Battle-Hardened Beer Set
Decanters and fancy glasses are all fine and good, but you're looking for a glassware set you can't help but want in your home. You need something like you've never seen. For the beer lover, this beer gift set is exactly what you need in the house. No one will have ever seen a matching engraved repurposed United States military ammo can with pint glasses! You're sure to impress all of your guests with your awesome, yet practical glassware set. You'll be able to crack open a cold one with your new .50 caliber bottle opener and share a beer with your favorite person!
A Cool, Unique Whiskey Set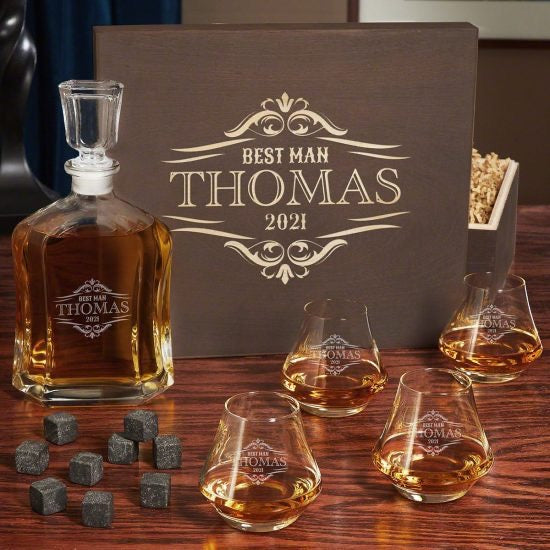 When you're after a set of custom glassware for your house, it both be functional and look great. Thankfully, this set does both! As a whiskey-lover you can't help but want to use this set. The decanter and nosing glasses are the perfect way to enjoy the 12-year whiskey you've had laying around the house. These tasting glasses will enhance the flavors enough to make opening that bottle worth it! You won't even have to worry about diluting the flavor thanks to the whiskey stones. When you're done, leave the set out so you can look at the fantastic glassware craftsmanship, even when you're not drinking.
629+ WONDERFUL WHISKEY GLASSWARE SETS>
The Most Worldy Pint Glass
Make your beer glasses unique and unforgettable with one that has a map of the whole world on it. The map of the world will have you exploring the globe as you drink from the comfort of your home! Your guests are sure to find a set of theses glasses fascinating too. Without a doubt you'll be drinking imported beers while trying to locate the exact area they were brewed as you drink!
The New Classic Wine Glass
A set of engraved glassware that every house needs is its very own set of matching stemless wine glasses. You never know when you're going to entertain on a moment's notice, and breaking out a bottle of your favorite Merlot or Pinot Noir and serving it in a matching set of custom glasses will have your guests jaws simply dropping! This set is also fantastic for drinking at home with your SO; the stemless glass gives it a fun and modern feel in the hand when you're enjoying your favorite classic drink.
Bring The Brewery Beer Home Gift Set
A growler set is something a beer drinker simply cannot pass up having in their home. Never again will you have to spend night after night at the brewery just to get your favorite beer; or not be able to bring back any beer from the local microbrew on your recent trip. Now, use your matching beer set to enjoy specialty beers from the comfort of your own home! The growler will hold plenty of beer, and your new set of pint glasses are the perfect way to enjoy it. You can even use the coasters to pop the top off of beer bottles, talk about a gift set that has it all!
The Coolest Cocktail Set
Don't worry, cocktail lovers are not going to be neglected here. Nothing is cooler than going to make a drink for yourself and a friend, or yourself and your SO, only to surprise them with a set of personalized glasses. Fill them with your classic White Russian or make your guest a sidecar, and they'll be shocked when they see that you've got one of the coolest set of cocktail glasses around. For the person who is into cocktails, do yourself a favor, and feel awesome every time you have a drink by drinking from your own custom glasses.
All In Whiskey Custom Glassware
You know you want a custom glassware set for your house for your whiskey, but you just can't figure out what style. Well, with this all-inclusive custom whiskey set, you don't have to make a choice! This personalized set comes with the five best whiskey glasses you could ever want. Each one serves a specific purpose when it comes to tasting whiskeys, so get your palate ready for the ultimate whiskey experience. As a bonus, the set has whiskey stones too, which means you'll get a cool sip of whiskey without ever having to fear diluting its pure taste!
An Above Par Glassware Set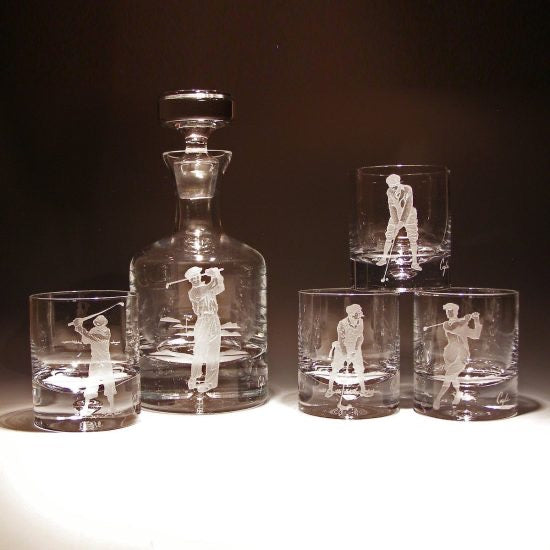 As a golf enthusiast, there is only one thing you are more obsessed over than trying to work on your short game: your liquor! Infuse your passion and your hobby into a single gift to have the ultimate set of glassware you need in your home. This engraved glassware set has the full golf swing customized into all four glasses and the decanter. As a liquor and golf enthusiasts, you can't afford to not have this in your house.
Custom Cocktail Glasses
As a Gin and Tonic, Mojito, Margarita, or any other cocktail lover, you should be proud to get a set of glasses that are perfect for not only drinking out of, but as set that will look fantastic displayed in your home. Engraved with your name, initial, and last name, what could be better? You're quite literally drinking your classy cocktails from a glass made just for you! You can't feel any more special while sipping on your drink than that.
Engraved Glassware Set for Beer Lovers
Mugs have always been an impressive way to drink beer. Something about the shape of the mug is able to transform the traditional beer into a true drinking experience. For beer lovers, this set of engraved mugs is a must have in your home. Whether you use them for special occasions or for your nightly beer, there is truly no better way to drink a brewski! As an added bonus, the display box is a great place to store all your beer caps or beer accessories.
333+ THE BEST BEER GLASS FOR YOUR HOME>
Grab The Glassware By The Horns
Drinking using a decanter in the shape of a bull is truly one of the most unique and awesome ways to enjoy a drink of your favorite bourbon or scotch when you put your feet up at home. It won't just be an awesome decanter for you, but your guests too! This bull decanter set is a must have for whiskey, scotch, or bourbon lovers. This whiskey set doesn't just look great, but it is functional too. You'll be able to have or share a drink anytime you like with the liquor you're storing inside your decanter. Not only will you be able to share a drink of your favorite booze, but your guests won't stop complimenting your unique decanter! This gift set is the ultimate finishing touch in glassware for liquor enthusiasts.
The Best Beer Tasting Set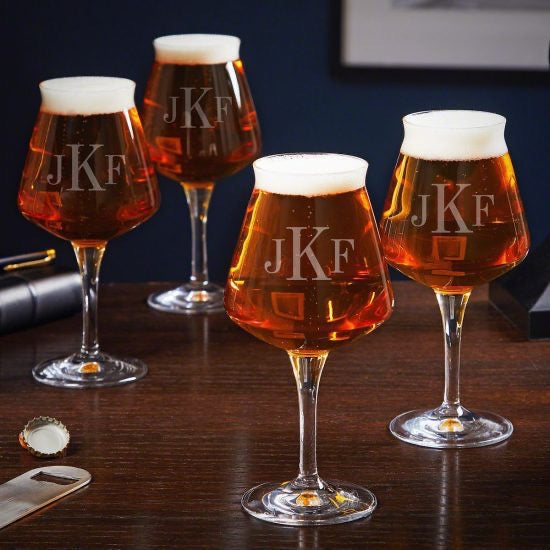 As a beer lover you cannot pass up having your very own set of Teku beer glasses in your home. These glasses have quickly become one of the best-looking ways to enjoy all sorts of beers at home in style. The shape of the glass delivers a new mouthful of flavor from your go to beer, packed full of subtle flavors you never noticed before. What makes this glassware even better is this is a set of 4! That means you and your friends or family can have a beer tasting party while looking insanely classy with your own set of monogrammed glassware!
A Rustic Personalized Glass
Custom glassware doesn't always need to be super high-end. Sometimes, some down-home simple glasses get the job done just fine. For those occasions, an engraved mason jar will give you the rustic feel you're after while still making your drink feel super personalized. No matter if you are getting a few glasses for your own, or are making an entire set to entertain guests, you can't go wrong with mason jars when you want that rustic feel!
Monogrammed Custom Glassware Presentation Set
Establish your home as the one the authoritative whiskey place with this custom glassware set. This solid whiskey decanter tray set is essential for you as a whiskey enthusiast. What could show your passion for your favorite liquor more than a monogrammed serving tray? You've got the perfect set to pour yourself a drink or share that 10-year malt you've been saving for a special even or tasting party. You are already the biggest whiskey-aficionado you know, so get a serving tray set that will prove no one you know knows as much or loves whiskey as much as you!
113+ CUSTOM GLASSWARE ITEMS YOU NEED IN YOUR HOME>
David Harrington is a seasoned researcher with a degree in English literature. He uses his extensive training and research skills to evaluate thousands of gifts a year. He then narrows that list down to a select few, choosing unique gifts that will surprise and delight his readers and their gift recipients.