Make Your Next Cocktail Better Than Ever Using One of These Gin Glasses:
There's nothing like enjoying your favorite cocktail, and you are especially fond of a classic Gin and Tonic. For the best Gin and Tonic, however, you must have the best Gin and Tonic glasses to enhance the experience. Good gin glasses are those that enhance your cocktail, no matter which one you're drinking. A lot can be changed from glass to glass, even with the same ingredients, so it is vital that you are using the correct glass – but it's hard to know which glass to use. Use these glasses as the ultimate liquor gifts because these glasses can be used for any Gin drink that you love and will make your cocktail experience better than it ever has been before.
Copa – the Authentic Gin Glass
Your favorite drink is Gin and Tonic, so you're on the hunt for the perfect Gin and Tonic glasses. You should know that experts are saying that a new kind of glass is perfect for Gin and Tonics: the Copa glass. Also sometimes referred to as a balloon glass, it's a bulbous shape on a stem, like a wine glass. It's the ideal glass for a Gin and Tonic because it traps the aromas of the gin with the smaller opening, but the big bowl allows for plenty of ice and lime into the glass to enhance the flavor. The shape also helps prevent the ice from melting quickly, which is important in maintaining the integrity of the drink for longer.
Keeping it Simple
Getting complicated with your cocktails isn't something you typically do—why complicate perfection? A simple Gin and Tonic is all that you need to be satisfied. This lowball gin glass is the perfect glass for your cocktails. With this ingenious glass, there's plenty of room for the basic ingredients of your favorite cocktail poured over ice. You'll love the classic feel of this awesome glass!
Mixing it Up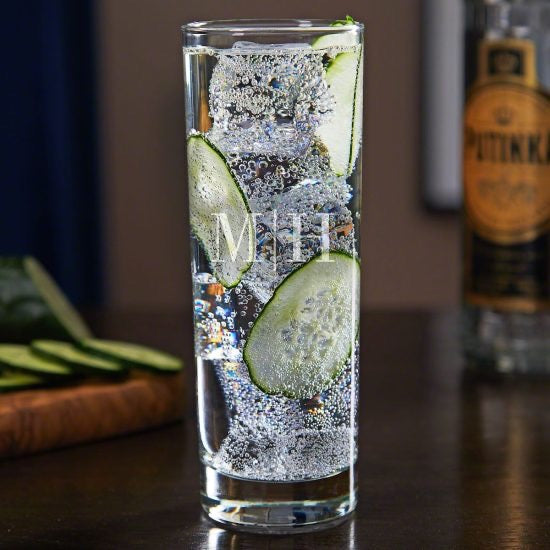 On the flip side of the lowball glass is the highball glass, because sometimes, you deserve to get a little crazy with your cocktails. This beautiful highball glass has all the room you need for expanding your cocktail horizons. You can add different mixers, various fruits, and multiple spirit types to get exactly the cocktail your heart desires. However, a simple Gin and Tonic will taste delicious consumed out of this glass as well, making it one of the most elegant and versatile Gin and Tonic glasses out there. You can also get a whole set of these glasses to make one of the coolest liquor gift sets out there!
Gin Coupe Glassware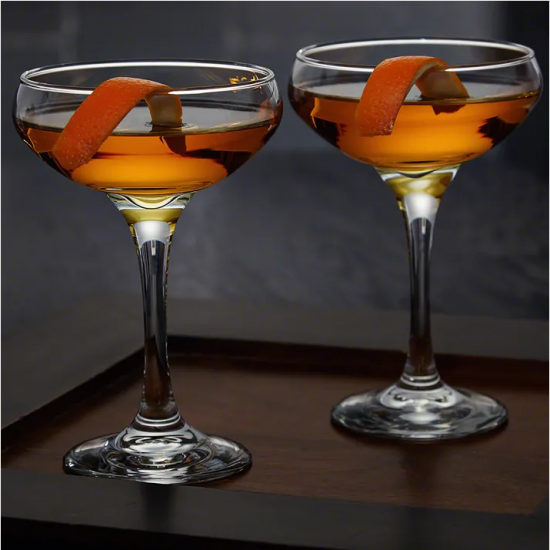 Martinis are a very popular cocktail in the United States, with Gin Martinis being one of the most popular varieties. Sometimes, a classic drink calls for a vintage glass. These coupe glasses great for cocktails at your home bar or even while just hanging out in your living room with friends. The long, thin stems of these glasses have an extremely classy and elegant feel to them as well. Your Gin Martini will surely taste better than it ever has before when you consume it out of these brilliant, classic glasses.
Classic Cocktail and Gin Glasses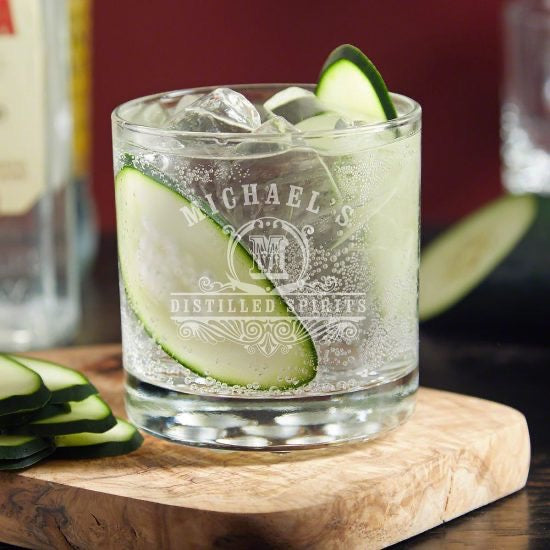 As great as a high-walled glass can be, a lowball glass can be outstanding for Gin and Tonics as well. The thick bottom of this custom Gin and Tonic glass withstands the muddling of fruit and spice that precedes many pours. The straight, vertical walls allow the heavy fumes to collect in the air just above the drink itself, giving the illusion that the drink is much stronger than it actually is. If you love Gin and Tonics as well as White Russians and Vodka Greyhounds, this is the perfect glass for you.
145+ HIGH QUALITY PERSONALIZED GLASSWARE>
Ring For Gin
Get a novelty gin glass that is actually of use with this unique piece of glassware that not only holds your Gin and Tonic, but also has a bell on the bottom. Now, when your glass is nearing empty, a quick flick of the wrist will ring the bell letting your at-home bartender know that it is time for another round!
Stainless Steel Glassware
Can't stand ice diluting your favorite cocktail but equally can't stand a warm drink? Have your Gin and Tonic or any other cocktail neat or with ice with this matte black personalized cocktail tumbler, your very own fridge in a Gin glass. It solves all of your problems with its double walls that trap coldness inside so you can take your time sipping and enjoying your Hendrick's gin without having to worry about it getting warm or being too watery. If you choose to have ice inside, it will take much longer to melt than it would inside a typical glass. With its sleek black exterior monogrammed with two silver initials, it would be so sad to not have this glass.
Gin Martini, Please
Formally introduced in 1925, the famed Martini glass is one of a kind. Anyone drinking from this type of glass immediately feels classy. And who says a Martini glass can't turn into a Gin and Tonic glass? With this modern twist on the famous glass, this ice free stainless steel martini glass is without a long stem. With liquid freezer gel in the walls, your Gin and Tonic or Gin Martini will be kept cold for hours without ice in this ingenious glass. It can hold seven ounces of your favorite drink, giving you plenty of time to make another.
Gin Glasses with a Twist
The best gin glasses should be unique to match your personality, right? This twist glass is the perfect size and shape to fit snugly in your hand. Whether you are drinking a classic Gin and Tonic or another cocktail such as a French 75, you can't go wrong with this beautiful glass. It holds just over ten ounces, so it's the perfect size for a smaller cocktail , but don't be afraid of refills! Monogram it to your liking with a name and initial, and you'll want to keep this out where everyone can see it.