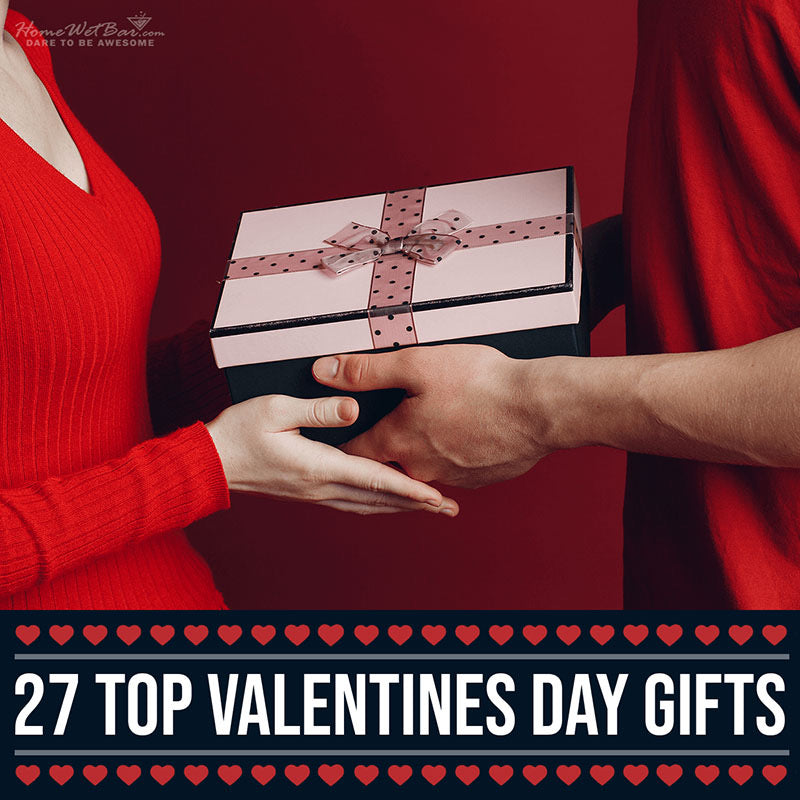 27 Top Valentines Day Gifts
You're so excited to celebrate Valetines Day with your partner, and you want to find them the perfect gift to give them. Whether it's your first Valentines Day together or your fiftieth, you want your gift for your significant other to be special and demonstrate your deep love for them. A top Valentines Day gift is one that's one-of-a-kind and personal without being too cheesy. Bonus points if your sweetheart will want to use it to celebrate V-Day! In case you still can't think of the perfect Valentines Day gift for him or for her, don't worry! We found the top Valentine Day gifts out there that'll make your partner fall in love with you all over again.
Share a Drink with the Top Valentines Day Gift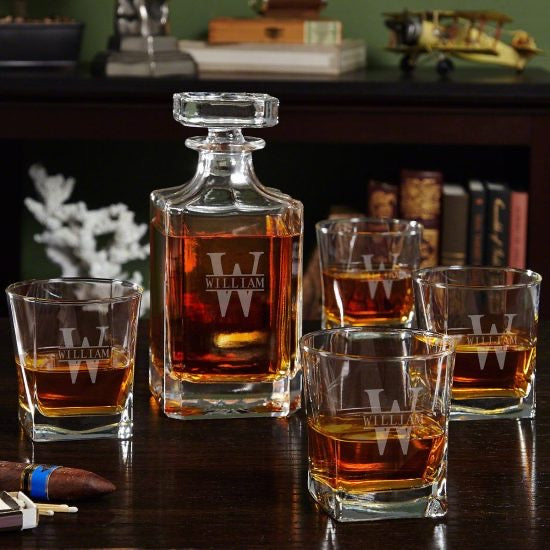 One of the best ways to show your favorite person how much you care about them is by getting them the most magnificent engraved decanter set of all time. This set is a top Valentines Day gift because not only will they feel so special seeing their name on this beautiful glassware, but they'll love that the two of you can use it to have a drink and toast to the love the two of you have for each other! For every special occasion, they'll definitely take out this handsome set and have a drink with you to celebrate.
Handsome Personalized Home Bar Sign
Make them feel so loved and special this Valentines Day by making them feel like the owner of a cool bar! This personalized neighborhood tavern sign will make their home bar or kitchen feel like the coolest place in the world. They'll glow with pride every time they see this sign hanging up in their home, and they'll also think about how much they love and appreciate you for being their Valentine and such a thoughtful gift-giver.
Take a Gamble on this V-Day Gift
You can bet that this is one of the top Valentine Day gifts ever! Your partner will adore this monogrammed poker gift set that will provide them hours of poker and other card game fun with their friends and family. They can even take a drink of their favorite whiskey, smoke their favorite cigar, and hold their cards all at the same time thanks to this innovative cigar glass! They'll feel so loved every time they use this set to play poker thanks to your unique gift. In fact, this is the perfect Valentine's Day gift for a boyfriend or husband!
Top Wine Tumbler Set
Give the gift of stainless steel excellence this V-Day! There's no doubt that your significant other will fall in love with this stainless steel wine tumbler box set the second they see it! They'll absolutely love this handsome gift set that keeps their Moscato or Riesling chilled until the last drop. It's perfect for celebrating Valentines Day and every other special occasion together with a nice glass of wine.
A Super Fun V-Day Gift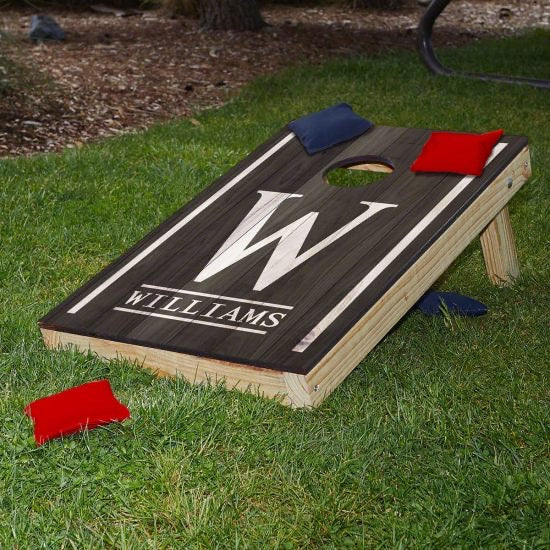 Make this February 14th more fun than any in the past! This custom bean bag toss board set is a top Valentines Day gift that anyone will think is incredible! They'll think it's so fun to challenge you to a game of bean bag toss in the game room or backyard, and they'll be so excited to have friends and family over for a barbecue or get-together and play this game. It's just the kind of unique, personalized gift that'll make them feel so happy and loved.
A Comfy Top Valentines Day Gift They Can Slip Into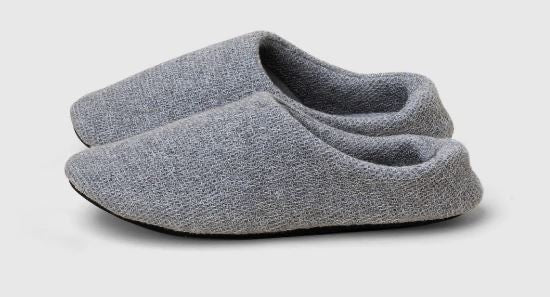 They deserve maximum comfort no matter what they're doing around the house. That's why these cotton woven house shoes make such terrific Valentine gifts! They'll be obsessed with how convenient these luxurious slippers are and how fancy they'll feel just walking around the house wearing them. They'll never want to take them off!
For the Love of Whiskey
Want to stun your person with one of the top Valentine day gifts out there? This ammo can gift set is a phenomenal present that will knock their socks off! Having a glass of chilled whiskey using these handsomely engraved glasses and stones to celebrate Valentine's Day will be an awesome way to spend the holiday together! Better still, your partner can even use the ammo can for things other than storing Valentines Day cards or the whiskey gifts. They can use it to be the most unique ammo can on the range, a cool tool box, or as a unique keepsake for all their memories of you!
133+ COOL CUSTOM AMMO CAN SETS>
Keep Watch of Their Watches
You know that their watches and other jewelry items are some of their most prized possessions, so you definitely know why this gorgeous leather valet box and display case is a top Valentines Day gift. They'll really appreciate having a safe place for their rings, cufflinks, tie clips, or any other accessories since they've always worried about losing them in the past. The watches are easily displayed inside this case, so your partner can easily view all of them and decide which one they want to wear each day.
An Attractive, Monogrammed Cutting Board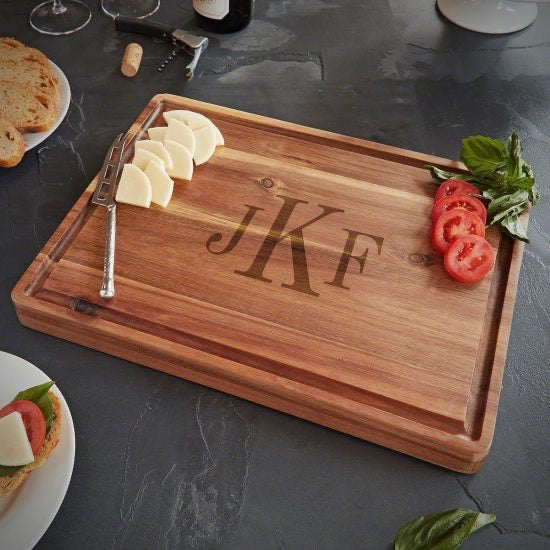 Make their time in the kitchen more enjoyable than ever before with this engraved butcher block cutting board! It's the perfect Valentines gift because they'll absolutely love how easy it makes chopping up even the toughest of meats before they're thrown on the grill or into the skillet. They'll especially love when the two of you can cook together on this great gift. Plus, this board isn't just for chopping food but it can also be used as a charcuterie board for eating hors d'oeuvres off of too!
A Set of Top Valentine Day Gifts for Toasting to Love
There's nothing like an ultra-nice whiskey gift set to fill your sweetheart with happiness on Valentines Day! They'll absolutely love this amazing, engraved glassware set and how much better it makes the whiskey-drinking experience, and they'll appreciate that you bought them a gift that enhances one of their biggest passions. When celebrating Valentines Day, they'll definitely want to pour both of you a drink and toast to the love you two share and your future together!
Sweetest Valentine Gift Set
Delicious chocolate covered strawberries are a classic V-Day gift that you know your Valentine will adore! This edible gift set is one of the top Valentine Day gifts that they'll think is the most scrumptious present they've ever received! They'll feel so loved seeing this set of special cookies and chocolate covered strawberries, and of course, they'll really enjoy eating them too!
Memory-Filled V-Day Present
Ensure they can treasure every memory from Valentines Days and other special occasions using this personalized shadow box! This gorgeous box will look so sleek and handsome up on the wall in their house or apartment, an aesthetically pleasing and sentimental piece of decor filled with photos, bottle caps, or any other sentimental items. They'll love cultivating a collection of these meaningful items in this shadow box as a way to remember all the good times spent with you.
A Great Way to Enjoy Cocktails
For a fun-loving partner who enjoys a cocktail or two from time to time, this custom ice bucket and cocktail glass set is a top Valentines Day gift! They'll be so excited to immediately use the handsomely personalized glasses to enjoy a delicious cocktail with you to celebrate V-Day. When the two of you are outside on the patio or hanging out by the pool, they'll be so thankful for the ice bucket to replenish their drink with ice and keep it cool.
The Classiest Top Valentines Day Gift Ever
Your significant other will absolutely feel like a king or queen when you give them this wine decanter set for Valentines Day! This stunning gift will make their entire year, and they'll love filling it with their favorite Merlot or Pinot Noir and letting it aerate before drinking it. Even when they aren't using it to enjoy a drink with you on Valentines Day, they'll want it displayed on the kitchen counter or home bar because of how gorgeous it is.
Home Bar Beauty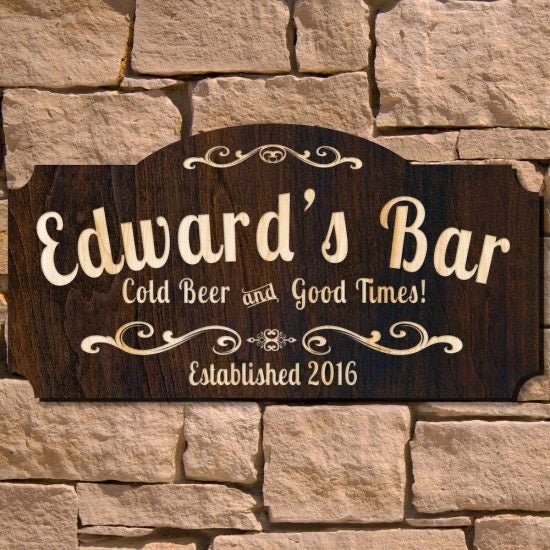 Maybe they've worked hard on making the home bar the best it can be, or they're wanting to start working on a home bar. This custom wooden bar sign is one of the top Valentine Day gifts that'll help them do so! This attractive sign will look incredible when it is hung up on the wall, making the home bar look and feel like a real bar. They'll love having that vibe in their home, and they'll definitely want to have a drink with you to celebrate V-Day at the "bar!"
325+ ATTRACTIVE PERSONALIZED SIGNS>
For the Adventures You Both Share
The two of you have many adventures in your past and many in the future as well! For a top Valentines Day gift, get your adventure buddy this adventure scrapbook so they can cherish every memory from the experiences the two of you share. They'll love adding photos and notes from various occasions and travels you both have, and it'll be so fun for the two of you to go through it and reminisce.
Top Valentine Day Gift for Making Cocktails
Get them a V-Day gift that doubles as a super fun activity the two of you can do together! This golden bar tool set is the perfect gift to use to concoct unique, delicious cocktails that you'll both enjoy using to celebrate Valentines Day and other special occasions. Your partner will have a blast learning to make Daiquiris or Manhattans like a pro using this creative present that they'll be very grateful for.
A Simple Yet Incredible Valentines Gift
It doesn't take a lot to please your significant other. You know a simple yet unique gift that they can enjoy with you is definitely their cup of tea. That's why this personalized whiskey glasses and stones box set is just perfect! They'll love having customized glasses that will make enjoying whiskey or any other beverage more enjoyable than ever before. The whiskey stones will ensure that their drinks stay cold for hours without being diluted by ice, which will definitely come in handy, especially when the two of you are having a drink to celebrate Valentines Day.
For Chilled Wine on Valentines
This luxurious, personalized marble wine chiller is a top Valentines Day gift that they'll be obsessed with! Using this useful gift, they'll be able to enjoy chilled wine for hours on Valentine's Day with you. It's also the perfect gift to use whenever they want to enjoy a date night in with you or have friends over who want to enjoy some chilled wine.
Gift for a Fan of Wine and Beautiful Decor
This customized wine cellar sign is one of the most unique, top Valentine Day gifts that your significant other will really like! The sign is very classy and gorgeous, adding a snazzy feel that is unmatched in any wine cellar or kitchen they've ever been in before! It may also be an inspiration for them to create their own wine cellar or wine area in their home. This will make them feel so loved on V-Day seeing that you got them a gorgeous piece of decor with their name on it.
A Gift Worth Thousands of Worlds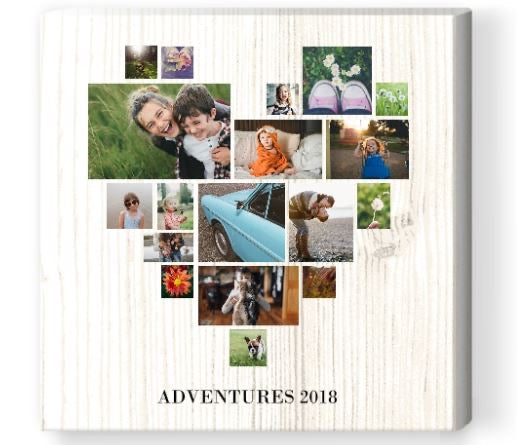 Since a picture is worth a thousand words, get them a whole collage of them! This photo collage canvas is an extra-special V-Day gift that they'll love! The creative heart shape of the photos coupled with the sentimentality will make them feel so special, and they'll love having this canvas up on the wall in their home!
Beer Mug Sets are Awesome Valentines Day Gifts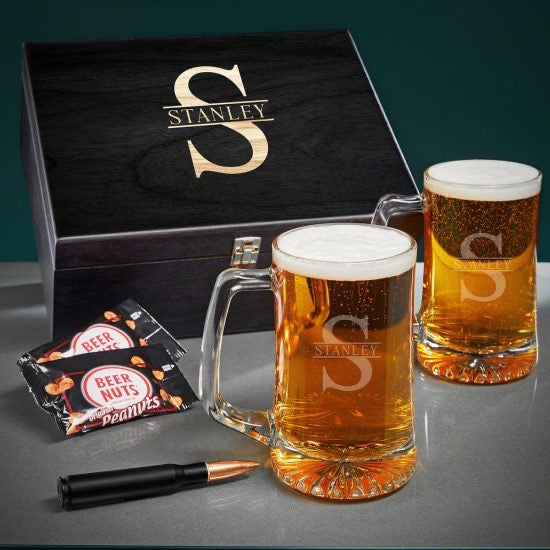 Your significant other is a big beer fan, so you know they'd absolutely adore a fantastic beer-related present like this beer mug box set! Get them a top Valentines Day gift that'll have them enjoying beer even more than ever before. The heftiness and quality of these mugs give them an authentic bar feel that will make their favorite beer taste absolutely amazing, and they'll be so thankful to you for getting them a present that enhances one of their favorite things!
Caffeine-Filled Valentines Day Gift Idea
While everyone loves a good cup of Joe in the morning, you know your spouse is obsessed! This personalized coffee carafe and mug set is one of the top Valentine Day gifts that they'll love using on V-Day and any other time they want to do so! When they have to go to work, or are going on a road trip, they'll greatly appreciate the carafe keeping ample amounts of coffee nice and hot for them for hours!
Spice Up Your Gift Presentation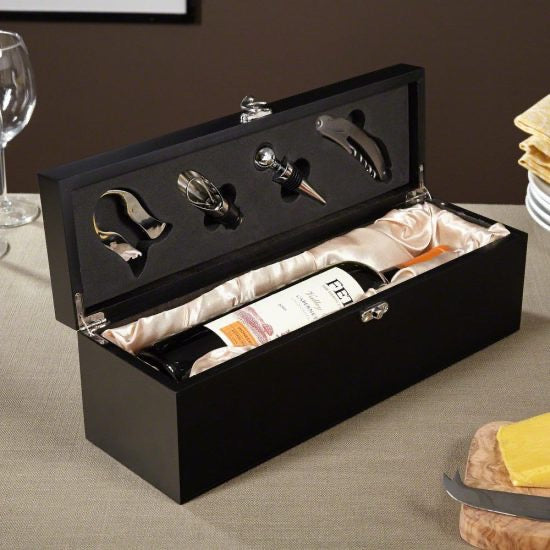 You want to give them a bottle of their favorite wine for Valentines Day, but you want to spice up your gift a bit and make it feel more personal. This wine box and tool kit is the perfect complement to a delicious bottle of their Sauvignon Blanc or Malbec. The tools included in this gift are essentials for enjoying wine, and your partner will get tons of use out of all of them in the process of drinking it. They'll want to immediately use the corkscrew to open the brand new wine bottle so the two of you can drink to your amazing relationship.
Ship Decanter for V-Day
Top Valentines Day gifts are often things that they would never buy for themselves. Get them a super unique gift that's more impressive than any they've ever received—this spigot decanter set. This breathtaking decanter will look so awesome filled with whiskey, or any other liquor of their choice, and displayed in their home wherever he sees fit. There will be few greater joys in your significant other's life than pouring both of you a glass of whiskey from this extremely attractive decanter to celebrate Valentines Day!
A Most Useful Top Valentines Day Gift
Sometimes the best way to show someone how much you love them is by getting them a gift that's very helpful! This black, slim wallet has a built-in Tile Slim, or a tracking device, so when they misplace their wallet, they can pinpoint the location. They will really like the functionality of this Valentines Day gift, and they'll be more at-ease knowing that they'll be able to find their wallet if something does happen.
Celebrate Valentines Day by Sharing Some Wine
You know that the main thing they want to do on Valentines Day is spend time with you. Get them a gift that the two of you can use together! This personalized wine tools and glasses set is perfect not only for celebrating a special day with you, but it's great for when they come home after a long day at work and all they want to do is have a glass of wine. All the tools they need are in one place, which they'll definitely appreciate.
277+ MORE TOP VALENTINE DAY GIFTS>