If there's one day a year you feel most in love with your man, it's Valentines Day. It gives the two of you the opportunity to express your love for one another through gifts. This year, you want to find the best gift you've ever gotten for him to show your love! Good Valentines Day gifts for him should demonstrate your love for him through something that's both personal and unique that you know he'll want to use all the time. It can even be used to help celebrate Valentines Day! We've looked high and low for the greatest Valentine's Day gifts for husbands, boyfriends, and men in general. These gifts are so special that he'll definitely  know how loved he is!
Ammo Can Sets Make Amazing Valentines Day Gifts for Men
Want him to feel like the most special man in the world on Valentines Day? Get him this ammo can gift set that's customized just for him! He'll think the ammo can is really awesome, especially when it's filled with some other awesome things! He'll really enjoy using the pint glasses to enjoy his favorite brew with a buddy or with you. He'll definitely want to pour the two of you a glass so you can toast to an incredible Valentines together!
Custom Bar Sign for His Home
Give him a gift that brightens up his whole house with a personalized bar sign! This incredibly handsome sign is awesome because it gives the space a vintage tavern feel to it, which he'll be a big fan of. Whether it's hung up in his home bar, kitchen, or elsewhere in the home, it'll look really cool hung up on the wall, making it among the top good Valentines Day gifts for him!
Play Golf Anywhere
He doesn't always have to be on the golf course to enjoy his favorite sport! This golf putting set is a phenomenal gift idea because it'll let him enjoy one of his favorite activities no matter where he is! If he's in the office, at home, or anywhere else, he can take out this handsome set and be practicing his short game within seconds. He'll think this Valentines gift is so much fun and be grateful for all the practice he'll get!
Monogram Decanter Set
It's obvious to everyone who meets him by the way he dresses and carries himself that he's a classy guy. Is there anything sophisticated men love more than a handsome whiskey decanter set? Your man will no doubt obsess over this amazing monogrammed set that's one of the classiest Valentines Day Gifts for men ever that he can use to enjoy a Vday drink with you. He'll want to store his favorite whiskey or other liquor inside the decanter until the next time he wants to enjoy a drink from his monogram glasses!
621+ PERSONALIZED WHISKEY GIFTS>
A Bouquet of Good Valentines Day Gifts for Him
A bouquet of flowers is a quintessential Valentines gift. Get him a variation of the classic with this creative salami bouquet! He'll think this gift is so clever, and when he tastes the three different types of delicious salami in this gift, he'll want a bouquet for every occasion!
Ultimate Beer Gift
You're his first love, but beer is his second! Beer glasses make good Valentines Day gifts for him, especially when you get him this beer giant beer mug! He'll think this Valentine's Day gift for him is totally awesome and be so excited to try his go-to brew in a mug that holds up to a whole liter of beer!
Shadow Box for a Legendary Man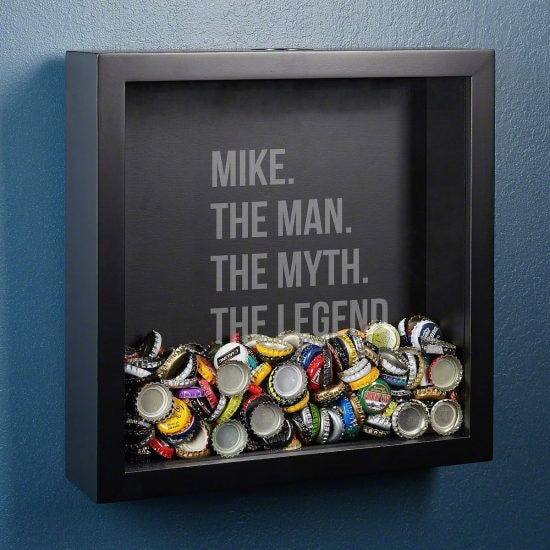 Help him savor every significant life moment with this personalized shadow box. With this special gift, he can store small meaningful items inside, such as cigar bands, photographs, ticket stubs, or anything else he wants. Each one of these items will represent a special memory from his life so he can cherish them forever, and the whole box will look awesome hung up on the wall in his bedroom or man cave.
Make Him Look and Feel Cool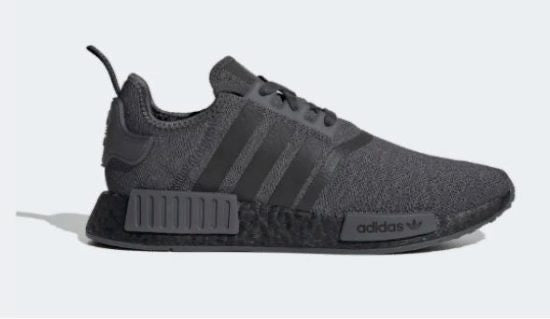 There's just something about wearing an awesome pair of shoes that boosts your confidence. When he's rocking these gray Adidaas sneakers, he'll feel like the coolest guy around. He'll be happy to put his old, worn pair in the back of the closet and replace them with these beauties. When he's out and about wearing these, whether he's running errands or on a date with you, he'll be so happy to have the coolest shoes ever.
A Fancy Gift Set for Valentines Day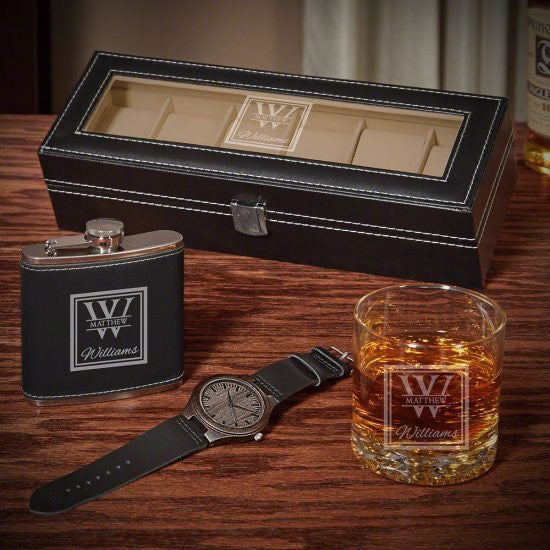 A handsome, fancy gift set is always a fantastic Valentines gift idea. This watch case gift set will bring a smile to your husband's or boyfriend's face as soon as he sees it. He'll immediately want to put this handsome wooden watch on when he sees it, and he'll continue to wear it every day, storing it inside the leather valet box at night so it stays safe and sound. When he wants to celebrate Valentines Day or another special occasion, both the glass and flask are perfect for enjoying a drink.
Valentines Day Gifts for Men for Grilling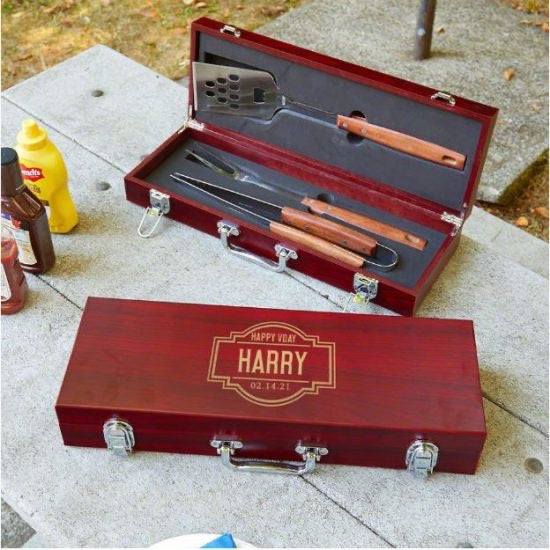 Make him feel like the manliest of men with your Vday gift. This personalized BBQ tool set is an awesome Valentines Day present for him because it has handsome, manly tools that make grilling up some brats and pork chops incredibly easy and enjoyable. Each time he uses these unique tools to make food for himself, you, and all of his friends and family, he'll surely have an awesome time doing it thanks to this gift set. He can even make you some food for your next date night!
For His Own Personal Space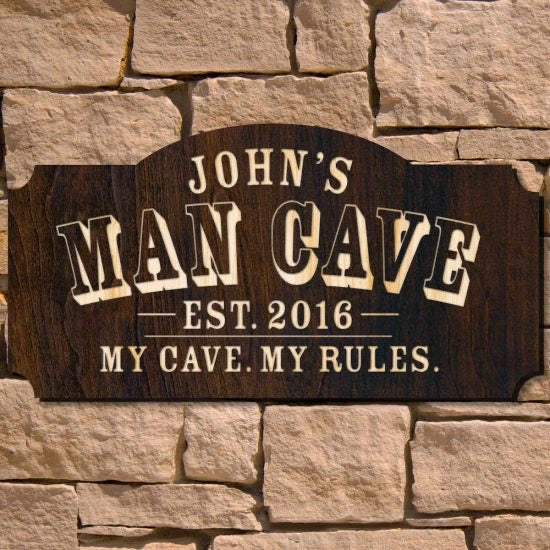 If there's one thing men appreciate from others, it's respect for their personal space. That's why this customized wooden man cave sign is an awesome Valentines Day present. He'll love putting this sign up near the man cave or home bar so everyone who enters the house knows where his space is where he likes to play video games, watch his favorite shows, and anything else he likes to do. Your man will be really appreciative for such a unique gift!
Most Advanced Ring Ever
With how advanced technology has become, worldly men like yours appreciate the most advanced of gifts. This amazing smart ring is one of the more useful Valentines Day gifts for men out there that your man will really appreciate! He'll be in awe of this ingenious ring that has advanced sensors to monitor heart rate, body temperature, and calorie burn so he can be the healthiest version of himself. He'll be so fascinated by this gift that he'll show it off to everyone!
Classiest Way to Drink Whiskey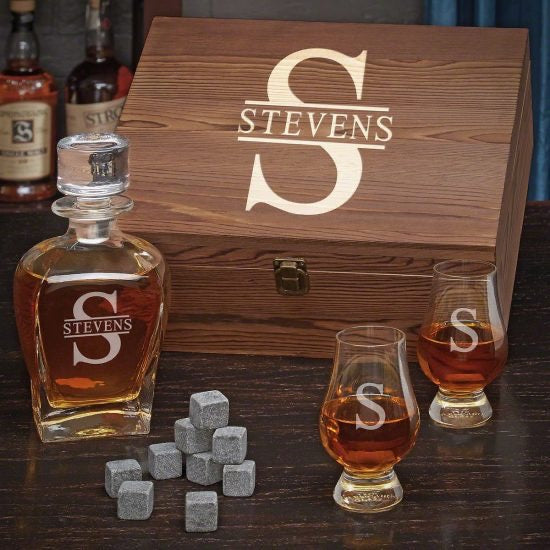 To celebrate Valentines Day and any other special occasion, he needs the proper glassware. This Glencairn box set is one of the most fantastic, good Valentines Day gifts for him that are out there. This set is perfect for a true whiskey lover because Glencairns are designed to really accentuate the taste of their favorite whiskeys. He'll really enjoy pouring his favorite scotch from this decanter into these two classy Glencairns and toasting to an incredible Valentines Day with you.
Awesome Ammo Can Set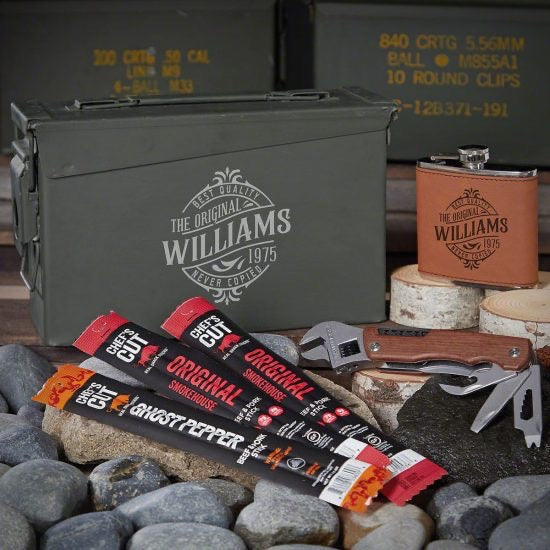 Good Valentines Day gifts for him aren't run-of-the-mill presents. On the contrary, they're unique gifts like this ammo can box set! Any man will be obsessed with this ammo can because it's a special and uncommon way to both give him a ton of awesome gifts inside it and then to store whatever he wants inside it, from fishing tackle to poker chips to important tools like this multi tool. When he wants to enjoy a Valentines Day sip of his favorite liquor, this handsome flask is what he needs, especially paired with some delicious beef jerky.
Customized Set for His Vices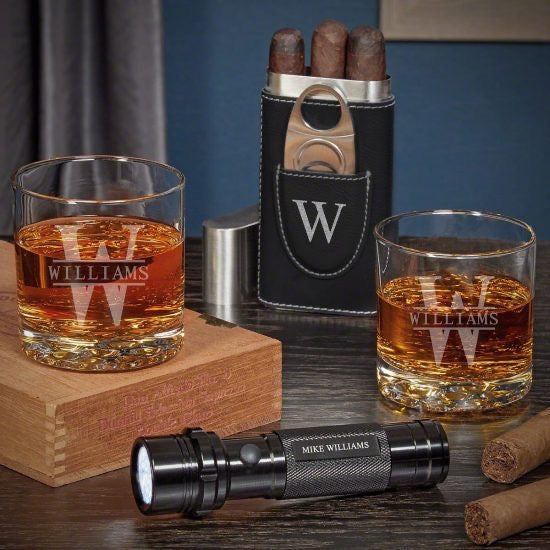 When thinking about ideas for good Valentines Day gifts for him, unique gift sets that let him enjoy his favorite vices, like this cigar and whiskey set, can't be forgotten! He'll think this gift is full of class, with the handsome cigar case he can use to take his favorite stogies to a buddy's house or on a camping trip to the custom flashlight that will come in handy many times. Enjoying whiskey will be better than ever when he is using a glass with his name and initial on it!
Perfect Men's Accessories
Women aren't the only ones who love accessories! This finishing touches accessories gift set is one of the greatest Valentines Day gifts for men because when your man is dressing up for a special occasion, like your fancy date night for Valentines Day, he'll have accessories to step up his look. With aesthetic cufflinks, lapel flowers, and collar stays, he'll feel more handsome and classy than ever before.
Best Gift on the Planet
He means the world to you, so what better way to convey that on Valentines Day than with this globe decanter set? He'll be a big fan of the way the crystal ship looks sailing through his favorite scotch, and when it's poured into these globe glasses, he'll think it looks even cooler! He'll love spending Valentines Day sipping on his favorite drink with his favorite person (you)!
Valentines Day Gift for Your Man on Game Nights
Every guy deserves to have a game night with his buddies every once in a while, and on Valentines Day, he definitely deserves a gift that will make those game nights incredible! This custom poker gift set is a fantastic Valentines gift for men because it includes all the basics for a game night full of poker, craps, or any other game he and his friends can think of. However he won't just use this gift with his friends, fun and competitive game nights with the two of you are definitely in your future, too!
Beer Set of Good Valentines Day Gifts for Him
Don't let your man spend another Valentines Day without the coolest beer gift box set ever! He'll think this box set is incredibly awesome because when he's sipping on his favorite brew from these personalized mugs, he'll feel like he's at the pub, that is, his very own pub! He even gets his own custom wooden box to keep his favorite pint glasses safe and sound inside. He'll be so appreciative of this V-day gift that makes him feel really cool!
Snacks are Fantastic Valentines Day Gifts for Men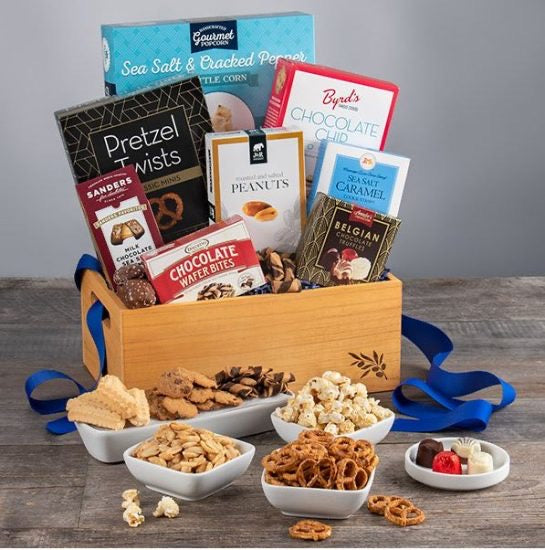 The way to a man's heart is through his stomach, right? With this dessert gift basket, that's certainly true! Nothing says Valentines Day like chocolatey treats, especially when paired with other treats such as roasted peanuts and classic pretzels. His mouth will immediately start to water when you present him with his gift on February 14th, and he'll feel even happier than he did on December 25th!
By His Rules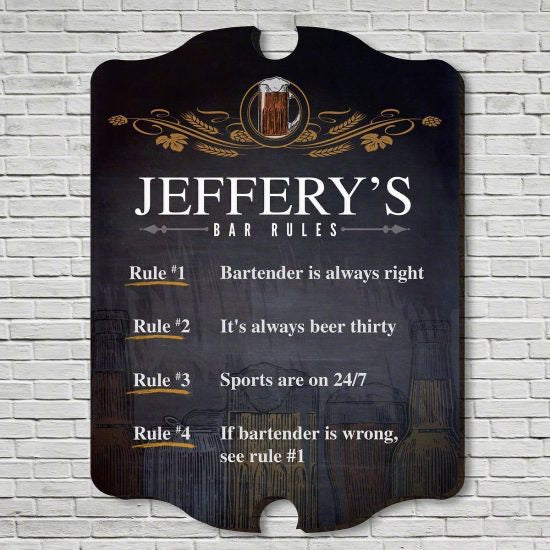 Put your man in charge in his home bar with his very own set of rules! This personalized bar sign is awesome because it's personalized just for your man and the rules he establishes for the home bar or bar cart. Whether the rules are super serious, absolutely hilarious, or somewhere in between, he'll get a kick out of this incredibly unique Valentines Day present and treasure it forever!