No matter what reason you and your sweetheart are long distance, it's important to keep the love alive by showing them just how much they mean to you with a gift! Long distance relationship gifts are thoughtful items you can send to the one you love that convey how much you care for them, such as a gift you can enjoy together via a virtual date night, or something special just for them to enjoy that will remind them of you. Whether you're looking for a unique care package to send, something sweet to give them for Valentine's Day or your anniversary, or even to surprise them on their birthday or Christmas, you have plenty of great options to choose from! These amazingly thoughtful long distance gifts are sure to show your partner that you're always thinking of them, even though you're many miles apart.
Long Distance Relationship Gifts That Span the Globe
When you give this gorgeous globe decanter set to your partner, make sure you say "No matter where we are in the world, I will always love you because our love knows no bounds!" It might be cheesy, but come on, you can't get any sweeter than that! They will love the stunning details on this impressive decanter set, and will make sure that it's on display somewhere it can be the center of attention so that they can see it every day and remind them of you. This amazing gift is ideal for sending them on your anniversary, for Christmas, or to congratulate them on a special achievement like a promotion or graduation.
A Gift That Says "I Miss Your Cooking"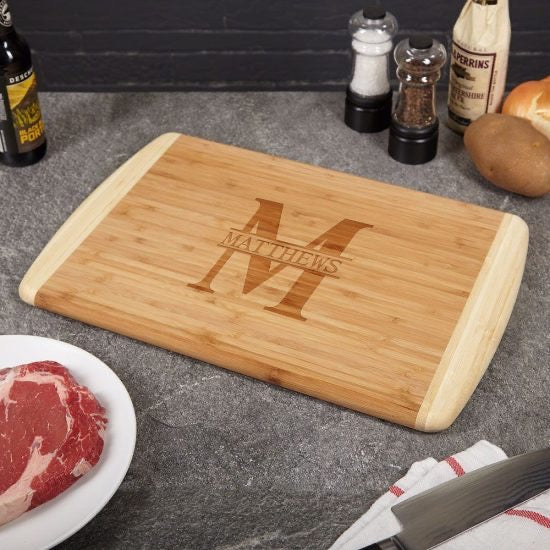 Even though you can't enjoy their delicious cooking every night, you can send them a gift that will make sure they know just how much you miss their amazing meals like this custom cutting board! They will love using this bamboo cutting board to prepare their meals, especially when they're making tasty baked goods for your next care package! The personalization of their name and initial really make this thoughtful gift unique because you can have it engraved with their name or your name so that they have a cute reminder of you in their kitchen to enjoy every day. Who knew long distance relationship gifts could be so sweet?
Customizable Care Packages Are the Best Long Distance Gifts
Speaking of care packages, this unique box set should be the next one you send! You can take one glass for yourself so that you two can have a long distance matching set, but the best part about this set is that you can customize it not only with the engraving on the glasses and the box but also with what's inside! There is plenty of room inside the box to add their favorite candy, little cocktail mixers, love notes, a gift card to their favorite local restaurant, or anything else you can think of. Your partner will be so surprised by these amazing long distance gifts that they'll make sure the next care package they send you will be even more awesome!
A Sweet Decoration for Their Home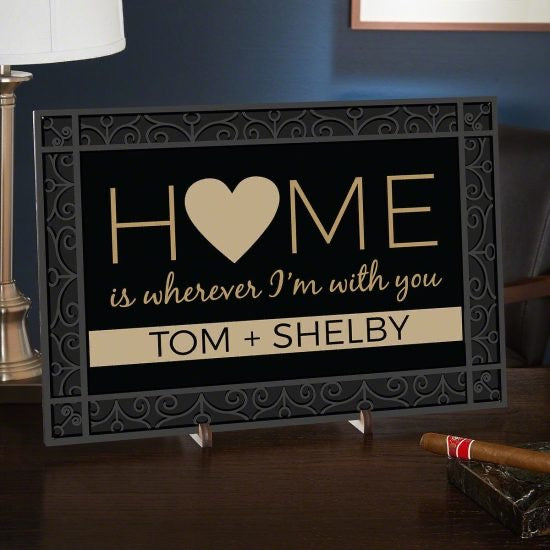 Aww, how cute is this custom sign? The perfect piece of decor for a partner who has to relocate for work, this adorable sign will make them feel a little more at home in their new place. Even though you can't physically be with them all the time, this touching gift will make sure they know that you're always with them in their heart even though they're so far away.
Drink Together Even When You're Apart with His and Hers Glasses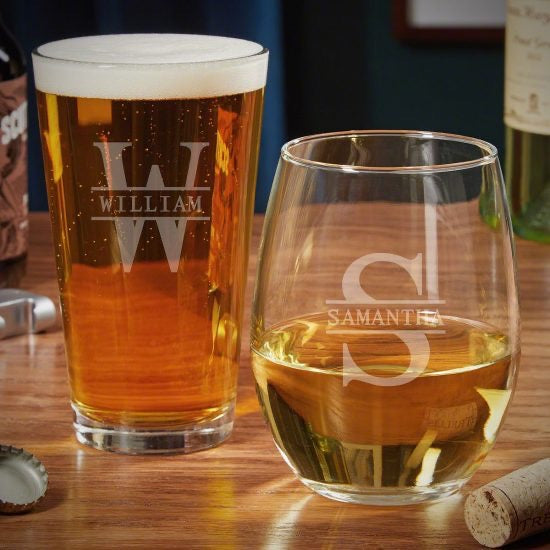 For your next Skype date night, you and your partner can virtual clink your glasses together with these matching his and hers glasses! Perfect for the couple where one prefers beer and the other prefers wine, these adorable glasses are must-have long distance relationship gifts. You can send your partner's glass along with some tasty snacks that pair well with their favorite spirit and it makes a fantastic birthday, Valentine's Day, or anniversary gift!
299+ THOUGHTFUL GIFTS FOR HER>
An Otterly Cute Care Package
Themed care packages are always well-received! This too cute care package is all about otters and comes with a precious stuffed otter, adorable socks, and a card that says "You're my significant otter." How adorable is that? This care package is perfect for their birthday, Valentine's Day, or even just because!
Show Him How You Really Feel
Why not send your long distance boyfriend or husband a gift that does all the talking for you? This legendary ammo can gift set will make sure that your man knows that you think he's the coolest, manliest, and most awesome guy in the world. He will love using the custom rocks glasses with the whiskey stones, especially on your virtual date nights! Wherever he takes his matching personalized ammo can, everyone who sees it will know that he is an awesome dude. Who knows? It might even help him make new friends, especially if he just moved!
Something to Remind Them of Home
There are several ways to make these beer bottle cap map signs the perfect long distance relationship gifts! One way is to send your partner a sign shaped like the state you live in so that they have a reminder of home with them always. Another way is to send them a map of their own state, and you can get one of your state, and together you have a his and hers set of state signs that you can fill up with bottle caps from every beer you drink together on date nights! Or, you can send them a sign of their state so that they have a cool place to start a collection of bottle caps from local craft breweries. The possibilities are endless for such simple and thoughtful gifts!
Make Sure Her Wine is Always Chilled
One of the most thoughtful long distance gifts you can give your girlfriend or wife is something that shows you're thinking of her even when you're not with her, like this marble wine chiller! Thanks to your sweet gift, she will always be able to enjoy a perfectly chilled bottle of wine even if she forgets to put it in the fridge. She will adore the beautiful black marble and will be amazed that you had it custom engraved especially for her! Even when she's not using it, she will admire this lovely gift as it doubles as a decoration in her kitchen.
The Coolest Way to Collect Cigar Bands
Your long distance boyfriend or husband will love this awesome personalized shadow box for collecting cigar bands! He can store hundreds of bands in the large shadow box and watch his collection grow over time. Thanks to your thoughtful gift, he can finally display his collection in a cool way instead of keeping the bands in a shoe box or drawer!
Jewelry That Allows You to Feel Their Heartbeat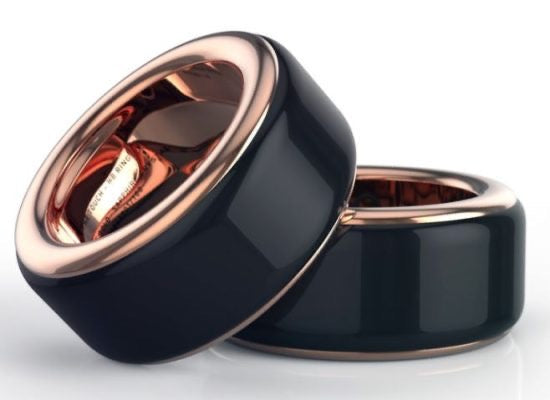 Yes, you read that right! These incredible rings allow you to feel your partner's heartbeat even if they're across the world. Simply tap your ring, and their ring will send the real-time or most recently recorded heartbeat to yours! This way, you and your partner can stay connected at all times with just a touch. How awesome is that?
The Perfect Long Distance Gifts for Him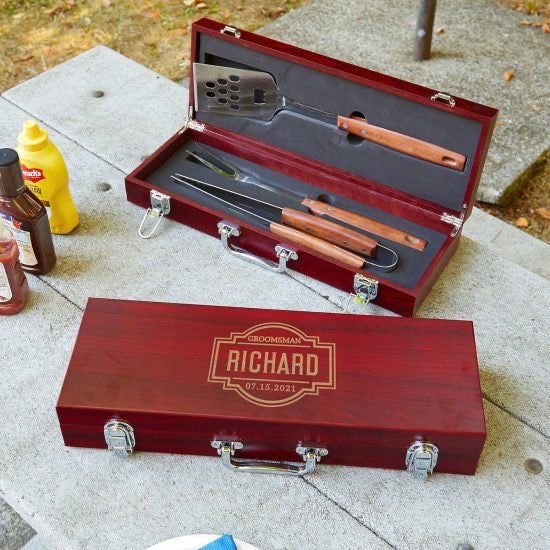 One of the best ways to show your long distance partner that you miss them is by sending them something that reminds them of an activity or hobby you both enjoy when you're together, like cooking! Any boyfriend or husband who enjoys grilling up tasty BBQ for his friends and family will love these custom grilling tools. In fact, he'll make sure to bring them along when he gets to come visit next time so that he can use them to make you an amazing meal!
The Cutest Sign for Any Long Distance Couple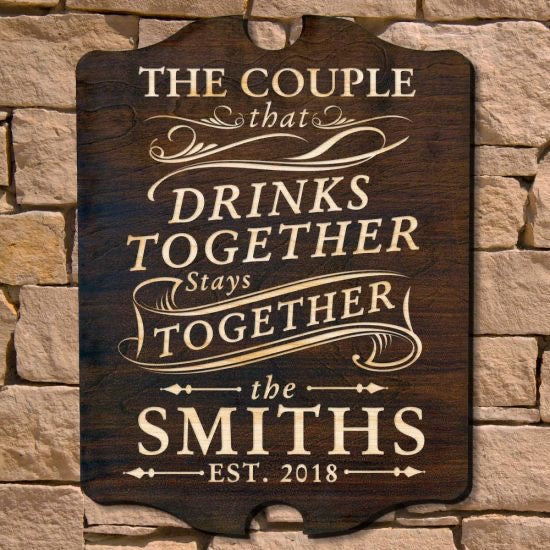 Whether you're enjoying drinks on your Zoom date or together when you get to visit, your long distance partner will adore having this adorable personalized sign! Even though you can't be together all the time, this sweet sign will remind them that you two will stay together because of your date nights and when you get to visit as you sip on wine or cocktails. Every time they look at this cute sign, they'll want to have a drink with you right away so that they can propose a toast to your love for one another.
The Best Whiskey Long Distance Gifts
Make sure that your partner's date night drinks are more enjoyable than ever with this custom whiskey gift set! With an old-fashioned glass and a set of whiskey stones, they can properly enjoy a Jack on the Rocks or a Whiskey Sour to the fullest. Now, when you two have your Skype or Zoom dates, they can have a gourmet drink like they're in a fancy restaurant in the comfort of their own home! Sometimes, it's the little things that really make a difference and show your partner just how much you care about them and your relationship.
Their Own Custom Beer Mug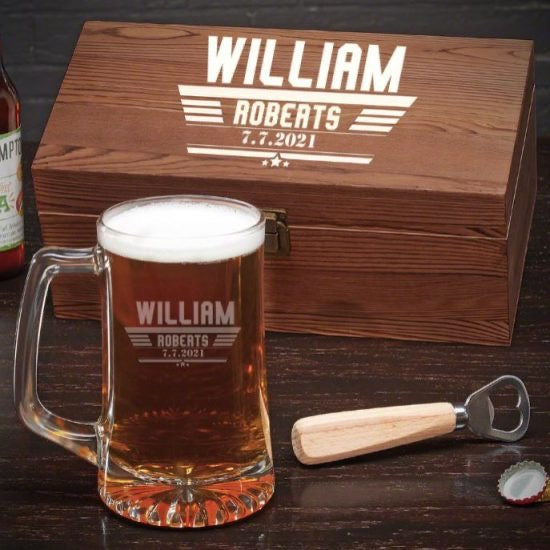 If your partner is more of a beer drinker, then this custom beer mug gift set is perfect! They will love being able to enjoy a craft brew at home just like they would in their favorite pub back home, and the fact that you had the set personalized makes it all the more special! Thanks to your thoughtful long distance relationship gifts, they can enjoy a cold one during your date nights or after they get home from work like they used to, but in a better way than ever before!
479+ AWESOME GIFT SETS HE WILL LOVE>
Adorable Pillowcases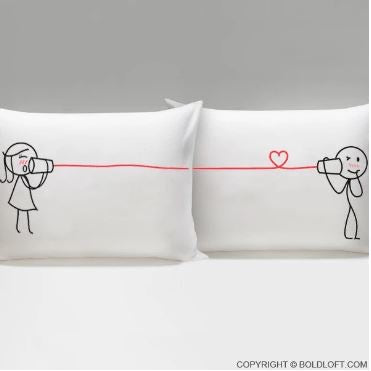 Want to send your love something that will make them feel like you're right there with them every night? These adorable pillowcases are sure to bring a smile to their face every morning when they wake up, and you'll love them too when you get to visit! The cute, minimalist art style is simple but says "I love you" in a unique way. You could get the pillowcases for yourself too, so that you have a matching set!
An Impressive Decanter Set for Their Office
Did your partner have to relocate due to a new job? Until you can join them, send them gifts that make their new place feel a little more like home! This impressive monogrammed decanter set featuring both of your initials will be a lovely set to use for entertaining their new friends and coworkers at home, or even clients at the office! When you get to visit, this set is perfect for romantic drinks together on your anniversary or to celebrate New Year's at their company party.
Add a Personal Touch to Your Care Package
Do you enjoy sending homemade baked goods and love letters to your long distance partner? Add a personal touch to your next care package with this beautifully engraved wooden gift box! The large walnut box can hold tons of amazing goodies, and your partner will love that they can use it to store keepsakes, all of the love letters you've sent to them, photos, and more! This thoughtful gift box is something they'll treasure forever as it keeps on giving with its endless uses!
Unique Cigar and Whiskey Gifts He'll Love
One way to show your boyfriend or husband that you care about him even though you can't be there with him is with a gift that will help him relax! After a long day, you know that he likes to unwind with a glass of scotch and maybe a cigar, and with this set you can ensure that he has everything he needs to enjoy his favorite ways to relax! He will love that the awesome glass can hold both his favorite scotch and his preferred brand of stogie at once, and the fact that you customized the box and glass with a sweet message will make these long distance gifts mean even more to him!
Monogrammed Wine Glass for Both of You
Do you and your partner enjoy relaxing together with a couple of glasses of wine? While you can virtually clink your glasses together through the computer screen, one of the sweetest gifts you can get them is a set of monogrammed wine glasses featuring both yours and their initials! This set of four can be divided into pairs so that each of you have a matching set of glasses to enjoy together when you visit one of another. You could send the monogrammed pair with a little charcuterie set so that when they receive it, they'll call you right away and enjoy some tasty snacks and wine in their new glass!
Romantic Chocolate Gift Basket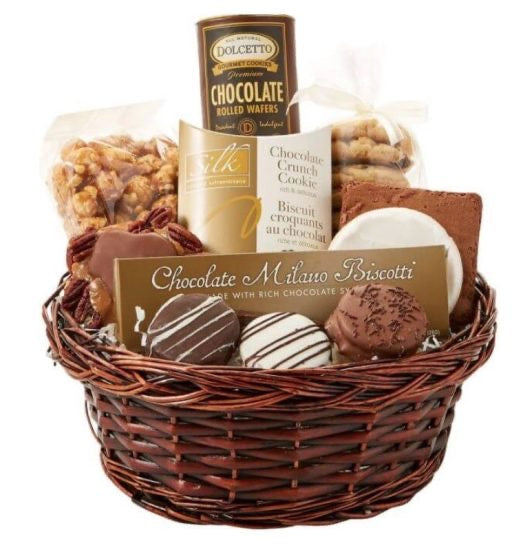 Nothing is more romantic than a gift basket full of chocolates! This delectable basket is one of the best long distance relationship gifts you can send your sweetheart on Valentine's Day, your anniversary, or their birthday. They will love trying each tasty chocolatey treat and telling you all about them! In fact, they might like the gift basket so much that they'll want one every year.
Customizable Long Distance Relationship Gifts for Her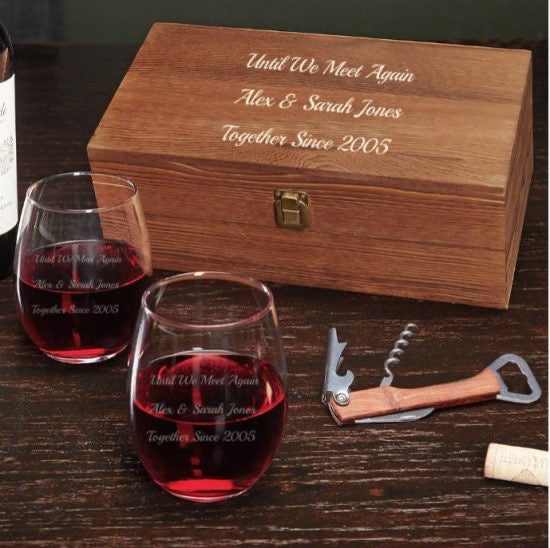 Want to give your long distance girlfriend or wife something extra romantic? This adorable wine gift box! You can customize the glasses and the gift box with a heartfelt message, your names, or anything else you want! She will be amazed at how creative and thoughtful your amazing gift is, and she will make sure to enjoy her new wine glasses and corkscrew during every date night and when you come visit to show you just how much she loves her gift! These thoughtful long distance gifts are the absolute best for her birthday, your anniversary, Valentine's Day, or even Christmas.
Unique Gift for Him
Playing games together is one of you and your partner's favorite pastimes, but just because you're long distance now doesn't mean you can't continue to play them together! Send your boyfriend or husband this custom poker chip set so that you two can play together via Skype or Zoom, and it's portable so that he can bring it along when he comes to visit you next. He will love that the set has many different possible games you two can play together with the cards and dice!
His and Hers Wine Glasses
You can't have a date night without a glass of wine, even if it's a date night through your computer! You and your partner will love this set of large stemmed wine glasses for your date nights, especially since they match! Simply get the pair, customize them with your own unique personalization, send one to your partner, and voila! It'll be like you two are at home together enjoying a romantic meal and a glass of your favorite Bordeaux in the matching glasses.
The Perfect Gift for a Movie Fan
Is your sweetheart a huge fan of movies? Make their home away from home cooler than ever with this custom movie theater sign! Every movie buff has dreamed of having a home theater, especially your partner, and this is one way you can make their dream come true. The unique marquee-style of the custom sign will make their living room feel like it's a real vintage theater where you two can watch movies together when you get to visit or enjoy through Skype. By far one of the best birthday or Christmas gifts for a long distance partner, they'll treasure this unique gift forever!
Flowers She Can Enjoy for Years
While it's thoughtful and romantic to send flowers to your long distance girlfriend or wife, flowers just don't last! Instead, send her a box of eternal roses! These beautiful flowers are preserved so that they last many years instead of a mere couple of days, and they come in so many different colors! She will be amazed at their longevity and beauty, keeping them close by on display at her desk at work or on her bedside table at home so that she can admire them every day.
Romantic Wine Gift Set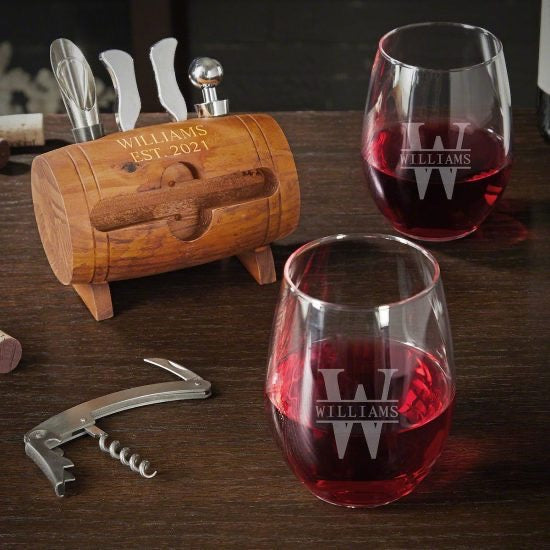 Make sure your sweetheart has everything they need to enjoy a bottle of wine with this lovely gift set! From the adorable wine barrel and all the essential wine opening tools to the custom pair of glasses, this whole set is perfect for date nights, special occasions, or even just a relaxing glass of wine after work. They will love each and every piece of this adorable gift set and will enjoy them all for years to come, especially when you come to visit!
Long Distance Gifts He'll Love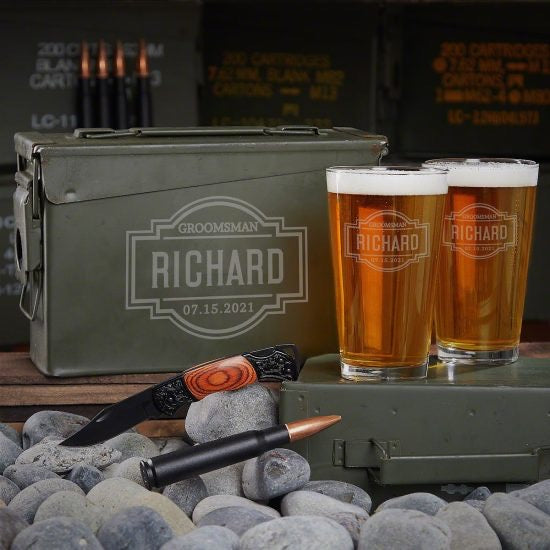 Long distance gifts for him can be romantic and cool at the same time, like this gift set! While you two can't always be together to enjoy a cold one on date night, he'll feel like you're there with him with the custom pair of pint glasses. He will absolutely love the awesome ammo can for storing his tools, work gear, or keepsakes. The beautiful pocket knife will go everywhere with him as a reminder of you and how thoughtful you were to get him something that will help and protect him every day! Seriously, he will be over the moon once you give him this gift set for his birthday or your anniversary!
The Perfect Gifts for Celebrating Special Occasions Together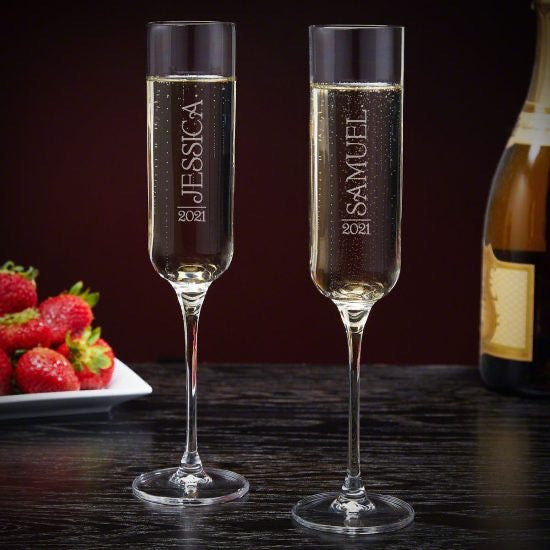 You just can't celebrate New Year's an anniversary, your partner's promotion, or your graduation without a glass of champagne! You and your long distance partner can celebrate properly with these beautiful his and hers champagne flutes whether you're together or toasting to the occasion through FaceTime. Perfect for celebrating a variety of occasions or even just when you two feel like a glass of bubbly, these beautiful flutes make great anniversary or Valentine's Day gifts for your partner.