Whether you're shopping for a gift that you can enjoy with your sweetheart or a nice wedding gift for a pair of lovebirds, you're in the right place! It doesn't matter if they are getting married, have an upcoming anniversary, or if it is "just because," practical gifts for couples are always appreciated. These gifts can be functional items that both halves can use together or it can even be fun items they get to enjoy for years to come! An integral part of a successful relationship is doing activities and hobbies together, and these gifts are a great way to bring any couple even closer together. Give them something they'll never forget with one of these gifts for couples to do together that can be anything from a his and hers set of items to a fun experience they'll never forget!
Practical Gifts for Couples Who Drink Wine Together
There's nothing like having a nice glass of red wine by the fire with the one you love. Well, that is, until you take a sip and realize you forgot to aerate your merlot! Make sure that your date nights don't get ruined by bitter wine with this custom wine decanter set! By far one of the best practical gifts for couples, this stunning set will make any red wine sweeter and smoother, and the custom stemless wine glasses are the perfect matching set! This lovely wine set makes a fantastic wedding, anniversary, or Valentine's Day gift for any couple you know.
All-in-One Ultimate Decanter set
Couples want gifts that they can use for more than once, like this stunning decanter set that doubles as a serving set and an impressive decoration! Any couple can enjoy drinks together with ease or even serve their company with top-notch drinks in style thanks to this set. When they're not using it, this beautiful presentation set makes a great centerpiece for an office or home bar. Plus, the whole set is portable! Seriously, can a gift for couples get any more practical than this?
Games Make Great Gifts for Couples to Do Together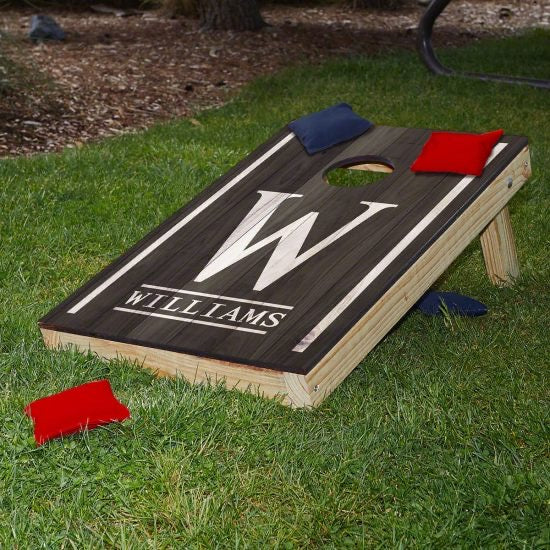 The best kind of gifts are those that a couple can share with each other and with their loved ones! This large bean bag toss game is a fantastic gift they will want to have at every BBQ, party, family reunion, and vacation. Anyone of any age can play this fun, easy game and it's great for playing indoors or outdoors, but it's also portable! This unique set of practical gifts for couples are sure to be enjoyed by the couple and everyone they know.
The Perfect Gift for the Couple That Loves to Cook Together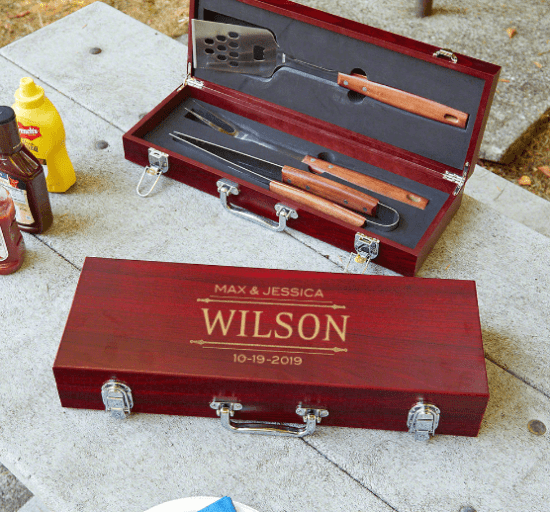 For the couple who loves to grill, cook, and eat together, no gift is more practical and perfect than a set of new grilling tools! These beautiful rosewood tools are great for cooking anything from hamburgers to kabobs, and they even come in a conveniently portable storage case. The foodie couple can enjoy using these tools together at home, at the park, at the lake, or even at their parents' houses at the next reunion! 
Romantic Date Nights Will Be Better Than Ever
Celebrating anniversaries, Valentine's Day, or even just a special date night always involves a bottle of wine. One of the best gifts for couples to do together that will make every date night or celebratory occasion even better is this unique wine gift set! The couple can pop open a bottle of wine with the handy corkscrew multi tool, drop the cork into the wooden gift box to start a collection, and pour into the insulated stainless steel wine glasses. From the indestructible glasses to the reusable wooden gift box, this set has several uses beyond wine! 
459+ AMAZING GIFT SETS ANY COUPLE WOULD LOVE>
The Most Practical His and Hers Gifts
While most gifts for couples are household items or cutesy his and hers gifts that are more silly than practical, that's not the case with this watch set! Watches are must-have accessories of everyday life, after all, and any couple would be proud to wear this matching navy set! By far one of the most practical gifts for couples out there, these subtle and classy his and hers watches are sure to be a hit for any couple's wedding or anniversary. 
Complete Decanter Set
One of the best practical gifts for couples is a decanter set! Not only can you use this gorgeous monogrammed crystal decanter set for serving any type of liquor or cocktail, but it is also a stunning set of barware that will impress anyone who sees it. Hosting your husband's new boss for dinner? He'll be amazed by the luxurious decanter! Having your parents over for Sunday brunch? There's nothing like a fresh Vodka Tonic in one of the beautiful glasses to impress them! Seriously, every couple needs a crystal decanter set in their lives!
Cutting Boards Are Great Gifts for Couples for a Reason
You're probably thinking, "a cutting board? How is that practical?" Well, cutting boards are not only a place to prepare meals, but they also can be used to serve appetizers as well as be displayed as decor! For example, this handsome raw wood cutting board looks as if you went out back and cut it from a tree before getting it engraved with their name. When they're not using it, this rustic piece will make a stunning new addition to their kitchen. At parties, it's great for serving assortments of cheeses and fruits, too! 
Adorable His and Hers Practical Gifts for Couples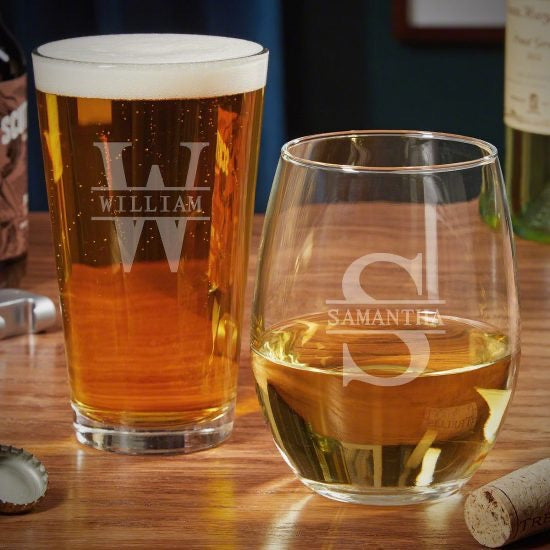 For any couple you know that has different tastes in drinks, these custom his and hers glasses are essential! When he likes beer and she likes wine or vice versa, it can be hard to agree on what drink to enjoy together on date nights and special occasions, but no more! With these custom glasses, they can finally enjoy their respective drinks together. Pair this set with a six pack of his favorite beer and a bottle of her favorite wine and you've got the ideal gift for them!
Make Their House Feel Like a Home
Not sure what to get the couple who has everything? Well, even decor can be practical! This lovely personalized sign is an amazingly thoughtful gift for any couple, especially as a wedding, housewarming, or anniversary gift. This beautiful sign will make their place feel like home and officially theirs, and it looks wonderful in any room! This beautiful sign is something they'll treasure forever.
The Perfect Gift for Any Couple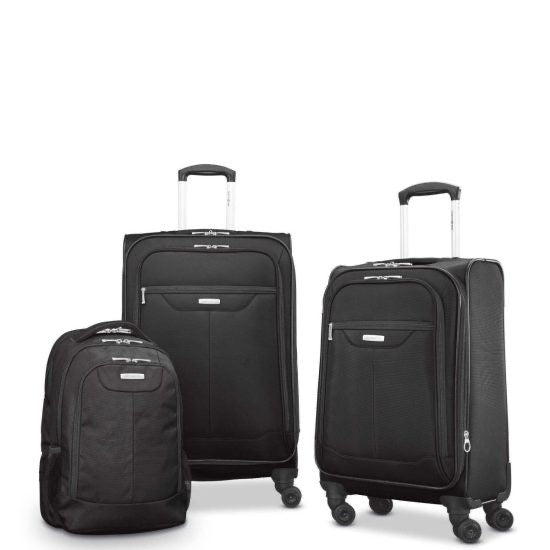 You can't get any more practical than the gift of a new luggage set! This three piece set is perfect for any traveling couple as they can each use a suitcase and then bring the matching backpack as a carry-on for the plane or take on the go on their adventures. Each piece in the set comes with its own unique features such as dual spinner wheels, expandable pockets, safety locks, padded compartment, and more!
Unique Practical Gifts for Couples Who Love Beer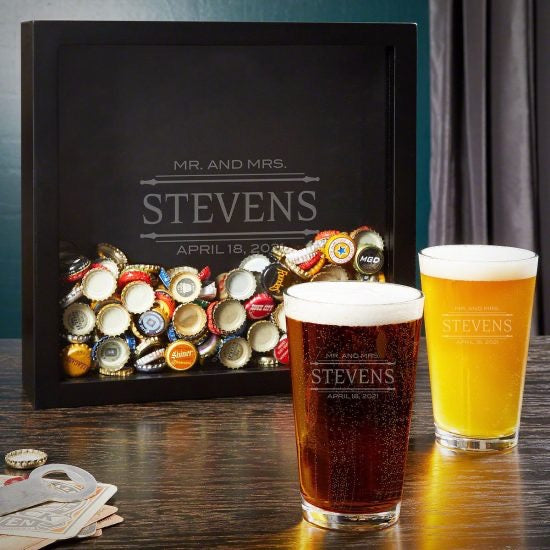 One of the best ways to give a great gift to a couple is to consider their hobbies and interests. For a couple who enjoys drinking beer together, this gift set is absolutely ideal! The lovebirds will have so much fun building their collection of bottle caps together as they toss back cold ones in their custom glasses. The shadow box makes a one-of-a-kind decoration in their home that they can add bottle caps to for years until it's filled all the way to the top!
The Perfect Set for Romantic Evenings Together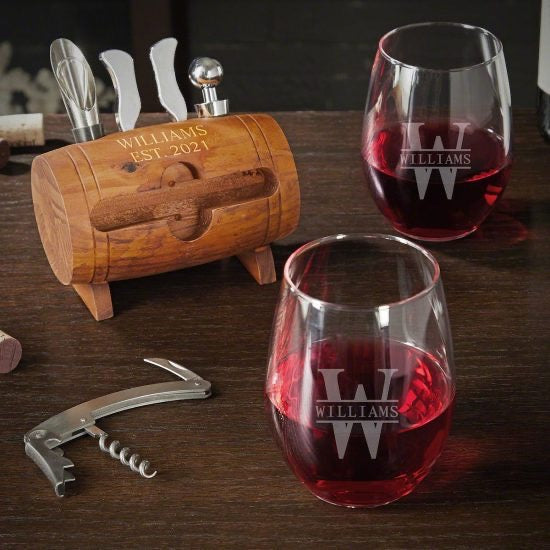 Practical gifts for couples can be as romantic as they are functional, like this lovely wine set! They will love the adorable little wine barrel that conveniently holds all of their essential wine tools, which looks super cute on the bar or in their kitchen even when they're not using it. The large stemless wine glasses hold plenty of wine and are designed to improve the taste of red or white wine! This set is sure to be the center of many future romantic nights at home and celebratory occasions for years to come.
Must-Have Gifts They Will Love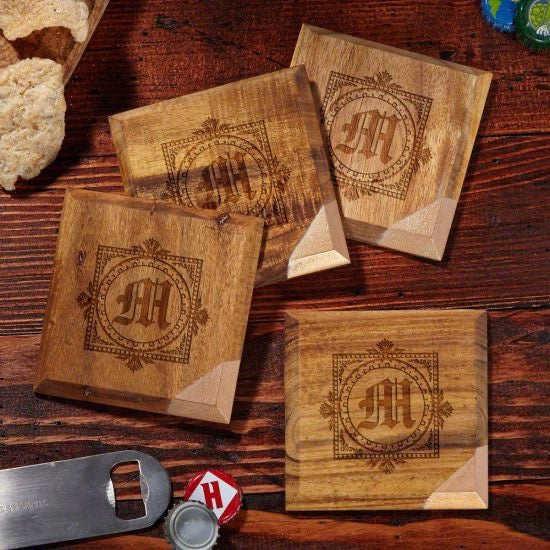 Bet you didn't think of coasters as good gifts for couples! These gorgeous copper-dipped wooden coasters are beautifully engraved with a calligraphy-style initial. These coasters make great wedding, engagement, or housewarming gifts for any couple because they probably forgot to put coasters on their registry or wish list! Everyone needs coasters, after all, and this set is sure to be their absolute favorite.
Interactive Gifts for Couples to Do Together Are Always the Best
Whether the couple loves craft beer or just has a tradition of drinking old-fashioned bottled drinks, they will thoroughly enjoy this unique and interactive gift! One of the most decorative and interactive gifts for couples to do together, the sign is a great way to store and display a bottle cap collection! The happy couple can use caps from their adventures across the country or just their favorite bottled drinks to fill up the fun sign, which will look awesome and patriotic in any room in their home. 
A Romantic Subscription Box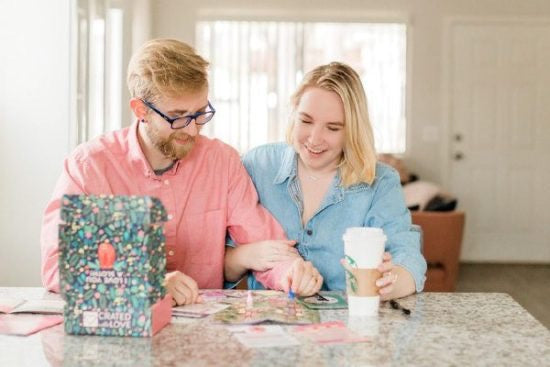 Still stuck on what to get the practical couple you know? Let a subscription box do the gifting for you! Cratejoy has a romantic subscription box called Crated with Love, which you can buy just one box or gift the lovebirds and entire year's worth of fun surprises each month. Each box comes filled with all kinds of fun activities and romantic gifts that they can enjoy together. Thanks to you, they'll have a dedicated date night to look forward to every month and they'll be closer than ever!
You Can Never Go Wrong with a Bottle of Wine
When in doubt, a bottle of wine always makes a thoughtful and practical gift. However, you can do one better by gifting the couple a bottle of wine in this beautifully personalized gift box! From the lovely engraving of their names on the lid to the four essential wine tools, this gorgeous gift box takes an ordinary bottle of wine and makes it a thoughtful and practical gift that any couple would adore!