It is always fun and cool to get a gift but when you're just getting set up in a new home, that is when gifts become something truly awesome. Without help, couples may spend weeks figuring out what all they need, forcing them to continually go to the store. Help them start their lives with each other with the best housewarming gift ideas for couples! These gifts should be a combination of the essentials that every home needs and some exquisite gifts that they'll love but would never buy on their own. Gifts for new homeowners don't have to be challenging, that is, not when you have the perfect curation of gifts to find the ideal present for the couple you know and love!
Their New Favorite Whiskey Gift
Few things will warm their hearts and belly's as much as a housewarming gift that is their favorite bottle of whiskey; however, you can top that idea by adding the bottle to their very own personalized decanter set. They love whiskey, and no matter what struggles they're going through as new homeowners, they're sure to love celebrating their new house with a toast. This set will surely become the way they drink their whiskey for years to come. Using these fantastic gifts for homeowners, they can celebrate the start of their lives together, and in the future, they can use it to celebrate many other major milestones in their relationship!
A Gift Perfect for Their Vintage
Wine is a time-honored housewarming gift idea for couples, but they may not have even been able to unpack their glasses, or even corkscrew yet. Make sure that no matter the situation, they are always prepared to enjoy a bottle of wine with this gift set. Even better, add the year that they moved in together to this tumbler box set so every time they have a drink of wine, they can reflect on where it all started. They'll think how they've aged and gotten even better together just like their favorite Pinot Noir.
Remember This Great Housewarming Gift Idea for a Couple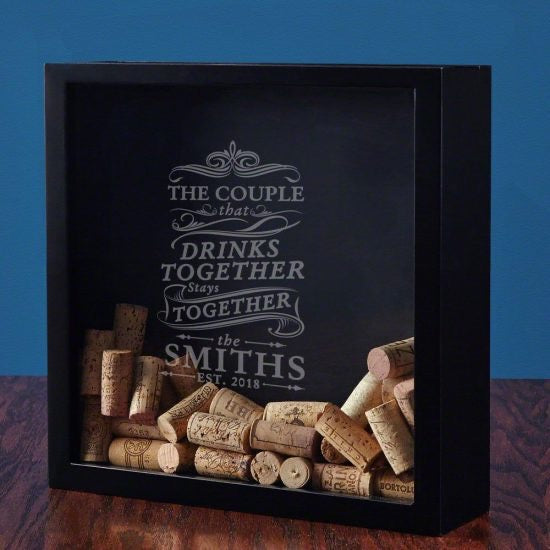 Moving into a new house is a great time to start collecting memories. Their home is the perfect blank canvas to make new, great time together. Help them start collecting those memories with their very own shadow box! The shadow box not only looks great, but is perfect for them to put wine corks, beer caps, movie tickets, or really anything they do together as a way to start collecting. Using this awesome gift they'll be able to see and all of the great memories they've shared in life together! Even the couple who has everything will adore this amazing housewarming gift.
A Beer Gift for the Enthusiasts
Their perfect evening in has always been while sharing a beer together. Now that they have just moved into a new place, what better time is there to get a matching beer set? They'll each have their own personalized piece, and with the large growler they'll have their favorite on tap beer at home too! Thanks to your awesome gift, they'll always be ready for the two of them to curl up on the couch and have a drink, or even pair it with dinner. For beer enthusiasts, this perfect gift doesn't just welcome them to their new home, it lets them share drinks together for years to come!
The Perfect Gift for New Homeowners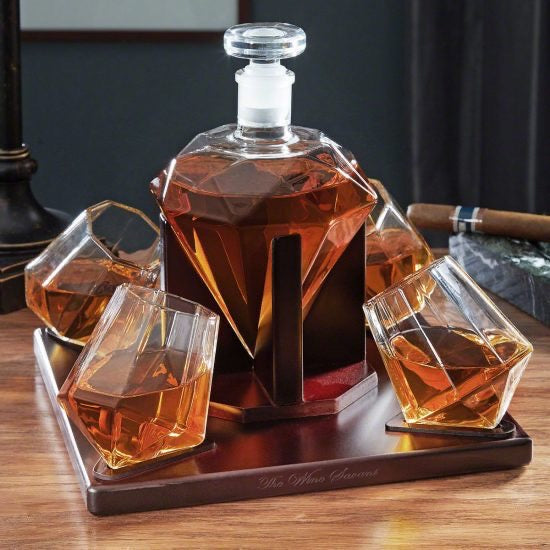 This couple absolutely loves having guests over and sharing a glass of whiskey as they all hang out. Even if they have a few glasses of their own, upgrading their drinking set to this phenomenal whiskey decanter with matching glasses set, plus a bottle of their favorite bourbon, will be the gift that keeps on giving. Not only will they host an awesome party to celebrate moving into their new home, but thanks to this great housewarming gift ideas for couples, they'll want to have even more parties and events to show off their fantastic decanter set!
381+ WHISKEY DECANTERS THEY WILL LOVE>
Spice Things Up a Bit
A great housewarming gift that every couple will love is some sort of spice rack. Everyone loves food, and having a fully functional spice rack makes creating delicious meals a breeze. This housewarming gift idea for a couple will tantalize their taste buds with all the seasonings they could want in their new place. Thanks to its magnetic design, no one will have to sort through cupboards to find turmeric or ginger. Everything will be on an easy to see and easy to use display!
A Jump Cut to Housewarming Presents
One of the very first things they will set up as they unpack will be their couch and television. Who can blame them? After a day of shuffling and unpacking boxes, unwinding to a movie is the perfect way to get some stress relief. Give them the ultimate movie experience they've always been chasing with this custom movie night sign! They'll be sipping Coke and munching on snacks in no time! And you know these gifts for new homeowners will be used every time they watch a film. In fact, they are going to think of their home as their new cinema once they hang up the personalized sign that comes with this gift set, too!
Wine Set Housewarming Gift Idea for Couples
The best way to celebrate setting up a new life together, after everything has been moved, unpacked, and organized, is with a nice glass of wine. It is the perfect way to celebrate all the major events in life, and this is one of them! Their own personalized decanter set is the ideal way to enjoy that first drink as a housewarming gift. They'll love enjoying one of the many bottles of wine they have been gifted with this set, and they'll be able to drink their favorite wines with this set for years to come! Give them a gift that will last as long as their relationship with this custom decanter set!
Other Beer Gifts Ale in Comparison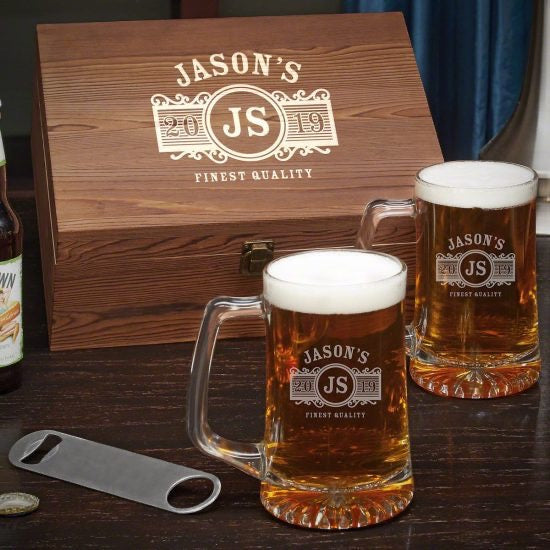 A six pack of their favorite beer is a great gift; however, you know they'll go through that pretty quick. Make both a lasting gift and a lasting memory with a beer set they'll be using for years! Mugs have always been, and truly are, the perfect way to drink beer. They'll feel like royalty when they take a swig of their favorite craft or specialty brew from these babies! These beer housewarming gifts for couples are great in their new house too because of the keepsake box. The wooden keepsake box is ideal for storing or collecting important things as they start their lives together! No matter if they collect beer caps or other meaningful things, for the couple who loves beer, this is the ultimate housewarming gift!
Espresso Their Home Decoration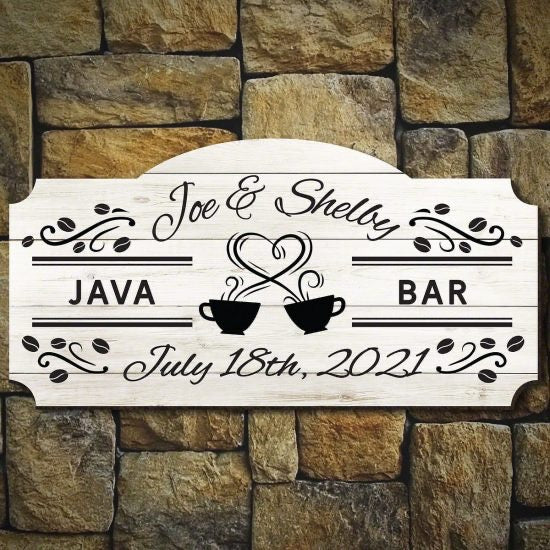 Have them start their morning ritual of sharing the perfect cup of Joe under their brand-new personalized sign. Give their interior decorating when they first move in a little shot of caffeine, this way they don't have to stare at blank walls for too long. Not only does this gift for new homeowners show off their love for coffee, it also establishes that this new house is a home for the two of them! For the coffee-loving couple, you'll struggle to find a gift that they'll love more.
A Cubby Couple Gift
In the early stages of living together, stuff gets lost. That's life. However, it doesn't have to be. Get the couple you know this wooden cubby that will keep their crazy lives in order. Not only will they have a spot for their jackets, but their keys, wallet, purse, anything they need as they go out the door on a daily basis will always be right there! They'll never have to sort through couch pillows, under bills, or in random spots again as they leave for their busy lives!
The Ultimate Beer Glass Gifts for New Homeowners
When they've just moved in, what better way to mark their monumental milestone as a couple than with a toast? Provide them with the best set of glasses that they could ever want to drink their Pilsners or even their Weizens out of with these fantastic personalized glasses! Their first sip in their new house will be a drink to remember, and they'll be enjoying beer from their new glasses for years to come!
A Coffee Set for the Couple
No matter if they are morning or night people, it is highly-likely that they are fueled by coffee. This couple is so productive and always on the move that you're pretty sure they have multiple cups throughout the day. Make their brew that much more special with a custom coffee set the two of them can enjoy together. In their new home they can share a pot of coffee each morning! Better yet, when they decide to go hiking, camping, or any other kind of traveling, they can fill their carafe and have all the coffee they could ever need with them!
A Palatable Gift for New Homeowners
The only way to get a whiskey-aficionado couple more excited than gifting them their favorite bottle of aged whiskey, is to add it to this awesome whiskey tasting set! For this housewarming gift idea for a couple who love whiskey, they'll jump right into their gift! They'll know that this decanter and crystal Glencairn combination is the ultimate way to palate all the subtle flavors of their favorite drink. This personalized gift isn't just a great way for them to celebrate moving into a new home, but it allows them to experience their drink to the fullest every time they pour a glass!
Awesome Art Deco Home Decor
Make the walls of their new home feel like the party they've always wanted to have in their new place! This Art Deco sign is the ideal way for them to start establishing their new home as their own custom space. They've always had an affinity for some true old-school cool, and what better way to give that to them with a classic 1920's style sign? This is the perfect gift that will take their house from a boring, bland space, into something they get to start making their own!
303+ SUPERIOR SIGNS FOR THEIR HOME>
The Ultimate Entertainment Housewarming Gift Idea for a Couple
Modern technology has made watching television one of the coolest activities you can do. Make it even better for a new homeowner in their house with not just one of the top streaming devices out there, but with a sound bar that will enhance their viewing experience, too! Using their new Roku, they can experience limitless videos, movies, games, and music, all on one device and thanks to you, it'll sound better than ever!
His & Hers Bourbon Set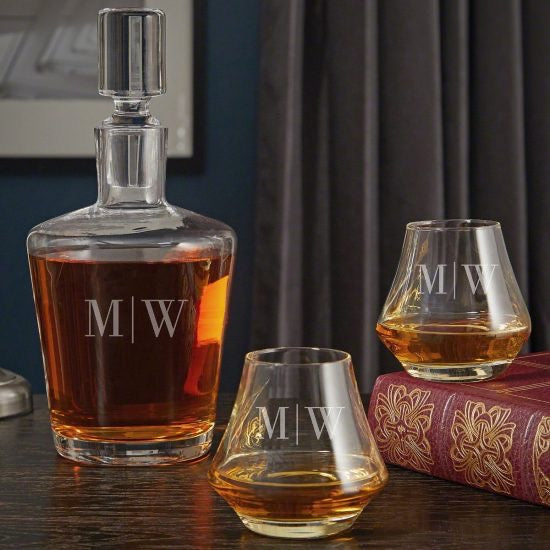 This fantastic gift for couples is the perfect way for them to christen their new home together. Their toast will be one of many great celebrations they will have as they share their lives together in their new house. And for each occasion, you know they'll have their awesome bourbon decanter set for their celebratory drink!
Make Your Bottle of Wine Special
When you absolutely must get the new homeowners a bottle of wine, that doesn't mean you can't have some style and flair when you give it to them. Place your bottle of wine inside this absolutely swanky wine box that doesn't just look great, it is actually useful! Whether they had wine tools before the move, still have them packed, or simply never had more than a corkscrew; they'll now have every wine accessory they've ever dreamed of owning. Long after they've celebrated by drinking your bottle to their new home, they'll be storing their next bottle for a special occasion in their lined wine box, ready to have its cork popped in the name of celebration!
A Gift They Won't Find Corny
The perfect housewarming gift idea for couples who like to host BBQs, outdoor parties, bonfires, and more is their very own cornhole set! This game will have all their guests eager to get up for their turn to compete. Simple to play, but hard to master, they'll spend hours chucking bags back and forth. And as a housewarming gift, what is cooler than having their initials and year engraved on their game set? They'll be so stoked every time they play and with its tough protective coating, this game will age just as well as their relationship!
305+ CURATED HOUSEWARMING GIFT IDEAS FOR A COUPLE>